A look at some of the best images from the kingpin of Euro sx races through the eyes of Sarah Gutierrez

A look at some of the best images from the kingpin of Euro sx races through the eyes of Sarah Gutierrez
ALL PHOTOS BY SARAH GUTIERREZ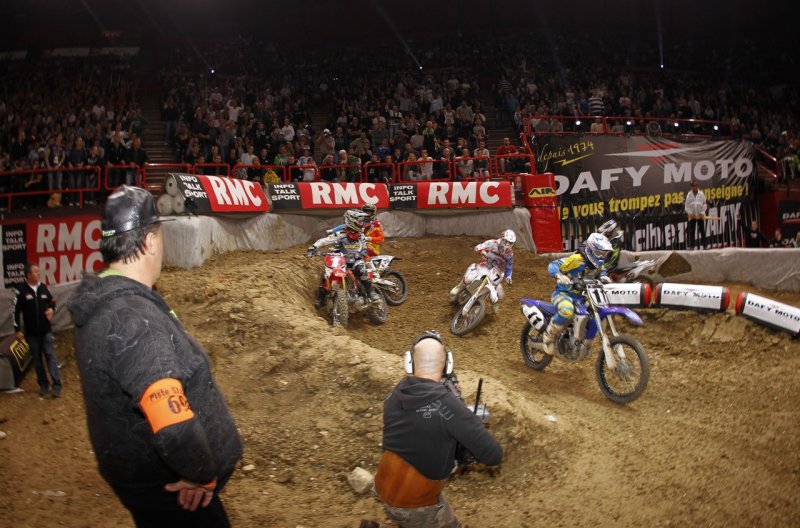 Here it is. Barcia-gate. He waited for Gregory Aranda and then rode him to the outside of this turn, flipped him off and then rode off. It definitely didn't make the fans very happy and cost Justin a spot in Saturday's main event.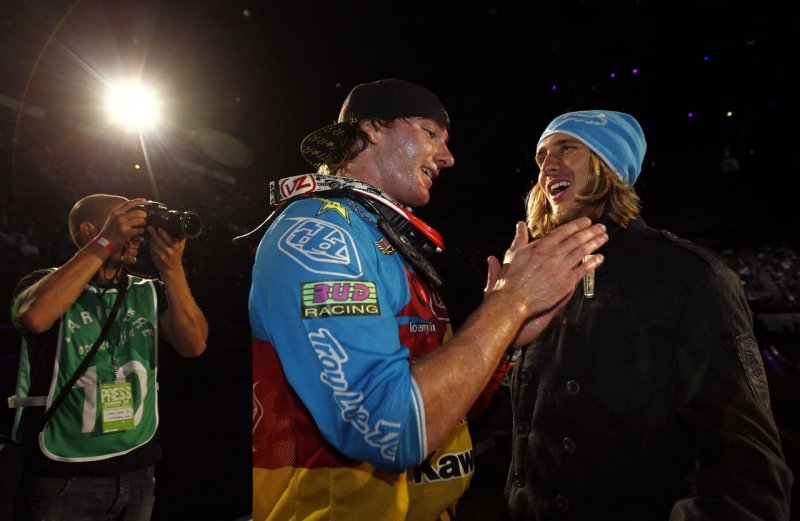 They made up later on the stadium floor which was good for both of these guys but the fans were still very unhappy.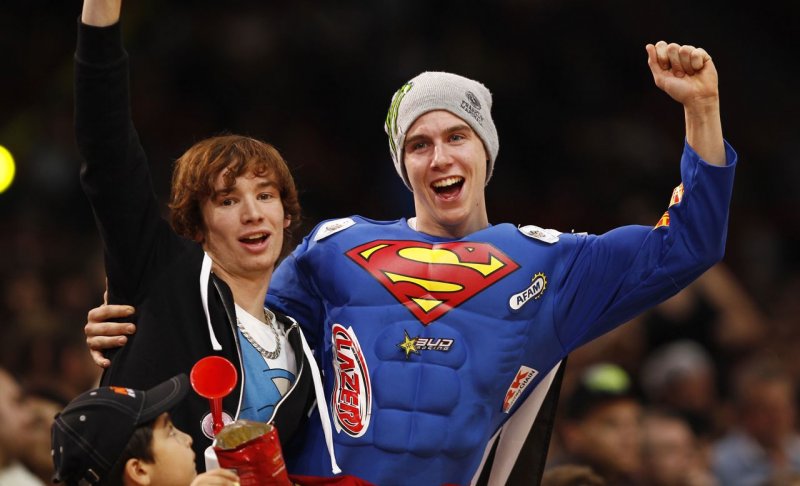 Holy crap this guy looks like Jake Weimer.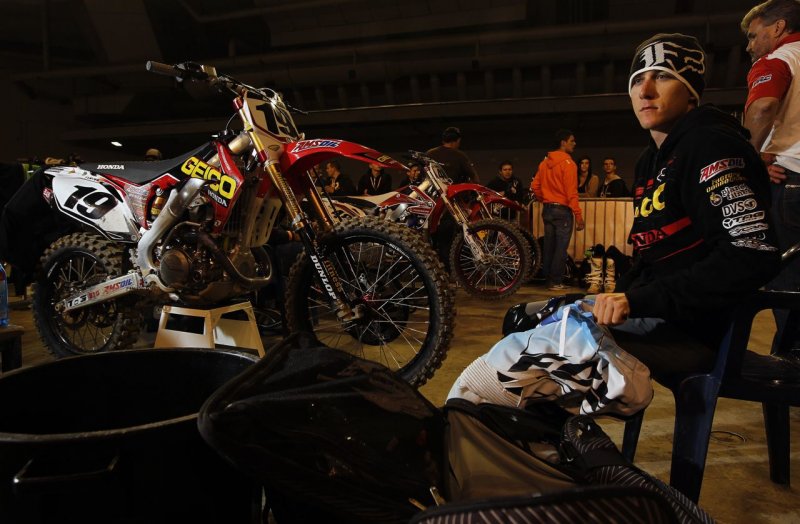 Eli Tomac came to Bercy the first time and struggled early in Friday's practice to get a good time. He even had to start on the second row for the main event. Poor Eli. Actually never mind, it worked awesome for him as he grabbed the lead and won the first nights main event. He was tied with Chisholm going into the final day and ended up 2nd OA.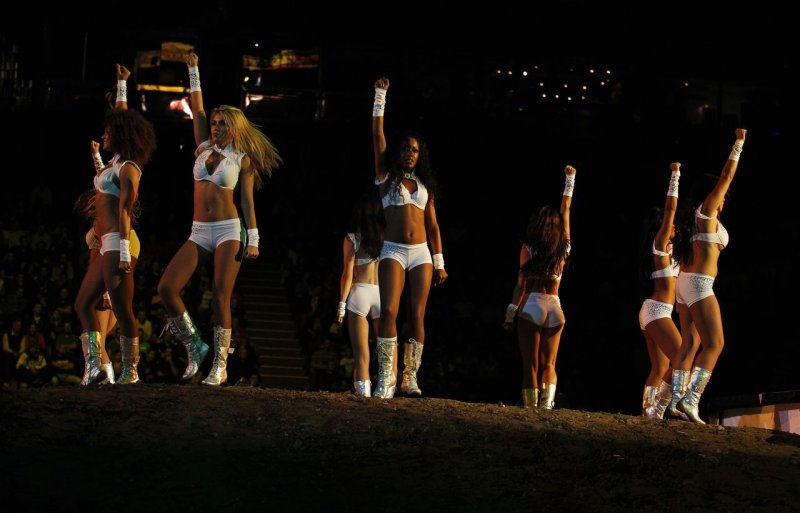 These girls marched up to the top of the finish line tabletop dressed as soldiers. They did a little dance, ripped off their uniforms and had this underneath. The fans seemed to enjoy it.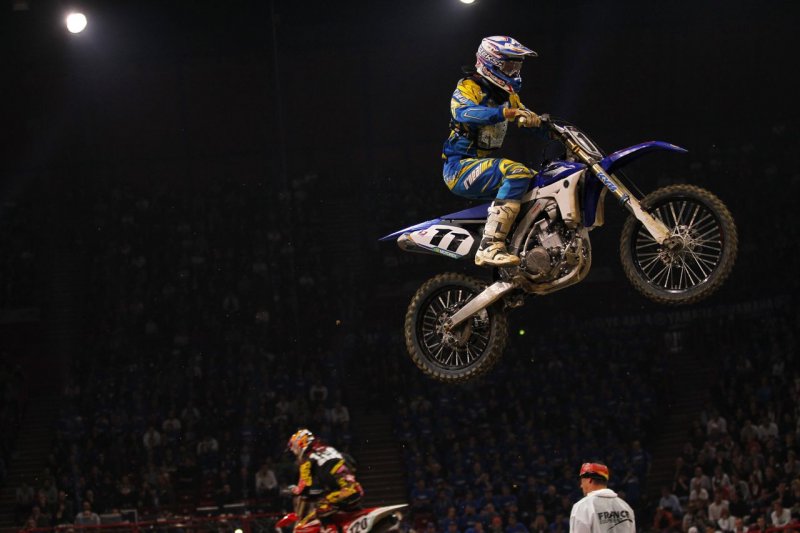 Chisholm was great all weekend and gave Pulpmx.com major press by running that sticker on his chinbar of his helmet. Motors TV was there covering the race and zoomed in so many times on his helmet, it was ridiculous. He also needed goggles so I brought him some X-Brands. I'd say that with his win, Pulpmx.com and X Brand can now definitely be called two of the leaders of the motocross industry.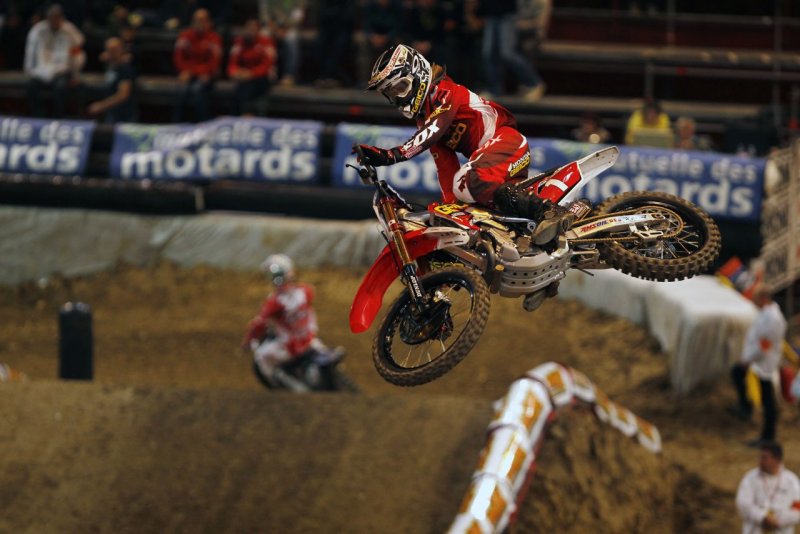 I just really like this photo, a good old fashioned turn down/scrub by Barcia.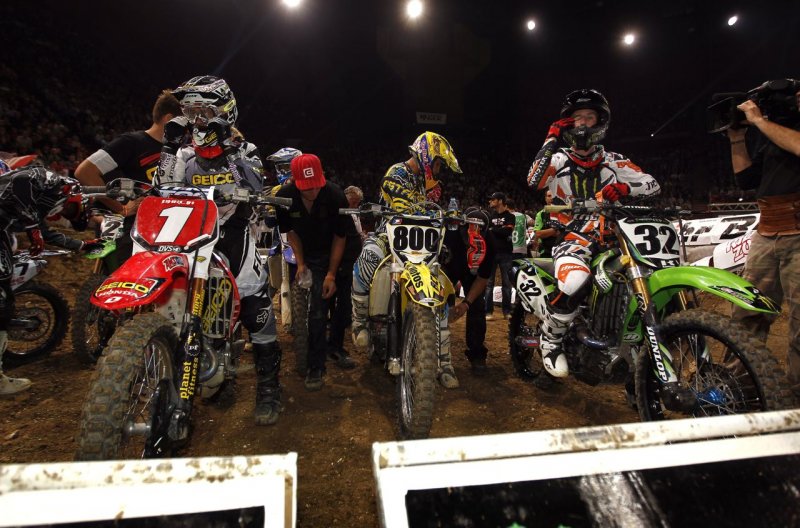 Barcia, Alessi and Weimer wait for the gate to drop. Alessi's starts came around on Saturday thanks to some clever thinking on his part. Read Observations for more…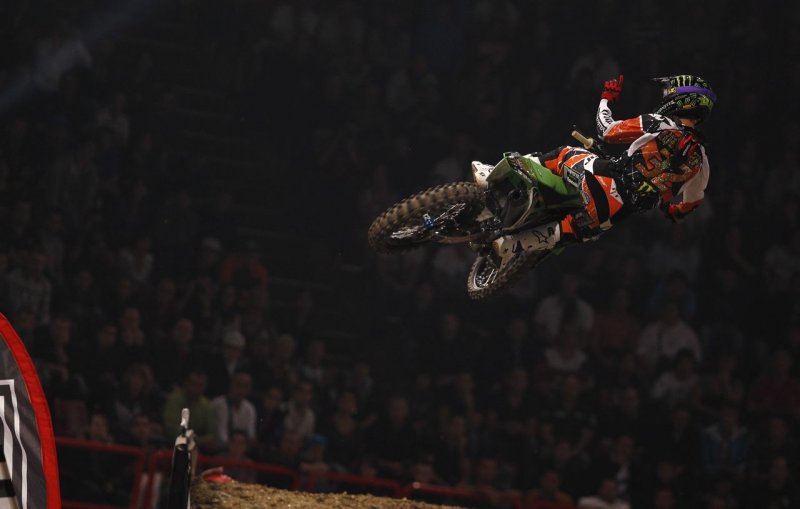 Weimer went 3 for 3 in the heat races over the weekend and I was waiting for the Barcia/Weimer battle in a main event but it never materialized. On the third night Barcia got out front and Weimer was about 4 seconds back but that was where it stayed. Veterans of Bercy say that you have to go once to get the feel of the format/race before you can win so maybe this was Weimer's feel-out year.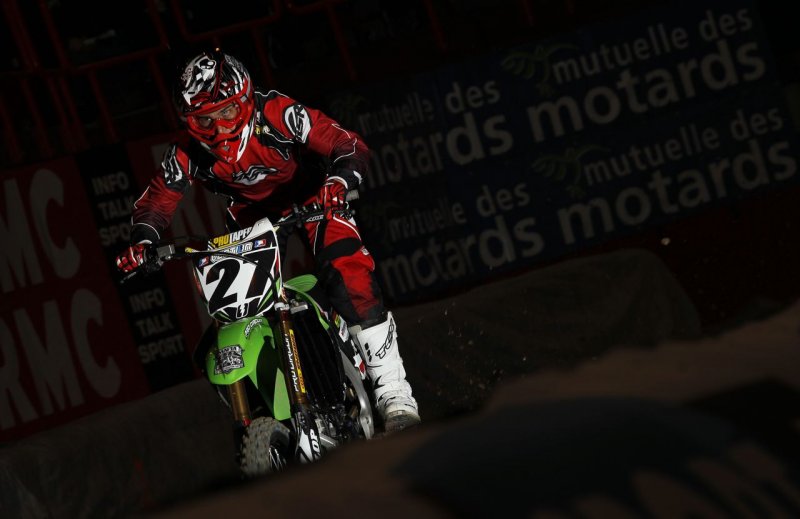 Nick Wey's back on the Kawasaki and looking good. He didn't get the starts he needed but he laid down some good laps. After Saturday we were talking and he was a clinch to get 3rd OA. All he basically had to do was ride around on Sunday but disaster struck when he hit the wall, broke his helmet and DNF'd. He tumbled to 8th OA on the weekend but in the end, does it really matter?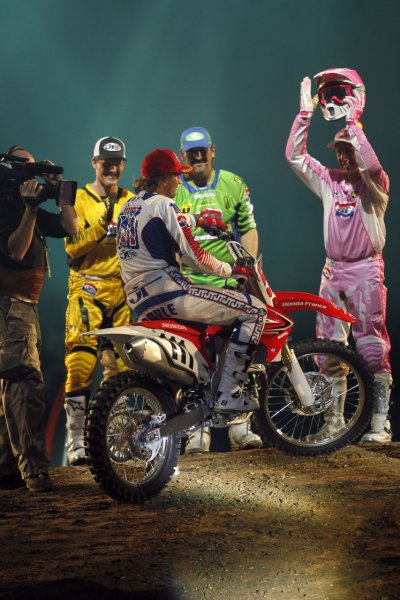 Bercy was a big deal for JT racing, they had a little to-do in the opening ceremonies, a press conference launching it and they brought these guys out to come out and ride around. JMB got the biggest applause to no ones surprise.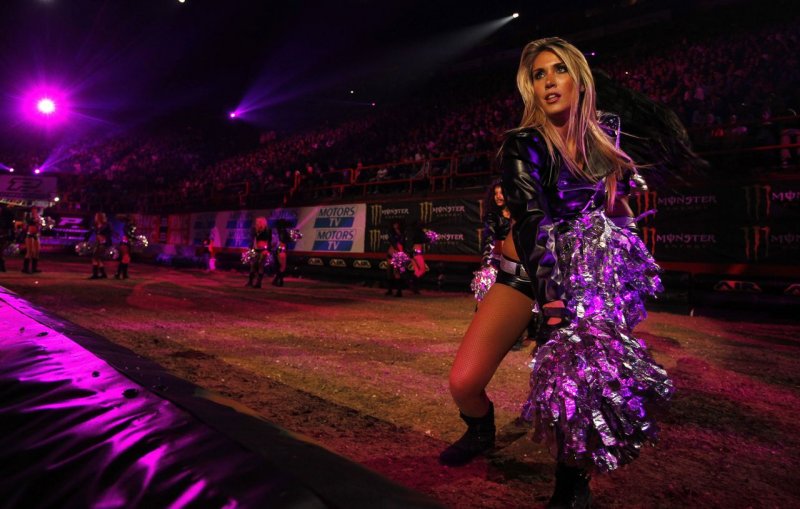 More pom-pom girls and this one was the hottest by far.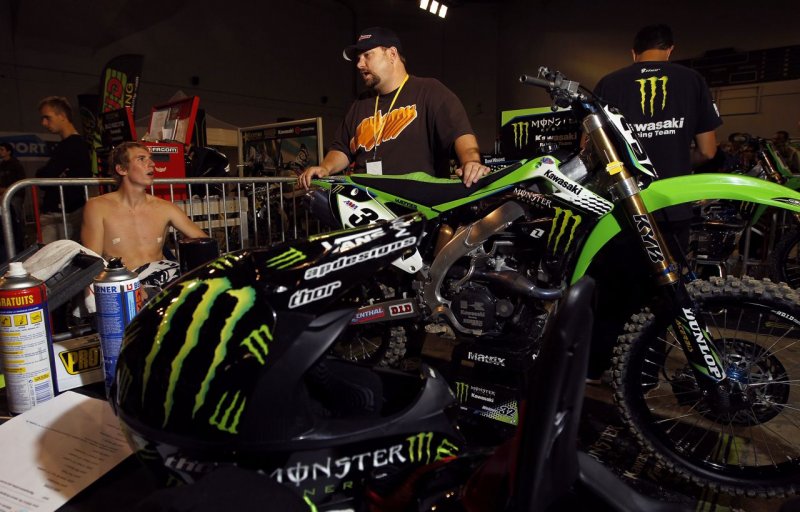 Here I am checking things out with Weimer after a race. I basically hung out a whole bunch and pestered Wey, Weimer, Alessi and Chisholm. The Tomac's thought I was cool and interesting but that's just because they just got to know me.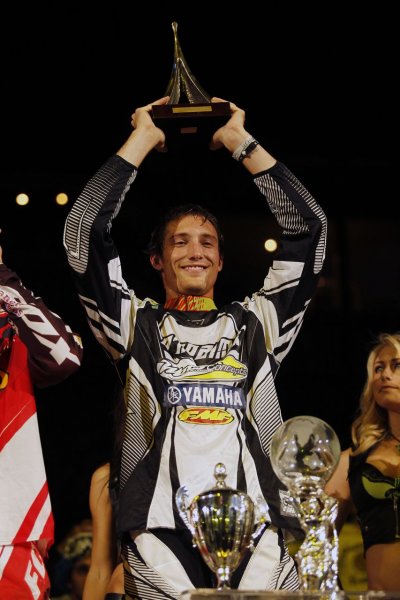 Kyle Chisholm got it done at Bercy, over the three nights he went 2-1-3 for the overall.