A blog about desire and helping yourself succeed.

A blog about desire and helping yourself succeed.
The old saying, you can't lead a horse to water is applicable in the sport of motocross/supercross. I actually prefer the saying "Help me help you" which is something that I have said to a few people over the last little bit. Our sport's not doing well with financial pullbacks by sponsors and therefore, by teams. Some great riders are left without much support for the upcoming season but as always, the ones that are inventive, invest in themselves, and work hard are usually the ones that can come out of this ok.
Here's a couple of examples- back in the day I really wanted to be a pro race mechanic on the circuit. I was just a kid in Canada who nobody really knew but I knew one guy who was actually doing what I dreamed of. Shane Drew (now the chassis director at Factory Honda) was at the time working for Noleen Yamaha and Kyle Lewis. I decided that I would take my last $300, head down to the USA and hang with Drew for a few weeks. I just figured that no one was going to call me while I was sitting on my couch in Canada and I would have to invest in myself. I networked like crazy, made some connections and for the next eleven years, I was a mechanic for many riders and two factory teams. It wasn't easy and involved sleeping on a lot of floors and a lot of truck stops scared of being killed and raped (in that order) but I did it.
At the beginning of 2010 Kyle Chisholm had absolutely nothing going on. He was James Stewart's teammate the year before and struggled to make main events with a wonky knee and adjusting to a 450. In fact Chisholm was looking into getting a ride overseas and took some start money to race in Germany over being at Anaheim 1. His lot in life was so bad that he was wearing his old gear from the year before and a cracked visor that he was forced to duct tape because no one from the industry would give him a call back. He was the forgotten man in the pits. As we know, the sport it cruel and unforgiving.
Chisholm won in Germany and came back to the USA for round two riding a Yamaha that had a pipe, a sprocket, suspension work and some handlebars. That's it! Oh and don't forget, last years gear and a duct taped visor! His bike was in the Rock River Yamaha truck, which is what the blue crew has at the races for the privateer guys. Make no mistake about it though, Chisholm was footing his own bill with his father as his mechanic.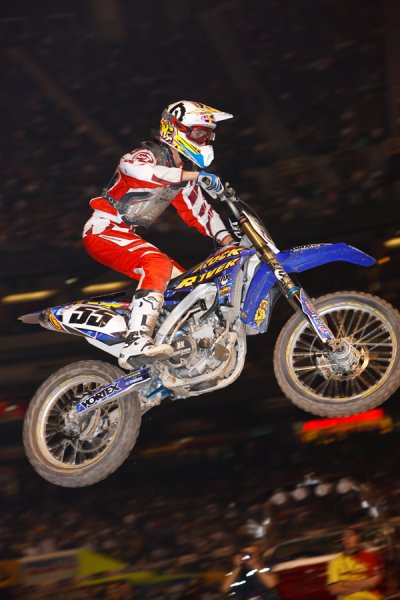 Kyle Chisholm at Phoenix in 2010, soon he would be on MotoConcepts. The duct-taped visor must be on the other side. Photo by Simon Cudby (Thanks RXI!)
He could've sat home and played the pity card but instead he was making the best he could of a bad situation. He knew that with a fixed up knee and a summer of rehab and training, he was bringing improved speed to the races. He gambled on himself and you know what? He won.
An 11th at round two was a great ride, the next week was another 11th for the full-on privateer and then opportunity met preparation as MotoConcepts Yamaha had an opening due to a rider injury. Chisholm picked up a ride from there and he ended the season top ten in both in the indoor and outdoor series. He re-signed with MCY for the 2011 season and was showing great improvement before suffering a bad crash at Houston, which set him back until he found the problem and got himself fixed up.
For 2012, he's on Kawasaki's for Jeff Ward Racing and is considered by everyone as a rider on the road to improvement. And all of it was because he believed in himself, he invested in the business of Kyle Chisholm.inc and didn't take the bitter road like so many other riders have done.
There's a guy I know named Donk from Canada that wanted to follow in my footsteps (or at least follow someone who was a good mechanic) and become a mechanic down here. I helped him get a job that wasn't the greatest but he still decided to take the plunge and drove down with his tools to get to work. That opportunity already didn't work out for ol'Donk but you know what? He networked, hooked up with Nick Wey and he's now going to be Wey's mechanic for the year.
I told Donk what I tell other riders and mechanics, what's the worst that can happen? You end up right back in Canada where you are. What's the worst that would've happened to Chisholm? He'd be back in Florida trying to string some bucks together. You got to help yourself out and put yourself in a spot where you could possibly succeed.
And that's why I'm a little bummed about multi-time Canadian champion Colton Facciotti and his decision to take a KTM Canada ride up there. He's expressed his interest many times to me about riding and racing down south and we all saw his skills in full effect when he rode well on his Blackfoot Yamaha ride and then for the TLD Honda team at the last few nationals. The guys got speed and the work ethic to be successful down south, there is no doubt in my mind.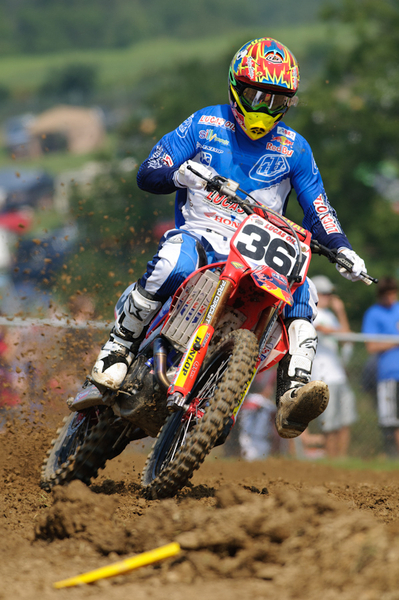 Facciotti showed some speed and skills on the TLD Honda down here last season. Photo by James Lissimore
I spoke to a few managers down here and they were all impressed with his late season rides. A concern many had were his supercross skills and I pointed out that he can definitely ride indoors based on his west coast 250 results a few years back (Blackfoot did not permit its riders to race sx while under contract for the Canadian nationals which is understandable and a reason why Facciotti never ventured south since '07) and I thought he would be on the TLD Honda for the Monster Energy Cup so everyone can check him out there. I really thought this would happen when Blackfoot Yamaha closed up shop on its race team and Facciotti was left without a ride for Canada
Only he never showed, the TLD ride never materialized for that race and Facciotti didn't venture down to put himself on display. I told him to get a Yamaha (or whatever he wanted), get down to Southern California and practice and train for the west coast supercrosses. If he got the results (which I think he would have) and there was an injury with someone, then bingo, bango! The Chisholm scenario might very well have happened for Colton. But instead there was no effort put into coming down south and trying to make it. He eventually signed up with KTM Canada for next season and will most likely win another Canadian championship, pad his pockets but once again have his fans asking "Why not go south?"
Don't get me wrong, nothing personal against Facciotti, I like him and he's a good guy. But he's the one who told me how he wanted to ride in the USA and how it was his dream. He's got nothing to prove in Canada and as I was saying, what's the worst that happens to him? He goes south, it doesn't work out and he goes back to Canada and dominates again knowing he gave it his all.
Sometimes you just got to help yourself.