Here they are, the top 15 most clicked on pages on Pulpmx.com. Why 15? Duh…

Here they are, the top 15 most clicked on pages on Pulpmx.com. Why 15? Duh…
Here are the stories of the year on Pulpmx.com, the ones that interested you the most, caught your eye and maybe, just maybe, made you go back and read twice. Now granted, a story that came out in November is at a little bit of a disadvantage to a story that came out in April but whatever, we did it anyways.
Thanks to all you guys for coming and visiting the site. I'm so much further down the road than I ever thought I would be and it's all due to you guys. Also, a big thanks to the folks at Racer X for helping me promote this site over there. They certainly don't have to do that and it's much appreciated. Thanks to DC, Bryan and Chase over there for the opportunity.
So here they are, without further adieu, the top 15 stories on Pulpmx.com for the year, links to the stories themselves and some notes from myself or Swizcore.
Swizcore- First of all, thanks to anyone who reads my pieces on the site. It was never a goal of mine to be a contributor to PulpMX. I reached out to Matthes as a fan of the podcasts early-on, offering audio intro's. That grew into a working behind the scene's relationship and brought us to now where PulpMX is my second job.
Hopefully in 2012 a Swizcorner or two will make it onto this list, we'll see. Thanks again for reading and for supporting PulpMX, a site which really is a labor of moto-love. And by the way, I have no clue how THIS video didn't make it in the top 15.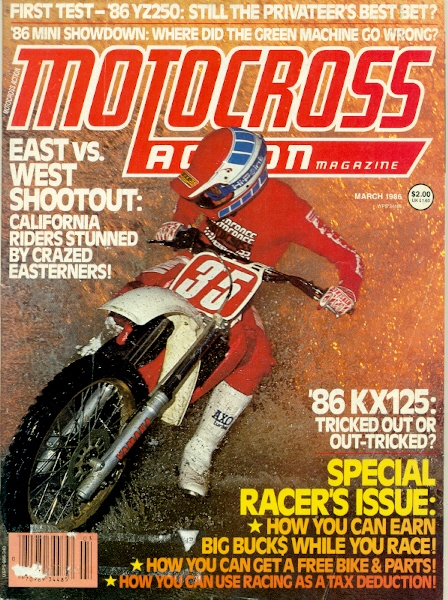 This isn't what most people thought Larry Brooks would be talking about in "Tell Us a Story" but if you're a fan of Pulpmx, you know that title indicates we're going back old school.
1-Tell Us a Story Larry Brooks
This hits the number one spot by a little bit of default. It's not that the story is that compelling or that great. It's a look at long-time Motocross Action test rider Larry Brooks and his story behind what I think is a really cool cover. Here's the thing though, the reason it was number one on Pulpmx in 2011 was because it came out shortly after Larry Brooks and team L&M split in the series. Therefore, I would bet that most people thought that Brooks was finally telling all in regard to why he wasn't at the supercrosses but unfortunately, this wasn't the story for that.
No matter what though, it's still an interesting look at how a cool cover was created.
2-An Honest Look at the Top 20 in the 450 Class
These are always some more of the popular articles on the site as they recap the season for the guys. It's a real honest look at who did what, what they need to do better and what they did well. And as always, these opinions are subject to change.
3-An Honest Look at the Top 20 in the 250 Class.
Swizzle and I spent a week down in Florida hanging out at Reed and Villopoto's houses but we did have time to go out to Ferry's old property and make this video. Basically it's Ferry and his friend Crazy Carl talking about a comeback with some direction from me. Jason Thomas is always down to do anything even remotely funny and he was great in this. The premise is Timmy wants to come back on a 125 and feels great but as we see, there's no replacement for displacement. Swizcore knocks it out of the park with his editing and putting-together skillz.
Swizzle- I consider this the pinnacle of my "contribution" to moto for a few reasons. Firstly, even if it hadn't turned out to be as popular as it did; working on the concept, then the plot and later shooting and editing, this was the most fun project I've ever worked on. Even though I had only known Timmy for a few days, JT for hours and Carl for moments, the whole process was butter. It was one of those projects that seemed to build itself. The fact that it was embraced by fans of moto makes it even better. I'll never forget when Matthes and Timmy watched the first draft with the flashback of JS landing on JT. Their reaction was unforgettable.
This is a story I wrote about Christophe Pourcel's comeback to the nationals after sitting out supercross due to not getting a contract he wanted. I was fortunate because I have people at GEICO and Valli Yamaha that are friends of mine and were filling me in on the process. The GEICO deal, in my opinion, seemed pretty solid but in the end, Pourcel didn't feel like the money was worth it although the bike and team was probably the best shot. It was nuts there in the end with both Valli and GEICO guys calling me and asking me what I knew and that they felt they were close. In the end, despite telling Valli they were looking great and having Valli guys start to build a practice bike for him, team Pourcel surprised everyone in signing with Motoconcepts Yamaha which we all know now, didn't work out.
This is year three of me going out for the day at Chad's place and hanging out, shooting some pics and generally chilling. It's usually a great day and a look behind the scenes at what these guys do mid-week getting ready for the race. And there are usually some more fast guys that are there as well.
Swizzle- I'm not surprised this made top stories of the year. A look inside any top pro's training facility is going to be popular but the fact that it's Chad Reed's program draws even non-fan's of his. Add in that it's a first-year start-up and it was following the Atlanta fireworks and people were itching to soak up as much Two-Two as possible.
These columns usually get me in trouble with someone in the industry because I put something out there that is close to happening or whatever and someone gets butt-hurt. And my comeback to them is always the same thing "I didn't write that YOU said it, it's just my opinion" and "This may sound cheesy but without the fans, we wouldn't be doing all this and trust me when I say the fans love this stuff" and it's true. This was written in July and some of it's wrong, some of it's close but no matter what, you guys love this stuff. So I'll keep cranking it out.
8-Thirteen Minutes, Thirty-Five Seconds with Adam Cianciarulo
Swizcore- I'm glad this made it on the list. I figured if I was intrigued by the enigmatic amateur prodigy that there are probably others out there who were as well. Apparently, there are. Adam is the future of the sport, and judging from where he is at even 15 in terms of charisma, we've never had a better, more believable, spokesman for the sport.
What started out as a story about a KX80 begun a long ass story along with a long ass look through a ton of magazines to find the right shots. There are two things that I know a lot about, dirt bike racing and hockey. Neither would get me a Pulitzer but it's so funny to look back at my life and like a lot of you, I equate different times in my life to what kind of bike I had at that point. This thing got way deeper than I thought it would when I started thinking about my racing career and what was going on in my life at that time. My parents divorcing, me hitting rock bottom before coming down to wrench down here equals a pretty good read. I had more than a few people stop me at the races and say they enjoyed it. And that's why I got Swizzle to do one on his own.
10-Swizcorner- Bikes of my Life
Swizcore- When Matthes mentioned how much fun he had reliving the bikes of his history and suggested it to me, I immediately thought back to some of my own experiences and was eager to start writing. I'm very surprised to see it make the top 15 but I think there's just something about Pulp fans. We're all just lovers of dirt biking in general, not just racing and the personalities. I really suggest everyone take the time to document your own bike chronology. Trust me, SOMEONE will find value in it and enjoy it.
11-Seventeen Minutes, Thirty-One Seconds with Wil Hahn
Swizcore- This was my second interview with Wilbur and his honesty is what got it on this list. Many people were saying that Wil was being too sensitive but that's irrelevant, he was saying how he really felt and honesty is always best. Period. In the end, Wil and Matthes are all good again and they're both genuinely good guys so all is right with the world.
12-Tell Us Yet Another Story, Damon Bradshaw
I did three of these things with Damon because it took a long time to get him to respond to get back to me. I figured that once I had him, I had better get as much as I could with the Beast from the East. Bradshaw didn't have the best memory of each of his three magazine shots but he's a good storyteller and it was cool to have him do this with me. It also speaks to his still-strong popularity years later.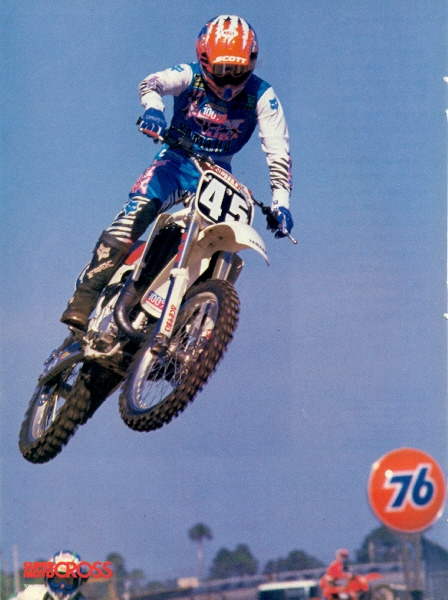 Damon Bradshaw told us a lot of stories in 2011.
13-Red Bud Photo Report- From 1983
This was pretty cool, a fan sent in some shots from the AMA national back in the day and the pics are very clear. It's an interesting look at some of the legends of the sport as well as seeing how much the track has changed as well as we all gained the knowledge of just how many dudes walked around with their shirt off. Maybe it's the fact that America as a whole has gotten fatter but you just don't see many people do that.
It was an interesting look at social media and it's powers in this column. In a rather forgettable episode for everyone involved, its popularity shows that people love controversy. It's a look at breathing and thinking before you type as well as my ability to maybe not keep my mouth shut when I should have. I wish this wasn't in the top fifteen but it is.
Similar to Reed's, it's the day at RV's. We got there kind of late and didn't get to do too much once there but I did shoot some gun that could fell an elephant.
Swizzle- Matthes' memory is failing him at 37 and he has confused 2010 with 2011. He passed up the opportunity to shoot this year which opened the door for me to go head to head with Hedgie from Oakley for $100 to "fell" a water bottle. Though I lifted it airborn with a "base grazing". The bet was defaulted as neither of us actually hit it. The gun was insane though. Dirty Harry would be proud.
ANYWAY. Much like the day at Reedy's, providing photo's and a tiny video(of RV flipping off Matthes after a practice start), is always going to draw fans. We are bombarded with the factory practice track videos weekly, but it's obvious, fans are more interested in the behind the scenes glimpses which are far less available. With a little luck 2012 will hold some more of this…