Transponder-GATE

Transponder-GATE
By: Moser
Photos by: Thee James Lissimore
Before I get to the riders that came up Just Short this week we should probably mention the real heartbreak story of Texas that Andrew Short was unable to race although he made a real Ironman effort in practice literally riding one handed (well not literally but figuratively) get well soon Shorty there are so many things we are going to miss while you're gone, your smile, your clear brows, sense of humor but most of all just seeing you on the track. Well it was only a matter of time before the literary genius that is Just Short became one of the most talked about events in Supercross. No doubt people have been anxiously waiting for Just Short since Saturday night to get the final verdict from the man with the magic fingers that brings you this column each and every single week, on time each and every week for the remainder of the Supercross season. There is zero chance that if you are reading this you aren't aware of the drama in the 450 LCQ but if by chance you were to intoxicated on Saturday night to remember what happened, Gavin Faith and Weston Peick had a real life photo finish for the last transfer spot and there was some confusion over who was Just Short of qualifying. The transponders showed Peick had won by .0002 seconds over Faith but the real life in the flesh score keepers felt Faith had taken the win by a knobby.
Matthes got in touch with John Gallagher who is in charger of these Shorts of things and come to find out the scoring is considered to take place at the "finish line" (makes sense to me) BUT the transponder thingy is not installed at the top of the finish line "because of ruts and track maintenance" it's installed before the actual finish line which is a complete FAIL in my opinion. Before I go on a rant here because prepare yourself it's coming here Shortly, the official ruling I think is fair, it makes common sense that the "finish line" is where the scoring should take place and if Faith crossed the finish line prior to Peick which the two human scores claimed he did then he should advance to the main. I'm very neutral and unbiased with this Just Short column and I'm not just siding with Faith because Peick ran over Andrew Short in San Diego causing my heart to break while simultaneously brining tears to my eyes, no I have some sarcasm coming at Peick a little bit later. Alright back to the issue of installing the transponder reader thingy at the actual finish line can't be done or it's to difficult etc. etc. Can't be done? Really, really? Are we talking about the same finish line structure that has the flames shooting out of it 10′ into the air?
I'll admit I'm not the most tech savvy guy in the world but if you can engineer a way to rocket flames into the air out of the finish line maybe just maybe someone can come up with a solution on how to also incorporate the transponder reader thingy. I don't even know how it works but I have already thought of approximately 29 ways to get it across the finish line. Feld Entertainment is owned by the circus, the circus is the best in the world at doing things that are amazingly impossible. I just watched Water for Elephants last weekend which is about the circus it's a pretty good flick despite the fact that Robert Pattinson doesn't take off his shirt nearly enough but I digress, carnies have an amazing talent for making things work that shouldn't work, in addition to having really small hands and bad teeth. Six clowns shouldn't be able to fit in that little car, tight rope acts, dancing elephants, or more impressive yet is the carnival rides that could fall apart at any given moment still going around and around, all these amazing death defying feats no big deal but installing a transponder reader thingy in the correct spot, can't be done too difficult. Maybe I'm overreaction but I doubt the formula to install the transponder reader thingy in the correct location is E=mc2. Alright I feel better after getting that off my chest let's move into the riders.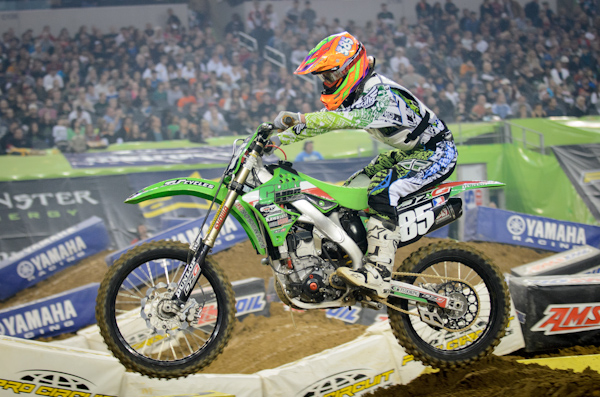 That is a very orange helmet, I wonder if he hangs out with the MXA guys.
#385 Adam Gulley – DG Flooring/Fly/Shades of Gray/DZ Graphics/Factory Connection
When your first sponsor listed is DG Flooring it's safe to say that you're a true privateer. I haven't heard of Mr. Gulley but the first thing that cumes to mind is the animated master piece Fern Gully. If you haven't seen Fern Gully it's pretty much identical to Avatar only it came out in 1992, and the girl fairy was pretty hot when you're 10 years old. These movies aren't just similar Avatar is a total rip off of Fern Gully, they both incorporate a magical tree and Gulley and Sulley sound similar. Gulley finished in 28th in qualifying and I looked everywhere but can't find any results for him from earlier in the season, which probably makes sense as this was the first East coast race of the year. I just googled Gulley to learn a bit more about him and came across a You Tube video clip he did for the arenacross series, it's hilarious I have delicious salty tears running down my face right now, I highly recommend you watch it, it's only a 20 second clip and it has fire.
It would appear that there is another Gulley brother who also races professionally #386 Aaron Gulley, funny how their numbers are #385 and #386 probably a coincidence. Aaron Gulley finished 47th in qualifying and didn't make the night show. If you want to learn more about the Gulley brothers check out their Facebook page, I don't have a Facebook membership and can't access their page. Starting off the season Just Short of qualifying is nothing to shake a stick, so good luck to the Gulley brothers for the remainder of the season I always admire and respect the privateers of the sport.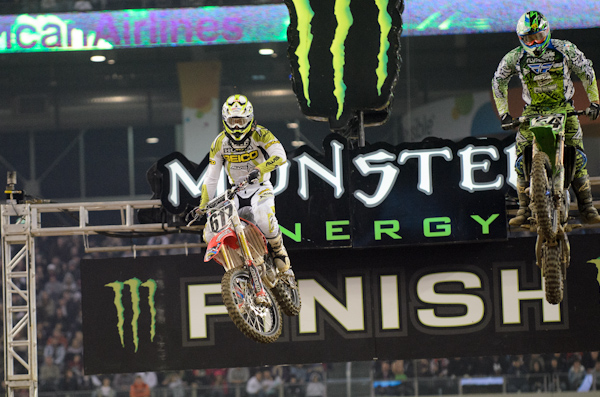 It doesn't get any closer than that, this is when an extra inch wood make all the difference.
#617 Gavin Faith – Honda
Gavin got a fill in ride with the Geico Honda team for a few of the West Coast 250F Lites races and he made the best of the opportunity with some solid rides. Now that the series has headed East he's going to give the 450F class a go. Wait Faith qualified??? But the transponder said………dammit.
#54 Weston Peick – R2MX/RogueCassles/Fly/Renegade/MTA/Factory Backing/Torco
Mr. Peick or the human Wrecking Ball as I like to call him as he will run over anything and/or anyone in his way. I have mentioned in an earlier Just Short column that Matt "Beef" Georke was one of the biggest riders on the circuit, well if you had to pick the biggest it would be Weston Peick the dude is massive. If the RacerX website rider profiles can be trusted the Wrecking Ball tips the scales at 210 pounds, 5′ 11″, that's a lot of man. When you're this big it obviously has its advantages and disadvantages. When a rider falls down in front of you there is no need to turn or swerve you definitely don't need to slow down you can just ride right over him, injuring that poor rider's shoulder causing him to miss a few rounds (advantage). I can't recall the Wrecking Ball ever getting a holeshot perhaps he has and I just don't remember but his nickname isn't Holeshot Wrecking ball (disadvantage). Hands down the strongest jaw line in the pits no doubt, (advantage). The Wrecking Ball doesn't have to smile ever there is not a photo of him that exists where he is smiling, but frowning actually uses more muscles than smiling (advantage & disadvantage). All joking aside the Wrecking Ball has been on the circuit for a while now and is a regular in the main events. He's jumped around between a few different teams which is seems to be a reoccurring theme in this column. You have to wonder if he missed his calling to be a football player or a UFC fighter, just goes to show you that motorcycles is a lifestyle and once it grabs you by the balls you're in it for the long haul.
Thanks for reading this Short recognition of the guys that almost made it. See you next week. Moser
Please send continue to send your complaints about this column to jasonw@racerxill.com he enjoys reading them.