Our man in Seattle, Moser takes a look at those riders that came up just short at Budds Creek. Good stuff Moser.
Our man in Seattle, Moser takes a look at those riders that came up just short at Budds Creek. Good stuff Moser.
Shortcomings Vol. 5
A Short look at some Shortcomings from Budds Creek
By Corey Moser
Photos by James Lissimore
Shall we take a second to tip our hats to a few of the riders that had Shortcomings at Budds Creek this weekend, that's more of a statement than a question. Izzi racing? No Izzi didn't make it through practice. Travis Sewell only made it 3 laps into moto one and was a DNS for moto two he's well on his way to getting a Shortcoming feature with the way his season is going. Pooh Sipes almost made it all the way through moto two but it sounded like he piled it up pretty big per the post race podcast Steve did with Ryan Sipes who had to keep riding by while watching his brother down which can really mess with your head. #89 of Tyler Bright had a dark moto two not even completing lap one. Mookie DNF'd moto one not a big shocker there. Cunningham who's been having a decent outdoor season only made it 8 laps in moto one. Last but not least Hot Sauce had a "big one" in moto two, I don't know who started nicknaming big wrecks as a "big one" but I like it. It sounds cool it's swept the pits by storm and has thrust its way into the moto terminology and I for one hope that "big one" is here to stay for awhile, it's nothing Short of entertaining. Let's not forget Doug Henry who had the biggest "big one" of all time at Budds Creek that video footage still makes me cringe and my stomach turn. Random Moser trivia, I rocked that Doug Henry Fox Racing "what's stopping you poster" on my wall in high school it's still hanging on the wall at my parents house.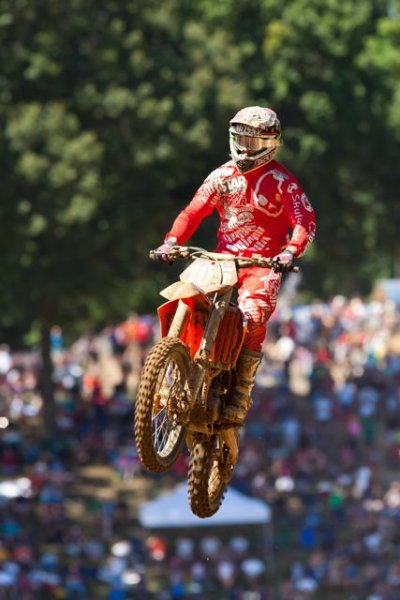 Matthes will input some caption here using some Moser terminology or sarcasm. Photo by Andrew Fredrickson
#105 Matt Moss – JDR | Jstar | KTM
Moss and Mookie both DNF'd moto one due to crashes, although this is a bit ironic I wanted to feature Matt Moss because I don't know much about him and this is my article so suck it. If you don't know who the Moss brothers are then you must be less of a fan of the sport than Peter Legendary. The Moss brothers both hail from down under (that's Australia for some of my slower readers). A joke that Matthes has beaten to death and then backed over it repeatedly is when Matt Moss shockingly picked up the factory Suzuki ride and then had one of the worst seasons ever leading Matthes to question if The Man ever acknowledged Matt throughout that seaon or if he would recognize him in the line at the airport security line (in a Belgian accent) "Hmmmm he looks familiar I wonder where I've seen him before" I love this joke and I never grow tired of it, makes me laugh everytime. Moss getting the Factory Suzuki ride was a curious choice but so was Dungey and you can't argue with how well that Cinderella signing turned out, sure there were some tears along the way for Dungey but also some championships. I like that The Man is a gambling man I expect nothing less and you win some and you lose some.
There is a man who is an expert in all things down under and as expected he came through with some interesting insight on the Moss brothers for our reading pleasure. Shout out to one Mr. O'Rourke for the info if you don't already follow him on twitter shame on you he's a funny mate and all around good guy, also a big RC fan check him out at @itsORourke. Brothers racing together on the professional level isn't all that uncommon, but twin brothers? I don't have the vast moto knowledge that Weege has but I can't think of another set of twin brothers that have raced at a professional level. I asked Weege if he knew of any other twin brother that have raced but he never got back to me, probably didn't' hear his phone ringing with his headphones on. When I asked O'Rourke about the Moss brothers in our twitter interview he came out of the gate swinging "Jake and Matt Moss are the Aussie version of the Alessi brothers, born to ride from the day they were conceived (sp corrected to please my editor) with plenty of amateur title between them." Off hand I do know the brothers have had a lot of ups and downs in their racing careers, Aussie championships and some solid finished on the US circuit but they have also had some equal lows with injuries and poor results.
O'Rourke slipped this in next "both the brothers have jumped from the 450 class to the 250 class and back again several times" and after he mentions that it does remind you that they have been up and down, up and down, over and over, I guess you could say they go their own way and haven't followed the traditional path of becoming a top MX2 rider before making the move up. These next two quotes were my favorite. "The brothers raced Honda CR80's in 2001 for Factory KTM but the bikes were decaled up to look like KTM's" I mean I've heard of false advertising but this is taking it to the next level. I suppose this is the moto equivalent of women and their makeup, push up bra and spanks, things aren't always at they appear, but you can't go wrong with a Honda under the hood.
I've made it this far and haven't mentioned a Shorty so lets get that out of the way, "according to one Kenneth Watson Jake has a huge dong, so you would have to think Matt swings that way too" I hope O'Rouke will pull this clip for a Podcast Rewind because the story is somewhere locked deep in my memory I can recall the statement but not the backstory and I love a good Shorty story. I don't have an identical twin but if I did I would no doubt just patiently wait to pounce with a funny punchline when people ask if everything really is identical, I'm sure that line would work with the ladies.
I asked O'Rourke what Jake was up to now because I couldn't remember if he was racing up here or in Oz or injured or what, and once again O'Rourke came through for me "Jake is on his own privateer Honda team in Oz racing 450's and doing very well" good to know. Also if you want to learn more about the Moss brothers program check out their website they have training schools and their dad Greg steers the training ship, which seems eerily similar to Tony Alessi, it's like looking into the twilight zone or something, if it happens on the other side of the world and 24hrs from now does it really happen? www.mossyonline.com.au
If you're looking to advertise down under your in luck the Moss Institute has ad space available on their homepage, if this plug leads to a B2B relationship I hope I get some type of kickback. Another big thanks to O'Rouke a man not afraid to uncover things down under, I learned a lot about the Moss brothers and we only left one questions unanswered if everything identical?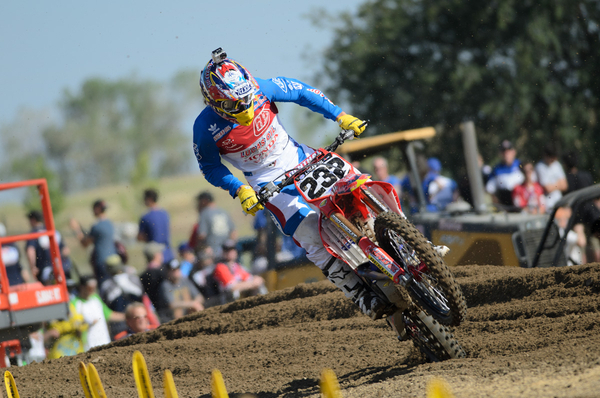 Lano has sweet style.
#232 Billy Laninovich | Troy Lee Designs | Lucas Oil | Honda
Don't call it a comeback, call it yet another comeback. The story of a young fast rider getting burned out or sidetracked for whatever reason selling all his bikes only to give it another go a year or two later is a common one. Generally it doesn't go great, they usually come out swinging and then kind of fade again, Bradshaw couldn't even get back to the level he once was. The only rider that comes to mind that made a real successful comeback after walking away from moto is Cole Seely. I was super pumped to see Lano back racing this year and I think it went as well as anyone could have hoped he had some solid rides, big whips and was relatively consistent.
I grew up watching Lano ride we're about the same age, he was just a little bit faster than me. In 2000 I was in Vegas for my first World Mini amateur race, Vegas in the Spring is just beautiful, the wind and dust is just breathtaking. A couple days before the race I was out riding in what seemed like the middle of the desert but I was told it was the old old World Mini track, all I saw were endles whoops and rocks. I was with my friend @BigRed140 just getting used to the heat and a little bike time and of course there is the guy out there riding who is so much faster it makes everyone else look like an idiot, on this day that fast guy was Lano.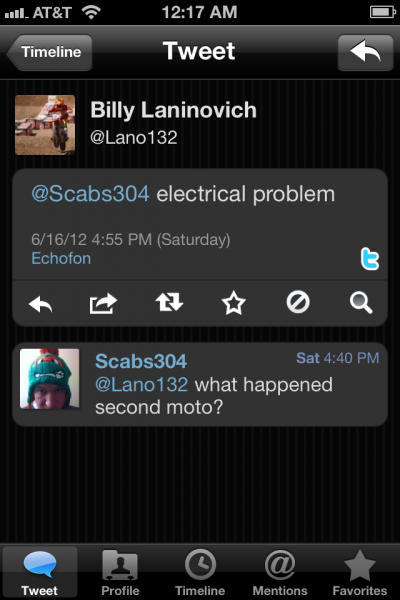 Thanks to @Scabs304 for his investigative reporting!
After riding around and trying not to embarrass myself we all stopped and were making small talk he introduced himself and couldn't have been nicer I had no idea who he was, I was just glad I didn't have to race him because I was in the novice class and I felt bad for @BigRed140 who was an intermediate and would have to race him. After Lano rode off @BigRed140 looked at me and said "do you know who that was?" No I didn't "that's Billy Laninovich" ok who's Billy Laninovich "he's a top amateur rider" oh yeah ok cool. That was my first encounter with Lano. Over the race weekend Lano and Morais put on a riding clinic in the intermediate class I think Morais won every moto but Lano made a race out of it and was just a little bit off his speed. The whoop section was more of a rhythm section and I don't recall any riders skimming them that year they were too big and far apart, almost everyone just doubled through them, except Lano and Morais who tripled through them, it was gnarly. I still remember watching in awe, Morais was tripling while standing up, but Lano was seat bouncing them 3rd gear wide open.
It's weird to look back at how promising some of the amateur careers looked at the time and how it all turns out, a lot of luck goes into being a professional dirt scooter rider. At the time "Those people" whoever they are had said that Lano's dad was a real dick which I believed because "those people" said so, and I think his dad had a meltdown in the pits that weekend over something, anyways that's a pretty standard moto dad at any amateur national. What I was getting at though is obviously I don't know Lano's dad, but I had this predisposition about him and that all changed this year when I saw him on the line with his long bleached blond, or bleached white hair, instantly I was a fan. If you haven't taken the time to watch this 4 minute and 19 second video Lano's dad made have your secretary schedule in a little time for you to watch it, I found it rather humorous. http://youtu.be/yacOAZMo420
Lano is on twitter at @Lano132 he needs all the followers he can get because he's competing in X-games best whip this year and is going to get raped purely based on the voting system which is too bad because he can throw some sweet whips. That just reminded me of the story Ping had about Lano this spring when he built this huge man made kicker in the hills, Lano said something like, "it started raining so I just started shoveling" and it took him like three days or something to make it, classic. Growing up we all know looking good was more important than going fast, but if you're really good you can make anything look good. Lano has style for miles he's just got "it" much like the Dogger, Windham, DD, and Shorty of course, I could watch them ride for hours. Riders with style are trend setters even other professional riders will try to mimic another riders style not because they are fast but because they look like a cross between Jesus and Fergie on a motorcycle.
63 people liked Lano's inner thigh bruise from a handlebar in 2nd practice at Budds Creek
Think back to when you were a kid and there was the older fast kid at the track you looked up to. In hindsight whatever he was wearing probably wasn't cool but he made it look cool because he was going fast, anyone else picking up what I'm putting down? Not to get sidetracked on style but everyone always says how great Hill's style is, now don't get me wrong I am a big Hill fan he's from the NorthWest I'm from the NorthWest I've got his back but I don't think he has sicker than sick style. Ever since he grew 3' in like a year he almost looks awkward on the bike to me because he's so tall and hunched over, or maybe when I look at him I still picture a little kid on an Yamaha 80.
Budds Creek was the last race of the year for Lano on the TroyLee Honda. I didn't know what happened to Lano in the second moto of Budds but thanks to @Scabs304 for getting to the bottom of it for me on twitter "electrical problem". Kind of a bummer way to end his comeback season but overall it went pretty well and it was great to see him back on the track and I hope to see him and his dad's long hair don't care next year. Lano has a poorly updated website like most riders you can check it out at www.lanomx.com also if you want to do riding lessons your in luck because the site says "new training dates coming soon" so keep hitting that refresh button. Last but not least thee Weege got back to me in the 11th hour with a response to my question. What is the first thing that comes to mind with I say Laninovich?…….."Laninovich or Lanovich that's the question" well said Weege that is one lifes questions we'll never know the answer to.
Thanks for reading this Short recognition of the guys that had Shortcoming this weekend, see you in two weeks Moser
Please send any comments to jasonw@racerxill.com he has two weeks off and lots of time on his hands.