Fantasy drafts are all the rage right? Swizcore, Blazier and myself get busy selecting the all-time USA MXDN team.
Fantasy drafts are all the rage right? Swizcore, Blazier and myself get busy selecting the all-time USA MXDN team.
Date: August 6, 2012 9:30 PM
Topic: MXdN Fantasy League
Everyone loves fantasy drafts right? Millions of people play those every year in all types of sports and when you add this to the love of bench racing that goes on in our sport, it made total sense to do an all-time Motocross des Nations fantasy draft. If you could have the choice of any past or present motocrosser to represent the stars and stripes, who would it be?
Imagine the possibilities people! Here's the rules, three riders with an alternate and we're going with the new MXDN rules, as in two riders on big bikes and one on the small bike. One rule we're NOT going to abide by is the under 24-years old rule that the FIM has in place. So you can imagine any age for any rider in any class. This is fantasy though so I suppose any rider you can imagine can also be imagined under 24 years old. Either way, it works right?
So super-dork fans like myself, Swizcore and Tony Blazier have gotten together and made our selections. Swizzle had the first pick, me second and then in a traditional snake-type draft selection, Blazier had two picks as we worked our way back "up" the ladder.
So without further adieu, here are the selections we made and why we made them.
Team Swizcore
1- (first pick overall) Danny "Magoo" Chandler
2- (sixth pick overall) Ryan Dungey
3- (seventh pick overall) Mark Barnett
Alternate- Mike Kiedrowski
Having first pick, I know there are many who will think I'm a little crazy and maybe I am, after all, I live in Michigan where our brains are either frozen or melting out our ear-lobes at any given moment during the year; but I digress. My first selection for my MXdN All-Timer Team is Danny Magoo Chandler. Now I never saw Magoo ride first hand but the tales of his sheer heart and determination are legend and with an undefeated appearance at his one and only MXdN (and Trophy des Nations) appearance ever, I feel totally justified in my selection. You see, I'm a bleeding heart when it comes to underdog triumphs and the stories of Magoo in the MXdN appearance and how all the Europeans were genuinely scared of him because they thought he was certifiably insane, well, that's right in my wheelhouse. If you aren't familiar with Magoo's performance and the enigmatic affect he had on both Germany and Switzerland in the 1982 Motocross and Trophy Des Nations, just stroll on over to the Steve Matthes Show archives and listen to part-two of the Dave Arnold podcast. Dave does a goose-bump worthy job of summarizing Magoo's rides and that's the kind of inspiration that I can draw from any day of the week. I know Matthes and T-Blaze will jump all over my shit about picking Magoo, especially first but my selection for this Draft is all about inspiring performance, rock-steady delivery and in my third pick, retribution for an unjustified pass-over.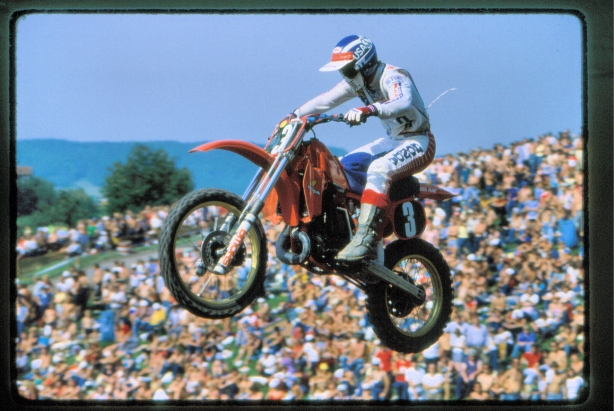 Magoo was so so so good in '82 when he won all four motos. He was Swizcore's first overall MXDN pick.
Matthes' second overall pick was of course RC. Who could question such a pick? Even though Matthes likes to question his title of Greatest of all Time, Ricky was obviously stellar outdoors and always shone at the meeting of the Nations. I'm fine with being the punching bag of this little Moto-Draft and I really won't have much to criticize these two other dopes about since they went with the obvious solid choices, while I took the road less traveled and less trophy-laden but then again, I love movies like Rudy, Winners Take All, Rad, Thrashin', Supercross the Mov— wait a second; I'm not THAT insane.
T-Blaze picked third overall and with that third pick comes a toofer, that's right a two for one deal. Our staff vintage-man chose the little ball of hate, RV1 and Six-Time, Jeff Stanton. I just got done arguing that we should send RV to the 2012 MXoN fresh off a knee injury and contrary to many of our Point/Counter Point debates, I really believe that argument. Jeff Stanton has Mafia blood coursing through his veins so of course I'm not going to rip that selection. I'll go ahead and say it, Jeff Stanton was the least naturally talented multi-time champion in the history of our sport. The guy bulldogged and wrestled his bike through Supercross tracks and simply outworked his competition outdoors. In the 1991 MXdN Six-Time made up 30 seconds in 3 laps to secure the win! Talk about all-time clutch performances. Damn you T-Blaze for picking my native brethren!!
Fourth pick went to Matthes and he swung for the fences with his Wardy selection. I mean the Flying Freckle was undefeated in his seven appearances at the event. Think about that for a second; have you ever done anything in your life seven times in a row? Unconscionable.
Finally the selection is mine again and this time I get two consecutive picks, so who do I go with?
Bubba? Omara? Hannah? Somewhere in the middle, I say. With my second pick I went with another rider I have tremendous respect for. His ability to perform at the MXoN, even when called up to the big bike having not yet raced it professionally and the never say die attitude he has in every event; Ryan Dungey. Ryan gets a lot of flack for being robotic in the press and that's well deserved but when it comes to on-track effort and giving truly his 100%, even though sometimes it's a little short, Ryan is a tremendous model to emulate. Last year at Southwick when his bike was MIA, sure he shed some tears but whereas some like to clown him for that, I say fuck yeah, that's the kind of heart-break you only experience when you're truly immersing all that you have into your work. Seeing him blast onto the start straight nearly a whole lap down still gives me goosebumps when watching that clip. The very definition of heart.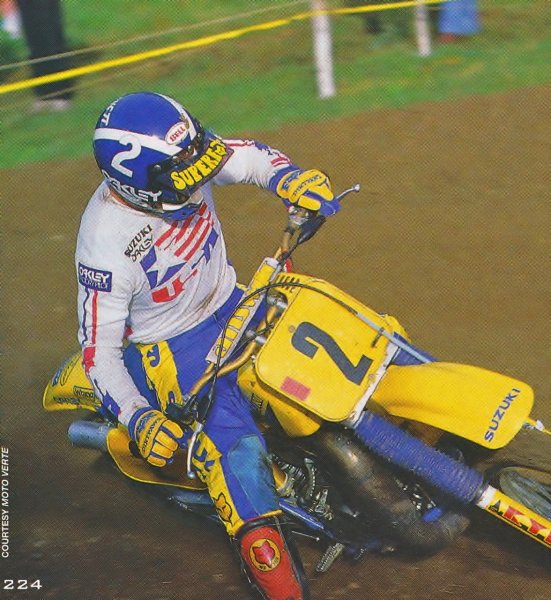 Bomber at his one and only MXDN- Swizzle meant to say Micky Dymond. We're serious.
Well, I really screwed the pooch on my 3rd pick. I just realized I confused The Bomber, Mark Barnett with Micky Dymond. Sure there's not a whole hell of a lot of difference in the likelihood of my Team being victorious from one guy to the other but this was meant to be the "retribution" part of my team scheme. Micky Dymond was screwed out of being selected to the team in 1987 and although he probably should have been selected in 1986 as well, owning the One Industries 1986 Dream Team Anniversary DVD and watching it maybe twenty times, it's hard to argue against the O'Show's clinic on the 125cc bike in Italy. Really, could James Stewart have beaten Johnny that day? He beat Dave Thorpe, reigning 500cc World Champ on the tiddler!! So yeah, while I meant Micky Dymond, this one's on me and I typed Mark The Bomber Barnett who did get an appearance in an MXoN, so the retribution part of my selection is all for naught.
Matthes then chose the guy who put him on the map for his final selection, Tim Ferry. You're nuts if you think I'm going to rip Red Dog. Aside from the fact that he lent me a belt and a bed for a week, the guy is as grounded as it gets and considering he came up through the amateurs, won a boat load of Loretta's titles, entered the pro ranks as a full-on privateer, earned factory rides and spots on MXoN teams. That's how you put in time, persevere and build a legacy. Solid as a rock.
T-Blaze's last pick was RJ. Now I don't have a Bad Boy tattoo or anything like that, I mean really, who does that kind of shit? Anyhow, RJ is a solid pick and I'm sure he'd tell us all about it. Kidding. RJ showed on more than one occasion that he could shoulder the load on the MX1 bike, so I'm glad T-Blaze saddled him on the right bike, with his last pick no less. Impressive.
My alternate pick is awarded to Mike Kiedrowski. Why? Because last week had a Mike Kiedrowski day on RacerX and he really was my favorite rider as a kid. He was a lot like Jeff Stanton with his lack of natural ability but still finding a way to win titles. Who says he didn't have fire? He torpedo'd the Rock for craps sakes.
Team Matthes
1- (second pick overall) Ricky Carmichael
2- (fifth pick overall) Jeff Ward
3- (eighth pick overall) Tim Ferry
Alternate(s)- James Stewart, Ron Lechien
Well, I had second pick and when Swizzle replied with "Magoo" well, that automatically made my pick moot. I was going with the greatest motocross rider of all time in Ricky Carmichael. I mean, seriously, Magoo? Yes, Chandler put in what might be the greatest MXDN ride ever in history when over two weeks, one on a 250, one on a 500, he won all four motos in helping USA win their second ever MXDN. A great, great ride to be sure, but that was it for Magoo. He was one and done at that race, never won a national championship and I can't believe Swiz picked him as the number one overall pick of this fantasy draft. Clearly he's been huffing paint fumes.
Anyways, yeah I went with RC because even though he was a member of four losing MXDN teams and only won three. Weird that he has such a record at the Olympics of motocross yes? Well, one year is the mud race of the century, one year he crashed and broke his throttle and one year, well this was the year I was on the team with him, the USA loss couldn't be pinned on him as he kicked ass coming from behind on his two-stroke to beat Stefan Everts on his 450 thumper. He was a man possessed that day and all things being equal, wouldn't you want to have RC on the line when you need a win. Screw the 3-4 MXDN record, I'll take the fastest man in the world on a motocross track (notice I didn't say supercross track- I'll duck now) and I can't believe that Swizcore didn't.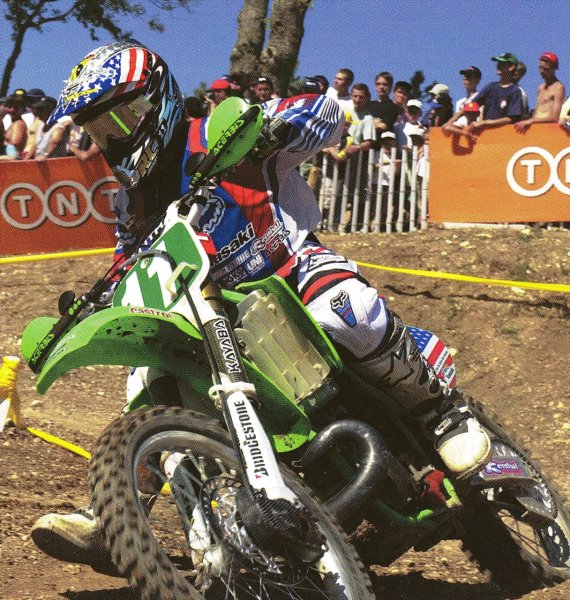 After the bizarre Magoo selection, I went with, errr, Ricky Carmichael.
Blaze went with RV and Stanton and really, can't bag on those choices. Stanton single-handily won the '91 MXDN in the sand by parking some dudes and coming from the back. Jeff always rode the USGP's when they were going on and really, the only blemish he had on his record was in '92 when him and Bradshaw said that they didn't want to go to Australia and USA sent a B-Team and still won. Not sure why six-time did that but hey, he earned the choice to stay home. As far as RV, yup he's always come through at these races and as recently as last year when the USA trailed going into the third moto, RV had the crappy gate pick and he still pulled a great start and went on to win the race. And of course, Budds on the 250F was epic as we all know. Now if this pick was Swizcore's, I'd have no doubt he'd go with John Finkleday and Jo Jo Keller. Anyways, solid choices by Blaze and I then went with Jeff Ward for the fifth overall pick.
Wardy was a perfect 7-0 at the MXDN and he did it on all size of bikes. Rode the 125 and won, rode a 250 and won and rode the 500 and yep, won on that. Wardy is the ultimate switch-hitter for your MXDN team, he can do it all and whatever size bike you need him to do it on. In 1988, a full five years away from racing 125's full-time, Ward got on one for the MXDN in France and battled the world champion JMB to a draw. Also, in talking to Broc Glover, David Bailey and Johnny O'Mara, they all have told me that Wardy over in Sweden in '84 (this was still the old format of one week on 500's and one on 250's) put on a riding clinic in both motos. This was a time where the European riders were still thought of as pretty good and Wardy schooled them. A sneaky-great ride that no one talks about. There's no doubt that getting RC and Ward with my first two picks makes it clear that I'm incredibly super smart or picking against a couple of guys that were drunk.
After that, Swiz had sixth and seventh pick and went with Ryan Dungey and Mark Barnett. Dungey's a great pick for obvious reasons, he's mega-fast and super dependable. His jump to the 450 for the '09 race was clutch and a great ride. Barnett though? All I can say is… wow. Swiz bypassed James Stewart, Ron Lechien, Rick Johnson to go with a guy that's raced one MXDN and didn't do that well at that event. Bomber is a great rider on the small bike and one of the best ever in that class but really Swizzle?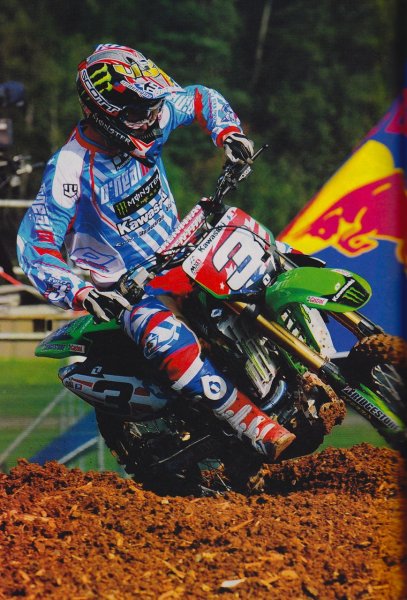 You didn't think I could leave him off did you?
So my turn was next and I debated long and hard to go with Lechien, Stewart or Tim Ferry and I went with, predictably, Ferry. Here's the thing, Ferry was 2-1 at the MXDN and never, ever, in five motos (in 2003 when I was his mechanic it was a one-moto format) had the number one gate pick for USA. He was always starting in the middle and therefore was doomed to be forced to work through the pack. In '08 in England, he came through big-time after James Stewart crashed out late in the race. Ferry needed five spots with 15 minutes to go and got seven. And on a track that basically sucked balls. And at Budds Creek, he was greatly overshadowed by Villopoto's dominance and Carmichael's last race but guess what? He won his MX3 class that day coming from the back. In '03 when we lost, he ripped his thumb back and tore ligaments in it on the second lap of practice and fought through that all day long. So yeah, Ferry's on my team and he's getting the first gate pick every damn moto. Suck on that.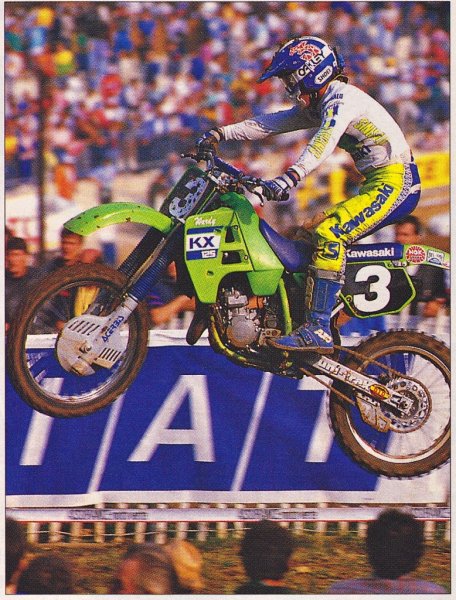 Whatever bike you want to put him on, Wardy just won baby. 7-0 speaks volumes.
My alternate is James Stewart because, well, he's James Stewart. He'll either dominate the race and go 1-1 or he'll crash. Either way, it's an exciting time. Or maybe it's Lechien for an alternate. What other rider can go out all night before one of the most important race of the year, pull up to the hotel as his team was leaving for the race in the morning, get 20 minutes of sleep and go 1-1 in winning both motos by a mile? Ron Lechien can- that's who.
Team Blaze
1- (third overall) Ryan Villopoto
2- (fourth overall) Jeff Stanton
3- (ninth overall) Rick Johnson
Alternate- David Bailey
When I think of the Motocross des Nations (Yes, I said DES not of. It was des, and in my mind it always will be des. Suck it Luongo!), there are certain names that pop into my head right away, Bailey, O'Mara, Everts, DeCoster, Stanton, Ward, Carmichael, and Villopoto. These men attained larger than life status by dominating the world's best riders, on motocross' biggest stage. With the pressure on, and with the pride of their country at stake, these men rose to the occasion and claimed motocross glory for themselves and their country. The Motocross des Nations may be a team sport, but it builds individual motocross legends.
When Matthes came to me and asked me to pick my all time MXDN all-star team I actually had to do a good bit of thinking on that. When it comes to the MXDN, we have been spoiled here in America. For the last 30 years we have basically had a stranglehold on the event (with the exception of a few races here and there of course). As a result, we have a huge pool of MXDN hero's to pull from. In fact, we have been so good, for so long, that we go into every year EXPECTING to win. If we lose (something Matthes may know a little about), everyone wants to know "what happened"? We are so talent rich, that it is actually hard to narrow it down to only three guys.
Because of the way we are doing this of course, some of that choice is take out of each of our hands. Making it a MXDN fantasy draft means that the guy you want may have already been taken. I think that added a little extra element to the selections that made it even more fun.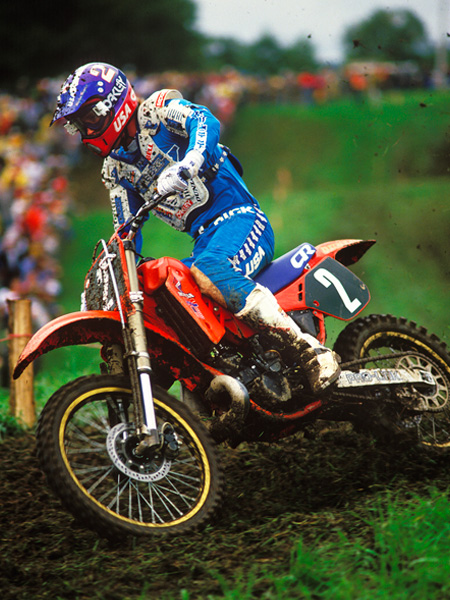 You know this was a tough contest when RJ was the ninth and last pick to start an all-world fantasy MXDN team.
Ok people, here is THE definitive All-Madden Motocross des Nations team.
In the first round I got to go third, so two guys were already off the board by the time I made my pic. I have to admit Swizcore's #1 pick of Magoo took me by surprise. Danny had such a mercurial career he seemed at first a strange pick, but then you have to remember his one incredible year in '82 where he swept every moto. I think that if I could be sure I was getting that Magoo, I would go with the pick. If however I am picking a rider on more than one incredible performance, Danny would be a tough choice. You could never question his heart or effort, but he is just too prone to throwing it away for me.
Matthes' choice on the other hand is a real no brainer. It is like picking Tom Brady in fantasy football, a sure bet. RC did have a few rough performances early on, but by 2000 he had it all figured out. If I'm forced to take '98 RC I might pass (although it was a mud bog that year). Any other year though he was just on it and laid waste to just about everyone. He would definitely been my #1 seed, but since the Canadian hosed me I had to go to plan B.
If you can't have the GOAT, why not go with the reigning 450 and SX champ? Ryan Villopoto is already a MXDN legend, having captured four team titles since 2006. His ride at the 2007 event in particular, may be the single greatest display of riding excellence ever put on at the MXDN. He smoked everyone (including RC, who in fairness got a last place start) on a 250F and became the only rider ever to win both motos straight up on a 125/250F machine. I was there that day and I have never seen anyone lay it down like he did. RV has proven just a proficient on the 450's, but if I am picking one guy for my MX2 rider, it has to be RV 2007.
Since I had to pick last in the first round, I got to go first this time around. For my second pic I choose Captain America himself Jeff Stanton. I mean how can you go wrong with this guy? In his day he was fast, consistent, unbelievably fit and completely unfazed by pressure. When the pressure was on, Jeff was as cool as the other side of the pillow. Need a pass for the win with one lap to go? Look no further than this guy, who will gladly punt a Belgian into next week to secure the title. Need a guy who can eat sand for thirty minutes on a 500, then with 3 laps to go, shave 10 seconds a lap of the leaders pace to capture the win and secure America's victory by 1 measly point? Stanton is your man. When the chips were down, there was no one better to have in your corner than the man from Sherwood Michigan.
Matthes second pic is another no brainer that I can't find no fault with. I mean, how can you go against a guy who according to Larry Huffman, could squat a Winnebago?
All joking aside, Jeff Ward really was another MXDN hero. The guy was undefeated for criminy sake! Now 7-0 is one hell of a record at anything, but at the MXDN it is just unheard of. If you want to split hairs, Ward is actually Scottish, but he did ride for the Stars and Stripes so I'll let that slide. Wardy was one badass dude on a dirt bike and if Matthes had not bogarted him, it would have been a real tough choice between him and my #3 pic.
Swizcore… oh Swizcore what the heck is he smoking up there? Barnett…really? I mean don't get me wrong. Barnett was one hell of a motorcycle rider. His four National MX/SX titles certainly attest to that, but I have to admit I did not even remember him ever riding at the event. As it turns out he did race the '83 MXDN and although we did win, I do not believe he did that well individually. Maybe he is figuring on putting the Bomber on a 125 where he certainly was super fast. I just hope he is not sending the guy in those JGR Toyota commercials. Oh well, its not my pick so I will just shut up now.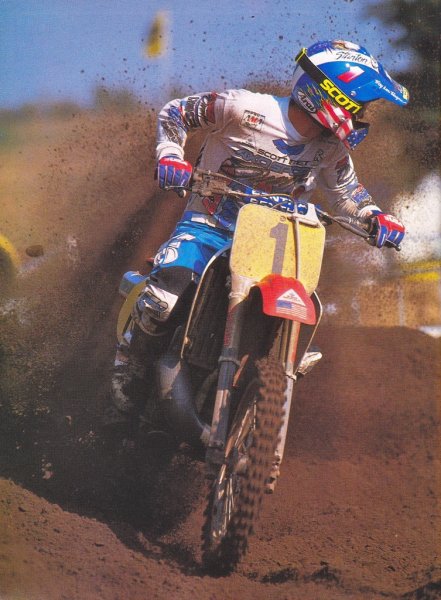 Stanton just refused to lose at the MXDN.
Back to Swiz to round out our Dream Team™, with a pick I can finally get behind. Some of you who follow me on Twitter (@tonyblazier-shameless plug) probably already know that I am a huge Ryan Dungey fan. I often catch crap from a certain surly French former Team Yamaha rider for my vociferous praising of his exploits. That said, it is hard to discount the success he has had at the MXDN. He is three for three and an excellent pick for the linchpin of any MXDN team. I was starting to worry Swiz was going all rogue on us with his previous picks, but with this one my faith is restored.
Wow, I never could have seen this pic coming. Matthes chooses Red Dog…imagine that. I don't think I want to even get into this nepotistic pic. Move along, move along, there is nothing here to see.
It is back to me, for my final pic and the coupe de grace of my invincible, unchallengeable, unassailable team of MXDN greats. The one and only, Rick "Bad Boy" Johnson is my pic for the MX1 guy of my team. RJ was the baddest man on two wheels for a good four years in the late eighties and a certain young boy from VA's hero through all his highs and lows. As much as I respect Stanton, I hated him in '89 for taking my guy down. RJ was the man and he had 35 nicknames to prove it. On top of his seven National titles, he also captured four MXDN victories. He was also a member of perhaps the greatest MXDN team of all time, the incredible '86 team of Johnson, Bailey and O'Mara. He was a rock at every event and took home class wins in '86, '87 (in absolutely terrible conditions) and '88. He surely would have added more as well if not for the wrist injury that ended his reign in '89. Solid, dependable and blazing fast, RJ was always up for the pressure that comes with motocross's biggest stage.
For my alternate I am going to go with a FIVE-time winner (how crazy is it that a guy can win this event five times and nobody picks him?), The little Professor David Bailey. One of the all-time most talented riders ever, from any era, David was cut down in the prime of his career by injury. Even with his career shortened, he managed to take home four AMA MX/SX titles, a Grand National title and five MXDN wins. That is one hell of a career, plus he anchor of the aforementioned '86 Dream Team. He could easily be the number one pic one anyone's team (except of course Swizzle, who would probably rather have Tyler "One Punch" Evans). With Bailey in my back pocket, my team will be invincible.
So there is my team, RV MX2, RJ MX1 and Six-Time on the big 5-Honey MX3 bike. There is NO way my team can lose.