No it's not Swizcore's childhood roller rink, it's a weekly look at a different picture of Ross "Rollerball" Pederson- 42-time Canadian champ!
No it's not Swizcore's childhood roller rink, it's a weekly look at a different picture of Ross "Rollerball" Pederson- 42-time Canadian champ!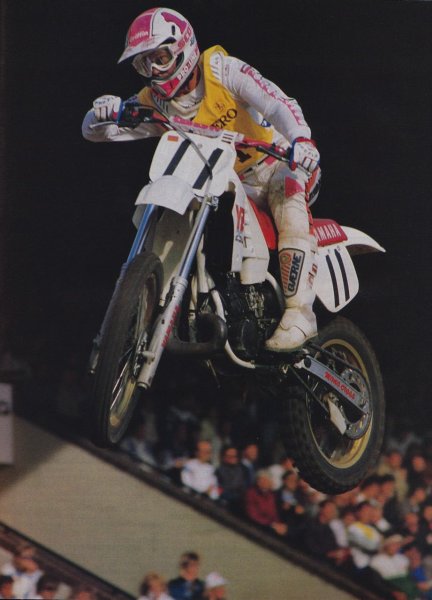 It's the off-season and with that comes new ideas and new thoughts here for Pulpmx. One said idea is to share with all of you one photo a week of Ross "Rollerball" Pederson. Yes, I know that's weird but so what, it's my site.
Here's a shot of Ross "Rollerball" Pederson from 1987 and it's from somewhere in Europe. You can tell just by looking at his numbers that no doubt this was just some bike a dealer brought out for him and they slapped some numbers on at the last minute. Ross didn't care much about style, he really only cared about winning.
Early on Roller raced a Kawasaki and then in 1981 switched to Suzuki's- a brand that he did most of his winning on actually. But in a shocking development in Canadian moto (and we didn't have the internet back then and no one really cared all that much about Canadian moto so we didn't find out until six months later) Rollerball switched to Yamaha for the 1986 season. And it didn't even matter, Ross still mowed through the competition and because Suzuki didn't make a 500, he could ride the YZ490 seeing as how the Canadian nationals switched from all three classes in one day to a split 125/250 and 250/500 series. And I think they also determined your Canadian national number on combined points so the fact he could race the 500 class and most likely the fact that Yamaha threw him a butt-load of cash prompted Ross to switch.
And he was probably never better than he was on Yamaha either, at least when it comes to the AMA finishes. He never made a podium on a yellow bike in an AMA national but made three of them on Yamaha's (Hangtown, Red Bud and Binghamton). And as usual in Canada, he smoked everyone in every race.
A few tidbits from this photo- one is that Ross was sponsored by Griffin helmets in Canada even though I don't think Griffin was SNELL approved which at that time, wasn't legal to race in Canada. So Ross just used a Bell Moto-4 with Griffin stickers. Why Griffin would sponsor Pederson with a helmet that WASN'T LEGAL FOR RACING IN CANADA was sort of weird but hey, I'm sure the checks cashed (or if you're in Canada cheques).
Another thing was that R&M Racing in Canada was the Answer importer (run by Rick Sheren) and Ross and almost every fast guy always wore Answer EXCEPT for the gloves which are home-grown R&M gloves that pretty much every dealer in Canada sold. They were cheap and Sheren blew them out to everyone he could. I had about 743 pairs in my youth. When you washed them, they would crumble themselves into a little ball like a spider sprayed with contact cleaner. Good times indeed.
Stay tuned next week when I select another random Ross "Rollerball" Pederson photo and ramble on and on about it.