It's that time again, time to look back at a classic photo of Ross "Rollerball" Pederson- 42-time Canadian MX/SX Champion
It's that time again, time to look back at a classic photo of Ross "Rollerball" Pederson- 42-time Canadian MX/SX Champion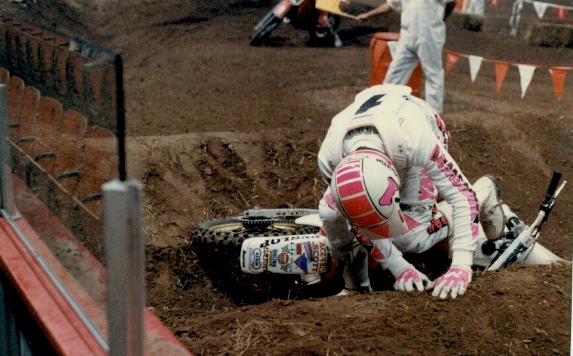 Don't let it be said that we only feature highlights of TDR (The Dreaded Ross as my buddy Mark and like to call him) because this week on Roller-Rama, we feature a rare crash by Rollerball. Taken from the personal collection of a ex-pro racer named Glen Hoar, this is from an arenacross in 1987. The caption says that Ross won, threw his goggles to the crowd and immediately fell down in these whoops. So yeah, the bottom line is he won once again and only after his guard was down did he fall. At least that's what we're going with.
Do you think he could have fit any more stickers on his rear fender? Man when I was a kid I wanted some of those die-cut Dunlop stickers that only the factory guys seemed to be able to get. They were pretty sweet. Last weeks photo showed Ross wearing this same gear but with R&M gloves which were the Canadian distributors own line of gloves. Here he's wearing the actual Answer gloves that match the awesome Mickey Dymond-ish sweet gear.
So yeah, I put this up this week to remind all of us that even giants can fall once in a while and here's proof of that. Stay tuned next week when we dip into the archives and dig up another photo of Ross "Rollerball" Pederson!