San Diago round six of the series is apparently that time of the year to build the gnarly whoop section.

San Diago round six of the series is apparently that time of the year to build the gnarly whoop section.
Photos by: Jamie Lissimore
San Diago round six of the series is apparently that time of the year to build the gnarly whoop section. Last year the whoops were the great separator, I would know because I was there. I watched Tomac cartwheel and DNF right in front of me in turn earning me $20 from RacerX contributor Aaron Hansolo. Stewart also had a good get off in the whoops and then got wrapped up in a television cable. JT$ the peoples champion jumped through them every single lap never attempted to skim them and it was a smart move as those whoops ended several riders night and it got him is best result Supercross result in 2012. The whoops this year were not quite on par with last year but they started out big and with all the rain they got they deteriorated quickly and got really rutted. If you listened to the Pre Race Pulpcast this week (side note I never manage to listen to these until after the race usually the next day) Ping mentioned the whoops were beat up and that jumping through them was a good strategy yet guys continued to grab 4th gear and try to stay on top resulting in trying to stay on a bike that is huck a bucking. What does any of this have to do with the LCQ's I have no idea, if you have a better idea on how to start these Just Short articles you start writing them.
#653 Tyler Bereman Lake Elsinore, CA Kawasaki KX 250F Thousand Oaks Powersports/DC Shoe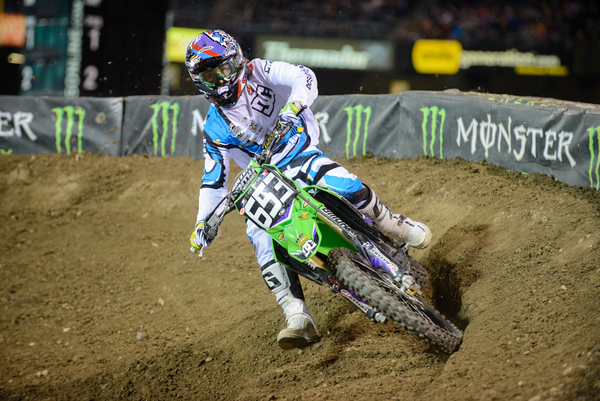 Some guys just have "the look" and Beerman is one of them.
After watching the race live you would think I have lots of interesting notes and comments about the riders that came up Just Short this week, you would be wrong. I did write something down on my phone "Beerman" nothing less nothing more because when I saw Tyler Bereman fighting for the last transfer spot knowing the odds were not in his favor because Nelson was coming for him all I could think about is that dudes nickname should be Beerman. Not very original I know but some things are just meant to be. I've never heard of Beerman but I can assure you I will never forget him, beer is not something to be taking lightly unless of course it's a light beer. Only downside to this Beerman nickname I've coined here is that he's only 20 years old so can't even buy beer yet.
After doing a bit of google and twitter stalking it appears Beerman is your stereotypical SoCal MX professional not that there is anything wrong with that. He has the look, long surfer hair, flat bill, black socks. He has the lingo "crewzin, my kit, steez, freshie" etc. you get the idea. But most importantly to complete the look he has the right sponsors, Deft Family, DC Shoes, Spy, Dirt Bike Kid. Last but not least he's also from Canyon Lake, CA. I don't judge a book by it's cover and I don't know this kid but he's been making the night shows and is walking that line of qualifying for the main events, all very respectable. Beerman might be the only rider besides MC that I know of wearing the DC Shoes gear. I'm a big fan of unobtanium there is something special about having something you can't just go out and buy like a lock of Shorty's hair for example. There are a lot of cool sponsors in the sport and DC Shoes is right up there with Volcom and Redbull on the badass scale in my opinion.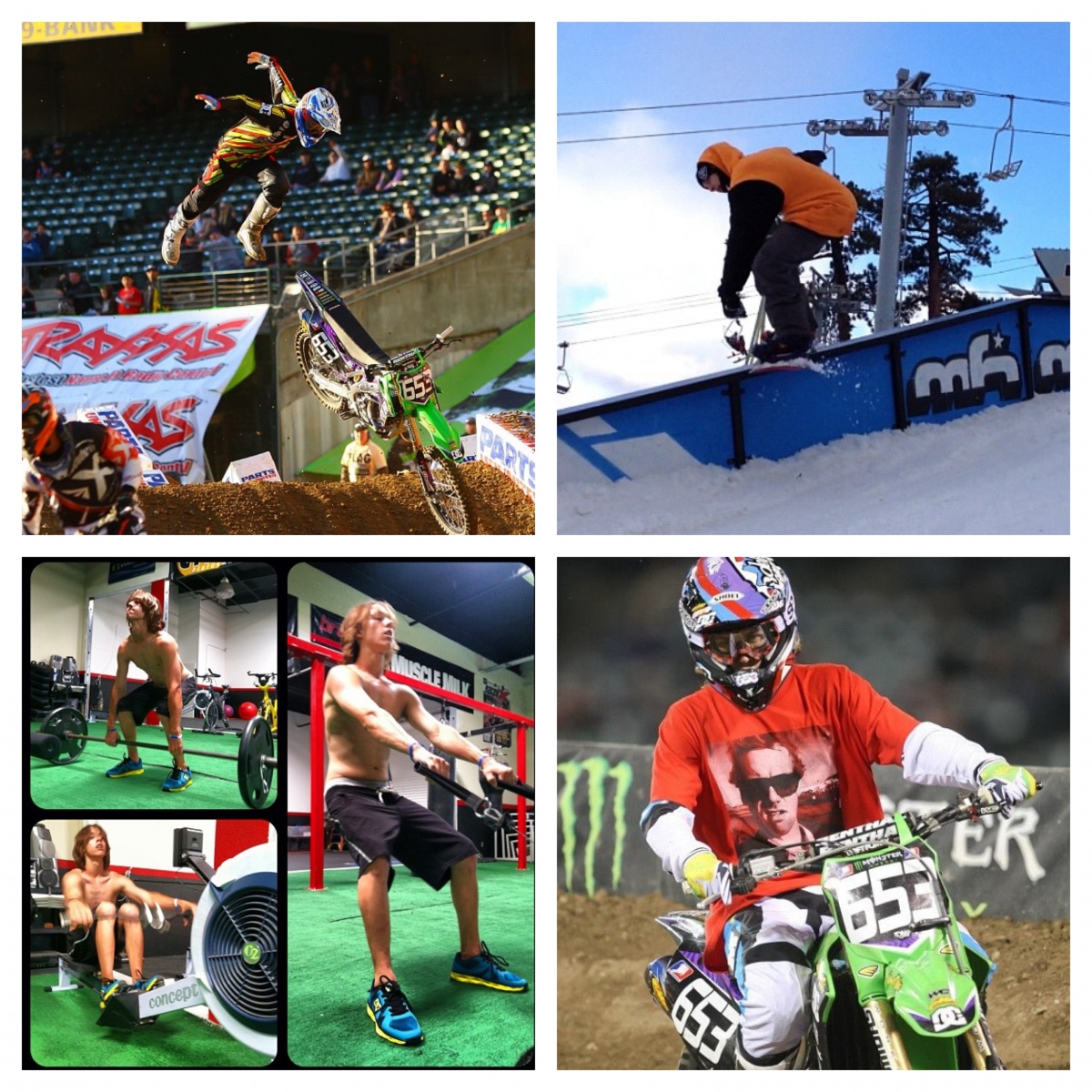 Wow Beerman loses his bike in Oakland
Shredding the gnar, having DC as a sponsor can't hurt with your board & boots setup
Topless exercise photos on Instagram are about as common as a picture of your dog now, this one is for my lady readers (hi mom)
Rocking a McGriddle shirt on parade lap of the first SX main event he ever qualified for at A3, pretty cool thing to do. I don't know who McGriddle was but he obviously touched a lot of peoples lives in the moto industry nice to see so many people honor him and carry on his memory.
Have you ever seen the beer in a can just labeled "Beer" that would be the perfect sponsor for this kid. When you were a kid and lining up on the gate looking the part was even more important than how fast you actually were. Matching gear and not just any gear but gear that is considered cool at the time, numbers and graphics on your bike straight with minimal bubbles. The race could be won or lost before the 30 second board ever went up, you envied that kid who looked cooler than you and he mentally had you beat already. Beerman has the look, he reminds me of Durham just looks the part of the professional motocross racer. Anytime I come across a myspace link you damn well better expect I'll be posting a link that it.
http://www.myspace.com/tyler653Looks like the last comment someone made on his myspace page was 2 years ago, congradulating him on his Lorretas finish, good job Beerman. Thanks for coming up Just Short Beerman I didn't know who you were before but I'll be keeping my eye out for you when the series swings West again, and depending on my BAC level I might try to track down your pits at Seattle SX.
#54 Les Smith York, SC KTM 450 SX-F Factory Edition BTO Sports/KTM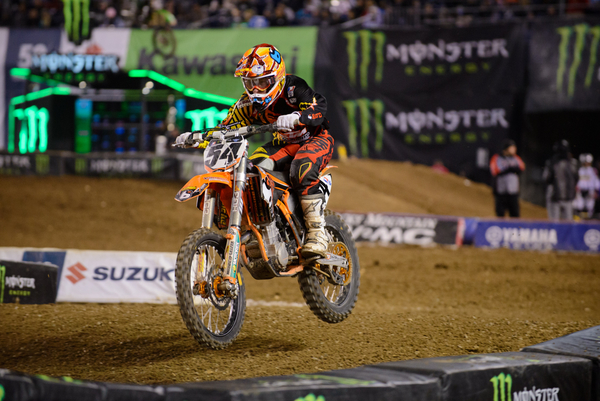 How did Les Smith end up without a ride after he already had a contract?
A situation all too common in this sport see (Andrew Short, Dean Wilson and many others). The norm for a rider on a team that is folding is he gets screwed and kicked to the curb but not for Les. He had a good relationship with the owner and main financial backer of the LWR team Scott Witt and in a very rare occurrence for this sport a handshake and someones word did hold water and he honored the contract and will be getting Les to the races this season. It's a bit confusing so check out this interview on RacerX with Les and he explains how it all came about http://www.racerxonline.com/2012/11/19/monday-conversation-les-smith
Currently as a fill in for Burner I wonder if he gets to eat as many Bubba burgers as he wants, I really want to try one of these.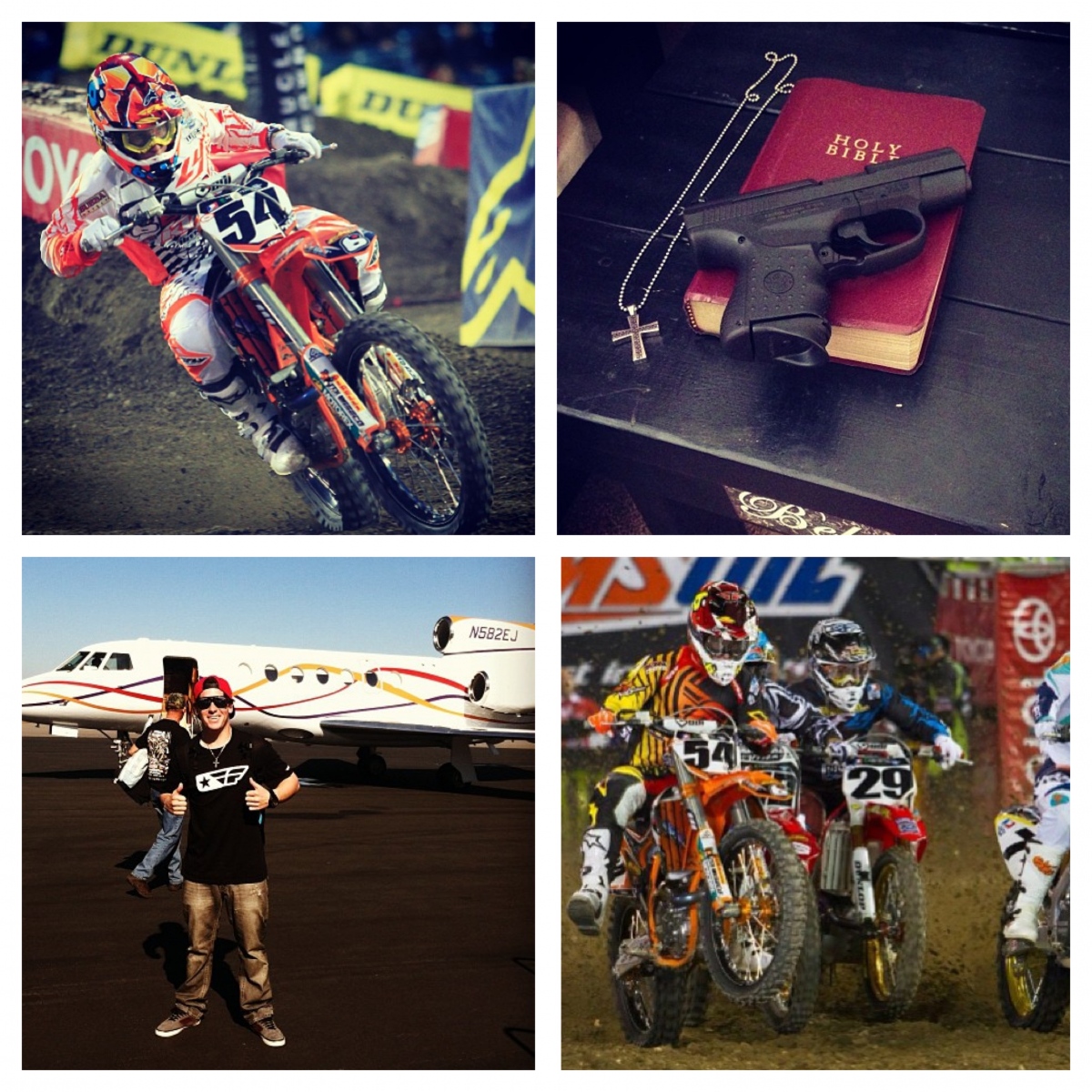 That's just a cool picture railing through the turn
The essentials, Jesus, bible and a firearm
Hopping on a G6 is the only way to fly, Cole Seelys agent would do the same thing
Obviously Les has some skills he got the jump on Shorty off the gate
I had forgotten that Les was one of the 7 riders who broke a leg at Unadilla during the nationals last year. On the LWR team Les had some breakout rides and was at the front of the pack a lot but it he also had a lot of DNF's, I'm going off memory but they has some problems with the bike reliability as they were running the all new KTM450 "factory edition". Les has a unique training situation he's one of the few riders I can think of that practices at the Carmichael farm. Carmichaels mom meany Jeannie has helped train Les, to what extent I'm not exactly sure but hes the only rider I'm aware of that has been on more or less the same program as Ricky himself was. Meany Jeannie is known for being a hardass which is kind of ironic because after watching the RV2 special last weekend who's mom was equally hard on her son in an effort to push their kids to the highest level. Meany Jeannie was responsible for all of Carmichaels on the bike training (I think) which is very impressive when you look back at one of the greatest careers of all time. Stepping into that role as the next rider to be trained by Meany Jeanie can't be easy and the expected results from such an asset have not yet been reached. It's yet another example that what works for one rider doesn't necessarily work for another, so many pieces of the puzzle have to fit and you need a little bit of luck too. Riding with Dungey on a regular basis can't hurt, every top rider has someone to fill this role a riding partner someone to spin the laps with and help mimic race conditions, keep the pace up and help break the monotony of riding lap after lap after lap. Reed has Burner and took a bike hit losing JT$ this year, RV has Weimer, Stewart has Mookie and had Dungey for a year way back when he was on a 250F before they has a falling out at the US Open, Short has had Tomac and Roczen stay with him the last few years, Canard has Top Jimmy. Les has the speed and resources to be a main event guy every weekend, but with this being his first SX1 season he's going to have some rookie mistakes. As the season goes on I bet we see steady improvements from Les, stamp it.
Thanks for reading this Short recognition of the guys that almost made it. See you next week, Moser.
Please send all comments to jasonw@racerxill.com