The real Just Short battle of Dallas was between the two meatheads, and neither one of them cared.
The real Just Short battle of Dallas was between the two meatheads, and neither one of them cared.
Photos by: Jamie Lissimore
Kiniry and Peick, (meathead and the nihilist) were 2nd and 3rd respectfully in the SX1 LCQ. A true battle of brawn. These two guys are really one in the same. They look similar with the build of a linebacker, jaw lines and craniums that make beer bottles shutter at the thought of getting broken over their heads. Similar riding "style" or lack thereof. If ever there were riders that needed to adopt Rynos riding technique of unlocking their hips its these guys. Some riders say they need to feel the flow of a track to go fast, like Cole Seely. But Meathead and Nihilist have never flowed with a track nor do they care.
What they lack in style and flow they make up for in heart, determination, brute strength, and training. It may not be pretty but they get the job done. They don't make excuses or complain they just do it, I guess you could call them Marines. It's easy to poke fun at these guys but they have put in untold amounts of work to make it this far in their careers without the natural talent of a Seely, Short, or Windham (and that's nothing to shake a stick at). The battle of the meatheads never really came to fruition with Peick going down and not making the main, but he didn't even care. Let's take a look at the guys who came up Just Short.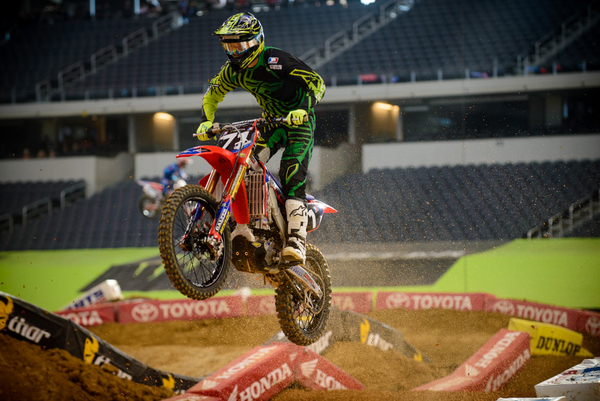 I like Freebergs look.
#71 Zackery Freeberg Riverview, FL Honda CRF 250 MAYKERS/Witt's End Racing/BPM/Scott/Bell/Fly/Alp
What do I know about Zackery Freeberg? He's been racing pro for a year or two. Started out as a privateer (I think), then got picked up by the Langston Witt's End Racing team last year. He grew up in Florida and is buddies with Adam Cianciarulo (I can't wait for the day I don't have to google how to spell Cianciarulo). That's everything that comes to mind off the top of my head. I think he had some decent rides last year but I don't recall any specific race though. Let's see what I can strum up with google on what he's doing this year.
Man poor Freeberg has gotten shafted on rides and by teams a few times in the past which I learned just by reading the previews of the google search results. Thank you racerxonline.com for filling me in on what Freeberg is doing for this year, riding for the MAYKERS/Witt's End Racing Team on Hondas.
http://www.racerxonline.com/2013/01/16/maykerswitts-end-racing-signs-freeberg-and-zimmer
MAYKERS is the headline sponsor and they are a "soft goods brand". After checking out their website apparently that means they sell clothing. Cool story how the company got started by Colten Maynard and Alvin Lopez. They both raced as amateurs and then suffered career ending injuries. This is the first I've heard of MAYKERS, but now I'll keep an eye out for them and their stuff. Ryan Zimmer is also riding for the team. Can't say I've heard of him. But now I know who he is, that has to be some type of spin on B2B right?
I'm either tired or drunk or both because I can't figure out who or what Witt's End Racing is. Google didn't come up with anything. But Witt sounds familiar…Where have I heard that name before? Oh! The now defunct Langston Witt Racing team. Witt was the major financial backer of that program, then decided he no longer wanted to be a team owner but still wanted to be involved in the sport. Is any of this ringing a bell for the 10 of you that read this?
Witt is now involved with the BTO Sports KTM team (the new home of Andrew Short). He even landed the largely popular BUBBA burgers sponsor for the team; dammit I want to try one of those burgers. Apparently, Witt really wanted to stay involved in the sport because he's also somehow involved with the MAYKERS team. To what degree? I have no idea. If I wasn't such a procrastinator I probably could have asked a guy, who knows a guy, that has a friend, that might have gotten back to me with an answer. But, that's not going to happen now; I have a deadline to meet. At the 1st race of the series in Dallas Freeberg got last in his heat race (I'm assuming he had a crash). He then got 10th in LCQ, coming up Just Short in Hotlanta is a big step in the right direction.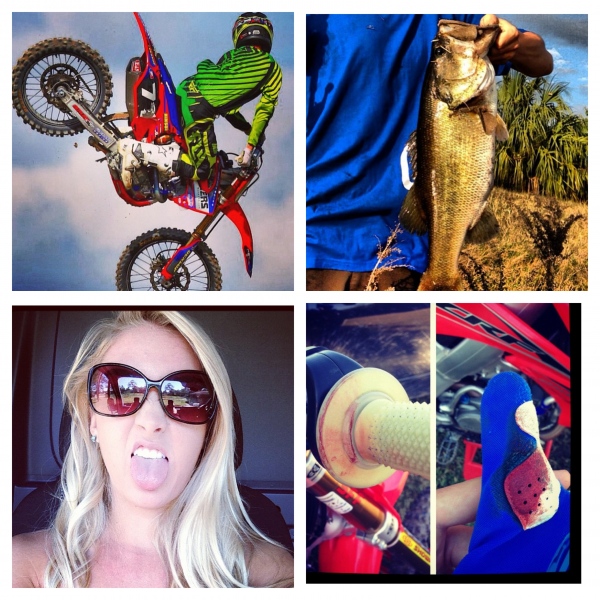 @zackfreeberg
I've said it before and I'll say it again. The all red plastic on the Hondas looks sicker than sick bro. Also, this year's FLY gear is badass; Freeberg is looking good.
Sorry Ladies Freeberg is taken.
Apparently Freeberg is an angler (I think that's what fisherman call fishing).
Bleeding through your glove onto your grips means one of two things: you just rode a shit ton, or you haven't been riding enough. But, either way it makes for a great photo.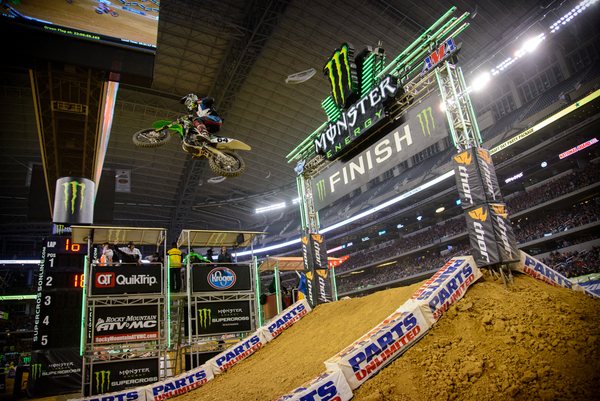 Pooh loves honey, trust me my daughter watches the movie a lot.
#64 Justin Sipes Flaherty, KY Kawasaki KX 450F Gateway Cycles/The Privateer Journey/Fly
"Pooh Sipes is back" stated loudly with vigor by one Steve Matthes. I didn't know he had gone anywhere but Pooh kind of flies under the radar. Justin "Pooh" Sipes is the younger brother to Ryan Sipes (although twice the height). For a couple years he has been a borderline consistent main event guy in the SX1 class. The Sipes brothers always remind me of the south, which reminds me of moonshine. Which reminds me of the first time I tried some tailgating at a football game. I was certain I was going to go blind; and I was shocked it didn't taste like gasoline. Justin got the nickname Pooh because he looked like a Pooh bear when he was a baby. I'm not sure how this is possible. Therefore, I'm doubtful, but I've heard this from separate "sources." So, it's either true or a very elaborate prank being pulled on me.
It should come as no surprise that there is not a lot of information about Pooh Sipes on the world wide web. I was shocked to find he has a twitter account @poohsipes. His posts are far and few between, but he has an account. Dan Dunes interviewed Pooh for one of his Privateer Showcases. It gives you a little insight into what makes Pooh…well Pooh. It's a couple years old but if you want more Pooh check it out http://www.motoxaddicts.com/2011/05/26/privateer-showcase-justin-sipes/
I didn't find the end of the internet but almost before finally finding some info on the Scott website about Pooh's 2013 supercross season.
http://www.scott-sports.com/us/en/news/motorsports/Wilson_wins_dallas/;jsessionid=5B76D01774CD136E2887CDA0B86A76DE
Quote
"SCOTT athlete Justin (pooh) Sipes has been out recovering from an early season injury and Texas marked his first race back. Justin rode well, earning a spot in the main event with a 9th place finish in the second 450SX heat race. Sipes would go on to finish a respectable 17th in the main event. Look for Sipes to rebound next weekend in Atlanta, Georgia, where the 8th round of the AMA Supercross series will take place."
UnQuote
Scott does a nice write up on all their riders every week. who knew? Listed on the ama score sheet for sponsors is Gateway Cycles, a motorcycle shop out of Kentucky. His next sponsor listed: The Privateer Journey. Fittingly their website doesn't work, the life of a privateer it seems, click on the link…it doesn't work. Try it, I dare you, are you chicken? http://www.privateerjourney.com
What would Pooh do? I'll tell you what he would do. He's going to try and get into the main event next weekend, that's what he's going to do.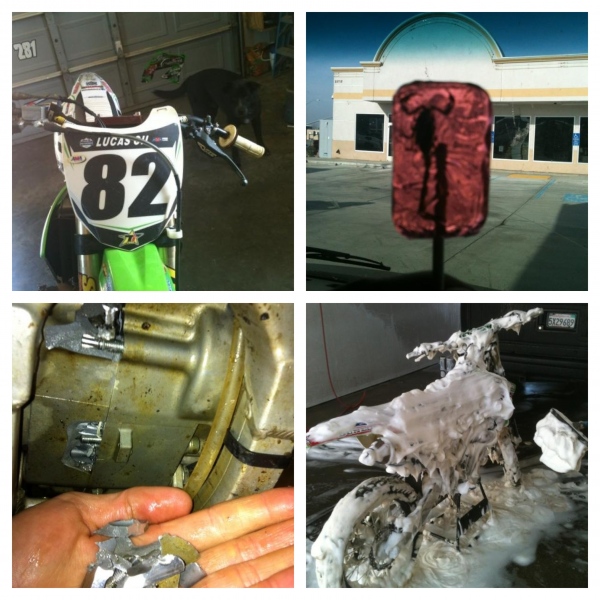 Pooh doesn't have an Instagram account (shocker I know). So, I found these pictures on his twitter account.
That's a unique bar bend, maybe called the Pooh special?
A scorpion sucker, simply awesome
Now that is why you use a skid plate kids that is a broken case
Pooh prefers to give his bikes a romantic bubble bath.
Thanks for reading this Short recognition of the guys that almost made it. See you next week, Moser
Please send all comments to jasonw@racerxill.com