What can you say about the LCQ's at ST. Louis?
What can you say about the LCQ's at ST. Louis?
Photos by: Jamie Lissimore
Seriously somebody tell me because I haven't got a chance to watch them yet but I'm assuming the CBS coverage didn't cover much of the LCQ. So I'm just going to kind of wing this intro which isn't much of a stretch from what I do every other week. TJ (Top Jimmy) is quietly staking his claim as the new JT (Jason Thomas Ironman of SX) in these LCQ races. Is it a coincidence they have similar initials, yes I think it is but lets just run with it. The talent in the LCQ's this year has been no joke, consistently there has been one or two "factory" supported riders trying to qualify out of the LCQ making it no easy task.
TJ has managed against insurmountable odds to do just that, on several occasions. Maybe it's because as a privateer he's got the fire and drive to do whatever it takes, perhaps he performs better when he's an underdog and the deck is stacked against him or as I believe it's his destiny to pull those massive and glorious boner airs over the finish line every time he wins the LCQ. Nobody wants to go to the LCQ but if it has helped any two riders with their confidence and helped them carry that into the main event it was JT and is now TJ.
Ironically Zack Freeberg of the MAYKERS/Witt's End Racing team came up "Just Short" last week and this weekend his teammate Ryan Zimmer suffered the same fate. Based on what I read on twitter it sounds like Chris Blose threw away a qualifying position when a tough block jumped up and tackled him, no news of the condition of the tough block after it was pile driven by a brick shit house.
#244 Ryan Zimmer
Fuquay Varina, NC
Honda CRF 250
MAYKERS/Witt's End Racing
If you're not a regular reader of "Just Short" first "Eff you dude" second go back and read last weeks Just Short where I touch on who the new team MAYKERS/Witt's End Racing team is. You didn't go back did you, long story "Short" MAYKERS is a moto related clothing brand and Witts End Racing is Scott Witt who is a sponsor of the BTO racing/KTM team this year and was the principal in the LWR (Langston Witt Racing) last year. I don't know anything about Zimmer other than he is teammates with Freeberg. I've never even heard of Zimmers hometown of Fuquay Varina, NC, so thank god for google.
Alright Fuquay Varina is smack dab in the middle of North Carolina I don't think you could be more in the center if you hit a bullseye on a dart board (I thought that sounded southern) It's a small town much like where I grew up, only 7 square square miles and less than 19,000 people. The only other place I know of offhand in North Carolina is the home of Weege aka Jason Weigandt of Blogandt fame. So from Fuquay Varina to Weeges house it is exactly a 2 hour 43 minute drive or if you're not in the condition to drive its a 44 hour walk approximately depending on traffic.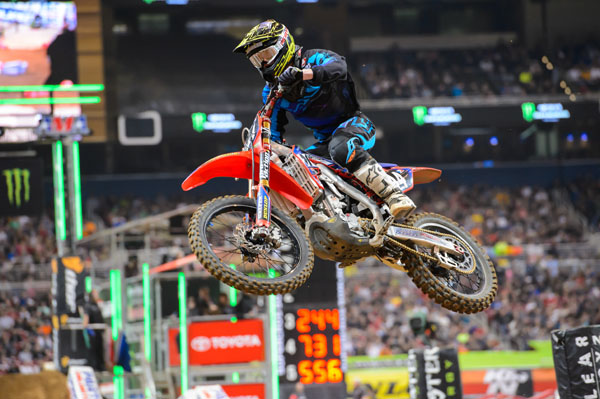 I said it last week and I'll say it again this week I like the look of these bikes
I have not yet had the pleasure of buying Chase Stallo of RacerX a beer but I look forward to the opportunity. Chase does most of my work for me this week interviewing Zimmer last year during the outdoors and getting all shorts of information I never would have gotten my hands on. It's a "short" read you should definitely check it out.
http://www.racerxonline.com/2012/08/09/privateer-profile-ryan-zimmer
For all of you that didn't click on the link (likely all of you) the highlights are Zimmers rookie year in 2011 was full of injuries, 2012 he was qualifying for nationals, he worked with Timmy Ferry for a little while, but most notably at least to me was that he's dating Scott Witts daughter. Yes you read that correctly he is dating his bosses daughter, so it's safe to say that Zimmer is a gambling man. I like your style Mr. Zimmer. This is an interesting family and racing dynamic I'm still trying to process it. Yup and still trying to process it. This is going to end one of two ways, in marriage or without a ride. I drew it out on a piece of paper there is no other possible way this can end, it's definitive like gravity there is no changing it.
When I asked an unnamed source (a man who washed, stroked and torqued the nuts of thee Tim Ferry) if Red Dog had anything notable to say about working with Zimmer I got this in response,
"He's funny!! Always cusses when he's riding and sweats more than anybody I've ever seen haha".
I'm instantly curious who sweats the most; Reed, who I was told by Scott rep John Knowles sweats worse than anyone, TJ, Top Jimmy who says he sweats worse than anyone he knows or Zimmer. I don't know how you measure sweat but this is the type of information the fans really want to know who sweats the most. "Cusses when he's riding" I have a problem with this. Not with the cussing I could give a F*$& about that, but the while riding part. I vividly remember the first time I was in a race and had someone yell at me when we let off the throttle going into a corner, it scared the shit out of me. I ride in the zone I'm not talking to myself or yelling or screaming, I'm riding or racing looking ahead, elbows up etc. etc. the thought had never even occurred to me to yell while riding and I'll never forget the first time I was yelled at. I adopted the technique as well, it's not something I'm proud of and I only used it when absolutely necessary, ie. not being able to pass someone that was slower than me.
Through my extensive research I found this gopro video of Zimmer (I think it was on The MAYKERS twitter account). Watch Zimmer take a big digger off the triple when the #266 of Jesse Wentland comes up "Just Short" on the triple and Zimmer me timbers lands on him, he's lucky he walked away from that one. It's at about the :48 second mark that Zimmer tries to use Wentland as a landing.
http://m.youtube.com/#/watch?v=npkxoVdMYiQ&desktop_uri=%2Fwatch%3Fv%3DnpkxoVdMYiQ
Zimmer doesn't have a twitter account or an Instagram account, at least none that I could find, maybe he has an alias name and is pretending to be a coal miner in Nebraska or something, who knows these riders hit their heads a lot. Or maybe just maybe he simply doesn't have a twitter account, I can't think of anyone else in the industry that doesn't have twitter except maybe Jim Hollywood Holley. I took these pictures off the @MAYKERS instagram page this week to make up for Zimmers lack of social networking.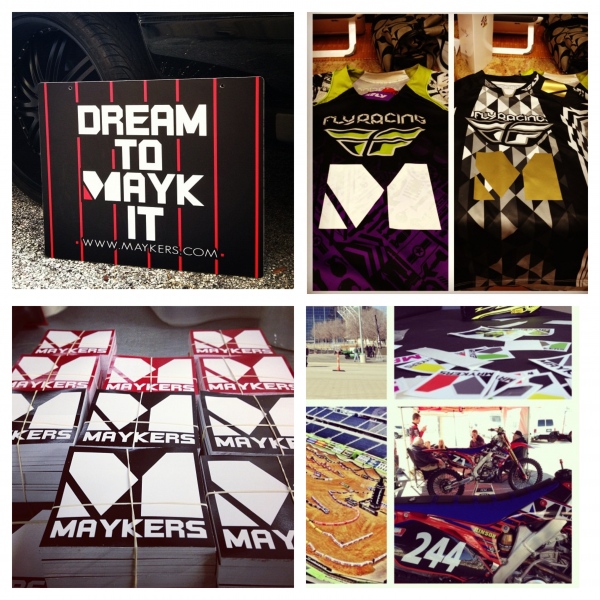 "Dream to MAYK it" I see what you did there and I like it
These are iron on patches that MAYKERS plans on selling, I still remember trying to iron my name and number on the back of my jerseys it was impossible to make it look "factory" it was never straight and started peeling off after a couple wash cycles, with that said I still think it's a cool idea and perhaps iron on technology has come a long way in the last 15 years.
The stacks of stickers and bikes under the tent pretty much speak for themselves.
#84 Chris Blose
Phoniex, AZ
Yamaha YZ450F
N-Fab, TiLUBE, Yamaha
My first memory of Chris Blose was when his older brother Michael Blose was riding for the BooKoo team on the reality TV show called the reality of speed. Chris was an amateur at the time but meet with the team owner Michael Holigan who agreed to sponsor him and help out with his amateur career in anyway he could. I also remember the entire team got ostrich cowboy boots one episode but that is neither here nor there I suppose. Michael Blose was a great rider in his own right for some reason I thought he had won a main event but the best finish I could find was a 3rd place finish in Atlanta 2004, still nothing to shake a stick at.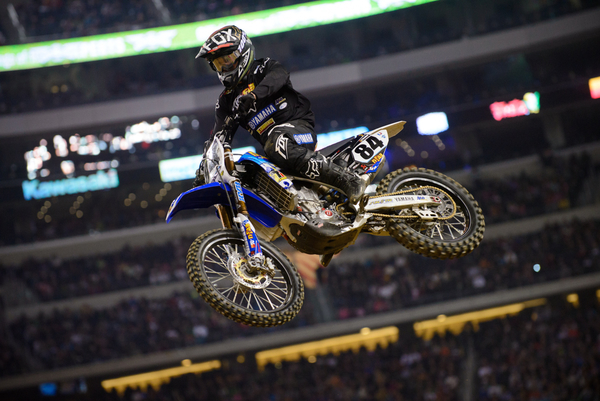 Chris has a future as a bodybuilder after he retires, seriously
Chris is one of the quiet guys of the sport, a man of few words not very outspoken he lets his riding do the talking and leaves it all out on the track. Anyone reading this has likely seen a picture of Chris in casual clothing. I don't know if I have any female readers but if I do for sure they all have seen pictures of Chris with his shirt off, in "short" he's ripped. I got to meet Chris at A1 this year, we had exchanged tweets from time to time mostly just me adding comments to Pookie and her friend @Suzeinsincity tweeting about his abs or biceps. Fittingly enough I was hanging out at the N-Fab, TiLUBE truck and Chris was chatting with some people while simultaneously hanging his arms from the easy up in flex formation. Shocker I couldn't help myself from commenting about his pose and biceps, instantly making the situation awkward. When I introduced myself that only made matters worse because apparently he remembered me or knew of me and asking how big his biceps were and if I could feel them was the straw that broke the camels back and he took refuge in the truck. But it was nice meeting you Chris.
Chris has been in the game for awhile now, I think of him as a Supercross only rider but maybe that's just because of his time at H&H. We all know what a big fan his grandma is (well any fan of the pulpmx show knows at least) which is badass you gotta love having a grandma like that. Ping has nothing but good things to say about Chris and the time he got to spend with him on the Troy Lee Designs team, he's still flying the Chris Blose flag today, years later. I don't recall Chris riding outdoors for Troy Lee though, and looking it up would be a lot of work. Tell me if you've heard this before "I'm a better 450F rider" sound familiar? Said every rider EVER! Chris is a bigger guy, by that I mean stocky he's all muscle or as the Kenny Watson described him a "brick shit house". I don't know what it takes to upkeep that kind of muscle mass, lucky for me I don't have that problem. His height is not an issue though so I wonder if he could cut a bit of weight and drop back down to the 250F I'm just bench racing here.
Anyways Chris is and has been a main event guy for several years now and had a career best fourth? place finish at the Las Vegas SX (going off memory there, I'm sure my editor/fact checker Swiss will confirm that for me). I look forward to seeing what Chris will do outdoors this year as the N-Fab, TiLUBE team is doing the entire series. The last outdoor national I recall Chris racing was last year on a PulpMX sponsored bike (with TBT tuned suspension a Northwest company that I ran back when I used to race), did I mention it was a 250cc 2 stroke, talk about bringing a spork to a gun fight and he didn't qualify. Hearing Watson talk about Chris racing Mammoth Mountain on a Service 500 was pretty funny, I did not envy him though my hands hurt just thinking about it.
Chris has been getting into designing and printing different types of graphics and decals check it out on Instagram @PHIT_INDUSTRIES It looks like he can do all shorts of stuff, toolbox graphics, he even wrapped his own apple monitor, I didn't see any wrapped coolers though.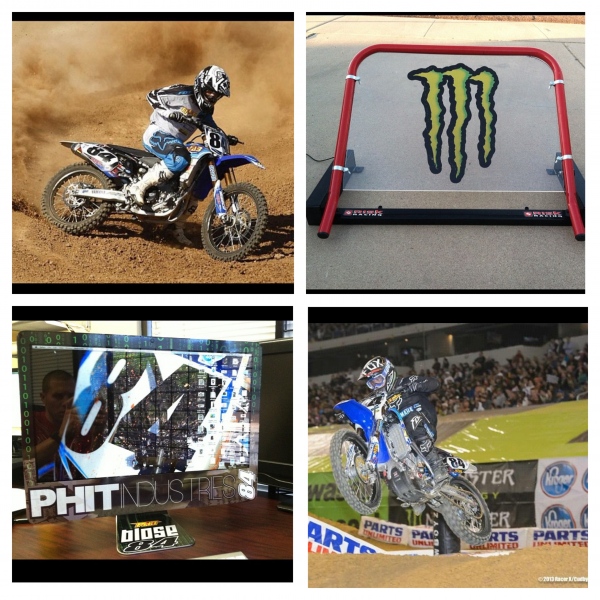 That's just a cool picture, no doubt growing up on the hard packed and baked AZ soil helped his flat tracking skills.
Chris wasn't getting off the gate to great (that rhymed) so he made this setup to practice his starts, I'm sure team manager Alan Brown was happy to see him putting in the work.
Wrapped coolers are so 2011, wrapped monitors are the new thing, you want one Chris can hook you up @PHIT_INDUSTRIES
In the all black gear on the Yamaha it looks like he's a "bad" guy riding in the Nitro Circus against his buddy Mike Mason who is a "good" guy.
Thanks for reading this Short recognition of the guys that almost made it. See you next week, Moser
Please send all comments to jasonw@racerxill.com