Here's the people who just about made the main
Here's the people who just about made the main
Just Short 12 Vol. 2
Toronto Eh
By: Moser
Photos by: The Google
Lets try and make sense of the notes I took while watching the LCQ's live on speed from Toronto eh. Taylor Potter from down under is down in the whoops, at least his girlfriend is hot. It was both a cool story and a cool profile that Emig did on Potter who sold everything he owned and moved to the USA with his girlfriend to race supercross. Good to see the privateers get a little press, Emig most likely was inspired by this Just Short column. Dude goes ass or tea kettle and ass over tea kettle again on the start of the 450 LCQ. I wonder where that phrase ass of tea kettle comes from. Dammit it was Top Jimmy who crashed on the start he's never going to give me another interview again, I must be bad luck. I was bummed to hear Top Jimmy broke his wrist he's a good guy, great guy, get well soon.
Weenerstrom and Pipes names both scroll across my screen and I hope either of them comes up Just Short. Ronnie Stewart is leading this thing and they said he hasn't qualified for a main event this year, if the announcers keep doing their job this well I'm going to be out of a job. Les Smith and Pooh Sipes are really close in speed and both make their way by Stewart who's not quite on their pace. Les Smith almost went over the bars he probably called Matthes for poop stain removal treatments. I didn't know anything about the riders that came up Just Short this week, which has been a noticeable trend with the 250F East class. I leaned heavily on google this week to get information on these guys with some mixed results.
#225 Tyler Mcewen
Quincy, IL
Honda CRF 250
Big St. Charles Motorsports, TLR, ODI
Lets start out with the google search results. I can't say I've ever googled myself (yes I have) but google can tell you a lot about someone. What google told me about Mcewen is that they don't know much about Mcewen. Everytime I type Mcewen I think of Ewan Mcgregor, which reminds me of star wars and how dorky star wars fans are, what was I doing again?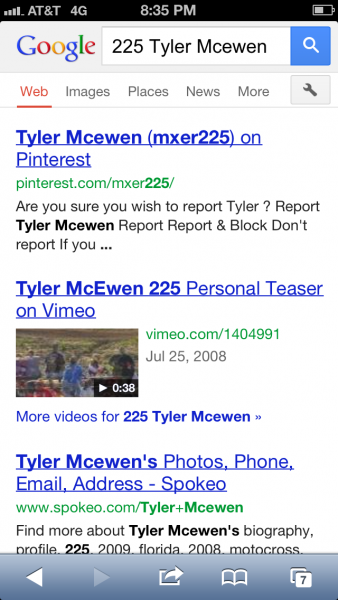 Mcewen Google Search results
The top search result for Mcewen is that he's on Pinterest, yes the arts and crafts, cooking social media site I know what it is because my wife loves that site. I'm not on Pinterest because I'm a man. I put Mrs. Moser to work stalking his Pinterest page to try and get some information. Mrs. Moser came up Just Short as well with no real information posted on his Pinterest, but for all my readers that are on Pinterest which is probably most of you here are the people that Mcewen follows and his followers.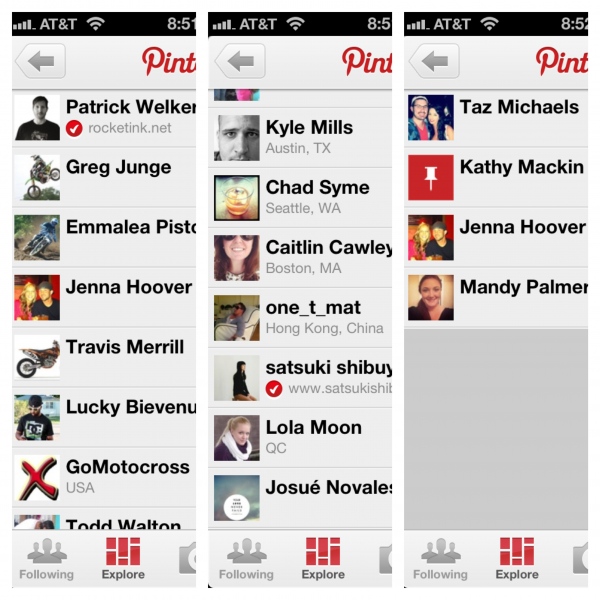 Pintrest
Here's some stats and facts I found on the Shades of Grey custom helmet painting website. I think Mcewen and I would get along just fine because I also like bicycles, swimming and skooters.
Gender- Male
Height- 5'8"
Weight- 140
Hometown- Quincy, IL
Favorite Track- Millville
Favorite Song- "Soundtrack to my Life" by Kid Cudi
Favorite Show- Nitro Circus
Top 3 Accomplishments- Qualifying for Loretta Lynn's, 2009-Qualifying for High Point pro National, Qualifying for Night Show in first Supercross at Houston.
Sponsors- TNT Action Sports, Source MX Graphics, TLR Performance, Factory Connection, GPF, MSR, Utopia, Yoshimura, Two2Cool, Works Connection
Unknown Fact- I didn't start riding until I was 11 years old.
Hobbies- Bicycle, swimming, skooters
I did find this Mcewen "Personal Teaser" video, so if you want to personally be teased by Mcewen just click on the link (it's just a short clip of him railing berms and skying some jumps) help him out with some pageviews click the link.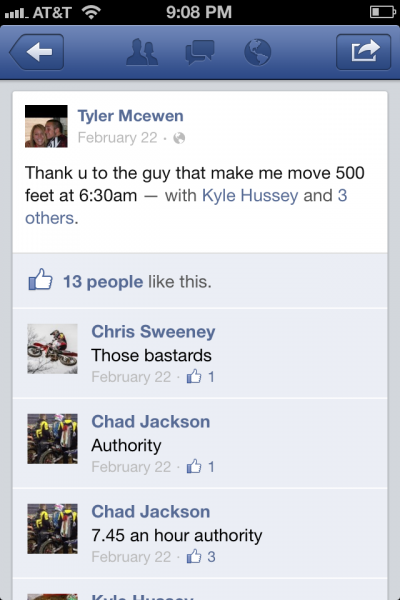 Facebook Screenshot
Sounds like Mcewen had a little dust up with the authorities in Atlanta and was required to move his van at 6:30am. Why is it when you slip on one of those cheap plastic jackets that says security you turn into a huge prick and think that you're guarding the president or something? I hate to break it to you man but this is a part time gig you only get to protect this entrance for a day then it's back to your normal shitty job. With their enthusiasm to ensure everyone has the correct sticker or wrist band you would think it's a life and death situation. In Short the rental security guys are dicks and it's sounds like they stuck it to Mcewen the morning of the race in Atlanta, did that cause him to get an 11th place in the LCQ, I don't know but I think it's always fair to place some blame on the rental security guys.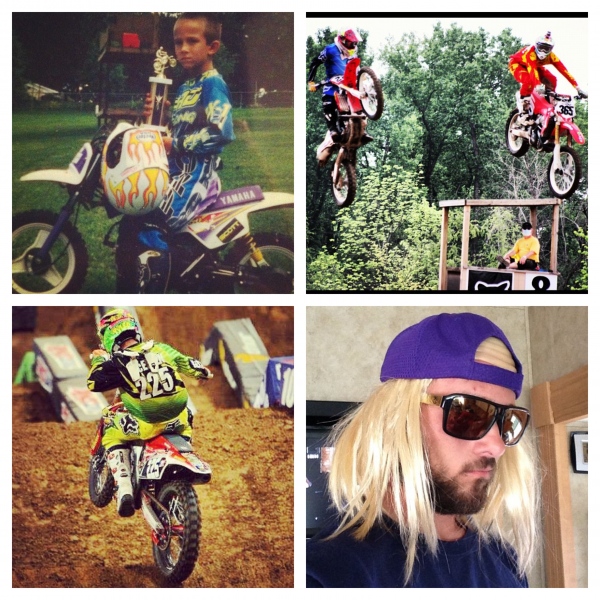 That's a pretty rad picture with his trophy mean mugging on his PW50
Mcewen has a bunch of pictures with Brett Cue pulling these massive boner airs and endos which are timeless, maybe Mcewen is Ronnie Mac.
On the gas foot tucked under the peg just going for it
I don't think blonde is his natural color but it does look good on him
After complaining on twitter that I couldn't find any real info on Mcewen and in the time it took me to write everything above, I had someone respond to me with Mcewens phone number and that shows you the power of social media. I don't want to be that guy who cried wolf so now that I have his contact info I'm going to have to follow up and get some real information, so much for having a week off.
#606 Ronnie Stewart
Easton, PA
Shawnee, OK
Suzuki RM-Z450
RSR Racing, Hellbound, FTI Racing, Ocean County
Ronnie got some quality TV time in the LCQ I don't recall them mentioning any of his sponsors but short of that he got his 15min of fame and I know I'd be busting out that recording of leading the LCQ all the time, parties, family holidays, funerals. Google really came up Just Short this week, the only person they know less about than Mcewen is Ronnie Stewart. Just outside of the screenshot below in 5th place in Google search results is Just Short Vol 5 which I wrote last year about San Diego. Well I have a new claim to fame, google thinks I'm kind of a big deal, maybe it's time to hang up my keyboard. I'm not sure what's more odd that fact Just Short comes up on the Google search results or that I don't remember writing about him.
http://pulpmx.com/stories/just-short-vol-5-0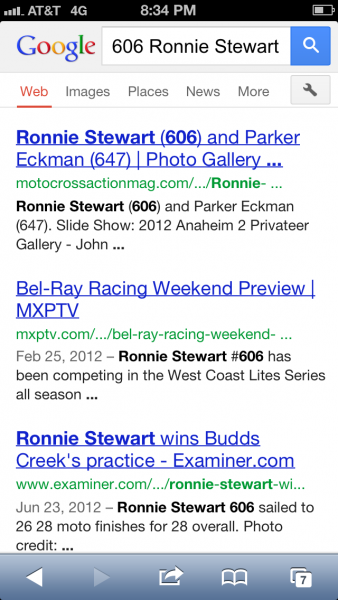 Stewart Google Search results
I made the necessary edits to what I wrote last year but most of it still applies. Google thinks it's the 5th most important thing about Ronnie Stewart who am I to argue with that type of logic.
I'm not familiar with Ronnie Stewart and my buddy Matthes that I hung out with over the weekend didn't know much about him either so I had to go to plan B aka Google. Ronnie has made every night show of this season but hasn't made a main event yet, so by coming up Just Short in San Diego Toronto this was his best finish thus far. R. Stewarts qualifying times average in the 30th – 40th range so unless he's the type of rider that rides faster in a race format then he rides during timed qualifying he's going to need to pick up the pace a bit to sneak into the main event. I found a blog for R. Stewart but it doesn't appear to have been updated recently. Looks like R. Stewart does some riding schools and wrote some Student Spotlights which is a cool idea and probably made some amateur riders super pumped.
After extensive investigative journalism (reading his blog) R. Stewart made his way into the professional ranks via the Arenacross series accumulating the necessary points for his pro license. I recall a few years back the AMA was really pushing this route of riding the Arenacross series first before racing the Supercross series in an attempt to make it a feeder series, which was flawed in my opinion, but I think AMA has since become more lax on those requirements. (editors note: I must have had some type of pre conceived notion because the Arenacross requirements are coming back) R. Stewart raced some of the 450 nationals last summer and qualified at five nationals, a solid first go of it for a privateer. Congratulations to Ronnie for his best Supercross finish yet.
Ronnie looks like he is jumping over a pole
Elbows way WAY up in this photo, DV would not approve
Railing a rut in the outdoors
#606 up on the board, it would be cool to say your numbers been up there
Thanks for reading this Short recognition of the guys that almost made it.
Moser

Please send all comments to jasonw@racerxill.com