Vintage MX is alive and well in my home province of Manitoba
Vintage MX is alive and well in my home province of Manitoba
Vintage and Vet Racing in Manitoba
Or
The Birth of M.O.T.M.X
(Manitoba Oldtimers Motocross Assoc)
By John Rooney
Photos by Sandra Houde
Here in the unspoiled wilderness that is the Province of Manitoba, we have been blessed with a rebirth of sorts. Thanks mainly to the efforts of Lawrence Hamm, and a small group of enthusiasts, Vintage and Vet racing is a thriving entity.
In 2011, we had our first full season of ride days/evenings, and it lit the fire for many of the participants. There was a mad scramble of activity on Kijiji(our Craigslist) as bikes were sold, new ones bought. Copious amounts of money was spent refurbishing the old beastie's with the feverish desire for the many "coveted number one plates".
In 2012, our track offerings were expanded to include some of the mainstream tracks and high class facilities. Certain aspects of these tracks were mellowed out to cater to the older bikes and sensibilities, but no fun was lost and many of us came away feeling like total heroes for a day.
The Vintage classes we offer reflect simplicity more than anything else. On our ride nights we are limited to how many classes we can run by the setting of the sun. At present we break it down into 125/250/and 500 classes, plus a GP, where you can run whatever. The chassis rules are basic, drum braked, air-cooled and that's it. Now, the argument could be made that a 1984 RM 500 has no business on the track with a 77 YZ 400, and that is true, but, we are a young club, and we will get there.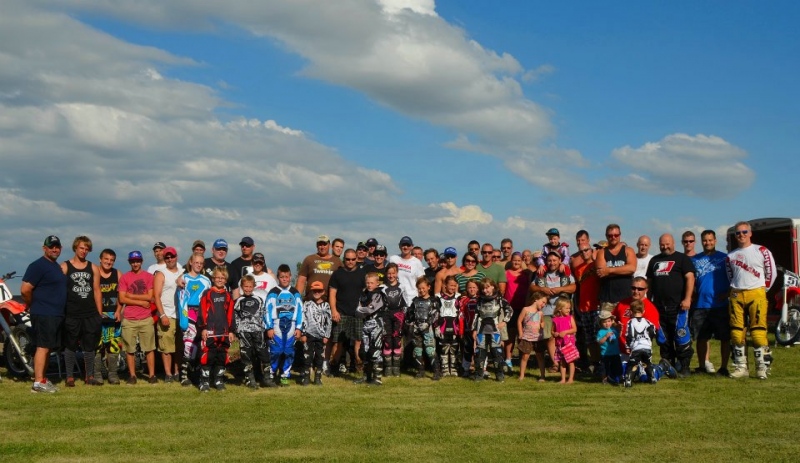 The Manitoba Old Timers Association has classes for everyone and they're thriving with the no pressure approach.
As far as the hard fought and unbelievably well attended Vet classes go, we offer plus 30, plus 40, and plus 50 A/B/C, we have no problems filling out the grid with these offerings, and it is a testament as to how many of the fellows are coming back into the racing fold.
There seems to be two distinct groups of Vintage and Vet motocross participants. There are the warriors that never quit, but just got tired of the regimented, full day mainstream moto scene, and were attracted to the more relaxed atmosphere that our club provides. There are also the folks that left the sport years ago(such as your humble scribe)that have only lately have realized how much fun it is, and that the rewards of restoring a bike and a body to go racing are huge, and gratifying.
We must discuss the familial atmosphere at the tracks as well. Our leadership provides many classes for the kids to ride and race in, and it is a total treat to watch the youngsters get out there and have fun. At a number of venues they get their own, safe little track. Many of the adult participants wouldn't be there if there were no offerings for the little ones.
OK,lets talk about the cool stuff now, the bikes! Here is a partial listing of what we have going on, I apologize profusely if I have left anything off the list.
1983 Can Am 250 ASE
1973 CZ 250
1973 Honda CR 250
1973 Maico 440 GP
1981 Maico 490
1982 Maico 490
1983 Maico 250
1983 Maico 490
1980 Suzuki RM 400
1984 Suzuki RM 500
1974 Yamaha MX 360
1979 Yamaha YZ 250
1980 Yamaha YZ 125
1981 Yamaha YZ 250
1981 Yamaha YZ465H
1981 IT465
1983 CR 480
1982 CR 480
1982 YZ 490
There are also several Can-Am's out there, of which the year and CC escape me. This spring I have a feeling that there will be several new highly secret projects that the wrap will come off at the season opener.
A new club is a delicate thing, it needs a driving force, which we have in Lawrence, but more importantly, it needs volunteers, people willing to step up and do the work. The club members need to be patient, and understand that if the fee's have to go up by 5 or 10 bucks, that it isn't a money grab, it's so the organizers are not sponsoring our fun out of their own pockets. The worries that go into a club like this are myriad. On the surface it may seem simple, but when one looks at dealing with the landowners, insurance, medical people, watering the tracks, flaggers etc, it starts to look fairly daunting.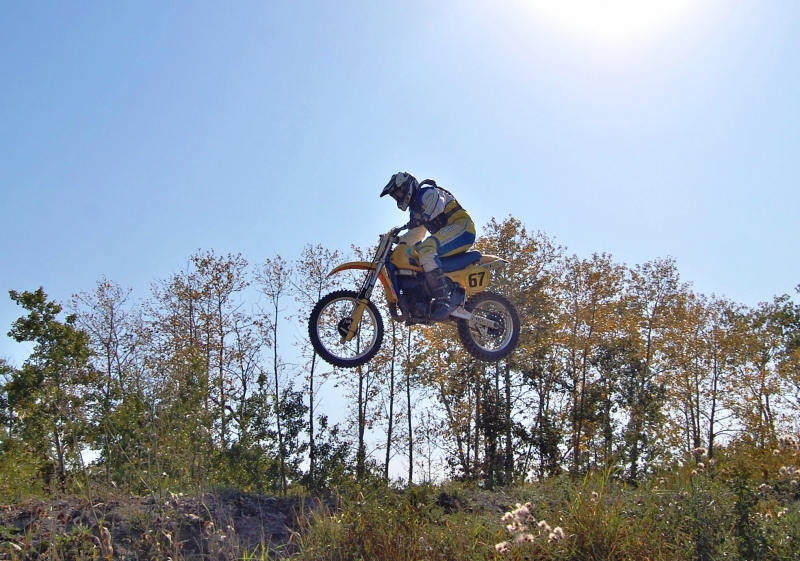 The author airing out his RM500.
Look around at your next motocross, enduro, or Hare Scramble race, notice the guys that are a tiny bit stressed, ask yourself ,who put up that snowfence?, where did those terlets come from?,
Grassroots racing is meant to be affordable family fun, and we are so fortunate to have that going on right now in Manitoba. It is up to us to keep it that way.
Keep it pinned!
John