Moser's got the goods, you know you want it.
Moser's got the goods, you know you want it.
Just Short 13 Vol. 2
Houston
By: Moser
Lots of carnage and great racing in the LCQ's in Houston, lets see what I can remember from watching SX live on Speed. #639 David Buller is off to an early lead in the SX2 class LCQ, wearing AXO gear which you don't see often. He goes down in the whoops while leading, real tear jearper for the young man from Acworth Georgia. The #244 of Ryan Zimmer takes over the 1st place position and pulls a short but comfortable gap on second place. Zimmer and the Maykers/Witt team has been featured in Just Short a couple times good to see him put in a good qualifying ride. The race for the last transfer spot is closing up, #874 of Zack Williams is all over the #93 of Landen Powell just like Titslegendary on Optrix nuts. Powell better be careful it's the last lap and his rear view mirror is full of Williams, objects may be closer than they appear.
The crowd goes wild, Williams performs the perfect pass in the last corner on the last lap of the last chance qualifier for the last transfer spot on an unsuspecting Powell. Powell left the door wide open on the inside, what was he thinking? No seriously what was Powell thinking? There are some things in life that everyone knows you don't do, leaving the inside open on the last lap of the LCQ is at the top of that list. This was a textbook block pass by Williams it should literally be printed in a moto riding techniques 101 textbook. Lets break it down.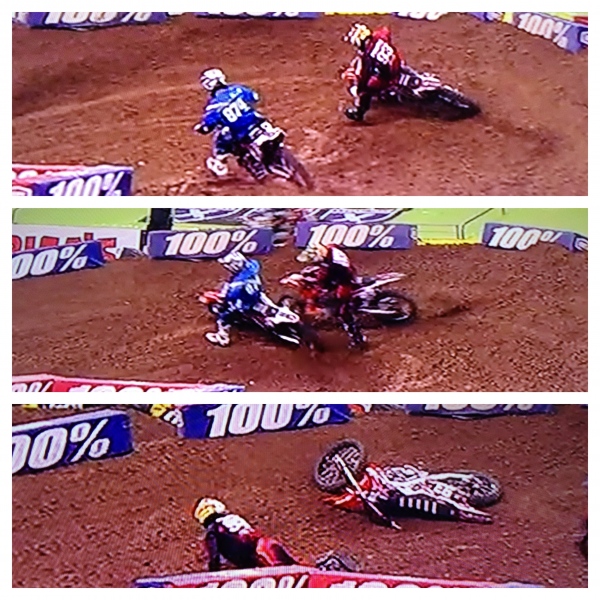 As you can see here Powell goes wide in the bowl turn to hit the main "fast" line, leaving enough room on the inside for a Toyota Tundra to pull the space shuttle through. Williams somehow manages to squeeze into this small space left open and points his bike at the exit of the turn. Powells front tire then provides Williams with the perfect pivot point to turn off of. Powell is left on the ground to contemplate, what happened? Let's take another look at it.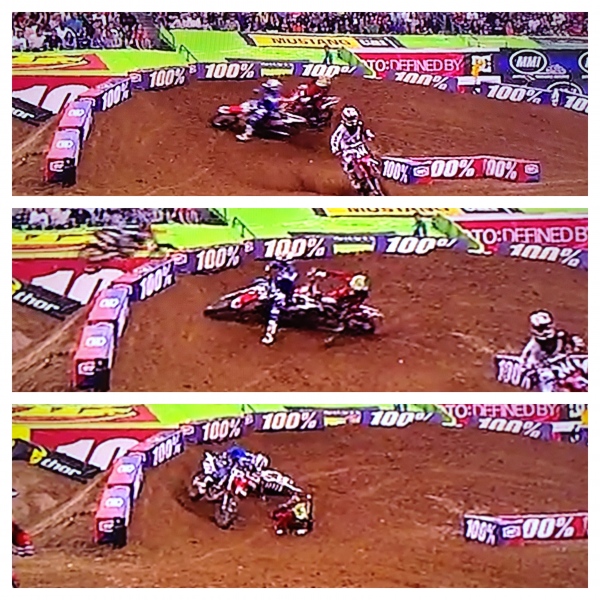 From the full frontal view you can see Williams wisely and successfully removes the front end of Powells motorcycle to eliminate any chance of him cutting back underneath him and racing to the checkered flag for that last transfer position. Great balance shown here by Williams with his outside elbow up, his butt weighing down the outside of the seat and inside leg held out for counterbalance. Once Powell has been completely removed from his motorcycle Williams points towards the checkered flag and grabs a handful of throttle. And this has been LCQ last transfer spot block pass 101.
In the SX1 LCQ we had equally exciting racing, #49 Filthy Phil pulled out to an early lead but all hell broke loose behind him. The #606 of Ronnie Stewart got boned, well T-boned by #501 of Wennerstrom, it may have been the other way around but it sounds way funnier to say that Wennerstrom boned Ronnie. #39 of Meathead Bobby Kiniry was under attack by everyone and doing everything he could to hang onto the last transfer spot. #374 Cody Gilmore went kamikaze into Kiniry but not surprisingly Kiniry held on. My 3 year old daughter could even tell that Kiniry was struggling in the whoops, dropping the front end before he was even 1/2 way through them. They don't call him Meathead for nothing and somehow he managed to hang on until the end a true testament to his hard head and do whatever it takes attitude. After all that carnage lets take a look at the guys who came up Just Short.
#713 Chad Cook
Oklahoma City, OK
Kawasaki KX 250F
— none listed —
I've never heard of Chad Cook and can't find a website or a twitter account, maybe if I drink enough I can just make up some stuff. I could be a detective with the investigative skills I've developed trying to find information on riders that have come up Just Short. Sweet success I found him @cookmoto on twitter, don't get too excited though he's only tweeted 8 times, but his 1st tweet ever was "@JimmyAlbertson I am following u now dick". Now we're talking, Chad Cook either knows Top Jimmy or thinks he's a dick but either way I've got a lead to follow now. Luck for me I have acquired some phone numbers from some industry insiders from an undisclosed source (cough, cough, Aaron Hansel).
Here is what Gregg Alberston had to say (Top Jimmy's brother and Trey Canards right hand man and practice bike mechanic)
Moser: I need info on Chad Cook and I think you might know him.
Gregg Albertson: He's our JT$ only a humble redneck version.
That's is the best explanation ever thanks. What are you wearing?
Hair tied sweatpants chillin with no makeup on.
Just like I imagined.
Chad was a super fast mini bike racer! I think he won the supermini class at Ponca City one year when the class was stacked.
Thanks bro I owe you a cold CL next time we hang out with our wangs out.
And even though we have a weird relationship, I touched base with Top Jimmy himself:
Moser: Tell me something, anything about Chad Cook this guy doesn't exist online and I have to write about him.
JImmy Albertson: He's the sickest of the Shawnee sickos. He's a boss.
Thanks how is the wrist are you getting good at the stranger yet? Mind if I "borrow" some pictures of Cook off your website?
Not at all man use whatever pictures you want and (quote edited for content)
So who exactly makes up the Shawnee sickos?
Myself, Bogle, Trey, Ronnie Mac, Chad Cook, Gregg and Georgia are the crew members.
So Cook is besties with the Albertsons and Canard who knew? I did a bit more research on the google and found out that Cook has been racing arenacross. Allow myself to correct myself Cook is actually a two time West Arenacross Lites champion. Wait they have an East and West championship in Arenacross? Well they do and Cook won it in 2011 and 2012. I don't know how it works exactly because in 2013 he scored points in both the West championship and the Arenacross class which I'm guessing is similar to the Supercross class in Supercross. Are you confused yet because I wrote it and it doesn't make sense to me, but I've had a couple of chardonnays.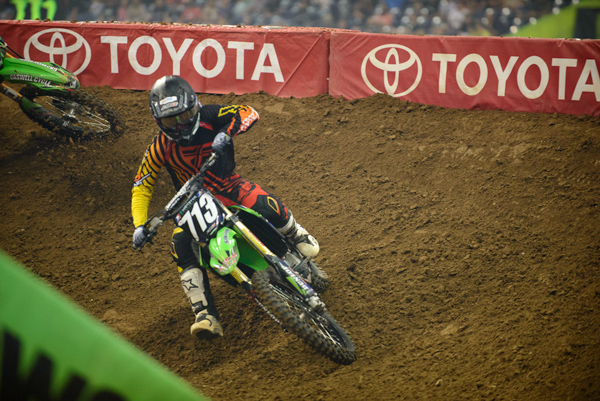 Flat black helmet, en fuego FLY gear and Kawasaki tuff block cover courtesy of thee Jamie Lissimore
Here is an Arenacross YouTube interview from this season http://www.youtube.com/watch?v=NwJo8gOtLnQ
Shocker you didn't watch it so here is the cliff notes, Cook broke his wrist and only had about five days on the bike before his first race back in Cedar Park TX where he went 11-11. Cook says he's going to finish out the season and get as many points as he can. His goal is to podium before the end of the season is done. If you're into side boob you might want to check out that video because Lindsey Scheltema is letting it hang out, literally. Full disclosure I don't know much about Arenacross, but I just so happen to know a very frugal gentleman that has dabbled in the Arenacross circuit, one Jason Weege Weigandt.
Moser: So what do you know about Chad Cook I guess he won two West coast titles?
Weege: When I did AX TV (comments edited for content) we barely covered the lites class. They actually run two classes in Arenacross, one on 250Fs and the other on….also 250Fs. One is called Lites and one is the regular Arenacross class. The Lites class is somewhat entry level and dudes that did win had a hard time stepping up from Arenacross Lites and really contending in the Arenacross (main) class. Only exception I can think of is Mike McDade. (comments edited for content) Now, you're probably thinking this is an awesome answer and that me talking about the relative attractiveness of men would make a GREAT addition to Just Short. Well, stop right there because this entire second paragraph is off the record. No chance I'm letting you strap my name to (comments edited for content) So, officially, I have nothing for you. My tip: Need to make something out of nothing? The fact that you know little about the AX Lites class IS your story. It's rare that a rider progresses this far, this quickly. Cook went from Regional Arenacross to nearly making SX mains in a SHORT time. That's a heck of an accomplishment.
Thanks to both the Albertsons and Weege for the info on Cook I hope I edited my sources well enough. Lucky for me less than 500 people read this, not that I'm counting but Swisscore reminds me each and every week that more people read Swisscorner than Just Short. I can't say for certain but based on my research Cook finished in 20th position in the Arenacross class in Arenacross and ironically finished in 29th (Just Short) in the Lites West class. Why was he allowed to race both classes? We'll never know.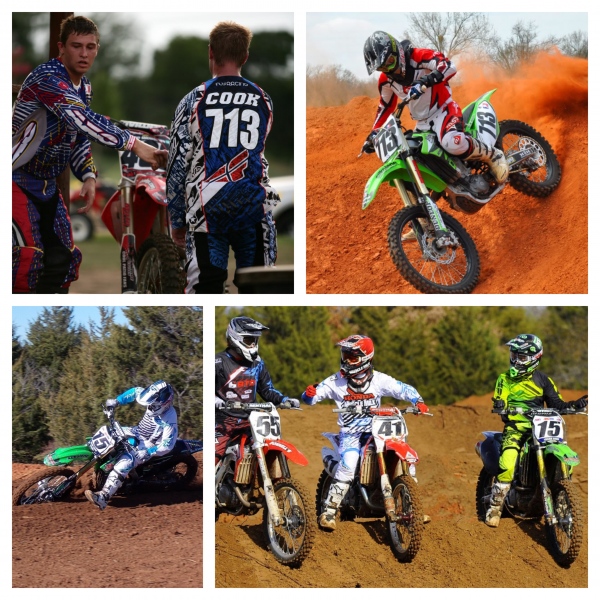 Cook isn't on Instagram but I was smart and or lucky enough to use the right key words in a google search to find these photos of him, most of them courtesy of Top Jimmy's website www.jimmyalbertson.com
I can't say for certain but I think Cook is the guy on the right with 713 on his jersey
Cook railing a couple berms
Don't let your eyes fool you that's not Timmy Ferry hanging out on a triple with Trey and Top Jimmy that Chad Cook…..I'm pretty sure at least.
#57 Ben Lamay
Wasilla, AK
Yamaha YZ 450F
Rock River Yamaha/ONeal/LBeardsleycpa.com
Ben Lamay what can I say about Lamay, he has been featured in Just Short a couple of times now. I like Lamay, I can remember like it was yesterday watching him practice at a local sand track in Eastern Washington. His family was living on the road in a motorhome at the point and he was one of the up and coming amateur prodigies in the 80cc class. He had big shoes to fill though as I had also watch riders like RV, Hill, and the late great Brandon Layton race locally and go really really fast. Sure he was fast but on this day it was the fanny pack that caught my eye, sure enduro and trail riders wore them but one of the "next big prospects" wearing a fanny pack on a motocross track?
If I had to guess this would have been 1999, or maybe 2000. What was in Lamay's fanny pack you ask, it was the radio equipment for an in helmet communication device with his dad. The first radio devise I'd ever heard of or seen for a motocross rider, nothing quite like having your mini dad in your ear every corner of every lap. I bet he went through so many clutches just holding that bike wide open so he couldn't hear his dad.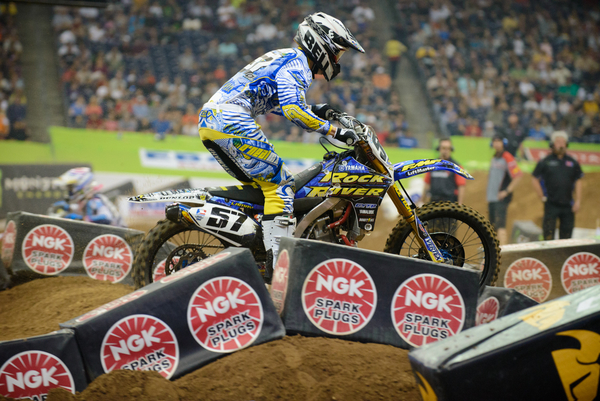 Even if you look really close you can't really tell he's from Alaska
When most people think of Lamay they think of Alaska, his home country, or maybe that's just me. That's not a bad thing, if people correlate you to something that just means more exposure in my humble couch viewing opinion. Lamay has been racing professionally for a couple years now and if I'm going to be honest with myself I can't say I've seen much improvement. Sure he's had his ups and downs but he's been fairly consistent and has been missing that "special something" to get to the next level. He seems like a good guy he's probably a great guy I don't know him but I think he's a better rider than what we've seen thus far. Here's some random quotes and insight I got from several sources on Mr. Ben Lamay.
Steve Matthes: "He's a Pacific Northwest bro and from Alaska. Yamaha gave him a bunch more support about 1/2 way through the nationals and you could see a big improvement in his result. He's also a very low maintenance EKS brand athlete I always bring him four goggles and if he races LCQ and makes the main that's six times he's on the track and he gives me two goggles back that are new." (Moser note: apparently Lamay is too honest he could be pocketing some goggles)
Swisscore: "He likes red velvet cake and long walks on the beach" (Moser note I'm not sure I can trust Swisscore as a reliable source)
@osridin on twitter: "Boy! He's not having a stellar year is he."
(Moser note: Nobody knows Alaskan motocross like a guy who lives in Alaska Mr. Ollie Ridin is a who's who's up there in the great white North, trust me I judge a man by his shoes and he wears great shoes.)
I asked the @circlejerkies on Twitter (Pulpmx superfans) what they thought of when I said Lamay and this is the response I got.
@neilstorz- "I think of @osridin"
@bobfromomaha- "Foreigner"
@94mim – "RaceTech and Oneal"
@whothomoo – "this is gay"
@circle_jerkies- "Fuck off"
(Moser note: Can't say I expected anything less or more in a response from this group)
@DavidVuillemin on Twitter: "Good rider in need of guidance in his training. Little "soft" on raceday. Would improve with proper training, confidence and starts."
Thanks to all my "sources". I think DV is spot on though, from what I've seen (from the couch) Lamay has the potential but has yet to put it all together. DV worked with Lamay a little bit on the MotoConcepts team. Don't get me wrong I'm not saying any of this is easy, riding motorcycles is a lot of fun but also a ton of work. More so now than ever your need a "program" or plan or schedule to race at the highest level. Sure it's cliche but you need to know where you're going to know how to get there and lay out a roadmap on how to get from point A to point B. Knowing when to train, ride, rest etc. etc. is a huge balancing act that takes years to perfect especially without guidance but has become necessary to be competitive on the upper professional level. The Rock River Yamaha team provides great privateer support but this is yet another example of the huge gap in supercross/motocross between the haves and havenots and the differences between that is reflected in their "programs".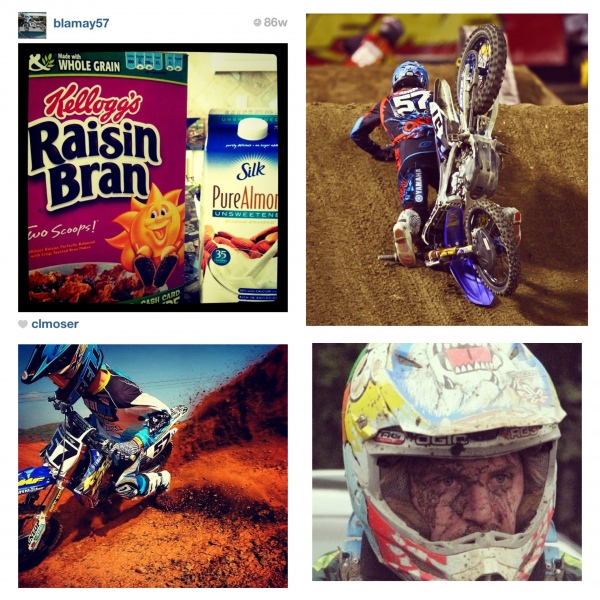 Lamays very first Instagram post was 86 weeks ago and didn't have a single like so I hooked him up, even Raisin Bran and almond milk need some love.
Lamay took a soil sample in Oakland, I'm going to be sore tomorrow just looking at that picture.
Superb berm railing photo
This is the opposite of having clear vision
IThanks for reading this Short recognition of the guys that almost made it.
Moser
Please send all comments to jasonw@racerxill.com