Racing takes a multitude of techniques and skill sets to be competitive at the highest level, or any level really.
Racing takes a multitude of techniques and skill sets to be competitive at the highest level, or any level really.

By:Isaac Scoggin
Photos: THE James Lissimore
Other variables factor into the overall equation that will either equal success in the form of winning/longevity, or failure in the form of losing/injury. 99% of all people who swing a leg over a bike will never solve the equation, because it is not only an expensive and arduous task, but also the equation morphs and changes from season to season and possibly, race to race. That is without a doubt the most impressive feat completed by today's top racers, as they find ways to stay ahead of the forever-fluxing equation or at least even with it. They are mathematicians on motorcycles with precision-based problems that, if solved correctly, lead to money, fame (moto level), and Championships, but if one step is forgone or one wrong move made, it can lead to life changing injuries. From the test tracks to the race tracks, numbers control everything from their mood, confidence, and swagger, to their prestige in the sport by the number displayed on their bike. Moto has never been more a game of numbers than it currently is. These guys live by a stopwatch that you can control with your thumb, and how well they do according to that mechanism can actually determine their livelihood. An equation is a riddle with numbers instead of letters, we may never solve our own, but we can deduce from what we see displayed before us this season. I have never pretended to be a lover of numbers, but for you, I will try.
The equation begins with talent; after all, no amount of sacrifice and hard work can overcome the lack of it. Of course, work ethic is deeply rooted in the equation, thanks in large part to a certain redheaded fireball that could not stand to lose. But how hard is too hard to work? We know there is a limit to all of our own physical abilities, and my personal best shape may be worse than your best. It is a professional sport and that implies the need for athletic components to be factored into all of our personal equations, which is separate from the equation used to become champion mind you. Now, once our base information is recorded we can begin the search for the Championship quality we all know we possess. Let's go over that again: talent, check, work ethic, check, pushing oneself but not over doing it, maybe check, oh yeah, hopefully some athletic ability, maybe yes and maybe no on that check. Then we move on into bike technique, skills that involve not only racing, but also being able to test components while relaying accurate/comprehensive feedback to the team. The math is getting ridiculous here! As of recent, it is apparently important to have the right support group around you, no good times only bro's, bro. The very real and ugly truth is now staring us directly in the face; we don't even have the attributes to fulfill the preliminary equation that has nothing to do with anything outside of ourselves. That's too bad because I was all over the Championship equation, oh well; guess I will just punish my kid for my mistakes and let him live my dreams for me.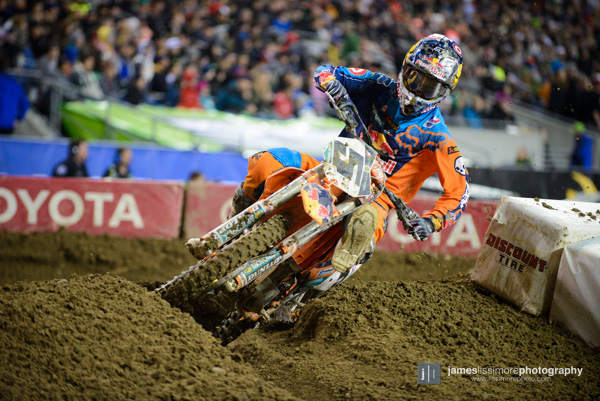 Dungey's equation has been proven plausible.
All right, we all understand it takes an exemplary skilled, determined, and talented individual to get to a level where the equation of Champions can even be attempted. So why doesn't everyone just copy what Villopoto is doing? It is, after all, his third Championship in SX in a row; which places him among the Titans of the sport. To all other professionals the equation looks to be easily solved just by following 1=(RV)3. Simply, do what he does plus work a little harder and viola, you are the new champ. But wait…doesn't Weimer already do that? Doesn't he see what Villopoto is doing every single day, and work right along side him? He has the same coach, same bike, same team, same place to ride, but he still is missing a little piece of the puzzle. All the numbers are right there in front of him and yet he still cannot solve the complex equation. This is no knock on Weimer, his work ethic, his talent, or his will to win. I am merely suggesting there is a difference in the approach taken when the race begins, and that difference, and the number one component of "the now" that so many racers struggle with is aggressiveness. What I mean by this is that the right amount of aggressive actions on the track, in certain sections, situations, with different riders even, is a hard line to tow for everyone. Villopoto simply does that better than anyone and this factor has determined the Champion for three straight years, and before that if you count the mistakes that cost Championships based on aggressiveness.
The Seattle Supercross was the perfect example of aggressiveness, and how it has been a benefit for those who utilized it correctly this season. Who finished first and second? The two most aggressive racers out on the track, or at least arguably. From the drop of the gate things got wild and Barcia wheeled (that taming of the motor didn't seem to help much there) and came over on Villopoto, this caused Ryan to swerve right and nearly take a soil sample. "Thank you Chad Reed", I firmly believe these words crossed Villopoto's lips after being saved by the unsuspecting Honda rider. Dungey, poor Dungey, was playing it safe creeping around the inside, maintaining control at all times and bam, down he goes. His biggest attribute is his patience, but this is racing and aggressiveness will win 80% of the time and that is what it did in Seattle. Yes, it was lucky for Ryan Villopoto that he stayed up, but he was going for it and luck went his way. Dungey was being conservative and when you are nearly a full race down with three to go you can't be that. Dungey's Championship proven formula should have been changed at this point in the game. Adjustments must be made to constantly tune the equation to fit circumstances, that is why it is an equation that is in a state of continuing flux. That is why there can be only one Champion, why patience is made for Doctors, not Motocrossers (a play on words, patience and patients), and why many times in sports brains lose to brawn.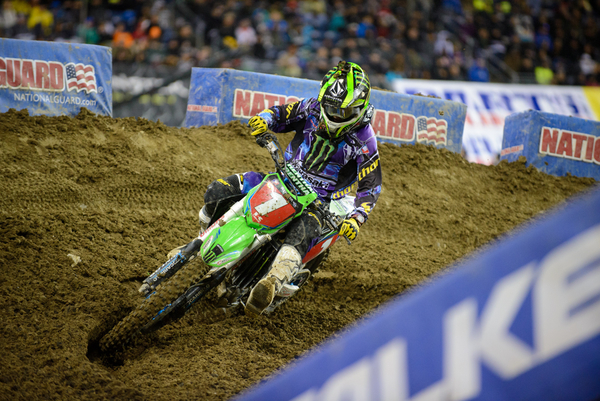 RV has the equation on lock for 3 years and counting.
In the 250 class, we saw the inverse of the above equation and how aggressiveness, if not used properly, can lead to disaster. Tomac was on a roll and looking to close the gap to 14 points by attacking every inch of the rut infested circuit. Then the passive aggressive track jumped up and flipped Tomac to the ground on a routine double. The formula of a previous Champion in this class and coast used the aggressiveness of three normal racers and it seemed to be working to perfection, until two sets of whoops this year ruined it for the current 1W plate holder. I believe we can all agree that his intensity and raw pissed-off-at-the-track and bike persona have been raised ten-fold from last year. In this case, maybe toning it down a notch or two would have saved him some points, but his main problem may have been that he was racing the 450s in his head, rather than the 250s. Leaving his old equation from last year stagnant probably felt like the way to do it, if it isn't broke don't fix it, but in this case we see it needed to be adapted to a new foe in Ken Roczen. He uses a consistency that Dean Wilson of last year could not match and therefore, the formula needed to compensate for a new variable. It is possible and even likely, that Tomac is formulating an equation for the big bikes, looking beyond the Championship he has sitting in his house somewhere already. However, these bumps in the road to maintaining himself as the number 1 guy may hurt his future earnings, but as we have already seen from him, it will be figured out and won't hinder him for long. Once you have the equation it is only a matter of plugging in the numbers to get the right answer.
The tiddler class is the breeding ground for aggressive riding and a great time for the young riders to figure out their own equations; you know, what works for them specifically may not work for any other rider out there. A lot of soul searching must be done in this time frame to discover how to be a champion and what will make you a champion. The fact that SX is split in two is a blessing and a cheat to the riders. It blesses them with plenty of time to reflect on the races they have partaken in, how to better themselves, and gives them more time to mature off the bike. The cheat involves less racing, which gives them less time to figure themselves out. I know what you are thinking; that these guys have raced since they were 5 years old and that they should know themselves very well by now. Well, not many kids growing up analyze their thoughts, actions, motivations, where they are going, or how to get there. They are living in the moment, experiencing it one day at a time. The truth is that many riders take a long time to figure out how much aggression needs to be used, take Cunningham and M. Stewart for instance. Both riders went down in Seattle and both were extremely fast. No team would pretend to think that they are ready to race the full series in the big bikes with their current prowess of wrecking. Just as privateers are guessing at what numbers belong and what factors of aggressiveness, confidence, attitude, surrounding people, bike time, workout time, and nutrition it will take to become a top rider in either coast; so too are the top 250 riders wondering what combination of all those will get them where they want to be. Even a rider's persona can be factored into the equation, especially when they are a hard working privateer trying to obtain that coveted Geico, PC, Rockstar, or KTM ride. The numbers don't lie, many try, most fail, but even to have gotten to a point where you are making attempts to solve the equation means you are a success.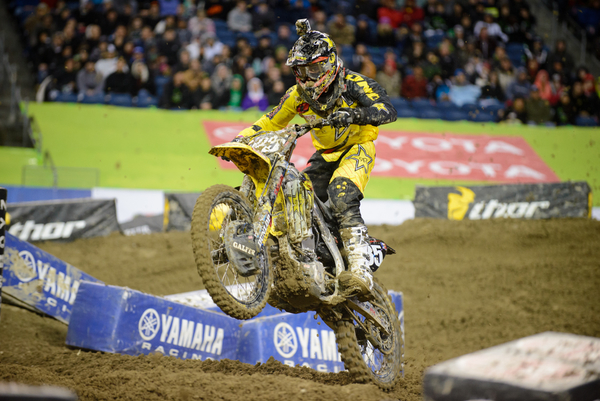 Ryan Sipes has been a perrenial "potential" guy. His equation fluctuates between proven and flawed.
Essentially, what we have discovered is that being a factory star means much more than riding a dirt bike fast. The examples also display how privateers and 250 riders are all sampling numbers, trying desperately to discover what works for them and what combination will make them a champion. Regardless of moto status, three-digit number or single, they are all sorting and sifting through themselves and those around them to find what they are looking for. It is not a level playing field by any means, as experience rules above all else, but the more the equation changes the more it stays the same. New year, new numbers, new equation, same Champion. Of all the variables or factors in SX, aggressiveness may be the most important. When to use it and when to subdue it may be taught, but the rules change depending on with whom you are racing and the conditions. Seattle painted us a picture of what it took to be the Champion, aggressiveness from the drop of the gate to make sure you are in a good position, then simply apply the equation you have been building all year. Equations are often complex riddles using numbers rather than letters. They have set rules to follow and if you follow those rules you should get the right answer. Wouldn't it be nice if that were true for life's real equations?