A very interesting man speaks
A very interesting man speaks
I don't know Bob Rathkamp that well but he's always been a nice and interesting guy whenever I have talked to him. He's been in the industry forever and was Sinisalo USA for a long time before becoming the Gaerne guy now. This interview is just a case of me thinking to myself that he must have a good story on how he got to be where he's at now. So one phone call later, here's an interview that spells it all out
Pulpmx: First off, how long have you been a Gaerne guy here in America? It's been a long time now.
Bob Rathkamp: Yeah, we were just talking about that the other day. I think we stated working with them around 1998. I know that we had a meeting with them at the Vegas SX race 14 years ago because my daughter just had her 14th birthday on April 19th and I remember taking her with us. So, I think 15–16 years now.
How's it going? The boot is phenomenal from what everyone I know has told me, whether it's the SG-10 or the SG-12, people love them.
Gaerne is one of the last holdout companies, I guess you might say. They haven't sold out to become just a marketing company who makes their product where ever it can be produced at cheaper prices. They still have their own factory in Italy where everything Gaerne is made. The owner, Ernesto, who just celebrated his companies 50th year of business, is really into the quality factor and watching over the manufacturing to make sure no corners are cut just to save a buck. I remember about 15 years ago on one of my first visits they asked me to bring one of the best selling boots in American with me. It was a popular selling boot made in Asia that was retailing for about $100 at the time.
As soon as I gave Ernesto that boot he walked into the factory and cut the boot in half and critiqued the quality telling me that he would never put his name on such poor quality boot. I have to say I was kinda bummed out–but I have learned from him that there is something to be said about making a quality product. Even as crazy at it sounds–our most expensive boots are now our best sellers! I guess there is something to be said about quality products.
Years ago I worked with another boot company and we were a competitor of Gaerne. Even then, Gaerne was sort of a benchmark as far as comfort and quality. I remember back then we would always try to get Johnny O'Mara to wear our brand but he would always shoot us down stating that he was so comfortable in his Gaerne boots and really didn't want to switch.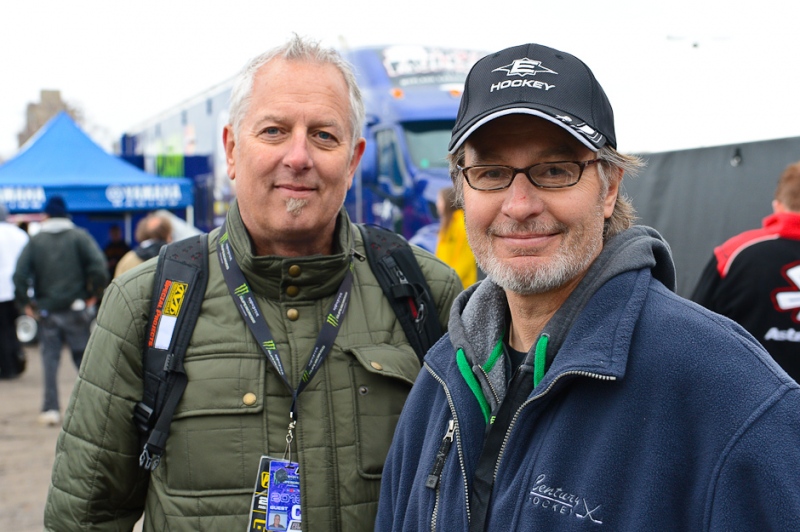 Bob (left) with Randy Nagle has been around the sport a long time now.
I would say if there is a weakness, if we want to call it that—from the outside it seems that Gaerne does not have the giant rider budget that some of the other guys have to spend on endorsements.
You're right about that because one of the main competitors for you guys is A-Stars and look at their athletes and ads, they're huge! I dream about having such a budget as theirs! However, Gaerne does have a budget to spend on professional riders and we do always have riders on the line. Maybe it is because Gaerne only makes boots and not gear or casual wear that is sold in department stores–that we just do not have the money that others have to spend.
Each year we seem to get the calls from the top guys but when the dust settles, we often times get out bid. It's kinda funny though because if you look back in the Mini days–we had a lot of the kids in our boots– Villopoto was one of them, but when they make it to the big show–the big checks come along too–we just can't hang.
I know Ferry, when he didn't want money and just wanted a boot, he called you.
Well, back when I started with Gaerne, Timmy at the time was riding for Clark at Noleen Yamaha and he was one of our first riders. That boot he wore then was great quality but it would pinch some riders depending on your foot shape. So we got busy and started to develop a new boot. Tim was a great help in testing and developing but then we lost him due to another company offering him more money.
I think he went to a few boot companies but then I remember when he was on Factory Kawasaki he broke his foot pretty badly. I got the call from him and he told me that he just wanted to get back in some good boots — Please send me some size 9's!
From the Johnny O wrap-around blue plastic ones to the Kiedrowski cow prints.. Gaerne has always been there. Yourself, can you take us through your long and illustrious motorcycling industy jobs and places? I know you grew up in Minnesota, and then from there what happened?
Well, its kind of an interesting story and one that really did not happen so much by design as perhaps fate or call it what you will. Growing up in Minnesota, like a lot of kids–I liked things with motors attached to them. Racing dirt bikes was and still is –a lot of fun! One Christmas I happened to be in California and got invited to Jim O'neal's shop Christmas party.
They made fun of me and joked around what they thought motocross tracks in Minnesota were like–and of course the Snow-mobile and all the rest. It was a great time as I met Donnie Hansen, Jim Holley, Jim Weinert and a bunch of other guys. By the end of the day Jim Oneal was asking me if I would like to try selling some O'neal gear back in the homeland– I thought why not give it a whirl?
I then got my buddy Tommy Benolkin , who was a factory Kawasaki rider at the time, hooked up with O'neal which also worked out well for local promotion as being a fellow Minnesota guy he was King when he showed up for a local race. I continued to race locally and sell O'neal for a few years. That led to another offer–Moving to California and starting a new company. That company was called Axo Sport America–the year was 1984. In about 1986 we brought a Finnish brand called Sinisalo under the Axo Sport roof. At the time we thought we could reach more customers with an additional brand–kind of like GM– Cadillac and Chevy. It really didn't work the way we envisioned it and in 1991 I left the company with Sinisalo
That was why Jeff Ward had an AXO kidney belt and AXO Boots with Sinisalo gear. I always thought was always weird.
Well, when we got a hold of Sinisalo in those days our plan was to cross pollinate some of the Sinisalo riders with AXO boots and belts. Wardy was wearing Sinisalo boots and ironically enough…….they were made by Gaerne. They were basically the same boot as O'Mara was wearing but they said Sinisalo on the front plate. At the time when I was at AXO there was no interest to promote another boot so that was the reason for the change.
So you had Sinisalo –how did you end up with Gaerne?
Yes, we had Sinisalo going along as a stand-alone brand and doing pretty well. My friend Scott Wallenberg and I were in Europe at a trade show and one night at dinner he asked me if I had gone by the Gaerne booth as they were looking for new distribution in the states. I said that I doubt they would consider us as they would think we are too small. He suggested I go talk to them, which I did do the next day. We ended up with the deal and just merged it into warehouse but tried our best to keep the brands separate when it came to marketing.
Back to Sinisalo for a minute–you signed Jeremy McGrath in '93. Did you have any idea that he would be "Jeremy McGrath" when you signed him?
I knew he was special for a long time. His personality and charisma along with his riding ability gave him the entire package. Cool Hand Luke– He still is the King! I met him and his family when we were racing the Golden States winter series years ago–he was wearing Hi-Point. At that time we signed him to an AXO deal and that is how we met.
Yeah, 89 he wore Hi-Point…
Right and after that we signed him to an AXO deal– that turned into the PC/AXO Team and when Jeremy graduated from that he was on his own to sign his own gear deal. It was his first year on Factory Honda, riding the 250 SX and 125 outdoors. Wardy was retiring so we needed a rider. AXO was full with Stanton and Bradshaw so it worked out great for everyone.
Do you remember what you paid him, salary or what bonuses? Did you even put a SX title bonus in there for him?
Yeah, Jeff was retiring, so we had Ward's budget which I think was $50,000 or $55,000. I believe there was a $5000 or $10,000 Championship bonus too.
The series itself?
Right and I believe there was a base increase the second year of around $10,000
So it was a two-year deal?
Yes, and at the time, we were probably the highest bigger for Jeremy. People thought we paid too much because they all thought Bradshaw was the guy–I think he was making $150,000 or more but it included gear and boots.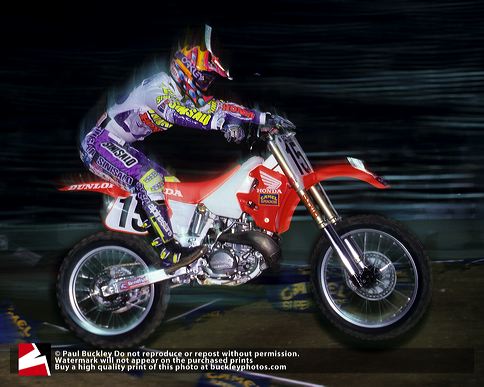 McGrath took the SX world by storm in '93 wearing Sinisalo and he was almost AXO. Photo courtesy of Buckley photos, go to buckleyphotos.com and order a print.
So did Jeremy help sales for Sinisalo?
He put Sinisalo back on the map worldwide. We exported to a lot of countries and they all knew who Jeremy McGrath was. He also helped our domestic sales and we were moving along pretty well. After the two year contract -American Honda jumped into the mix and decided that they were going to control the gear.
Bummer for you, right?
Well, right. It had been kind of a misleading deal. I talked with Dave Arnold who was team manager back then and he was giving me the straight scoop. However, at the time I had some misleading information and was having trouble determining who was telling the truth. I was being a good boy and sewing every patch that Honda wanted, as well as screening logos on jerseys and the like. Fox had Doug Henry as their Honda rider and they were saying no to everything and seemed they were never in compliance with what Honda wanted–But in the end–Honda choose Fox as the official supplier and we lost McGrath. That was my toughest moment in sponsorship but I learned a lot too.
Didn't you get Honda of Troy that next year?
No, that was the following year we signed them. After analyzing all our options they made the most sense for us. They became our canvas and we really had a lot of fun sponsoring those guys. We got a lot of press and they won races–so it worked pretty well.
So what happened to Sinisalo and you?
They made great product but they did not understand the marketing or design. We fought them with these things. They had a factory and a factory wants orders, they want to keep those sewing machines running. It became increasingly tougher to make things in Finland and pay more for them when China was getting stronger and stronger making pants for half the cost. Rather than letting us source things elsewhere they kept raising prices and giving us less marketing budget.
In the end the European Sales Manager and the Finnish boss signed another distributor in our back yard–which proved to be the beginning of the end for us. They did this without so much as a phone call and we had to find out about it through one of our competitors. In those days we did all the designs and catalogs for them –we sponsored riders and make all the custom gear– we did a lot.
This caused you to walk away, not so much sales or anything like that?
Right– we probably would still be fighting for them today had they not done that to us. It was really disappointing, as we could not have tried harder if we owned the brand. We put a lot of ourselves into that brand for a decade or so.
Getting back to Gaerne stuff, you see a lot of helmet manufacturers making helmets for everyone. You really don't see Gaerne doing that too much, or if they do they keep it pretty distinct from what they have right now. Is that a good or a bad thing?
Gaerne is their own brand, they control everything. Their factory says Gaerne on the building and that is what they want to make. Years ago they did do some private label for Sinisalo as well as a few other brands, however these days they only make their own products. I will say that when you do it the way Gaerne does it makes it harder for the competition to copy and gives you and edge.So I will have to say its a "Good" thing.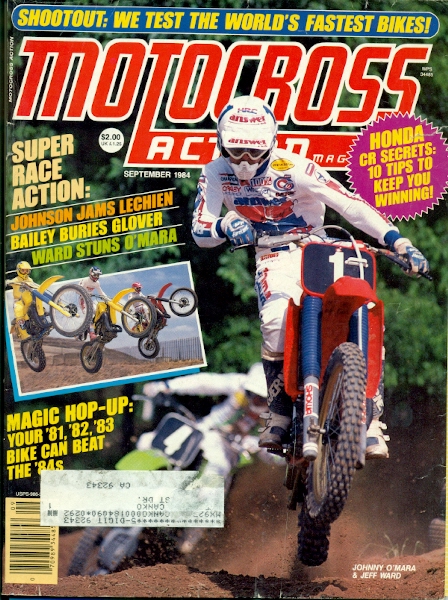 O'Mara running Gaerne's back in 1984.
So what's next for you? Just keep running Gaerne?
That's a good question Steve. I'm definitely going to keep rolling with Gaerne motorcycle division and recently we have begun working with the Gaerne cycling line.
My 18-year-old son is really involved in bicycle racing and that has pulled me in for a closer look too. Besides, I get to see all my old Moto pals like Mike Bell and Johnny O every weekend as they are still racing bicycles too. The cycling market is flooded with shoes so it will not be easy, but like the boots the quality is outstanding and we will see if we can sell some shoes!