You could say that I have had my fair share of "ups" and "downs" during my time working on the PulpMX show.
You could say that I have had my fair share of "ups" and "downs" during my time working on the PulpMX show.

Most of the time I am on the ups, but I've definitely had my downs. I'll start from the beginning and just touch on some of the main points along the way.
I don't want to say that I was a "superfan" of Steve's but I definitely dug his writing and his podcasts. When my older brother told me that he emailed Steve to ask him if he would be willing to go to lunch with us for my birthday, you could say that I was pumped. I got even more excited when he said that we were a "go" and we would be having lunch with him at Que Mas that afternoon. On paper and in his podcasts, Steve is a mostly mild mouthed individual. In person, he's a man that has known to curse here and there. I got a kick out of it but my bro didn't feel the same as Steve's potty mouth offended him a bit.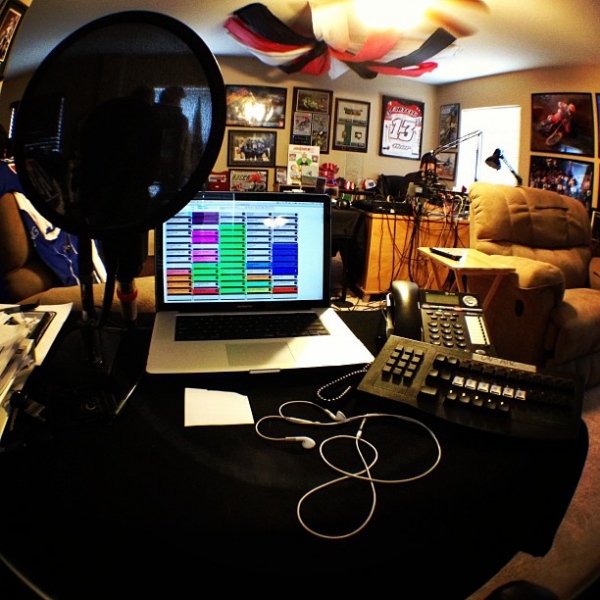 My view of most every Monday night.
We had kept in touch and a little over a year later, Steve called me to ask if I would be interested in coming by his studio to do a "News and questions" podcast. I didn't even have to think about it. I was IN! We ended up doing a couple of them and I didn't realize it at the time but these were auditions to see if I was PulpMX Show material. Clearly, I was. A short time later, I got another call from Steve asking if I wanted to come on the show and do some behind-the-scenes stuff as well as the News segment brought to you by BTOSports.com. Once again, I didn't need to think about it. I was IN! I would have done it for free but Steve was a sucker and offered payment for my services.
I don't remember all of the details about my first few shows but I distinctly remember Kent being very cold towards me. You may not believe it by looking at this cool and calm exterior but there is a warm beating heart in my chest (even though animals have no place in there). It was also a very insecure heart that desired Kent's affection and approval for some reason. I'm jumping ahead but let's just say it took a long time for him to come around to #TeamTits. Most nights after the show had wrapped, I'd drive home going over the mistakes I made and what I would do to keep them from happening again. I lost a lot of sleep on those Monday nights, I'm serious. Another side note is that I've had to get a prescription for sleeping pills that I use on Monday nights to help me sleep because I still have anxiety after each show. Back on topic, one of the first and most memorable "lows" that I had on the show was when Josh Hill was in studio and he called me out for giving old news that wasn't actually old news. Everyone got a laugh out of it except for me. Two things happened that night: My fragile little heart got broken and Josh Hill became my new least-favorite rider for life. I'll never forgive him. My sensitive heart will never heal. I'm also serious about this.
I don't remember where this next part fits in the timeline but I don't think it matters that much. All I'm going to say is "Gigi reads the news". Moving on.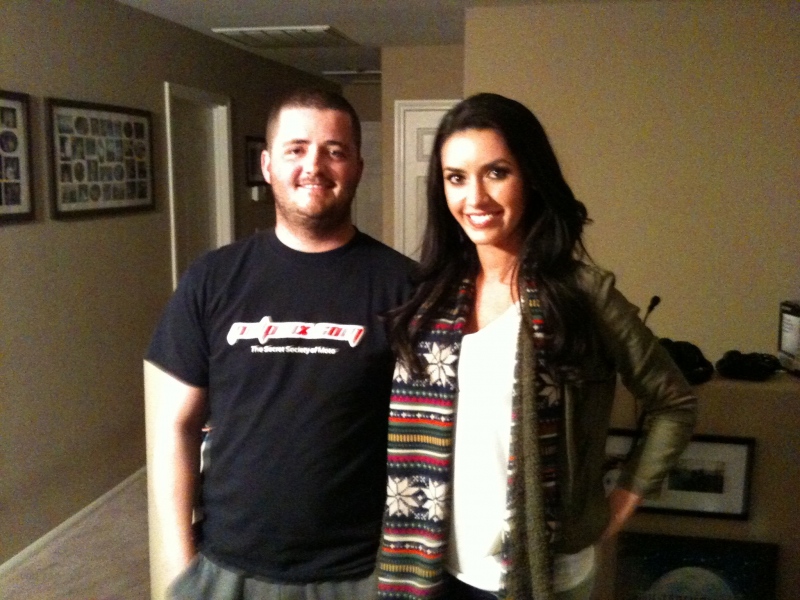 Jealous?
I'd feel remiss if I didn't mention one of the other "ups" I had on the show was when Mercedes Terrell came in studio. She was a great interview and Steve Cox was quietly creepy on the telephone. She even gave me a hug when the show was over. How about that?!! I tried to keep my creepiness to a minimum but I did ask her to take a picture with me afterward. Did I mention that she gave me a hug when the show was over? Well, she did. It was probably because she felt bad for me but I don't care.
It wasn't until Steve offered to renew my contract for another year that I started to feel a little more secure in my job. That first year on the show was harder on me mentally than probably anyone realizes. The emails and tweets people sent to Steve asking him to replace me didn't help my security levels. Deep down, I'm a sensitive person and with Steve, a lot of things roll off his back. He basically says stuff during the show to entertain people and once the show ends, he doesn't think about it but I, I dwell on that stuff.
Year two had a lot more ups than downs. Kent was starting to come around and actually treated me like a human being. Life was great. I was feeling more comfortable on the show, I got a raise in salary, and we got rid of the blasted "News" segment. I couldn't be happier (at least that is how I remember it). Then came the disaster known as the PulpMX Show Superfan Round Table.
If you ever think it wouldn't be that difficult to put out an entertaining podcast talking about moto then you might be right but you are most likely wrong. I am mostly comfortable with my place on the show and think I do an okay job so I didn't think it would be very hard to put out some good content. How wrong I was. That piece of garbage is pretty much unbearable to listen to and I will never live that down. To this very day I still cringe anytime the word "round table" gets mentioned. That was one of the sadder "downs" of my time as a Pulp employee. Apologies to the other people that participated in it and even more apologies to the people who attempted to listen to it. And like most sequels our second attempt at it wasn't much better.
Year 3 has been mostly good for me in regards to my time on the PulpMX show. A huge hole in my heart was created when Kent left the show and I don't know that I'll personally every fully recover. The show itself is as good or better than it ever has been but I still ache for Kent to come back. The man that spawned #TeamTits will always have a special place in my heart. Someone helping to fill that void is the man known as David Vuillemin. He's the man that affectionately dubbed me the "sexiest voice in moto radio". I don't know if he actually means it but it doesn't matter, I'm a big fan. As you can tell, it doesn't take much to get on my crap list but it also doesn't take much to become a saint to me either. I love all of the other co-hosts but DV is my new favorite. It's time to get him back in studio.
Now it's time to talk about an experience that is both one of the highest "ups" I've had as well as an extremely dark "down" since coming on the show in the first place. This experience was helping to bring on my first show sponsor, Optrix. It should come as no surprise to anyone that I have been a fan of Optrix and their products for a while now. I had their case for over a year now and quietly loved it. I won their first photo contest back in February of this year and this was the event that sparked a relationship between us. In addition to winning a case of theirs, they also sent me the T-shirt that you have no doubt seen me wearing in almost all of my Instagram selfies. Who knew that simply wearing this shirt to the show one Monday night would be the catalyst to Optrix coming on as a show sponsor? I sure didn't. Now that you have your background information on the situation, I'll talk about the emotional rollercoaster I went through during this whole ordeal.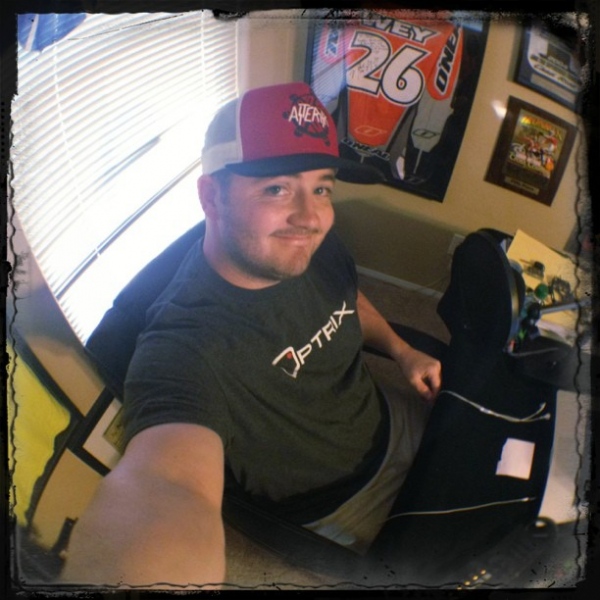 The photo that started it all.
During show #127, Steve kept giving me crap about wearing my Optrix shirt and we all got a good laugh out of it. Later that week I received an email from the CEO saying that his cousin heard us talking about his company on the show and he wondered if we were interested in having them come on as a sponsor. Now I'm usually a pretty mellow dude but, at this point in time, I was ecstatic! I quickly forwarded the email on to the boss, Steve, and his response was a short "Unbelievable. I give you crap for wearing their shirt and now they want to come on as a sponsor." Steve gave me the sponsorship information and told me that if they agree to a price then they can come on as a sponsor. It took another couple weeks to get things nailed down but I finally got the email that I had been hoping for. Optrix had the money and the motivation to come on the show. I had officially hit the proverbial cloud nine. No less than 10 minutes later I would be in the proverbial dumpster.
After forwarding the email on to the boss, I received a response saying that GoPro had given us some cameras and gear and he needed to make sure they are cool with it before he gives this deal the green light. I was flabbergasted when I read that, mostly because it had never been alluded to prior to that point in time. (note: I was initially furious that Steve would want to make sure that a sponsor was cool with another sponsor coming on but he made the right call. He is the boss for a reason and it's because he knows what he's doing.) My mind immediately began to wander and think as pessimistically as possible. Crazy thoughts were going through my head. I was crushed. All of my blood, sweat, and tears that I had put into this deal may have all been for naught. It took another week and a half before Steve got the "all good" sign from GoPro. That week and a half for me contained nothing but depression and binge drinking. Since Steve got the green light on the Optrix deal, I could finally come out of my drunken stupor. All was right in the world. Now I could return to my usual deadpan self. This is the world I live in, lots of ups and downs. I'd appreciate it if you didn't judge.
As a whole, my time on the PulpMX Show has been positive. People probably won't like to hear this but I do consider it a job. It isn't all flowers and butterflies but it is pretty great. I seriously want to thank Steve again for asking me to come on as "producer" in the first place. Money aside, I really enjoy being a part of the Pulp family.