For this edition GP's Classic Steel we are going to take a look back at some of the exotic mini creations that made up Greg Primm' s classic moto collection.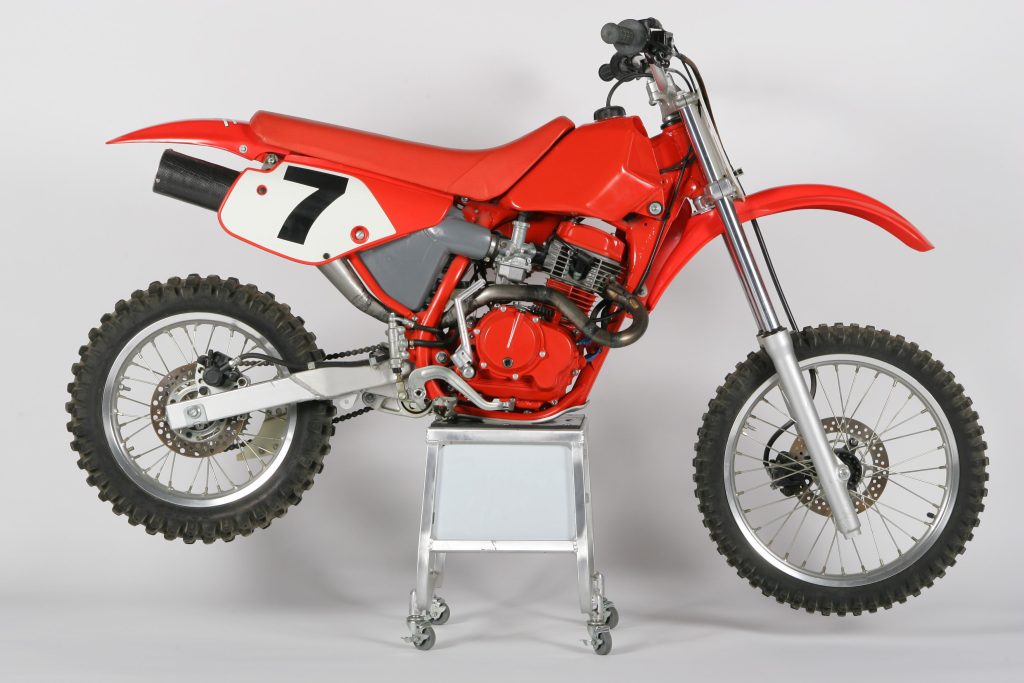 In the 1980s, the name DMC (Dave Miller Concepts) was synonymous with exotic one-off moto creations. If you wanted to turn your 1988 CR80R two-stroke into a racing thumper, DMC was the place to go.
One of the great things about Greg Primm's incredible motorcycle collection was its variety. Over the years, Greg managed to acquire everything from $100,000 Works machines to obscure lawn mower-powered mini bikes. He collected the classic and the mundane, with a bit of exotica thrown in for good measure. For a true moto enthusiast, the Primm MX collection had a little bit of everything.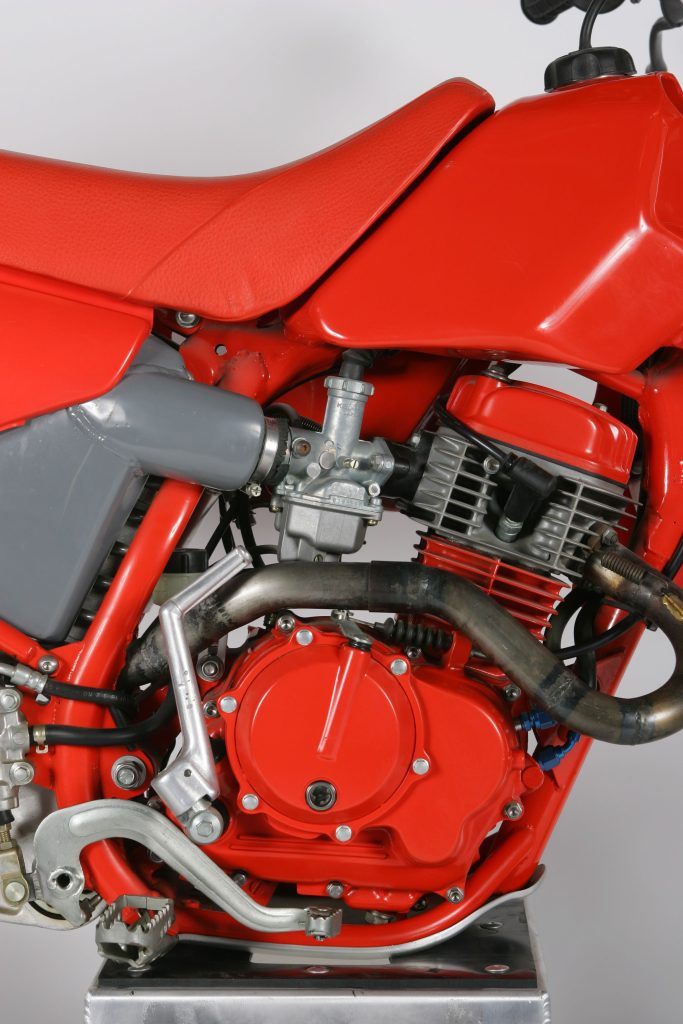 Wedging an XR100 motor into a CR80 frame is no plug-and-play affair. Dozens of large and small changes need to be made to get that thumper into a CR rolling chassis. Everything from the engine cradle to the airbox has to be reworked to accommodate the new power plant. By the time you add in the cost of things like a custom-built exhaust and assorted motor hop-ups, the price of one of these "toys" could easily climb well into five digits.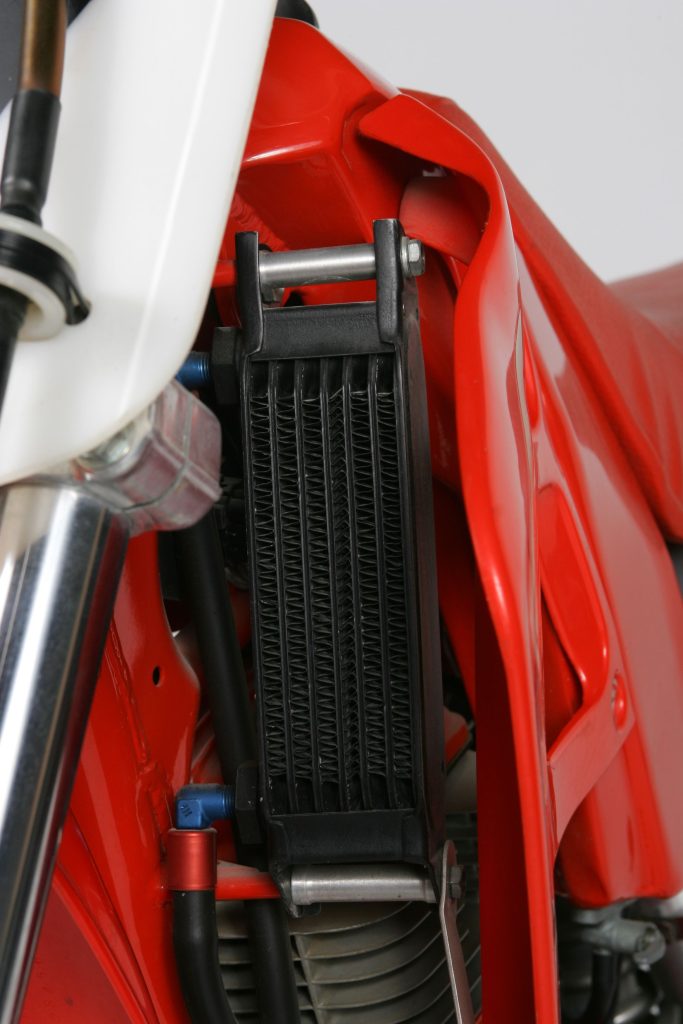 With the addition of a big-bore kit, hot cam, and high-compression piston, it was not uncommon to triple the stock XR's meager power output. With additional horsepower, features like this slick oil cooler become a necessity.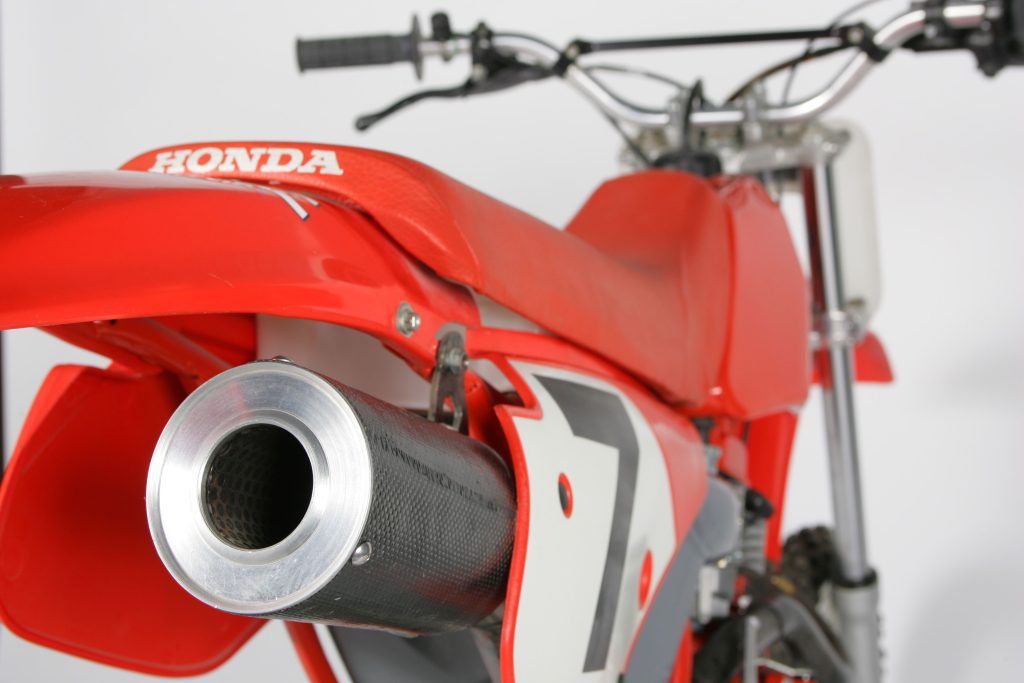 In 1988, nothing said "works" like a carbon fiber silencer on your one-off XR120 thumper.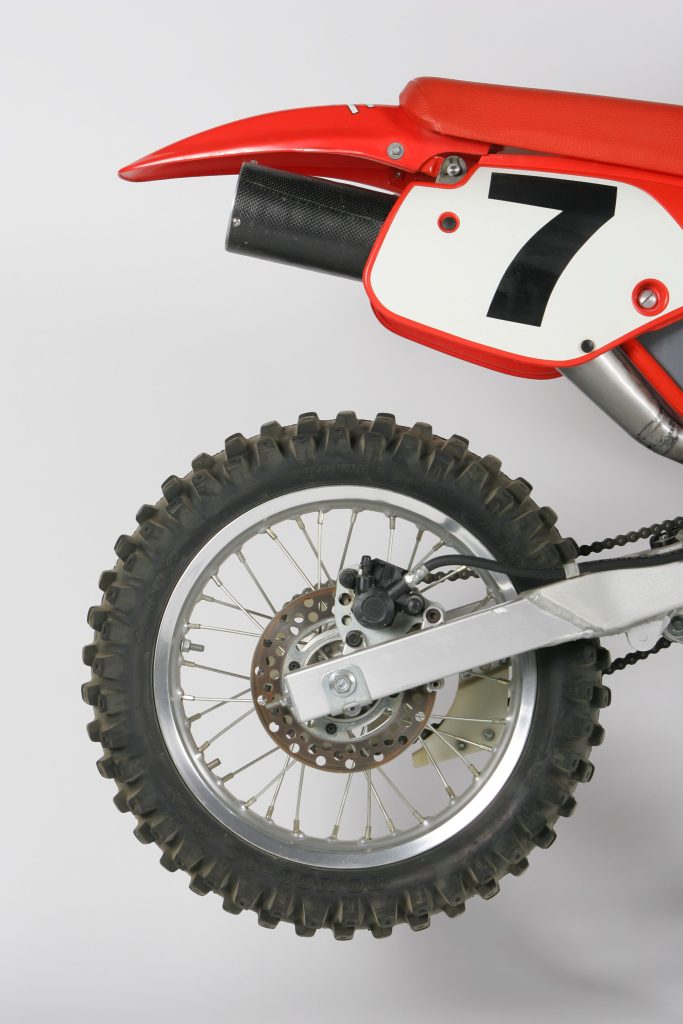 Even though the stock CR did without a rear disc in '88, DMC was more than willing to fabricate a custom swingarm and rear disc for the backyard racer who demanded the best.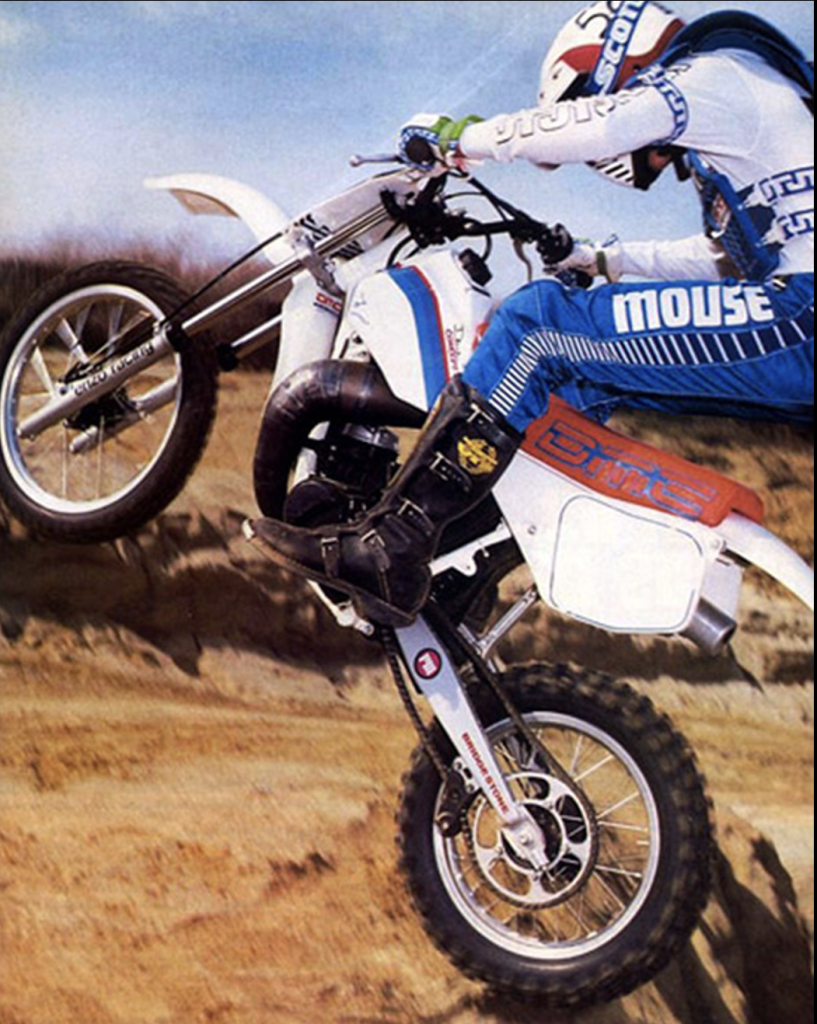 In the eighties, DMC was well known for building amazing works-like mini racers for riders like Mouse McCoy. This DMC 80 was probably tricker than Rick Johnson's works Yamaha at the time.
Interestingly, some of the most exotic bikes in Greg's collection were actually mini bikes. For a time in the early nineties, there was actually quite a cottage industry devoted to cranking out one-off racing thumpers. For reasons that seem to defy logic, customers were willing to shell out ungodly amounts of money in order to turn garden-variety play bikes into fire-breathing race machines.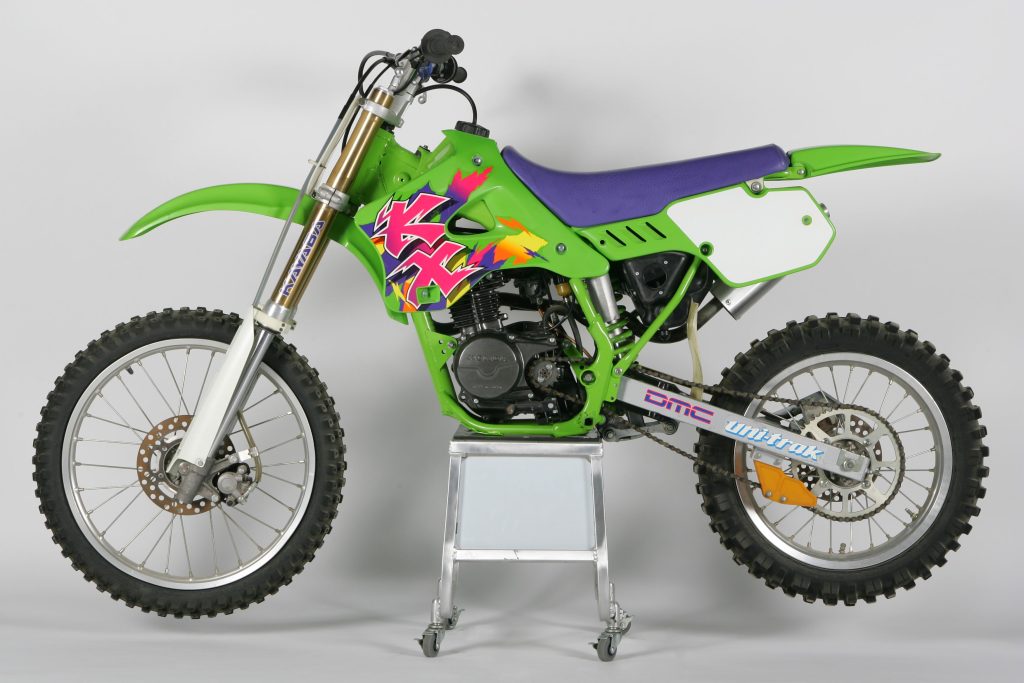 This trick DMC creation is part XR100, part 1994 KX125, and part 1990 KX80. Although Kawasaki had moved onto a new frame design by 1992, the 1990 and older KX chassis offered more room to fit the tall four-stroke motor.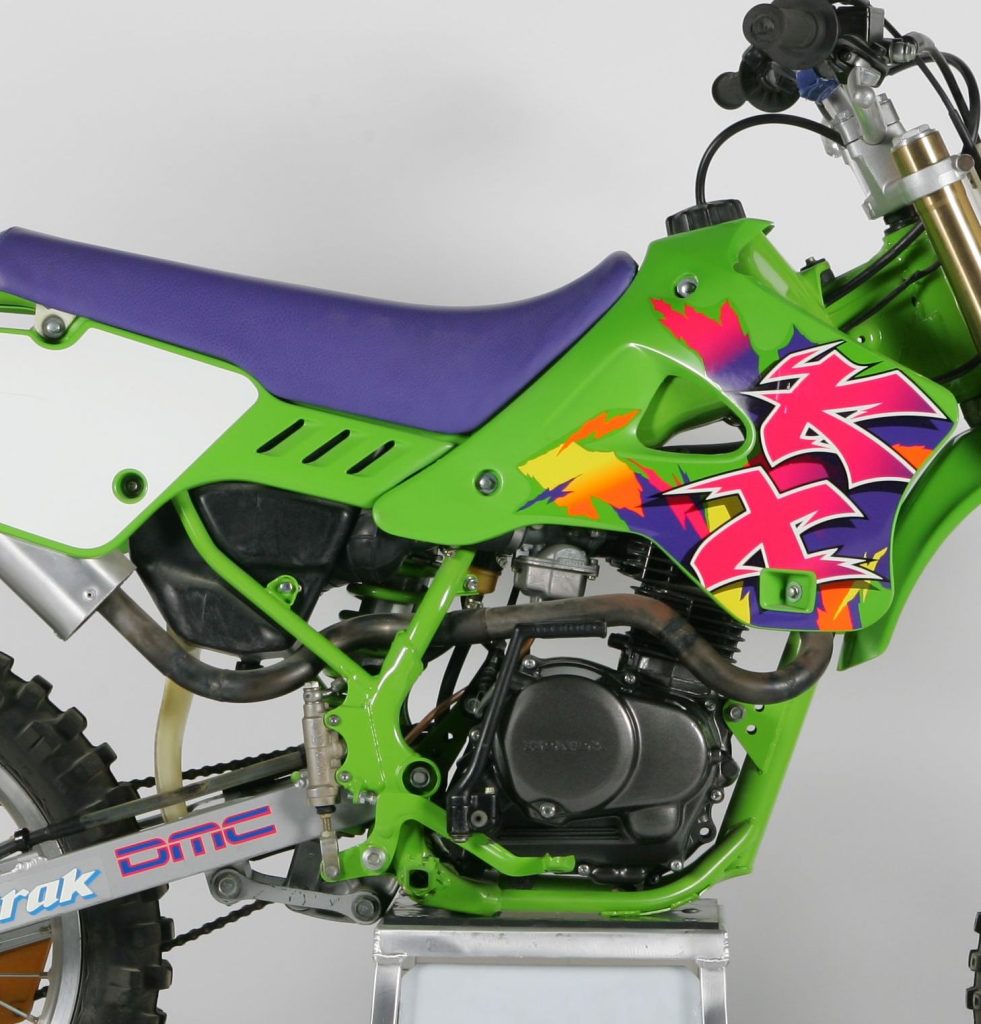 DMC's choice of 1994 KX125 radiator shrouds on this project bike certainly gives the bike a distinctive look.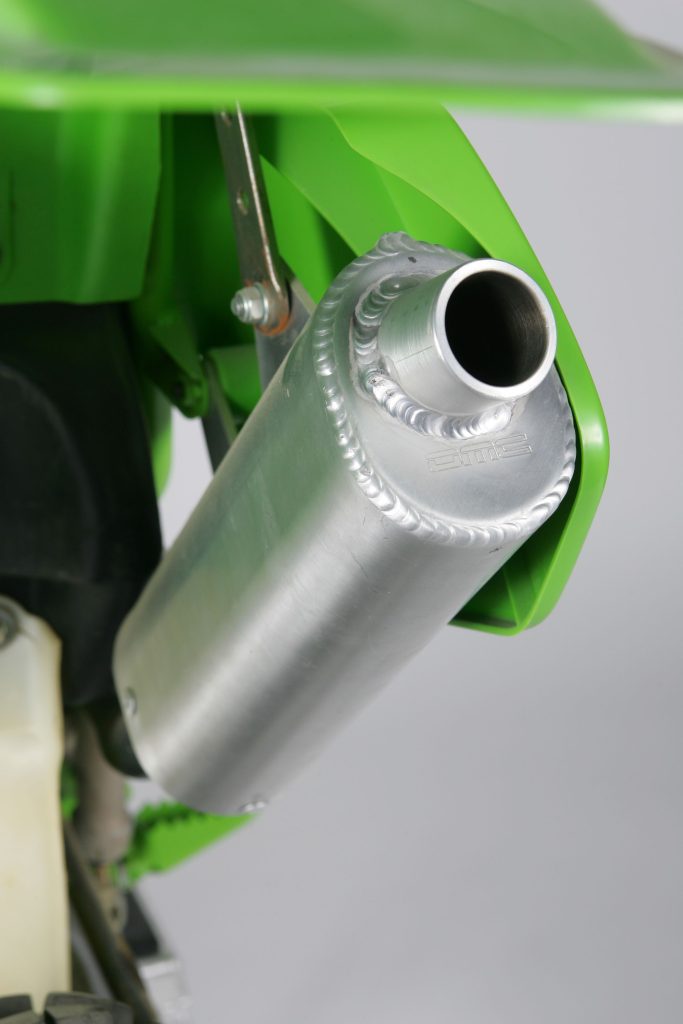 This beautiful DMC silencer would still look great on a bike today.
'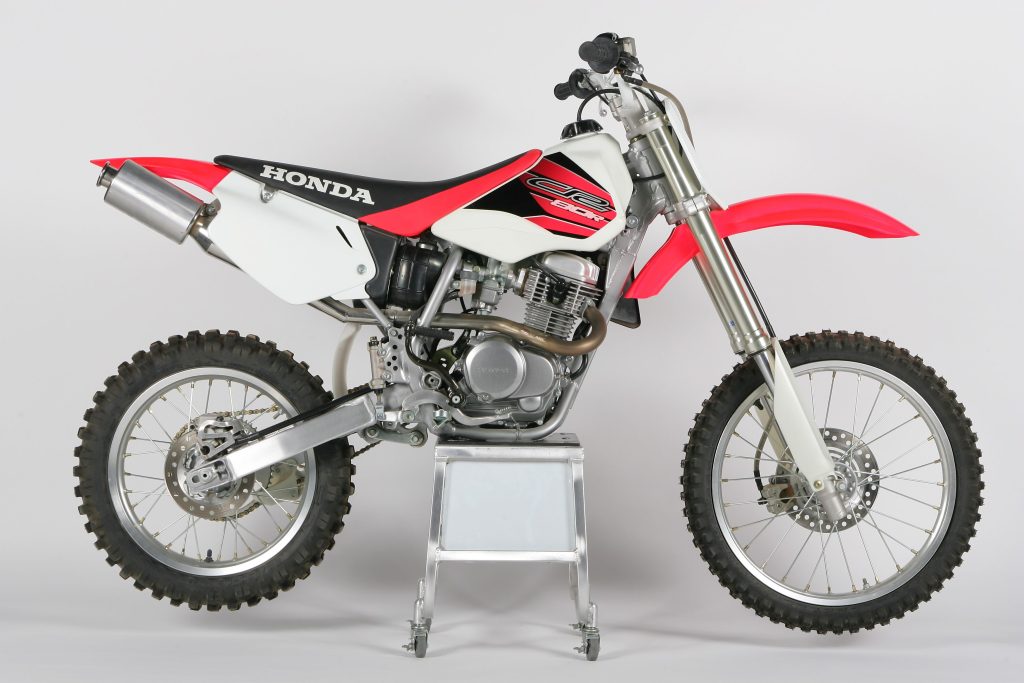 If you did not like your exotic mini Kawasaki green, DMC was happy to build you one in Honda red instead.
These bikes were most often Frankenstein creations that melded 80cc motocross chassis' with Honda XR four-stroke motors.  Going all the way back to the debut of Honda's mini thumper in 1973, XR's had been the basis for mini motocross racers. Originally, the little XRs had actually been competitive against the cobby minis of the day, but eventually, the superior performance of the two-stroke 80's relegated them to play bike status. Then, in the late eighties, a few enterprising companies started modifying 80cc MX'ers to accept these XR motors. While most people would probably question the wisdom of turning a perfectly good 80 into a slow and heavy thumper, others saw this as an opportunity. A project like this was perfectly suited for one company-DMC.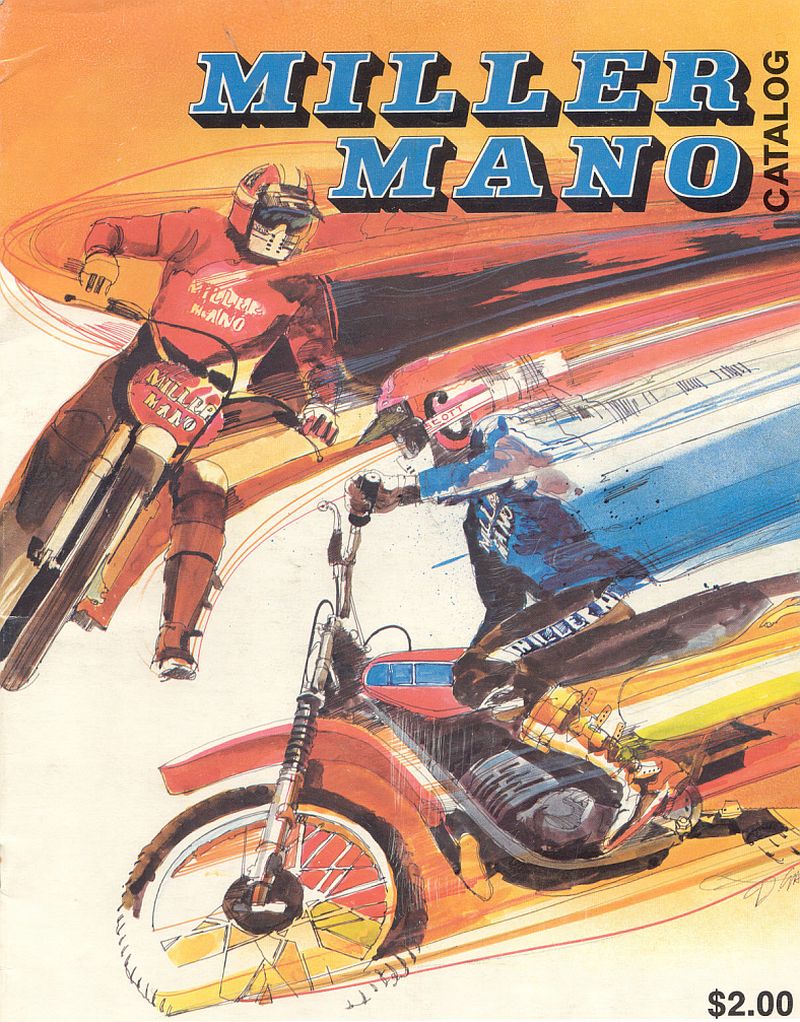 Before starting DMC, Dave Miller made a name for himself as the owner of Miller Mano. Sort of a Pro Circuit, before there was Pro Circuit, Miller Mano made all manner of motorcycle hop-up goodies for mid-seventies moto heads. "It's always sano at Miller Mano"!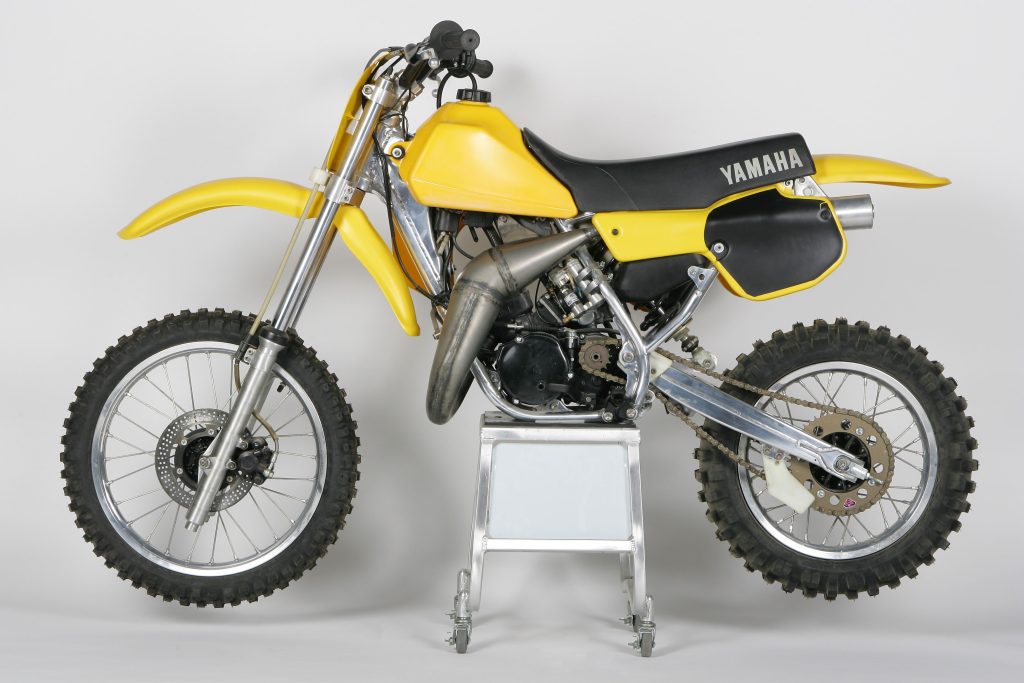 Before DMC got involved in building XR/CR hybrids, they specialized in trick mini racers like this '84 YZ80.  Originally built for Ward Bassett, this YZ featured a custom-built alloy chassis and tipped the scale at an astounding 115 pounds!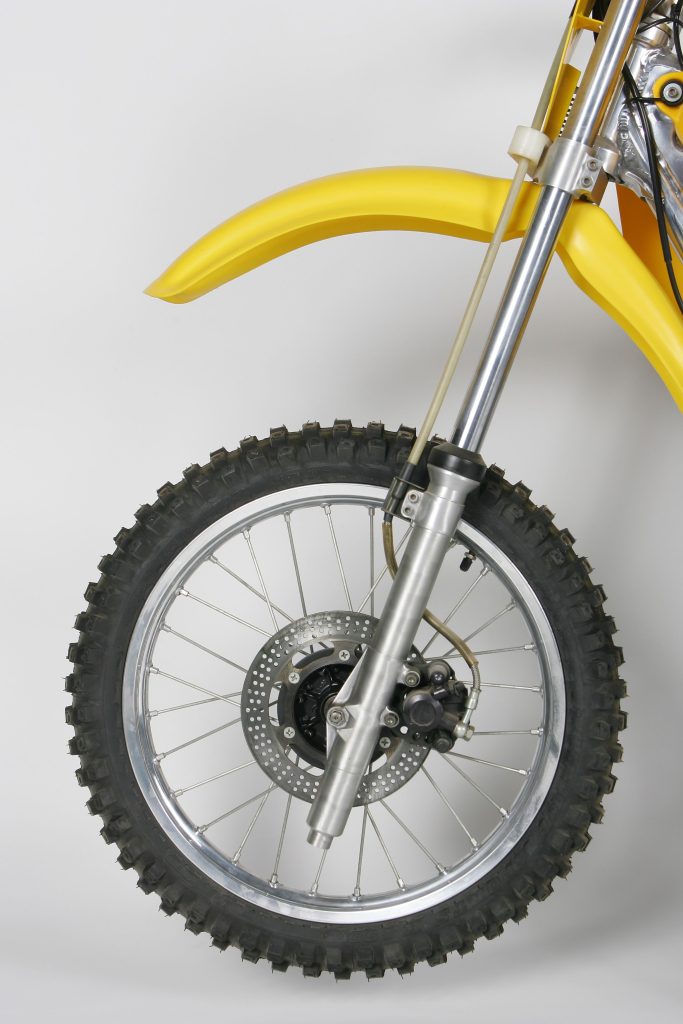 In '84, the YZ80 made do with drum brakes, so DMC turned down the forks off a KX125 and bolted them and its superior disc binder to the front of the YZ. Literally, every component on this bike was tweaked, massaged, or replaced, to lighten weight and increase performance.
Today, DMC is off most motocross fans' radar, but in the eighties, they were the place to go for exotic and trick merchandise. DMC specialized in unique one-off creations that often rivaled the exotic works machines from Japan. Dave Miller had originally made a name for himself as the owner of Miller Mano in the 1970s. Miller Mano was a motorcycle hop-up shop similar to modern-day Pro Circuit that sold everything from exhaust pipes to complete race bikes. His slogan of "Everything is sano at Miller Mano" became one of the most memorable of seventies motocross. In the early 1980s, Dave created DMC and continued his quest to build the ultimate motocross weapon. In addition to selling hop-up parts, DMC also sponsored young up-and-coming pros like Jeff Hicks and Jeff "Chicken" Matiesevich. As the fad of the backyard race bike began to take hold, DMC saw an opportunity and began to build custom-fabricated machines for the backyard Grand Prix.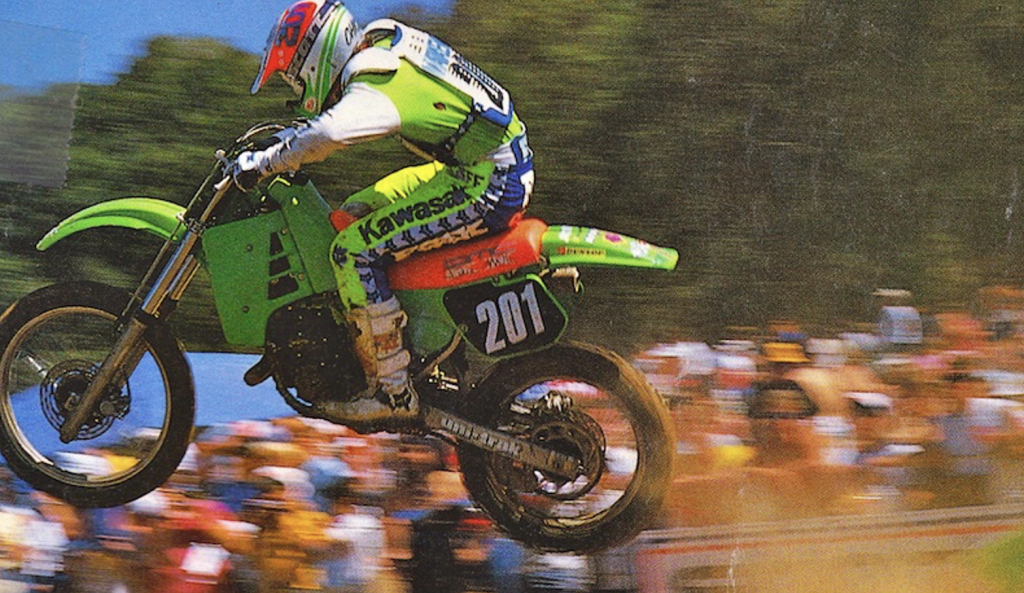 In the mid-eighties, DMC was Team Green's official performance provider, taking up-and-comers like Jeff "Chicken" Matiasevich to many amateur National titles.
Nothing in the motor is left untouched on the DMC YZ80. Bassett's bike featured special DMC pipe, reeds, and ignition to go with porting and head mods. The cylinder was even moved forward ever so slightly on the cases in order to promote better fuel delivery.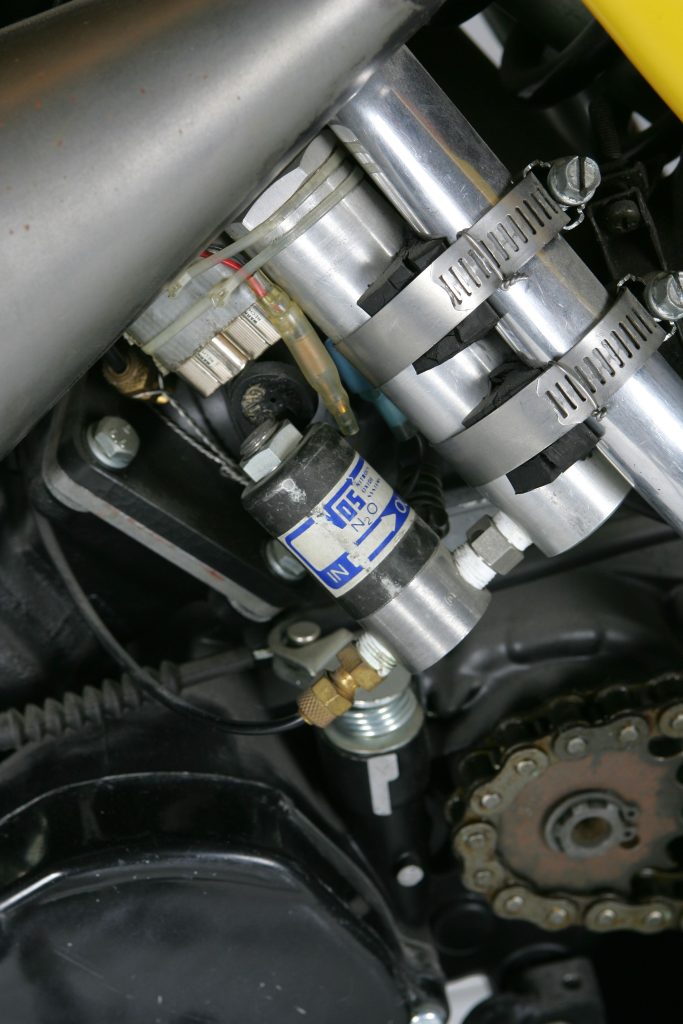 NOS on a dirt bike? Yes, anything was possible on a DMC machine.
Probably the most famous of these backyard races was the one healed every year in Thousand Oak, California at the home of Bob Langin. Langin famously built a complete miniature Supercross track in his backyard and proceeded to invite friends to come once a year and duke it out for the title of Langtown champion. Only four-stroke minis were allowed to compete, which predictably led to an arms race to see who could build the most race-ready thumper. Within a few years, all manner of crazy XR/CR hybrids were being used and a cottage industry was born. The mini bike fad continued to grow well into the 2000s, as companies like BBR and Red Baron jumped on the bandwagon and started cranking out exotic custom-built chassis' for XR50s and 70s.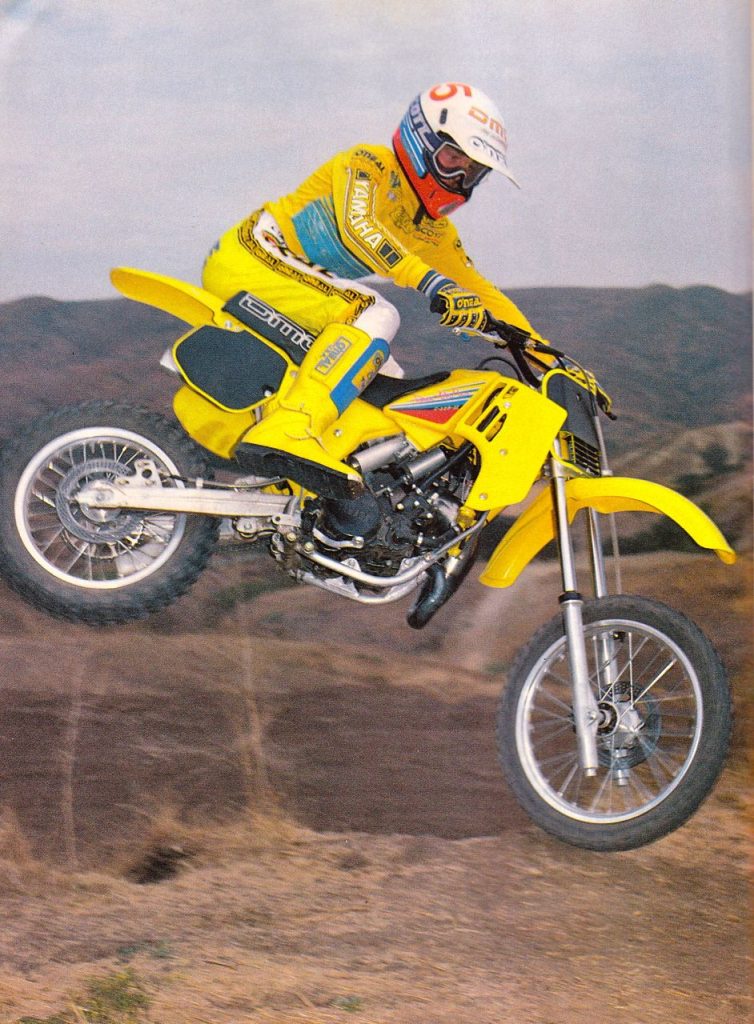 Eddie Hicks models his ultra trick DMC YZ80 for the Dirt Bike cameras.
Today, the ready availability of four-stroke race bikes has made the need for custom DMC specials unnecessary. Anyone wanting to ride a racing mini thumper only needs to march down to his or her local Honda dealer and pick up a new CRF. Likewise, the market has cooled somewhat for the $10,000 50cc racer (this one was always a bit lost on me, honestly). As with everything, however, stuff like this works in cycles and I am sure a few years from now some nut job with too much money will be stuffing a two-stroke motor into a CRF thumper chassis (hey…wait a minute…). Anyway, crazy or not, there is no denying the appeal of a custom-built bike, and these DMC mini racers certainly fit the bill.
Take a little Pro Circuit, mix in some AMP research and add a pinch of Boyesen Engineering and you have DMC. Dave Miller is the mad scientist of Moto.