One of the key guys behind the scenes at PC speaks.
One of the key guys behind the scenes at PC speaks.
Thanks to Scott Motorsports, we get a chance to profile some of the people that work behind the scenes at the races, it's an opportunity to get a story of how someone got to be where they are. Remember kids, everyone has a cool story. Today it's Aaron Johnson, 450 guy at Monster Pro Circuit.
Me: First off Aaron, tough day at the office for you guys at Budds Creek.
Aaron Johnson: Yeah, it was tough for us. I was bummed for Tyla. I thought he was riding good. Too bad that had to happen. And then same thing for Adam. The other guys, like "oh yeah, we won" but it's like, "oh, man." Tyla could have been third this weekend for sure.
He was on it before he crashed.
Yeah, before he crashed. Things like that, it's just like… And it's really cool but it, like, sucks because in the end, we went DNF-DNF.
When Mitch came to you, from what I understand last year with Tickle you guys were sort of forced to put him on the 450. And when Mitch came to you and said, "hey, Aaron, I want you to kind of be the point man on this." Is it something that you embraced, that you liked doing, that you thought would be pretty cool?
Well, since the 2006 when we got the 450 program deal from factory Kawi. We did a lot of 450 stuff already and that's what I did. And then when Kawi kind of went their separate ways for budget reasons or whatever…I still kind of did work on the 450.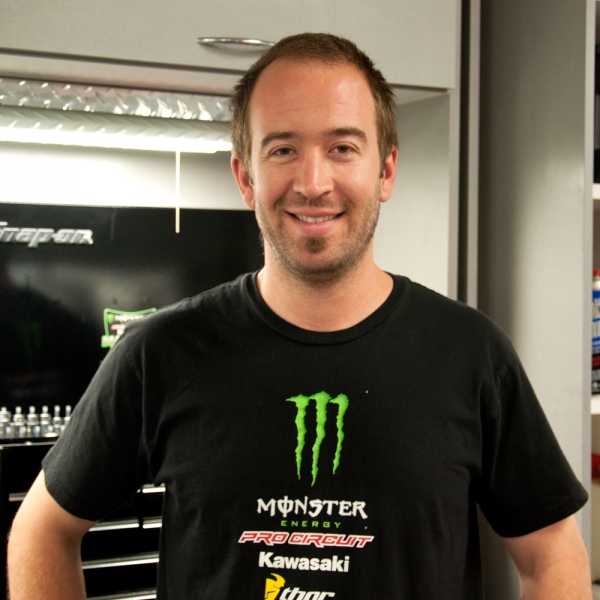 Aaron Johnson is probably a face you've seen around the races but didn't know what he did. Now you know.
You've been on the 450 development since '06 then?
Yeah. So I already had, I felt like a good package. I knew the bike really well. That's what I wanted the bikes. We get the deal, it's helping factory Kawi out a little bit and then year after year with riders and stuff and we just always wanted a 450 guy or a top contender guy. Every year in the off-season, "hey, we got a 450 program." And yeah, I'm working on it. And every year, no, it didn't happen. But I also do all the customer work also. So that was pretty big as well. I was really excited last year. Now we're going to have the program from Kawasaki but now you don't have a guy.
But finally, in 2013 you're going racing on a 450.
Yeah, we're going racing and stuff. It was fun. X Games with Josh; those were the 450 events and stuff. It was fun to put a bike together and see how good we can make it.
You've been doing that. Also you went to Australia with Hanny and won the Aussie SX title.
That was fun as well.
So you are a 450 dude. That's what you are!
Yeah, I try to be.
We talked a little bit about this at Budds Creek, but Mitch still comes over, still sees you guys and all that, but it is a little quieter over at the 450 truck.
It is. There's less people. As far as all the kids I guess you could say, Adam and Hills and Blake's guys. When you have five guys over there, there are so many guys. So for sure it's just way more chaotic over there. I definitely don't miss it at all.
How relieved were you at Rattray's podium at High Point? That had to have been nice, because let's face, with Dean getting hurt, Tyla so-so to begin, it was a tough start for the new team. But Rattray came through at High Point. That had to have been a big relief and got you back excited again.
Yeah, it was good. We worked on the bike and stuff and worked with him, and just tried to give him what he thought he needed and it really kind of worked out. So that was good. It was definitely a big relief. And it's past due because Tyla's the guy that halfway through the moto he's the guy passing people and stuff and those first few races it just wasn't there. Like, man, what's going on? It was good for something. Even this weekend I thought he was better, just had a bad start. But he was riding better than he did at High Point.
And bummer about Dean. That was going to be a real exciting thing to see him finally get rescued from his team and his JWR team debacle. You got to be bummed about Dean's season.
Yeah, Dean's deal is just so unfortunate. Unfortunately in motor sports that kind of stuff happens. It's just part of it. Super bummed for him. I hope he heals up quick and I hope he's back next year and we can do it. But for him it was hard too because he was starting to get in a groove and kind of figure out the 450 a little bit more and how to ride it and just learning and stuff, so it was tough that that got cut short for him. I think he would have been improving week after week.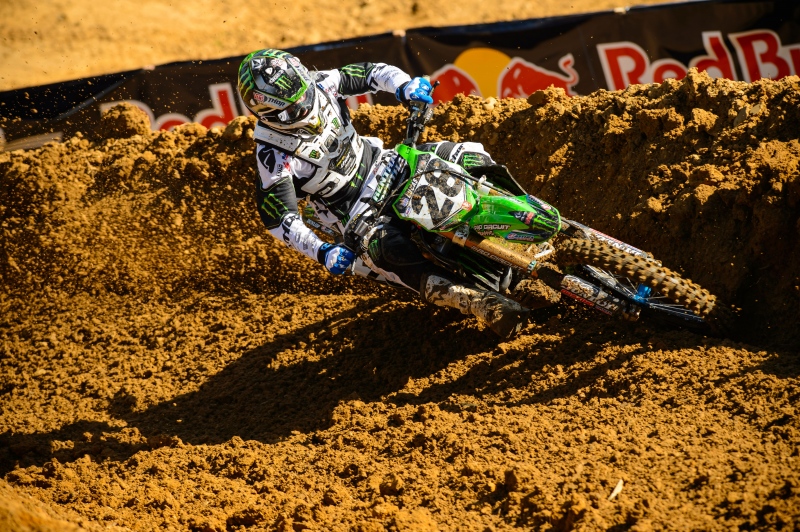 Tyla Rattray and the injured Dean Wilson are the first of the real Pro Circuit 450 team riders that Aaron works with. Photo by Simon Cudby
Talk about your start in the industry. What year you got started, how you got into it, the riders you worked for and that kind of stuff.
I actually went to MMI, graduated in 2002. And then my brother Isaiah raced. And I went and worked for Isaiah at the last few nationals, just him, me and a box van just going to the nationals. I flew from school… I didn't go to graduation. I flew from school straight to Budds Creek. My first national.I think he was on a Suzuki and he was 68. He was on that Pro Caliber team. Did that and then, that was awesome. Just me and my brother, just driving around having fun. That was really cool. Then the second year I actually wanted to work for him in Arenacross because he went to that TUF Kawasaki team, but they had all the guys they needed and whatever. So didn't get to do that. Didn't get to go with him there.
And then I knew Ryan Clark obviously just from growing up and being a New Mexico kid. He hired me for Eric Vallejo. So worked for Eric, drive the truck, things like that. That was really awesome. It was funny. Just learned a lot there. Eric was a good guy to work for. I would say he taught me a lot about how to come to the races prepared.
That would have been like your first big-time guy or whatever, right? Eric had a national number and stuff.
Yeah, he was 179 when he was on Team Solitaire. But we did some 250 two-stroke races for the 250 class in Supercross, and then 125 East Coast. And then he got hurt in outdoors and I actually worked for Ryan for a little bit. And at some point I just drove the truck. That was a lot of fun. That was so much fun, just being on the road. I based myself out of Pittsburgh with a shop down there, Crossroads, who was helping the team out. Just lived out of the truck and lived basically at that shop and went to the races. Then after that got on with Motoworld. Paul Lindsay, one of the guys we knew from Colorado. We used to actually race in Colorado a lot. They used to race and just it just worked out in the old who you know and the people that you know. They were looking for a mechanic. I got on with them and moved out to California and lived with Justin Buckelew. He's my second cousin.
I don't know how that works out there but you guys are all related.
Yeah, somehow. I lived with him and then I worked for Bobby Kiniry and Shae Bentley. I was supposed to do both guys for the supercross deal and then they were going to hire another mechanic for outdoors or something. But it worked out that Shae didn't ride outdoors and Bobby got hurt at Washougal. He didn't ride a lot of outdoors and I actually worked for Boniface last couple races. So that was cool.
Was that the year with the joint Suzuki/Kawasaki 250F that kept blowing up?
Oh yeah. That was a fun year.
You guys had a lot of bike problems with that thing.
Yeah, that was the combined. That was '04. '04, man, that was rough. It was rough for PC as well.
They were overheating. They were slow, whatever.
And just constant shifting problems. Water pump seals… That was rough. And it was funny because Bobby almost raced the 125 outdoors. Almost did it and they decided, put him on a four-stroke at the last minute and obviously that was the future. Everybody was excited about it. But I kind of wish he would rode 125s just because we would have had probably a lot less problems as well. So looking back on that I'm like, it probably wasn't that smart. But that was fun. I was new. A regular mechanic job working at a shop, flying to the races-that was very cool.
Yeah, getting a lot of experience.
Yeah, a lot of experience. And then '05 Mitch hired me and that was through Zach White, once again another New Mexico guy. And then I knew Jon Mitchef from the road, whenever he was on the Subway team and stuff. I think that was when Brent Myron left, so they had a spot open.
Were you nervous and intimidated to go talk to Mitch for the gig?
Oh, yeah. Like, I couldn't even go talk to him forever. Finally Zach grabbed me and, "hey, come here" and introduced… "oh, hey, how are you?" And coming in here it was so funny; I came in here and he offered me a job and then he told me what I would be making. And it was so low. It was like $20,000 a year or something. And I almost just was like, "Okay… I guess." And he's like, "I'm just joking, ha ha ha." I was so close to saying "okay," for just 20K.
Well, it's just his way of testing you I guess, right? Seeing how bad you wanted to work there.
Yeah. I was about to say yes and he's like, "just joking. I'll give you this." I'm like, "all right." And that was better. It was cool. That year I worked for Roncada. I didn't work a whole lot. That was his dark year. He had some problems and stuff.
Were you working for him at Hangtown when he pressured Stewart?
No, that was the year before.
So he was bad that year, so the year that you worked for him he was really rough.
Yeah, the next year he gained a bunch of weight and stuff. He didn't ride any supercrosses. And then I think he rode the first three nationals and then that's when Kawi benched him. So basically I was the practice bike guy. I think at one point I had built everybody's practice motors in the whole shop. Just helping out whatever I could do, help Jon out a lot with Ivan and stuff, whatever I could do. That was the year that Villopoto came up and I worked for RV at the last three nationals. That was awesome, obviously. He did really well. That was super cool. That was like my best finishes ever and stuff. Got a second at Glen Helen. That was the big decision year because that's when I was given the opportunity. I could have worked with Ryan or I could do 450 development. And Mitch gave me a choice of what I wanted to do. I thought about it and probably made the wrong decision, but…
Well, you never know.
You never know. I chose development. And now it's been a lot of fun. Learned a lot. Still learning things like that. But I won't lie, that first year that RV did really good… It was like somebody was kicking me. Like, gosh, that was a bad deal.
You've been there eight years now. Zach's been there longer.
Zach's been here 11. This is his 11th season; I think this is my 9th season.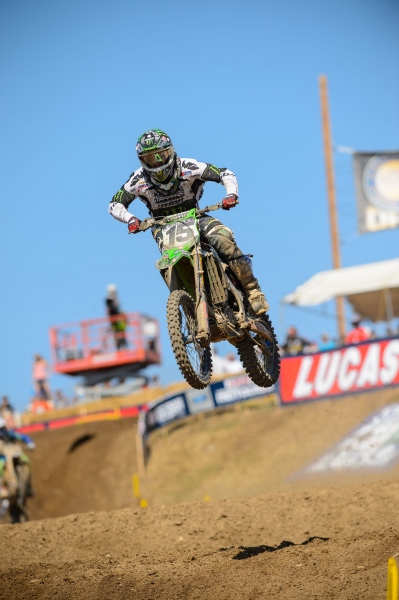 Wilson will be with the PC 450 team next year and hopefully it goes better. Photo by Simon Cudby
As a former mechanic, the rumor is always the Pro Circuit guys work so hard. They work unbelievable hours. It's go, go, go, go. And you guys have number 1 plates to prove that. But has there been a time where it's been too much or you almost left? How do you enjoy the grind all the time?
I think every situation of, "Hey, the grass the greener on the other side" or something. I don't know. It didn't even really come up. As you get older you grow up. Get married, you get kids, the whole evolution of everything, and with that comes the deal where you're like, wow, maybe I should do something where I could spend more time with my family. So that's the only thing. Mitch has always been super good to me on anything I wanted.
As far as the hours and stuff it's gotten a lot better with having Zach and I because there's not 6:00PM and then we're going to go in the dyno room and Mitch is going to run a bunch of stuff. Zach and I run everything and do everything during the day so when 6:00 rolls around we've already had our day and powwow or whatever and then go home around 7:00, 8:00. So it's not that normal, back in two-stroke days we were here until midnight every night.
Has it gotten more normal since you've started?
I think every year gets a little bit better. But I'll tell you this: this year's the first year that Mitch came back and gave everybody a day off, like himself. Nobody knew about it. That deal is there. He just came back and was like- "Nobody's going to work on Friday". And we were like, "Oh, this is awesome." Just things like that to a mechanic's point of view and from my point of view, that's worth everything. Go and just spend a day with your family, do something else.
What's one thing about Mitch Payton that would surprise people? Obviously we know the type of guy he is: he's intense, he's focused, he's a workaholic, but is there something…? I always tell people he's really funny.
Yeah, he's pretty funny. A lot of stories. Sometimes you hear them more. I've probably heard quite a few stories quite a few times. He's obviously super intimidating and then you get to know him and stuff. He's pretty funny and cracks jokes and things like that.
Is there one favorite rider of yours throughout the years that you've worked with, either as a mechanic or just working side-by-side building motors or anything? Is there one rider that stands out?
I have to choose two. Ben Townley was awesome. Just so respectable. No matter what happened, always shook your hand and was very appreciative, which means a lot. It wasn't like one of those things… Whenever he talked to you he genuinely cared about you. So he was really cool. No bad riders. RV was awesome. Tyla Rattray is awesome. Probably the same thing like you talked to him and he's a great kid. Cares about how your day is going, how's you family, and things like that. We talk about kids and stuff. It's very cool.
Your brother, let's talk about him a little bit. He burst onto the scene. I remember 198 on a Yamaha in Supercross. Was a top 6 or 7 guy. What happened? What prevented him from making it? Always seemed like he had a lot of skill, talent.
You know what? It's crazy. And it's crazy to think even riders that come through here, how one thing could just change the outcome of their entire career, with an injury or… It's amazing. I think it was '98. He was a privateer, him and my dad going to the races. He got 3rd overall in points. He got podium that year and had a really great year. He signed with Planet Honda. And I think maybe the structure of that team at the time just wasn't what he really needed. Or maybe it was just the equipment in general. It's tough to say. But after that year he just never really got his confidence up to what it was, and that was really the end of it. He was just putting too much pressure on himself.
It's weird. I'm sure he had a lot of offers and different things because he was a real big rookie guy, and then you just pick the wrong team. And let's face it; I think the Hondas were pretty bad bikes too back then. And that's it. His shot came and went, right?
Yeah. He got pretty close. He almost had a couple decent races that year but just never really put it together, never was really the same. And then in the Arenacross thing he hurt his back, broke his back. That was a bad deal too. My cousin Kevin Johnson he was doing really good, got a 4th one night. At one of the Supercrosses got a 4th place, was riding really good. Then something happened and next weekend's practice he broke his wrist. And that was it. After that happened he never was the same guy or never had the confidence that he was doing at the time.
Kevin was very talented for sure. He was a really skilled rider. Keith was good, too. And he had a good career.
Yeah, he had a good career. Kevin had a good career. They all did obviously something; they all did really good, as far as their careers go and stuff. It's funny that they all raced and I went to be a mechanic. They always say I'm the smarter one. Keith always thinks it's funny. He works at Bobby J's now and stuff. Isaiah's a fire fighter. Isaiah's got the same job. That's the sweet job. Fireman is pretty sweet job. I'm kind of jealous of that one.
He's making double what you're making and working half of what you're doing, sitting around.
I'm like, "Hey, what are you doing right now?" and he's like "I'm playing Halo, working."
Exactly.