Scott reaches into its past to help its future
Scott reaches into its past to help its future
Me: You are back at Scott USA after years at Dunlop. I don't know how many years you were at Dunlop for, but it was a while. What made you go back?
Primo Marotto: First I was 22 years with Dunlop. Probably half of that was in the motorcycle division. Then I moved over to Scott as their National Sales Manager for 8 years.
Ah, I thought you were at Scott first.
If you go back in time you'll realize that Dunlop and Scott were the two main icons that helped support supercross and motocross, we put that on the map. They were the first two sponsors of those events. So I worked for Scott for 8 years as their National Sales Manager. Little change in the way they were going to go about their business, and I went, okay, if you decide to go back to what made them more predominant, I'm going to go back to Dunlop. I never burned any bridges. They wanted me to run their amateur program. And now things are changing back at Scott so they welcomed me back and I'm more than happy to come back.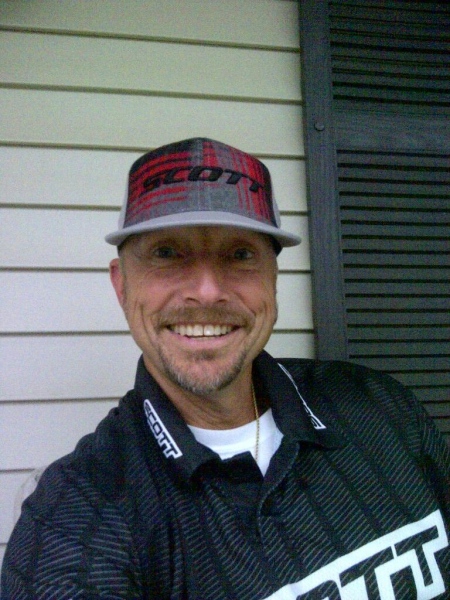 Primo is back with Scott and hoping to duplicate what he did before.
How does it feel being back at Scott? I imagine you learned a lot at Dunlop. Scott's gone through some changes while you were gone. What's your mentality/philosophy for Scott USA going forward?
The best thing is is you've got to look at what worked for them previously. You go back to Scott Watanabe which, he was the icon of Scott, and Bevo Forte. Unfortunately Bevo has moved on, but you look at them two, they were the two guys that elevated it and made it simple. Goggles and grips. That's what they promoted. That's what they sold. That's what they got involved in the industry. And I'm hoping that's what they're going to allow me to do. They say keep it simple, stupid, and it worked. It really was a great plan, and that's what put Scott on the map. So I'm hoping to do that again and raise that back to the predominant way that Scott was really appreciated in the industry.
Also in your time away from Scott the goggle market itself has become pretty intense.
You look at that and you look at gear. That's kind of the funny thing; when Scott management were deciding that they wanted to bring in the gear, it was like, okay, but that's going to be the one percentile. And we see that with goggles all the time. Those guys will come and they'll try, they'll try, they'll try, and they'll fail and they'll get out. And I'm going, we don't need to do that. Let's just continue to work at what we're good at and just elevate that part of our business. It's a shame because I could see it kind of dwindling, and I'm like, I put 8 years with that company. The foundation that we had was fantastic. So I just hope that they allow us to do what they did 8 years ago that made it so successful.
The one thing that Scott has that most other companies do not is the legacy of championships and race wins and proven goggle technology. The history of Scott is phenomenal.
You hit it on the head. As far as the history goes, it's fantastic. And the technology. It's funny; coming from a tire company and knowing the ins, the outs, the research, the development, and the engineering that goes into tires, for the first time I'm going, goggles are kind of goggles, but Scott's been around a while. Until I got there and I seen the engineers, and I seen the designers. I'm going, these guys know what they're doing. There is a reason why not only do they sell more but the product, the quality and everything else, is by far better than 90% of the other ones out there – if not the best. And especially now with the new FIT system that they have. Believe me, I thought it was kind of a gimmick. If people don't really try on the goggle and see how that little chamber works and fits different face features, it's unbelievable. It works.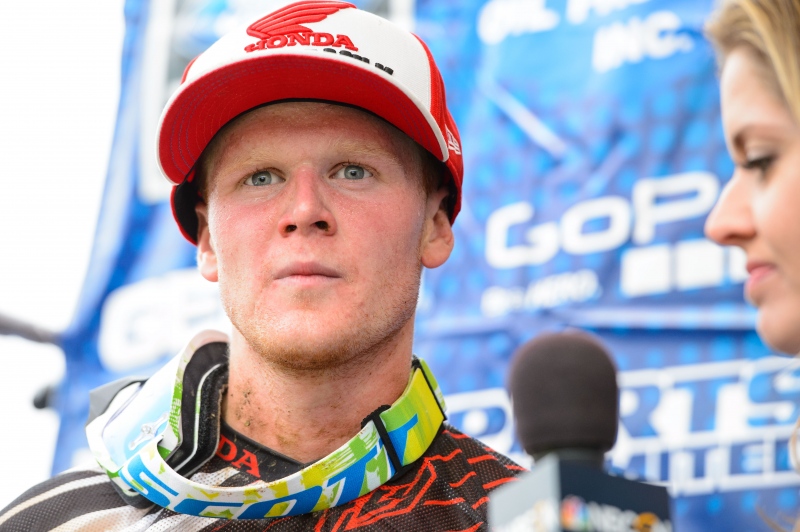 Trey Canard is one of Scott's top riders. Photo by Simon Cudby
What are you most proud of for your work at Scott? What accomplishments were you super pumped on the first time you were there?
I think it was just the relationships I built within the distributors. When I was with Dunlop I knew the Parts Unlimited guys, I knew the Tucker Rocky guys, but Western Power Sports I was kind of new to. But being able to elevate their sales and their enthusiasm for Scott, I thought it was pretty cool. We had to be really, really good distributors and I like to think I had a part in elevating all of that.
Let's talk about Dunlop. There was fear amongst the teams that with 95% of the teams, Dunlop might slack off a bit in R&D but that hasn't happened. Dunlop has been aggressive in trying to make better tires.
You're absolutely right. That's what we've heard for so many years. Bridgestone 403, off-the-shelf tire was better than some of our stuff that we were developing. And truthfully it irritated our engineers, especially our Japanese technicians and engineers. They were ready to jump on their hara-kiri knives, no doubt. But they really did step it up. They made a running change this year with the off-the-shelf MX 51 FA, and riders immediately could tell the difference. It's pretty cool.
They didn't sit back just like, yeah, we're okay. Some companies would have.
Right. We're it; this is what you're riding.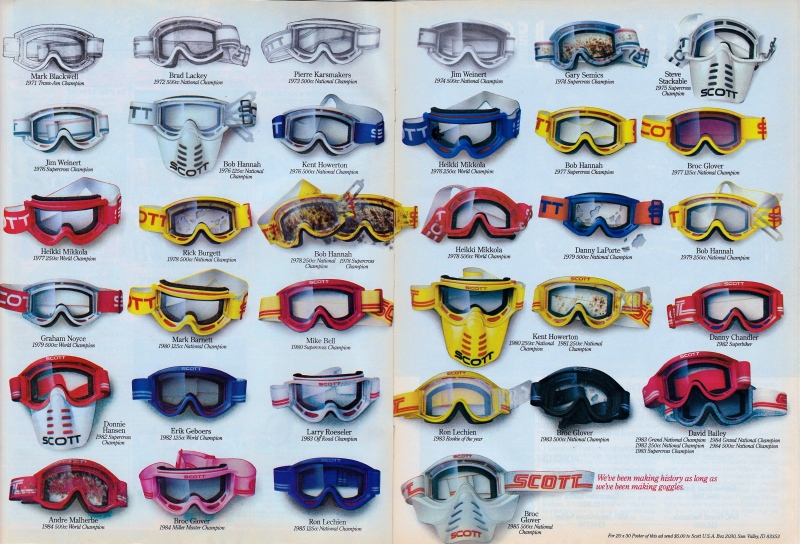 Scott should make this ad again right?
What about the industry as a whole? I feel like companies are coming back around. They're starting to market; they're starting to put ads in; sales are improving. We were maybe five years ago in a real low point. It seems like it's getting better. What do you think as far as your experience with tires and goggles and stuff?
If you look at grassroots racing that's kind of where you'll see it. For the most part gas prices always are going to hurt the motocross industry first. They're still a little high in areas. I was just down in Tennessee at Loretta Lynn's and gas prices are pretty reasonable. So as long as they stabilize, at least now the racer knows that he can get to point A and point B and not run out of money before he has to pay his entry fee. I think that's a big thing.
Maybe some of the bigger Nationals aren't getting as many, but a lot of the local places are getting more and more. I think the economy is starting to pick up. Racers are starting to enjoy going back out again. They're just not going as far, which is okay for the industry. It really doesn't matter.
They're maybe not traveling to Texas for all the amateur stuff or whatever but they're going to what they can. Speaking of Loretta Lynn's, Aaron Plessinger, he's a Scott kid. He was a big surprise.
Yeah, Aaron was awesome. That was very cool.
When you think of Scott, and maybe it's just the '83 goggle, which Scott sold 8 bajillion of them, but what product stands out in the history of Scott?
That's got to be it. It would have been that '83, '89 no sweat series. They all had the exact same frame. Nowadays it's kind of odd to do that, but every dealer had the same lens. Every dealer had the same tear-off. That was the cool thing about it. They just increased the foam on them. They made them just a little bit better. That was the trio that would kill anybody.
It was really good.
That's what put them on the map. There is no doubt that's what put them on the map. Now there's a little bit more technology involved, a little bit more fashion flair to go with the function, but it's still good. The name is definitely iconic. We just need to out-bait it back to where it was. That's what I'm really hoping I can do.
You guys need to really lean on the fact that you've been here forever and you have all these great riders and champions. And we have had some of the best riders ever to wear our goggle.
And also I guess the first thing I got to do is- our European headquarters, they have a lot of say in advertisements. They send it over and I'm like, looks pretty cool. Would you do me favor? I said, with the US market, in the corner put assembled or made in USA. Got to. That means a lot nowadays and I don't think people realize that we are made in the US. We're made in Ogden, Utah, just outside of Salt Lake.