The #29 talks about his year in motocross and more
The #29 talks about his year in motocross and more
PHOTOS BY SIMON CUDBY
Me: The outdoors just finished. You didn't do as good as last year in the points but you almost won a moto. How did you think you did?
Andrew Short: Coming off the Supercross season where there was a lot of chaos, it was nice to kind of settle in with the team, BTO Sports KTM, and get some momentum going. It was a lot more up and down than I typically have in this season, in this past season I've competed in. But overall it was good. It was a lot more fun than I've had lately. As the season wore on I seemed to gel with the bike more and get the suspension figured out where I was a lot more comfortable and that's what allowed me to run a little closer to the front, like that moto at Southwick, like you mentioned. There were flashes where I felt like it went really well and then there were other periods where it was just horrible. So I've got to minimize those things and go back to being consistent. Also work on my speed and trying to evolve with the rest of the racers.
We know how Mike Alessi's moto is going to go by his start but with you that's not true. You can very much charge from the back and move forward if you're happy with the track and the bike and everything. Or you can go backwards if you get a great start. Do you think that's true?
Yeah, it kind of sums it up. Even the last race at Elsinore I had a pretty bad start first moto, came back, passed a bunch of dudes, and ended up 6th. Second moto I came around first and second turn really close to the front in a great position and I just tanked and fell all the way back to 12th I believe. So you kind of summarized it. I got to work on a lot of different things. I think because last year I had that non-typical off-season where I didn't train a lot- I was working on other things on the business side with racing. I think this year I have a lot more focus and I think that will me carry me through this season a little better. That's something I'm trying to put a lot of emphasis on because I need to make some big gains.
You renewed with BTO for the next two years. What did you liked about the team enough to be like, hey, I want to stay here?
I've ridden for some really successful teams in the past. I spent a lot of time with Honda. They probably spend the most money in racing on our side. And also KTM when they made their big push. So I've seen programs at the highest level. When I joined the BTO program I was a little nervous at first. I didn't really quite know the whole staff and crew and mechanics, but as the season wore on I became more aware of how everything worked and became more comfortable with everything that they had in terms of their structure of going racing. It's a lot more relaxed atmosphere than a factory race team. You might not have the same resources but they have a great relationship with KTM, as do I from when I was there before. They use the factory services program. I felt like the bike started getting better each and every week and I stated feeling more comfortable on it. As the season wore on I felt like we have some unfinished business in the off-season to do. We could make a lot of gains with the equipment and I could benefit still from that relaxed atmosphere that I enjoyed from when I first joined on. It was definitely a different scenario for me that I had to adapt to, but once I learned what everything was about I really enjoyed it, the people there and their passion for racing.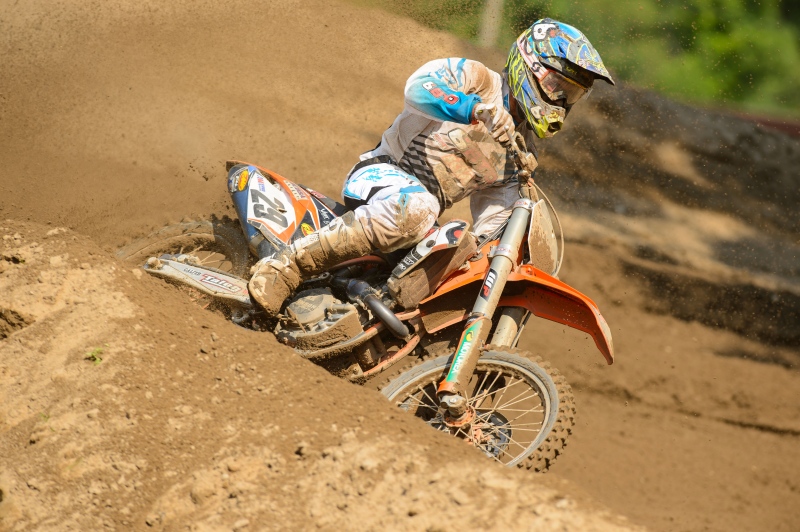 Short came within a lap and a half of winning the first moto at Southwick this year.
So really regardless of money and all that kind of stuff, a big thing was the bike? As you got better and more comfy you felt like you could be there?
Anybody that's been around racing knows that there's more than one element. It's not just the bike; it's the organization, the staff, the attitude of everybody inside the truck. There's a lot of different factors and you want to surround yourself around the best people that you think you could be the most successful with. At this stage of my career I felt like I offered them a lot of experience from what I've learned from previous race teams. They're really serious and want to improve and they want to grow and they are growing. It's cool that our paths are crossing at this time. Hopefully we can both take each other to another level.
How much better is the 450 Ryan Dungey replica than the bike you rode the last time you were there? Is it even possible to…
When I was there I was on a 350. For what that bike was, it was an amazing bike. It had a lot of power. I just don't think it suited my style.
Didn't you ride 450 outdoors?
No, I rode a 350.
I'll fire my research staff. Hey, the little bit of time that I spent around your truck, I'm impressed by Rob Henrickson from RG3, he's really working with you guys. He's got his hands full with the factory team, but I don't see any lack of effort on his part with you guys.
You nailed it on the head. There are a lot of people that come together to make our teams and bikes come together. Factory Services is from the motor side and Rob handles the suspension for us and BTO, the whole Butler Brothers organization, they have a cool program where we can benefit from the factory team and vice versa. Hopefully we can give them some more feedback and there's more KTMs on the track. We can benefit from each other. But there's a lot of people that takes. Obviously suspension is a key role in our sport. It helps having all of Rob's experience and knowledge. He definitely helped throughout the middle of the year, especially around Red Bud. We made some big setting changes and that was a big help for me.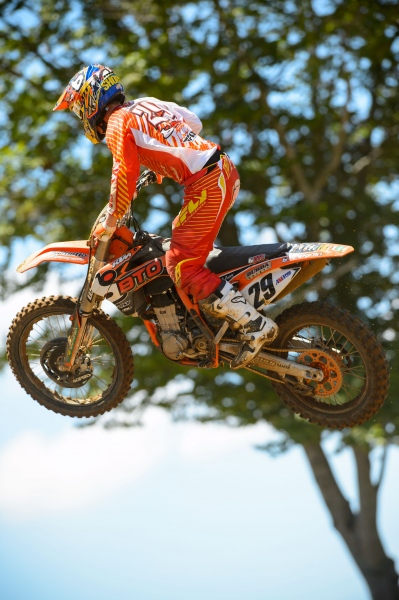 Short will be back with the BTOSports KTM team for the next two years.
Were those the setting changes the ones you said you didn't get a chance to practice with? And you were all stressed out?
I'm always a little nervous going to the race track without trying nothing or not knowing what you're going to get yourself into. But they came at the right time and they helped my result. My season started turning around as well.
Your take on the last couple National tracks? A lot of riders weren't a big fan of them. What's your take on both of those last tracks and what they're trying to do?
You can look at it two ways. I think the facilities and the infrastructure that those tracks have to offer – especially Miller, that's probably much better than Elsinore – it's great for the industry to have a foundation to bring somebody from the outside to a motocross race like that. From the sponsor side, and you could even bring your wife and kids to a race like that because it has the facilities where they would be comfortable and they can still enjoy the racing. Where when you take it to Unadilla it's definitely not going to be appealing to a four-year-old kid. Walking around and no place to sit. I think they just kind of keep the balance. The tracks weren't necessarily as good as the ones back east. There's a lot of heritage to those tracks as well. I think if they keep that balance, but also keep trying new things to make the sport grow, for everybody in the paddock, it's great in my eyes. But those tracks aren't as enjoyable as the Red Buds or Millvilles and places like that. But I'm not that shortsighted either to know that we have to try new facilities and work on all the different avenues for the whole sport.
Talk about your competition a little bit. I was surprised at Villopoto and just how much better he was than Dungey, especially at the end of the year. He won 8 overalls and was dominant this year. What do you see as his strength?
I think there's just a lot of confidence. He rides with a lot of confidence. Ryan Villopoto is one of those unique racers that everyone will remember for the rest of the sport's history. Because of his confidence and the way he approaches racing it feels to me like he thinks he's unbeatable and he's willing to push further and harder than anybody else. When a racer believes something in their head, it's already done with. Once you beat mentally then I think it's over. I think you saw the same thing with McGrath and certain people. Even Stewart to that point. Before, I think he always truly believed he was going to win and he was the fastest guy. I don't know necessarily that he lines up at the gate thinking that anymore. I think Ryan has that mentality in his head and when a racer has that I think they're kind of unstoppable. He's evolving and pushing technique and training and all the elements it takes to be successful in our sport. I think the next generation will copy him and expand on what he's done, just like every other generation.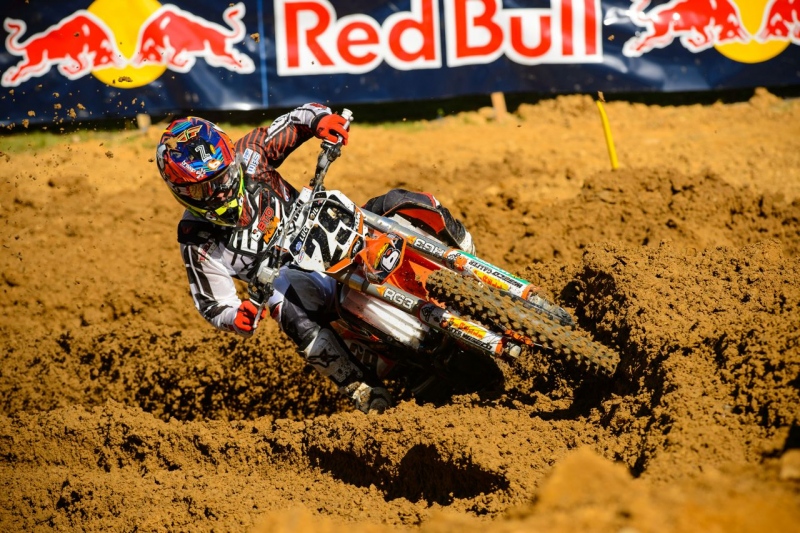 Seventh overall for Short in the 2013 motocross series.
For next year for Supercross, what kind of stuff are you going to work on in the off-season? You mentioned you need to make some big gains and you want to work on something.
Speed and fitness. I think if I work on my base and build up my fitness in the off-season it will help my results. It's such long season and there's not a lot of time to make gains once the season starts; it's mostly just recovering. So trying to build up the fitness right now and then speed is number one. Last year in Supercross my best finish was 6th. I finished it numerous times but I could never break into that top five. For me, I definitely have to build some intensity and work on my technique. Like I said about Villopoto, he's doing things that nobody else has ever done before. So I got to learn how to do the same things.
Maybe riding with somebody like Dungey a lot at the test track will help?
Yeah, but I think for me I learn more visually, so I got to work on my overall momentum. I think that will help eliminate different mistakes. Like you said, the field is so deep right now that's hard to rip through the pack. So if I can get good starts and I have the technique, I can get everything dialed in. I feel like having a normal off-season will benefit me quite a bit in terms of testing and fitness and speed as well.
This year was pretty stressful for you, wasn't it? You're a little bit of an OCD guy. It had to have been stressful with everything that went on. Three different bike changes…
Yeah, it started early in the off-season so I'm happy that I have a clear mind and moving forward. It's a whole different mindset. At this point in my career I kind of need to make hay while the sun's still shining.
What about Nate, your mechanic. Seems like he's a hard worker and a good guy to have in your corner.
I love having Nate there. I think his attention to detail is really great. He's really quiet but once you get to know him he has a great heart and he cares a lot about racing. He spends a lot of time in the shop and he doesn't have to but it's because he enjoys it and loves it. I feel like I'm kind of the same way with riding and racing and dirt bikes. People share that same passion and feel for it. That's what makes it really cool. It works really good when we work together.
He seems to like to polish things, frames, swing arms…
That's where I like his attention to detail. He does everything the same way I would, if not definitely better. He takes a lot of pride in his work to make sure that everything works good and works properly.
Thanks Shorty and I hope you keep racing for a long time, you're one of the last guys to remember me when I was a mechanic.
Thank you.