The all-time coolest gear combo's right here, right now
The all-time coolest gear combo's right here, right now
In the world of bench racing, few subjects are as hotly contested as motocross gear. Some guys love the new-school threads, typified by the crazy kaleidoscopes run by riders like Bam Bam. While other riders might favor the simplicity of the seventies, or the neon of the nineties. No matter if your taste runs to paisley, plaid or polka dots, the MX gear companies have you covered.
While motocross fashion has always been a cruel mistress, a few iconic combos have managed to endure the test of time. With that in mind, I thought it would be fun to get together with my fellow motodorks and hammer out our favorite all-time MX gear combinations. Matthes, Moser, Swiz and yours truly will each get to pick our three favorite ensembles, be they good, bad or just plain bizarre. When setting up the rules for our little bench racing Blackwell session, we decided that any gear combo was eligible, be it custom or off the shelf. We also decided that any era was fair game, so if Moser was fond of a nice pudding bowl lid from the fifties, so be it. And we couldn't repeat picks, so it had to be twelve different combos. Which took some compromise. All that matters is that you can make a good case for why it deserved to be on this list.
Here, without further adieu, are the twelve gear combos that pegged the PulpMX Badassometer® to eleven.
Tony Blazier Selections-
For my podium, I am going to go old school (I know, shocker) with some selections from the golden age of the MX gear wars. I grew up in eighties and for better or worst, I will always hold a soft spot in my heart for the gear of that era. While not all of it was spectacular (some of that Hallman stuff was just God awful), there can be no doubt it was a great time for creativity in the gear business.
3rd Place- Fox Racing 1986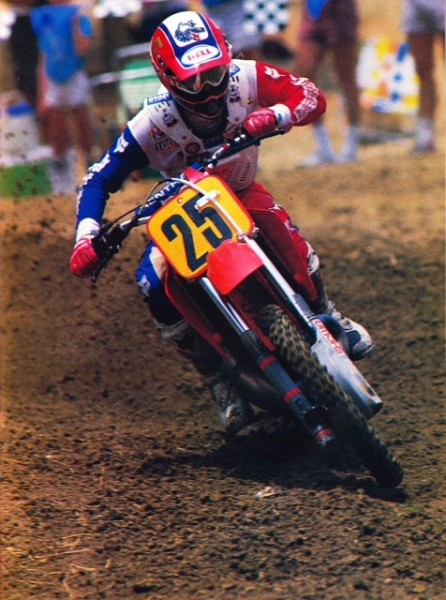 RJ's 1986 500USGP gear was bad ass. Extra bonus points if you could afford the one red, one blue boot.
The year of 1986 was a pivotal year in the history of Fox Racing. In one year, they went from sucking JT Racing's vapor trail. to nipping at their heels. Riding a wave of success by Honda's newest hire Ricky Johnson, Fox and RJ teamed up to create a perfect storm of MX badassery in '86. What Fox and the Bad Boy came up with, was a collection of cool color combos and innovative designs that perfectly fit his image as Honda's new hired gun. I particularly loved Fox's Stadium gear this year, with its big Honda H and sponsor logos pre-installed (a big deal at the time). The Stadium gear came in red or blue, with white sleeves and a big Rick Johnson autograph on the chest. This my friends, was seriously cool S#%t.
Coolest of all though, had to be the gear RJ saved for the Carlsbad 500 USGP. For America's premier motocross event, Too Hip loved to roll out the old red, white and blue. This sweet Fox gear combo featured one red leg and one blue one and a jersey to match. The jersey once again featured RJ's signature emblazoned in gold, over a red, white and blue Fox logo. Over it all, he wore a Fox Roost-2; the only chest protector in history that actually made you look cool when you wore it. While Matthes claims Ricky ran one red and one blue Comp-2 boot with this gear, I can't find any pics of said combo, so maybe that was like Weege telling him about where the bodies are buried. In any case, boots or not, this still stands as one of the all-time sweetest gear combos's, worn by one of the sports all-time coolest guys.
2nd Place AXO 1992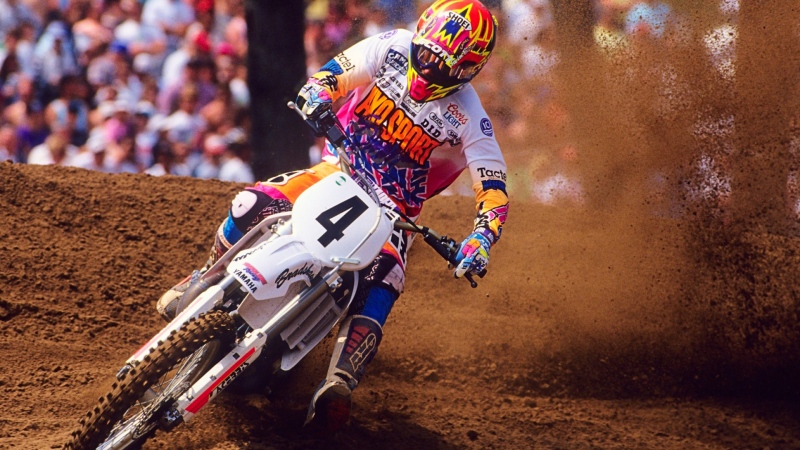 Blazier's choice had something to do with Bradshaw wearing it and a lot to do with his glory years of mx.
In second place, I have AXO's iconic 1992 line of MX gear. Much like RJ's move to Fox in '85, Bradshaw's jump to AXO in '91 signaled a sea change for the brand. Prior to '91, AXO was a solid also-ran in the gear business. Their designs were clean and fresh, but no one gave them much of a second thought. Then in 1991, Jim Hale snagged the Beast from the East away from Fox and turned AXO Sport into the gear to have.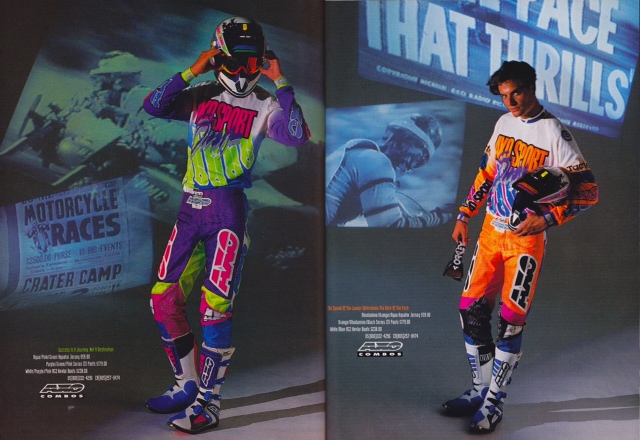 Simple designs, lots of colors make AXO number two on Blaze's list.
All of this culminated in 1992, with the emergence of Bradshaw as the baddest man on two wheels. Damon dominated the Supercross season with a record nine Supercross wins (although he lost the title to fellow AXO rider Stanton), all the while looking resplendent in his flo-orange AXO Sport gear. This stuff was so bright and colorful, that Damon practically glowed as he ripped around the track. While I like the orange/cyan Aquator (their sweat wicking jersey) combo seen in most photos of Damon, the orange Gelprint setup is by far my favorite. Of course, the fact that these jerseys were like wearing a turtleneck sweater made them only suitable for Supercross. I still have a set of this orange AXO stuff in my closet, and love it every bit as much today as the day I bought it. Good stuff.
1st Place Fox Racing 1989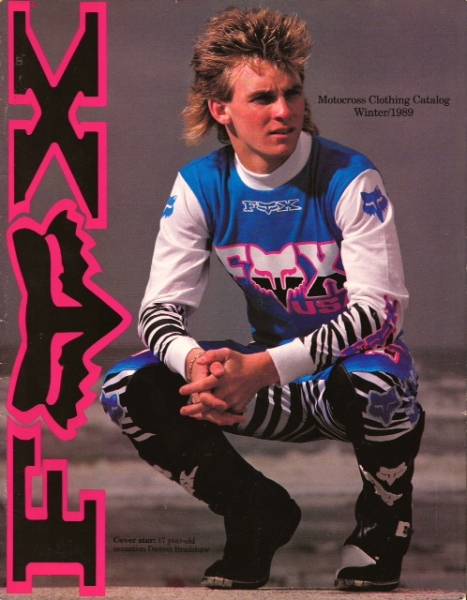 Trust us, in 1989 this picture just reeked of speed and coolness.
I'm not sure it is possible to overstate just what a game changer this gear was in 1989. It was the right gear, at the right time, with the right athletes to turn a gamble into a marketing phenomenon. On the surface, pink and black zebra stripes, spider webs and polka dots would not seem to be a recipe for success, but this was the late eighties and the world was awash in big hair and neon parachute pants. What JT Racing had started the year before, with their Dalmatian line, Fox took to the next level with the introduction of their '89 Image Racewear.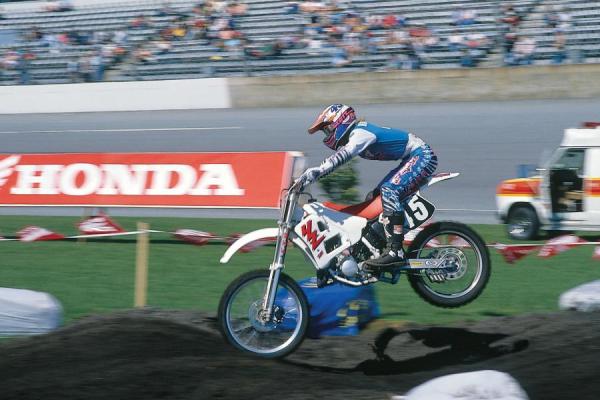 Bradshaw rocking the zebra print at Daytona '89.
Every colorway was brash and bright, a perfect match for the stable of young talent Fox had on tap in '89. Ronnie Tichenor, Donny Schmit, Damon Bradshaw and Jeff Matiasevich were the perfect platform for Fox's new style and made every combo look like the coolest threads money could buy. Fox sold so much of the zebra print gear that it still stands as their all-time best seller. The only problem with this incredible success was that it was impossible to top. By '92, Fox would be emblazoning its gear with skeletons and barbed wire, in a vain attempt to once more catch lightening in a bottle. Alas, it was not to be and '89 still stands as Fox's high water mark on the Badassometer® in my opinion. Stamp it!
Moser Selections-
My PulpMX podium of racewear is from a slightly different era than my PulpMX counterparts, because well, I'm from a younger era. It's not that I don't appreciate some of the ground-breaking gear from the past but it's of no sentimental attachment to me. For the record I would have rocked the shit out of that Bailey, red, white and blue JT stuff, it's timeless.
3rd Place- Shift Emig 1997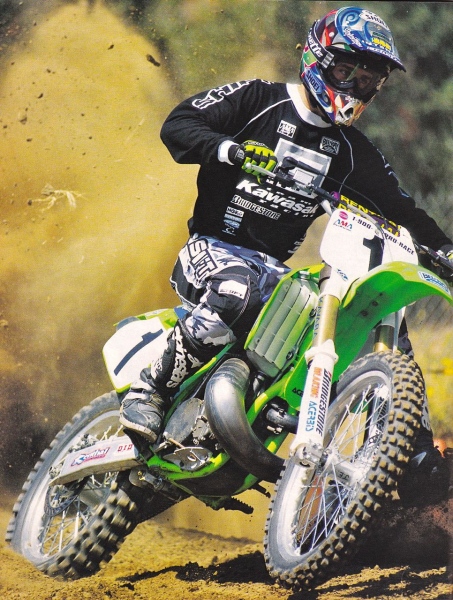 This isn't the all-black stuff but it's close enough and maybe it's even better!
Fro's daddy's 1997 all black Shift gear was a game changer. Initially I had McGrath in 3rd place with his 1996 Fox gear I can still picture how badass he looked that outdoor season, the back of his jersey had a hundred cuts in it for air flow. It was his title to lose in the outdoors that year and he lost it. I must have watched the final moto at Steel City a million times when Fro beat McGrath straight up in both motos to win the championship. Recollecting on all that made me realize I wasn't so much a fan of the gear McGrath wore in 1996 as I was just a fan of McGrath, he could of wore Pro Grip gear and I would have thought it was cool.
After winning the SX championship in 1997 Fro went into the outdoors as the defending champ and with a ton of confidence. The switch to Shift gear helped "brand" Fro it gave him an image. Wearing all black to the starting line of the nationals was a statement in both looks and a how hard he trained (just kidding we all know he didn't train that hard which makes it all the more impressive). I've heard Fro mention more than once how hot those old cotton jerseys were especially compared to the material used today. Still to this day if you think of Shift gear the first rider that comes to mind is Fro.
2nd Place- Bubba Stewart's Fox gear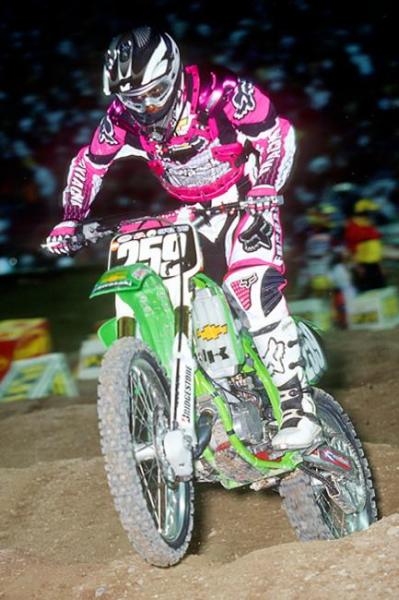 Moser votes for this Bubba Stewart Fox pink stuff.
In my opinion Stewart was the most hyped amateur rider ever. One of the few riders to make the jump directly to the Factory Kawasaki team bypassing Pro Circuit. RC also had a lot of hype but he never had the style or look until he got out of the Pro Circuit Thor gear and into Fox. Stewart was always crazy fast even when I used to watch him race at the handful of amateur nationals I attended. Fox gear was considered the cool, must have gear when I first started riding, lets call it the Terrafirma II era. With any brand they have had their ups and downs over the years but when Stewart turned pro his speed, style and gear were all on point. The pink stuff stands out the most in my mind the 90's had come and gone, guys weren't exactly rocking pink at the time but Stewart made it cool again. Was it a new idea not really but it was new to my generation. I recall Stewart even tipping his hat to his favorite rider growing up Jeff "Chicken" Matiasevich for the idea on the gear colors and designs. Stewart was going to stand out on the track regardless of what he wore but the pink gear sealed the deal that he was going to be the next "big" thing.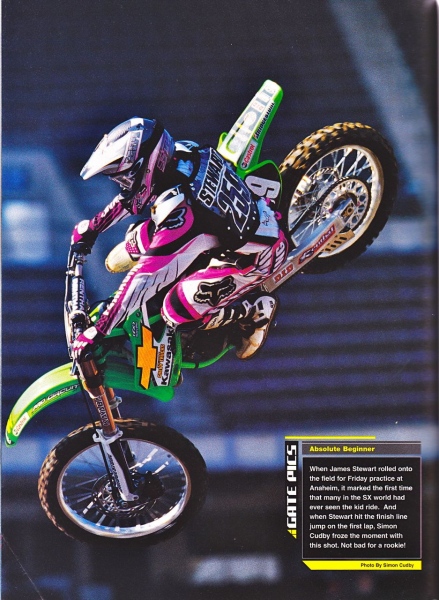 Fox has certainly created some iconic gear over the years.
1st Place, Thor FMF Honda anniversary replica gear.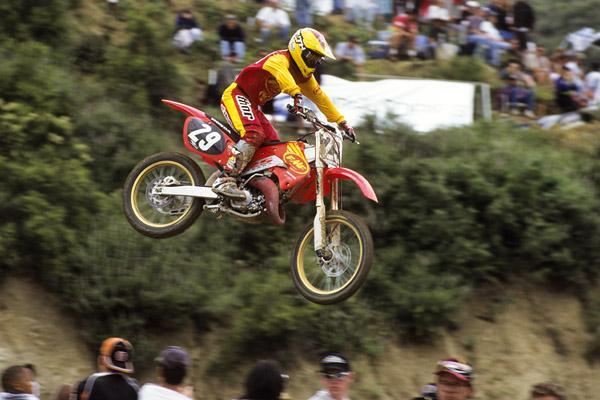 We're pretty sure no one else but Moser thinks this stuff is awsome but hey, it's Moser.
I'm pretty sure this was in 1999 it could have been 1998 either way when the FMF Honda team rolled out this look for one race I creamed by pants as a young 16 year old. I was racing a lot at that time, on the new CR125's and laying waste to the 125 Novice class. My frame was as well polished as a mirror just like Matthes has done in this photo here. I spent hours polishing that frame, in hindsight maybe I should have rode more, and Matthes should have spent more time using the correct piston rod retaining clip. I wanted this look in the worst way after seeing these pictures. I think I already had the gold excel rims and talon hubs, but I bought the closest graphics replica kit to this I could find, and the FMF ignition cover. I never did paint my pipe red because I new it would just rub right off. Now all I need was this gear and I would no doubt be pulling better starts and drop a couple of seconds off my lap time.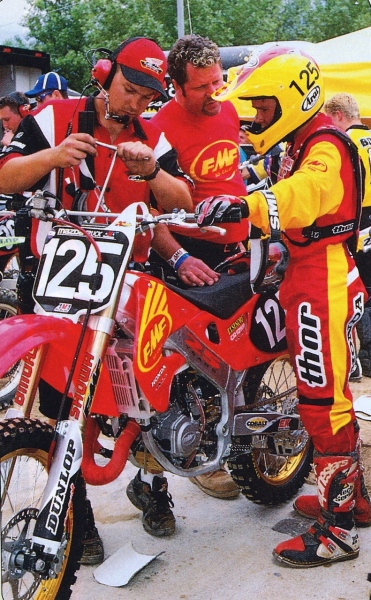 A young Matthes adjusts Danny Smith's handlebars on the line.
The internet at the time was still not the best way to communicate with people in the moto industry so I made countless phone calls to Thor and FMF in an attempt to buy some of this gear. I had no idea who I needed to talk to and hit one dead end after another. I even went out and bought some Thor gear thinking maybe I could get a sponsorship and they might still have some of this badass stuff just lying around they would give me as an up and coming protégé. Thor has always been one of my least favorite gear companies very plain Jane not very flashy, but it was good quality. Looking back at my old riding photos the summer I wore all yellow Thor gear are not my favorite they're just ehhhh. So shocker I didn't get that Thor sponsorship and my dreams of finding that replica gear eventually came to an end. FMF eventually sold a similar long sleeve tee that looked a lot like the jersey, I bought one immediately and was endlessly ridiculed when I wore it to high school. I couldn't bring myself to wear it again or throw it away, but it came in handy over a decade later when Washougal had a retro throwback themed race. I wore it and got a lot of compliments on it, suck it high school, I even had Ping sign it for me, he reminded me how slow those 1998 and 1999 CR125's were. I can only imagine the race wins and chicks I missed out on by not getting my hands on that gear.
Matthes Selections-
Truth be told, these aren't my top three picks of all-time but we couldn't go with any gear combo chosen by another guy so good bye sweet Fox Zebra pants, just know that you were in my top three but Blazier scooped you. Also you can see that Blazier and myself are old and Moser and Swizcore are not. In fact, I wouldn't pick any of Moser's choices to be in my top ten and Swizcore picking the Chicken barbed wire stuff makes me think I need to drug test him immediately.
But I do agree with Swizzle's pick of the PJ1 stuff. That whole look was pretty sweet but then I think back to the fact that I actually worked on that team and didn't get paid all the time, had the team credit card not work at hotels, slept in lobbies of said hotels and I can't help but think about the miserable times that gear represents. Years later though, it's cool and I have a Kalos jersey in my closet. Also, only Jimmy Button had a black tank to go with the graphics. I don't know where he got it from but us other people who worked on Cory Keeney and Shaun Kalo's bikes had the stock blue tank with black plastic. Yeah, real nice.
Anyhoo, off with my picks of the top three all-time gear combos.
3rd Place- RJ's 1985 Fox gear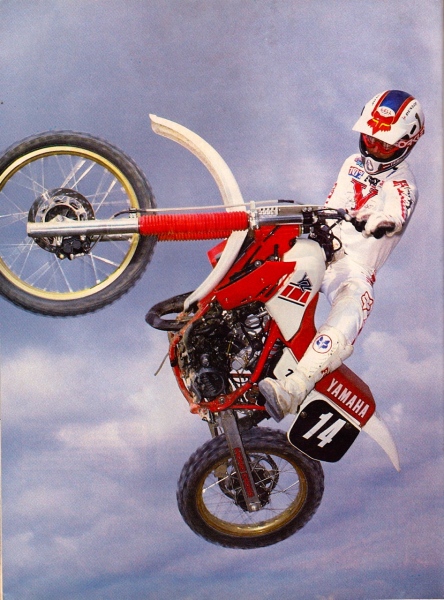 Simple, clean and stylish. That's RJ in 1985.
Highly underrated, I always loved this stuff which was Johnson's one and only year on the white Yamaha's. And maybe that had something to do with my love, after all we had white Yamaha's my whole life and it was always weird to read these magazines and see my heroes on different color bikes than what we had (the Matthes family was all Yamaha for years in case you were wondering). Anyways in my podcast with Pete Fox he talked about signing Johnson away from Sinisalo for the 1985 year because he was the then-16 year olds favorite rider and he promised RJ the ability to have signature gear. And that was what this stuff was, it had Rick's signature across the chest for Pete's sake!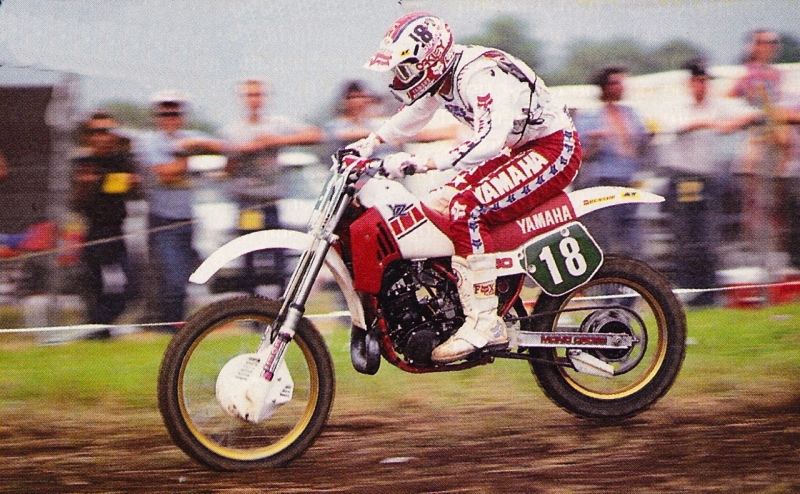 The white pants looked better but this isn't far off from cool.
I thought Johnson's helmet always looked great with this stuff and I don't know, it's just clean looking. The all-white stuff is my favorite but RJ sometimes wore red pants with white jersey. I've always been a fan of minimal colors and straight edges in gear designs and this stuff does the most with the least. Yeah, I know it's not probably something you've thought much of as far as classic gear but it's always struck me as pretty cool.
2nd Place- Flo-Orange JT Racing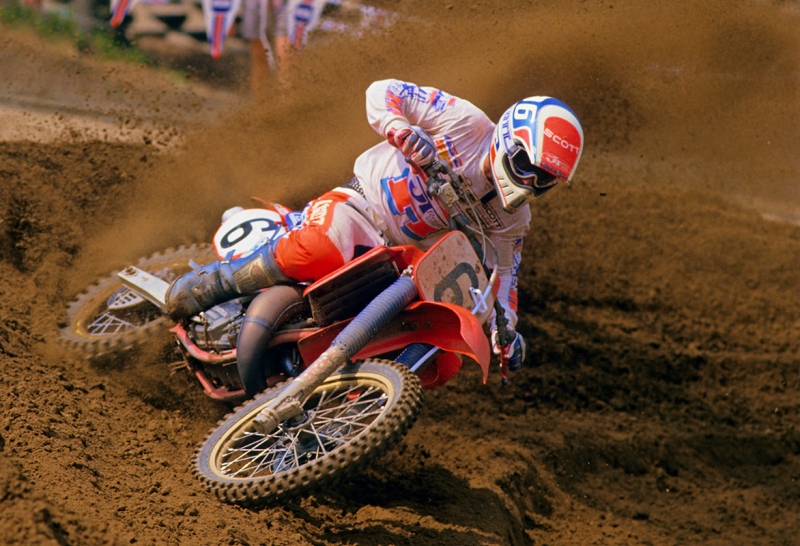 This was the vented flo-orange DB ran in '86. This picture just reeks speed and style. Buckley photo
Made famous by David Bailey in the 1986 season, the JT stuff was always pretty cool until the late 80's, early 90's where they kind of lost their way in my opinion. The JT stuff was always pretty cool with nice colorways and they stepped it up big for this season. The flo stuff was cool and really, photos didn't do it justice. It was very cool looking but over time it did fade. Trust me, there were some local guys at the track whose stuff looked a little bit like they were wearing an old orange peel. And of course, David Bailey always made the stuff look a little better with his style. Kudos to Bailey for having the sick matching helmet as well.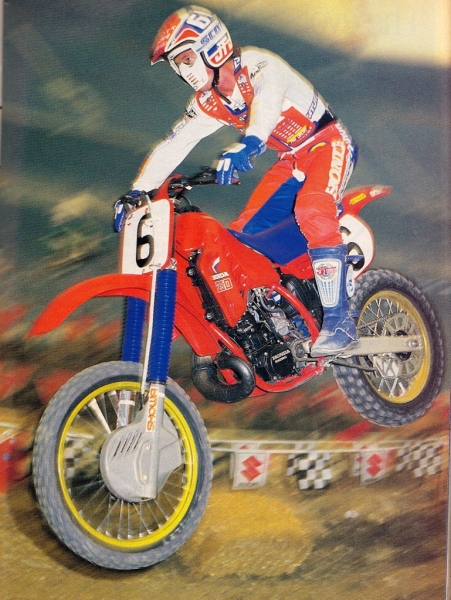 DB in supercross rocking the flo.
1st Place- JT Bad Bones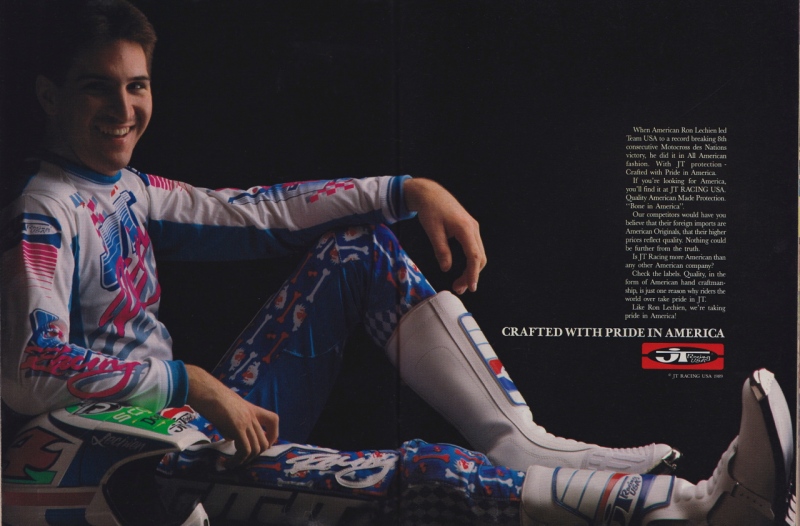 Dogger just kicking it in the Bad Bones ad.
Yup, I loved this stuff. Yeah it breaks my heart that the rider that made it famous, Ron Lechien, liked the Dalmatian stuff better than this but I don't care. We've included a photo of that print for you to judge but just know that when the Bad Bones stuff launched in 1988 it became my favorite for a few different reasons.
1- It broke the mold of just colors on gear. Little punk rocker heads and what looked like femur bones on the pant? Yes please! And Lechien was a perfect rider to rock this as he was a pretty laid back guy. Sometimes he was so laid back he would do things like miss practice and stuff.
2- My dad bought it for me in '88 and I rocked it on the KX80. I had the jersey to match, the stickers on the helmet and V-2000 and if I do say so myself, I looked rad.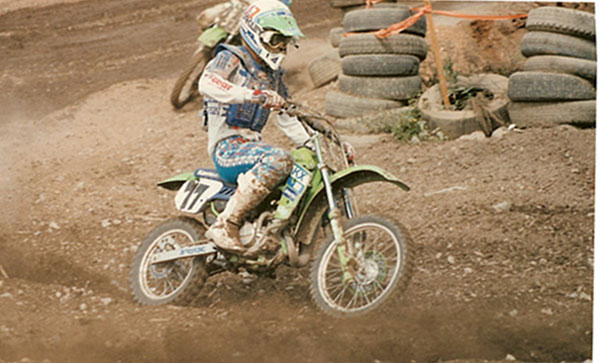 Here's Matthes doing his best Lechien impression. He's not rocking the Bones jersey here but he's got the pants, the sticker on the V-2000 AND the stickers on the top of the helmet. He'd also like it if you kept you smart ass comments to yourself.
So there you have it. It was totally unique and different and don't think I didn't get a set of the Dalmatian stuff the next year also. It was cool but there was nothing like the Bad Bones. Go get 'dem bones!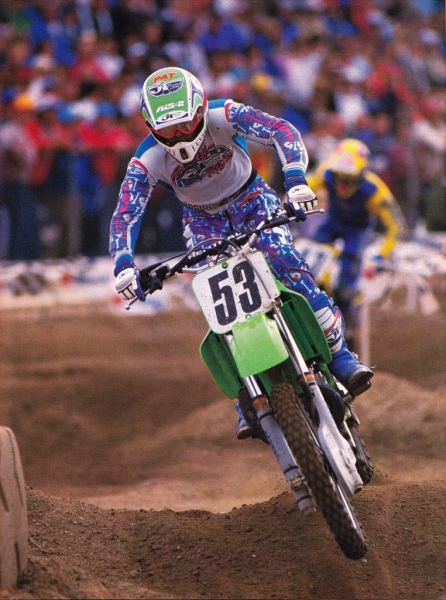 Looking good in 'Da Bones.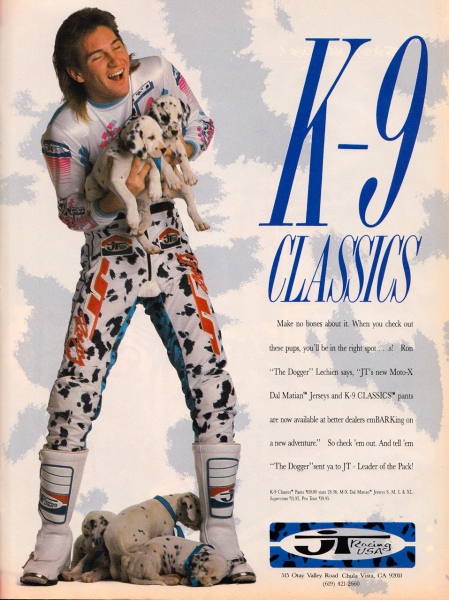 Lechien may have liked it better but nope, not Matthes
Swizcore Selections-
It's clear that every selection made in this piece has been made via one simple defining criteria. We chose the gear which defines our "hayday" of pro moto. Whatever gear had us most enthused during the period our moto-exuberance was at it's peak and our cynicism at it's minimum. It just so happens that Matthes got lucky and coincidentally was wearing his 1st place selection as he trounced Blair Morgan in Saskatoon. I'm not especially intrigued by any of Matthes' selections and of Moser's, my personal choice would be Stew's Fox gear; I actually agree with all of Blaze's selections, even owned some of those sets. Anyhow, let's get this wrapped up.
3rd Place Xtreme PJ1-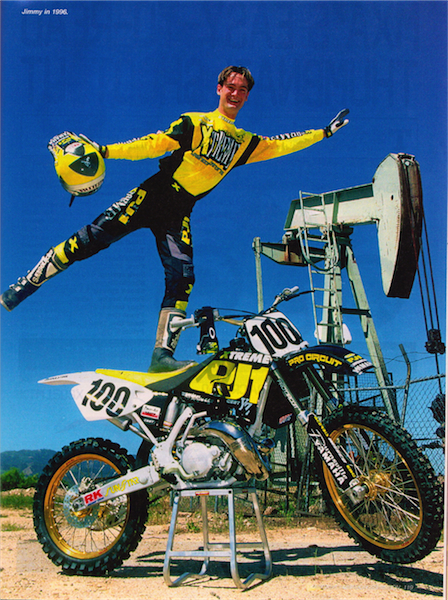 It doesn't look so awesome now but this stuff had me pretty excited when the PJ1 Team was running it.
Ok ok, let's all get past the fruity pose Button-Fly is throwing down in this particular photo ok? Let us also look beyond the turtle neck, 100% cotton jersey and just picture the 100 bitzing the whoops on his smoker, shall we? The Xtreme gear wasn't around long but I thought it looked pretty good while it was on the circuit. You know the other great team who ran this stuff? That's right, the infamous Great Western Bank team. 'Nuff said.
2nd Place Fox Barbed Wire "Chicken"-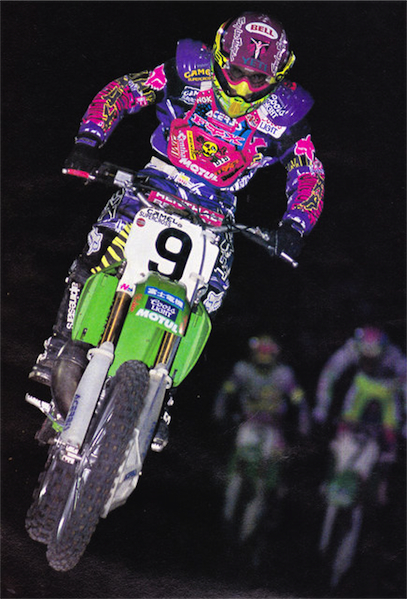 In '93 when Chicken wore this, I thought he was going to rule the sport.
Looking at this gear on it's own, I gotta admit, it's not all that. Actually, I had this gear and I do remember thinking that it didn't look all that good on me either. It must just be my infatuation with Chicken that has stuf with me all these years. I can honestly say, this is the only rider and gear combo I can ever remember looking awesome with black boots. Chicken always had sick style and when I think of Chicken, this is the gear I see in my minds eye. Now if only there were someone in our sport who did podcasts with old racers and they did one with Chicken… that would be awesome.
1st Place AXO Peak PC Honda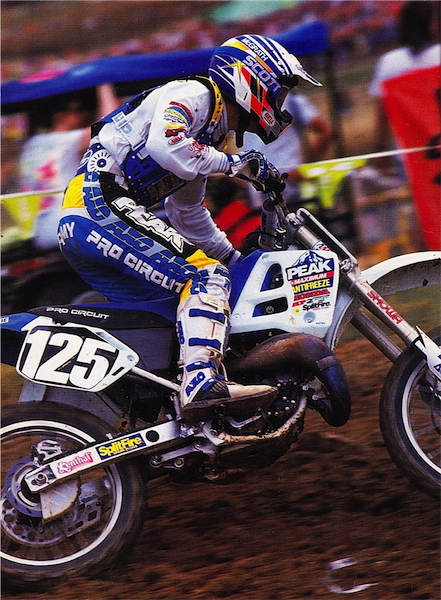 This gear IS moto.
Clearly I have not found a way to let go of the O.G. Pro Circuit outfit as I selected their team bikes in a previous podium selection of team bikes.I can't put my finger on it but there's just something about this original incarnation of the Pro Circuit team that screams MOTO in every facet. I'm sure the fact that blue and white are my favorite color combination plays a large role but even futher than that… there's yellow too. I kid but, It's just a simple logical look that turned out to be step one of the most impressive factory supported effort ever. I guarantee if anyone out there could get a hold of a set of this stuff, they'd race it. How about a throwback line AXO? AXO? Are you there?…