Eli Tomac of Team USA talks to us about going over there
Eli Tomac of Team USA talks to us about going over there
Eli Tomac is getting what he's long wanted- a shot on Team USA for the annual Motocross des Nations. In what is shaping up to be a great race against his German rival over here (not too mention the MX2 MXDN winner for the last three years) Kenny Roczen. In fact, this is going to be awesome, who's kidding who? Eli's very confident he can keep his roll going over there and before he left, I caught up to Tomac to get his thoughts on the race and much more.
Me: Alright Eli, when do you leave for the MXDN?
Eli Tomac: Tuesday so a couple of days at home and then I'm out of here. We'll get there Wednesday and we're riding somewhere over there on Thursday. I'm sure it won't be the most awesome practice facilty ever but that's to be expected over there.
Have you watched any video of the track to get ready?
No not yet but I have some and I'll be checking it out on the plane ride over there. I haven't done a whole lot of research but I'll get on that. I know it's going to be hard packed and clay based.
Did you take some time off after the last race?
After Elsinore, I took two weeks off the bike and then I started riding again. I felt totally fine doing my motos and I don't feel like I've missed a beat.
Yeah with over a month break it's a little weird for you guys, normally you'd be on the 450 testing for supercross.
Yeah, I've actually had a test session on the 450 in supercross. We got in one of those to try and break up the time a bit. It's a little funky with this break because you want to take time off but you have to stay in shape.
You seem like you're pretty excited for this race.
Yeah, I am. Right after Elsinore I had that whole month and I wanted to go and do stuff to relax but I had to be on it and make sure I'm still in shape and all that. Now that it's here, I'm getting more and more excited and looking forward to it.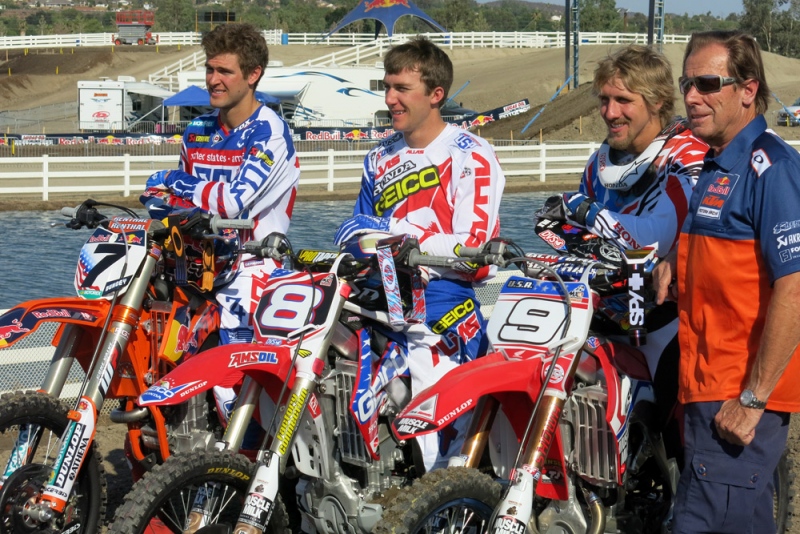 Team USA consists of Ryan Dungey, Eli Tomac and Justin Barcia.
I'm genuinely excited for this Tomac/Roczen battle, Kenny's ridden so well at this event but you beat him this summer. We're in Germany, his home turf, and this should be a great race.
I think he's going to be the guy that everyone is shooting for. I don't think Herlings is racing, I'm not totally sure, but I did want to race against him also to compare us, apples to apples I guess. But if he's out then I think it's going to be Kenny and I going at it like we did all summer and I'm sure there will be a few other guys, they're always fast over there. And then you add in the 450's out there with us and it's going to be hectic for sure.
As much as you're looking forward to this race I also have a feeling you're looking forward to not riding a 250F anymore.
Yeah, I am ready. I've counted down and I have five more days on it. It's literally on the calendar as a countdown!
Have you talked to Roger DeCoster, the USA team manager, about any strategy, or situations or anything like that? As a former member of Team USA I'm guessing no but maybe there has been some discussions about the team or race or…
No, there hasn't been much other than the press conference but it is a team race and you don't want to go there with your ego. You don't want to toss it away just for yourself and any glory.
As far as the season goes, I was talking to Brian your mechanic about your end of the season dominance and he mentioned that it was a lot of work by a lot of people to help you out on the starts, can you elaborate on that at all?
We just did quite a bit of work at home, Ricky Gilmour helped out a lot. He was on Short's team last year as the suspension guy and now he's my practice bike guy. He's actually going to be the 450 guy for me as the suspension guy. So he was here all summer and had a few tricks up his bag that helped me. Body position stuff, prep stuff and that helped me out a lot.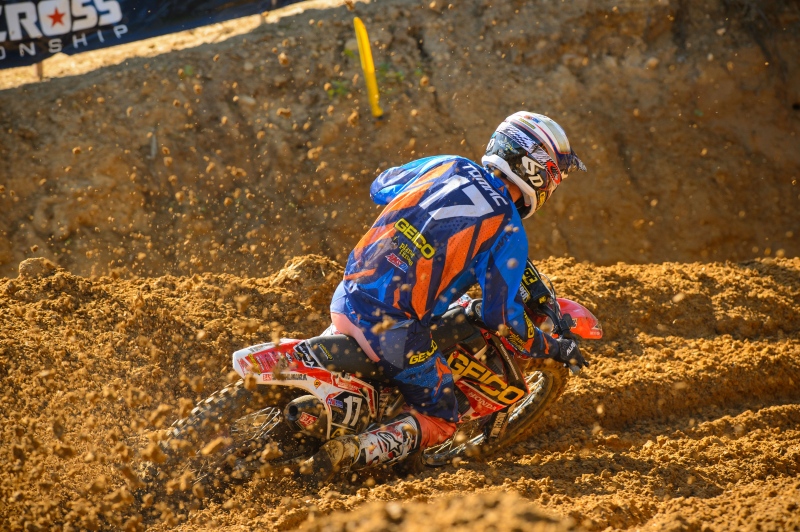 Eli Tomac was so strong the last half of the nationals and he's going against the MX2 MXDN king Kenny Roczen. Who will end up on top? Cudby photo
Overall on the whole season, you lost the sx title but you've got the mx title which is nice. And although you probably want Salt Lake City SX back, it's still a really nice year for you.
I mean, supercross is what it is. It's a huge live and learn thing for myself and for the team. Just everything. Outdoors was good, the last half was when everything came together. That's when your bike is working good, your body is working good and everything click. There are no missing pieces of the puzzle and that's a good feeling.
Well hey, at least you have the 2012 250SX title on the mantle, you have won everything you can on the smaller bike.
I don't feel like I'm missing anything, I'm not searching for the missing 250SX title.
This year you raced four 450SX races and it was no secret that by the end you ended up running a closer to stock CRF450 than what you started on. What do you have to work on to get you happier on that factory Honda?
Man, I learned that the 450 is a different animal for sure. I learned a whole lot of ways to set up a bike this year and I think it's been a learning curve from those supercross races. Now I can literally tell millimeter changes in fork height and shock height. I've gotten better at learning my motorcycle and I think that going back to when I raced the 450 in supercross, I don't think I knew enough about setting up my bike. I think it's super important to have the 450 set up right so you're comfortable. The bars can't be ripped out of your hands if you're not set up right. I don't think I was comfortable on it enough to go out there and ride the way I can without crashing or making mistakes.
Yeah, every time you hit the throttle on the 450 things are flexing, twisting, compressing a lot and all that matters as opposed to a 250 where you're wide open and can control the bike a bit better.
Yeah, that's exactly it and it's a real big change from the 250 in that way.