Metcalfe gets in deep right here.
Metcalfe gets in deep right here.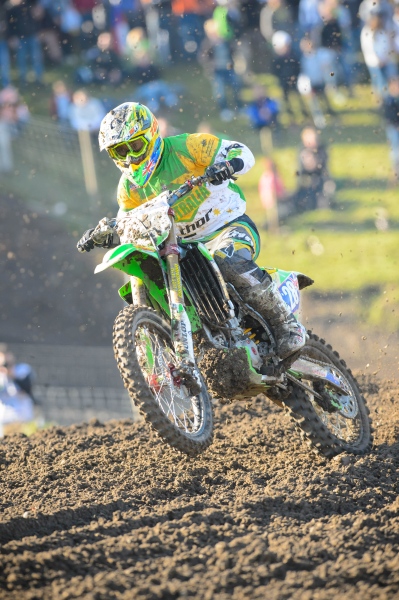 Metcalfe won his qualifying race on Saturday and had a good race on Sunday helping Australia finish fourth. Cudby photo
Me: Let's start with the Motocross des Nations. You've won a lot of races. You've got a ton of podiums and even though it was just a qualifier, Saturday's race has to be right up there in your career highlights, right?
Brett Metcalfe: I think so. Honestly I didn't really think about that until I actually read one of your tweets or a comment you made and said that's maybe the best win of my career. Quite possibly may be very close to.
I know it was just a qualifier, but it was 20 minutes and Ryan Dungey was all over you…
You can definitely take a lot from that race. It was cool. I was pretty stoked. I felt like I held my own. Felt like my riding had come a long way in the couple weeks leading up to that race. I was really pumped on how it worked out and running the pace and not buckling under pressure and just doing the deal. It was pretty cool and exciting for myself and Team Aussie.
Everybody knows you're fast, you got speed, but in front of a world's audience- I bet you opened some eyes.
The interesting thing too, like you said, I've won a lot of races and a lot of podiums; I've had a lot of podiums but honestly haven't won a lot of races. I've got the one win in the US in a lot of years trying. Realistically, actually I thought about this on the way home and I even knew it after the race and never really thought of it too much, but I probably may not have won that race if I hadn't have gone to Canada this year and experienced what it's like to win races. Honestly, to really just go after race wins, moto wins, to have that feeling of controlling the race… Just that feeling of crossing the line first, it hasn't happened a whole lot. So Canada really gave me that edge and I just kept plugging away. It sounds whatever, but it's kind of the truth.
Yeah, you've always said that- how Canada helped you in that department. How did the MXDN race itself go for you? I think you were 8-10 or something like that?
I went 10-8. Sunday wasn't setting the world on fire, but considering a bad start moto 1 and then moto 2 I was right there in the mix of it, just closed up onto the lead pack, and I was feeling really, really good at that point. Then I blew off the track. I think I maybe did the most incredible save I've ever had in my life. Blew off the track, nearly had a head-on in the other lane with my teammate. It was crazy. Sunday wasn't so great but still felt like my riding was good. My times weren't quite up to pace of… Cairoli was obviously on point riding extremely strong. When I looked over the time and stuff I wasn't quite there. I was the next tier back. I just wasn't up the front end to really make headway.
He was about the only guy that could seem to do much without a start. And I guess you got the start on Saturday and you didn't get it on Sunday.
I didn't get it but I still came through. I made some moves early on and then it was kind of a bad thing for that track. There weren't too many people doing a whole lot. He was maybe one of the only guys, and also Eli (Tomac). It still was a good weekend. I was happy with it. Overall, individually I was happy. The team standpoint, I thought all we did great; it just was a bummer we couldn't quite crack the top three, which I thought for sure we could do. The way that start straight and that first turn was it was just asking for a first-turn pileup, every single start. Unfortunately Todd got caught up in both of those.
I don't know if you saw Twitter on Saturday, Chad and I were going back and forth with Dean Ferris after I called him a surprise. Chad said I was full of shit. But I stick by the fact that although he won a GP and he raced MX 1 a couple years ago, I really think he was a big surprise to a lot of people at that race. Talk about him a little bit and his performance there.
I was stoked. Just to watch him ride in the practice sessions I could tell he was happy. He was hungry. He had the eye of the tiger the whole weekend. I could see it from Friday when we were hanging out. He had an ambition in mind to run with Eli and Ken (Roczen). I could just tell. He really wanted to gauge himself. It was a good platform for him to see where he was, and obviously he's got the momentum of getting that GP win. It was cool. I never spent any time with Dean other than 2010 at the des Nations in Denver. Great kid, hard worker. He's got the potential to go on. Same with Todd. I'd never met Todd before. So it was cool, two younger guys coming through for Australia. The future's promising for those two. I thought he was one of the standout performances of the whole weekend.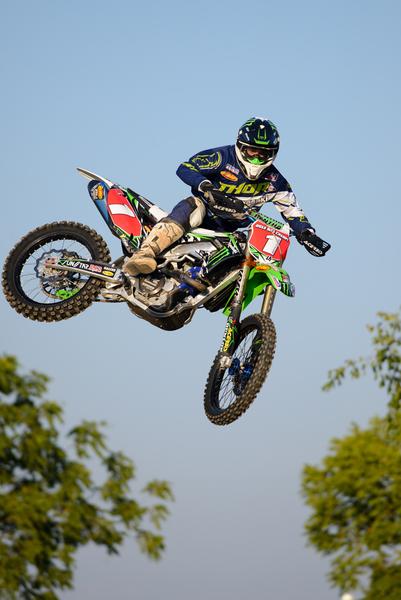 Metcalfe won the MX1 title up in Canada this past year. Lissimore shot
There was a lot of talk about the track. Barcia wasn't making excuses, because he's not the type of guy, but both him and Eli were like, "the track was so rough and so gnarly…" I didn't ride it so I don't want to go against what those guys are saying- and it looked rough-but was it in the realm of roughest track ever like some of those guys are saying?
I was surprised. I heard a couple of those comments too. I don't know if they were riding the same track I was. Honestly, it was rough. It was not by far the roughest track I've ever ridden, no way. The track's just different. The only comparison I can say to people that race the US circuit or know the US circuit is a little bit Washougal. There's no big breaking bumps, a lot of ruts, a lot of square-edge acceleration chop. Really similar. Everything funnels into the one-line kind of category in the turns. You may be able to quote me better on this but I did hear Justin say it was really rough, and I don't think that's his favorite type of circuit. I do know he struggled a lot at Washougal this year, which is similar dirt, a similar kind of track. Whether that's a bike setup… I've been on bikes where the track's not that rough but it feels like it's crazy rough just because your bike's not set up. I will agree; I think every US-based rider kind of taking their set-up from the States and then going to that track, we were kind of scratching our heads a little bit trying to get our heads around that track. It's just different.
Not that you want to do it, but did you get any GP interest from your rides or anybody…?
No. It's a consideration I would take strongly. But it's too late. I've talked to a couple guys there and everything there, good rides in the GPs, is taken. The positions are gone. I honestly thought US would come around first and the GPs are locked up. I would much prefer to stay in the States, at least live in the States. The GPs do interest me and motocross still.
Oh by the way, congrats on the Pulp MX award for nicest looking bike and gear.
I was so stoked when I saw that. That pumped my week, put a lot of work into that.
It looked good! I got a few text messages. People said I was full of shit but I don't care. I thought it looked good.
I got more compliments than people saying it didn't look good. So I'm going to definitely agree with you on that. I got to give a shout-out to Magik SC for doing that stuff. It was awesome.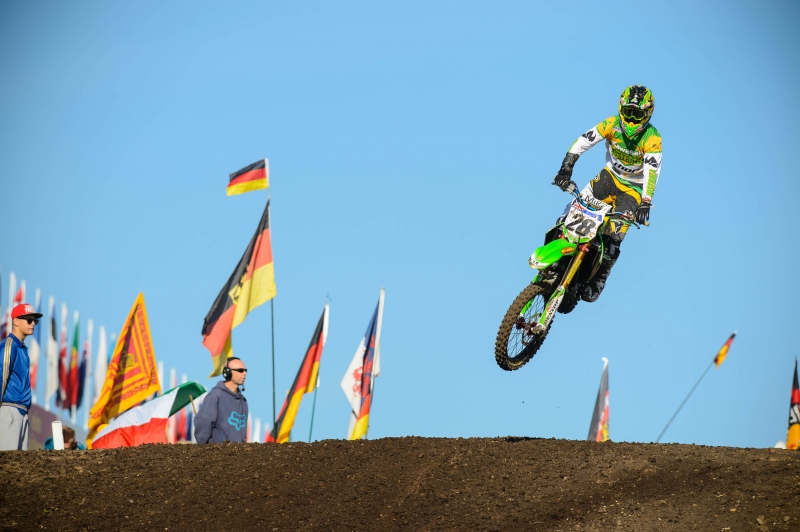 We here at Pulpmx.com voted Metcalfe the best looking gear/bike at the MXDN. Cudby photo
The other people that texted me were other gear guys, who you can't say anything about another company without them saying you're full of shit. I saw on Instagram you're riding Supercross. What's your situation for next year? Anything new?
I have no real updates for 2014 but I am heading to Australia to ride the supercross series down there for Sic Clothing and ADR Racing. Nothing's in concrete at this point. At this very moment it's a much higher chance of me going back up to Canada, and also running the Australian Supercross series next year. So those two championships are looking stronger for me than getting a ride here in the US. It's no secret, there's not a lot of teams in the 450 class. There's a ton of riders and it's hard to find a spot. There's no one really at this point that's really switched up. A lot of guys had two years on their contract. It wasn't a good time to come in and try and search for a spot. Budgets aren't that big. For me to try and do my own thing, I kind of experienced a little bit of that this year and it takes a lot. It takes a lot of money and a lot of manpower.
2014 just about everybody is up so there'll be a lot of musical chairs.
That'll definitely be more open. If it means I do the same thing I did this year plus the Australian Supercross series next year, I'm okay with that. I'm working on a few side projects just for my own self that I'm trying to get started, so it gives me time to really focus on those things and be with my family a little bit. So I can't complain. I get to race, I get good products to race with. I enjoyed this year and there's no reason why I can't enjoy it next year and do it again.
Would you do Supercross as a privateer, west coast stuff or anything like that?
At this point, no. I am kind of thinking about it now. Maybe I might do one or two rounds just completely on my own, but I won't do it if… I'm at the point of my career now where I definitely need to earn money. I'm not going to do something that I'm not going to earn money. If you're good at doing something you shouldn't do it for free. That's what I can't go out and do now. If I was 20, 25, I would be out there for sure, but now I'm not going to do that. I'm going to make sure I hit the championships that I need to, that I'm contracted to do. But I might throw in like I did this year in the outdoors, I might throw in one or two Supercross and then two or three outdoors again next year and that's it.
You made some good money this year in Canada. It was a good career move for you to go. Would it be fair to say though that going to Canada was better than you expected?
I didn't expect to enjoy it quite as much as I did, but I was aware that I probably would. Everyone told me that I would. Everyone told me it would be fun. The team I rode for, Leading Edge Kawi, was super relaxed. Everyone got along well. It was a good environment for me. I enjoyed my teammates. That was really cool for me, just the camaraderie I had. Racing was cool. The tracks, 50% were unbelievable tracks, loved them. The other half were not. But you take the good with the bad and you roll with it. I still had a good time. Obviously going up there, winning races and winning the championships was really special. It was kind of cool for me to experience that. The whole experience.
I'll probably get in trouble by some Canadians who read this, but I really do feel like a lot of Canadians don't like the American riders coming up and winning. They like when the Americans get beat. Because there's been some cocky Americans that have come up before, and you know how it is. There's a sense of anti-Americanness up there. I think for you, people I spoke to, being Australian and being not cocky and being a friendly guy, I think you had a lot of fans. I don't think anybody sort of resented the big shot coming up there. Do you feel like that?
Yeah. I sensed that. But they're open to Americans. Obviously my teammate Teddy Maier has been going there for a long time and he's really well-respected. So I don't think that's for everybody. I think for me being an Aussie they kind of looked at me like, are you American or Australian? This is kind of different… After I got a few wins then everyone was pretty stoked when I got beat. It was fun. They were definitely open to me. I think everyone accepted me really well up there which was nice.
I had some people tell me that your penalty at Sand Del Lee was complete bullshit and some people told me that they were doing it just because you were the big name and you were winning. And other people said no, I think it was justified. It was one of the reasons why you didn't do a complete sweep and win every round. What did you think about that?
I was really pissed at that decision, actually. I'm not going to argue the fact. There was a flag out as I took off the table top. There was zero chance of me ever being able to stop. There was absolutely no chance. I didn't even see the flag. That decision, I still was a little upset about. There was a protest put forth and that was it.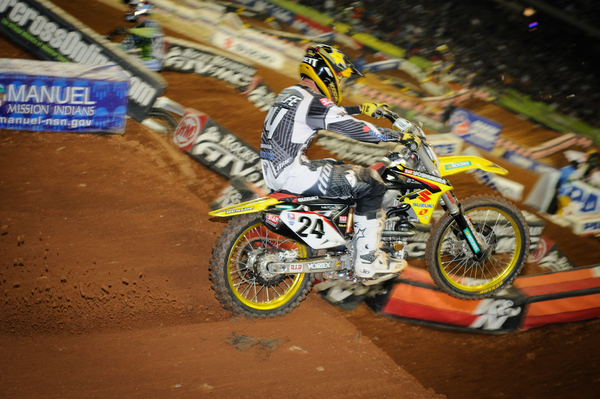 Brett has ridden for factory KTM, Yamaha of Troy, Pro Circuit Kawasaki, GEICO Honda, (pictured) Yoshimura Suzuki and now Leading Edge Kawasaki. He's been a factory rider on every brand! Lissimore photo
Fastest guy up in Canada that you had never heard of before until you raced there, in either class. Just watching or racing.
Both Jeremy and Tyler (Medaglia), they impressed me. I had never seen those two kids ride before. I knew they were fast and they were good but I didn't really know that they had that kind of speed. They were impressive.
So for next year, it's getting late. I know you said there's nothing going on. Are you still holding out hope? Is your agent and yourself still talking to people? Could something happen?
The feelers are still out there. We're open. The door is open. We've checked around everyone's… There's not a lot there. We're aware of it. We're making the necessary moves to put me in a good position for next year and be happy and comfortable with what I have. Like you said, I think '14 there'll be a lot more stuff open. Either the American series or the GP series, I think there'll be a lot more stuff open to do whatever I would choose.
Does it make you a bit pissed about your situation? Let's face it, you're a top five guy, maybe podium. Rightfully you should have a ride in the US where you should be making a couple hundred thousand dollars and have a ride. Do you get a little bitter?
I just get bitter at the times we're in right now, yes. I don't get bitter at "this kid's got a ride, or this team why are they…" I don't feel like that at all. I feel bummed out for the next generation that's coming through. There's such a big pay difference now from the guys that came through ten years ago to who's coming through now. Just the support for the next level of amateurs coming through, it's so thin. I feel for those guys coming through a lot. I'm fortunate just to have a backup plan and be able to go up to Canada. That's really awesome for me. I feel bitter at the times we're in. That's tough.
It's crazy because when I was at Yamaha Vuillemin and Ferry are pretty much just like you now, solid race guys, they could win, they were on the box, and they were making over a million dollars without even throwing a leg over a bike.And now there's nothing here for you for even $100,000 or so.
I've talked to those guys. Everyone knows the kind of figures that we get tossed around. And it went deep. Even 10 to 20 guys could make good money and now it's just tough. I know for sure outdoors if I had the equipment that I ran with at Des Nations which was really awesome I know for sure I could be podium without a doubt outdoors. My best result was a 4th in Supercross. Supercross is definitely a little more difficult and more of a challenge to me, but I feel like I could maybe pull of a top five somewhere in a 17 round series again, no doubt.
Can't you ride 250SX?
I can ride the that bike in Supercross. That would be open. I'm not real keen to do that, but if it was the right kind of deal and stuff just really worked out strongly I would consider it.