The O'Show talks about a couple of pictures
The O'Show talks about a couple of pictures
Hi everyone, from the late 80s through the mid 90s I was a contributing photographer for Hi-Torque Publications (MXA and Dirt Bike magazine). The photos that you see here were never published and have been stored as 35mm slides for the last 15-20 years. A month or so ago, I finally got around to purchasing a quality scanner and the journey began, going through these images has been a revelation, as I haven't looked at any of them since I put them away and had only seen them as tiny little 35mm slides. Scanning them, then seeing the images on a computer screen has been like seeing them for the first time, they stir up lots of great memories, and bring back a great era for motocross, lots of bright color, big characters and of course, some true legends of the sport.I hope you enjoy viewing them as much as I have-Mike Sweeney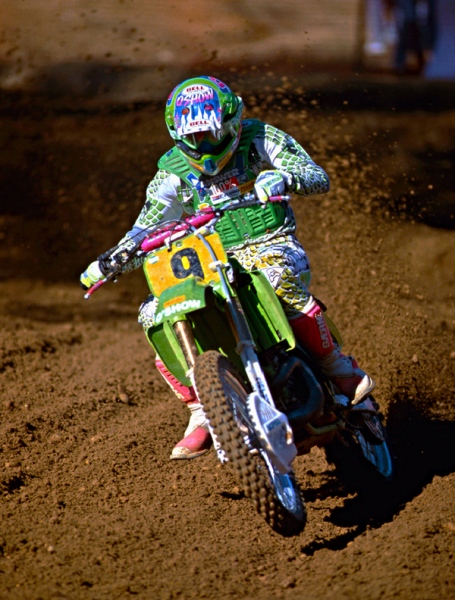 Sweeney: "Hey everyone, this week we have a Johnny O twofer! The bottom shot, of O'Show on the RM was taken at the infamous "Hugo" round of Binghamton that we covered last week. Johnny was riding in a testing/development role for Suzuki and he must have done a helluva job because the 1990 bikes were awesome.
I really liked shooting this corner, it's a tight, rutted, tricky corner at the bottom of a long downhill. This was taken towards the end of the day and the corner was in the shade so I used my flash to fill things in a bit, definitely a favorite technique of mine.
Anyways, when I posted this pic on my Instagram I admitted to not knowing that it was Johnny, Denny Stephenson commented that I should have known because of the Chester Cheetah painted on his helmet, which I had also forgotten about. Johnny saw it and jumped on with a comment explaining that the Chester Cheetah thing came from his helmet painter Serrano, who always thought Johnny a "cool cat". Well, duh.
Another cool thing to note about this photo is the roll off – goggle combo, this was back when Smith was making all of the rolloffs and Oakley would just put a sticker on them if their riders used them.
The next year Johnny moved to Kawasaki for his last and final year racing professionally. He didn't have any wins that season but he was very consistent. He also rocked some of the ugliest moto gear ever, the Answer "gator gear" which he always accessorized with a touch of fluorescent pink. Amazingly he still made it look good, Johnny always had style for days.
The photos of Johnny on the KX500 is from Budd's Creek. He rode to a solid 4th behind RJ, Wardy and Stanton."
Johnny O'Mara: "This was my last year of pro racing, it has been eleven years and I kind of knew that it was over. So I went into the last 500 series knowing I took a one-year deal from Kawasaki and everyone kind of knew that would be it. I don't think I can say I didn't want to race anymore but I had pulled the reigns back and had a decent year, it wasn't one of my best but I was a top guy. And then I moved onto my other life bicycle racing which I was already into at this point.
I always had those guys, like Al Baker who was my mentor and he had passed away the last few years of my career. I always remember him saying to end my career like you were landing a 747- just bring it in slow, steady and smoothly. I always remember those words to this day so that's why I say that.
I just thought I had to land this thing (my career) the best I can and I took that role at Kawi that Roy Turner offered me, to help develop the bike. Wardy and Chicken were the other riders and I guess I was the test guy, all-around guy. I had pretty good knowledge from my days at Honda, and even Suzuki, and Jeff knew that. Wardy encouraged my hiring, he said to let Johnny test some stuff. I got third overall this year, Wardy won and Stanton got second. I had a crew of people around me my whole career.
That 500 was awesome man, those things were so good. They were like an automatic, you put it in third and left it there. I always think of Rick Asch at Kawasaki who is still there. He developed that bike and that thing was so easy to ride but yet so fast. It was like a four-stroke now. We used to call that bike Wally, it was a name that fit and it was Rick's "Wally". Wardy did great on that thing, that thing was great, I'm telling you. The power never ended and it was so smooth. I just think of Asch and "Wally" always being linked. You could be so lazy on it, just roll the throttle on and it went to the move. The chassis was real good, it was solid and didn't do anything weird. It was a lot tamer than my '86 Honda, from what I remember I was always thinking I was going to kill myself on that thing.
I had a great career, I was set and a champion so it was all good. I probably could have milked it a couple more years but that wasn't my style. Everyone knew I was into my bicycle racing and I wasn't totally over moto. It's just I couldn't do both at the level I wanted to. But I was still a top ten in the world guy and I was good with that. Anyone I ever run across or help guys like I am doing now, I tell them you don't get much more than ten years at the highest level. And I was in my eleventh year! I was battling injuries, the flame was going out and I wasn't willing to hang it out like the young guys. I was totally planning on hanging it up.
I rode 500 nationals twice, I got 4th in 1986 and I got 3rd in this series and I also rode a 500 at the 1981 Motocross des Nations. When I went to Europe and had to ride that thing for the first time it was a handful, I was scared. I was a 125 specialist! To this day I remember the first test session and the guys were telling me I was clutching it and riding it like a 125. It was this big RC480 and that wasn't the way to ride it. I was probably like Bam-Bam now where he's just pinned all the time and needs to calm down a bit, maybe I was a bit like him on that big 500. I was aggressive on it for sure, probably too much so.
Those 500's were pretty violent back then, big horsepower numbers. But I was always a pretty technical rider, I adapted pretty easily and wasn't some sort of meathead out there just not knowing what you're doing. I think I could ride any size bike and I think that showed my whole career, that I could ride and win on anything. I was really excited to do that MXDN but I felt like I was a small bike guy. Towards the end of my career I got better with my bike set-up and I was always trying to learn more on that. And I think people still had me around because they knew I had knowledge, could set up a bike and help my teammates.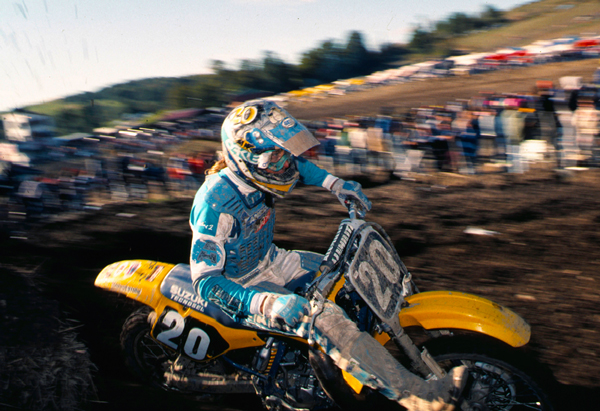 O'Mara: "When I was at Suzuki, I dropped down to 125's in the second half of the nationals in 1989, I barely remember that though! But I was fine with it, whatever Suzuki wanted me to do because I was still getting paid and all that. I remember a little bit of that. I was versatile and Suzuki had paid me a lot of money and I didn't want to take their money and sit home without the results they wanted. I didn't win anything on a Suzuki like we thought. So I had guys like Erik Kehoe and George Holland who were younger than me and maybe looked up to me, I could help them if I raced 125's. I know that I was faster than them on the 125 whenever we would go testing so they knew I could help. Hannah was there also and they used him for some stuff as well as I. I was all for it and whatever they needed me to do was no problem."
Matthes: "I'll have more on this "dropping down to 125's" for an article on Racer X later on but on this day O'Mara would get a "terrible start" in the first moto according to Cycle News and only manage to finish 11th. Second moto was pretty good with a 6th for 9th overall on the day for O'Mara who was racing the 125 class for the first time since 1984. So being out of the class for five years, not in any sort of title hunt (after the 250MX series, O'Mara couldn't ride the 500 series because Suzuki didn't make a bike anymore), Johnny put in some solid efforts in his five 125 nationals- he even got a podium at the first race at Millville!"