The race that every moto fan should really try to attend. Seriously.
The race that every moto fan should really try to attend. Seriously.
Matthes: Weege, I've been lucky enough to attend the Bercy Supercross so many times it's ridiculous. I even got to wrench at one which wasn't really ridiculous because it's a lot of work at these over seas races without much sleep. Bercy should be on everyone's bucket list as it's a phenomenal race that's been going on since 1984. The very intimate confines of the arena make for a rowdy time. The fans are literally right on top of you and this just in- they love their French riders.
The arena just rocks whenever a Frenchman manages to do something, anything to beat an American rider- perhaps the loudest I've ever heard it was when Gauthier Paulin bested James Stewart in a one-lap fast lap contest a few years back. Or whenever Justin Barcia got into it with Gregory Aranda or any other French rider. Good times indeed.
So for this year's edition we've got Barcia back, Trey Canard, Andrew Short, Cooper Webb and Wil Hahn as well as Jordi Tixier, Aranda, Paulin and the usual cast of Euro stars.
Weege, you've been there one time and it was many years ago- what do you remember about that year and what are your thoughts on the race itself?
Weege: Oh yeah, I dig me some Bercy. The event atmosphere is awesome, but hands down, the coolest part of the race is the atmosphere away from the track. Yes, the visiting riders take the event seriously, but not nearly as much as they would a points-paying AMA Supercross. There's such camaraderie there, the likes of which you would never get at a race here. Everyone stays in the same hotel, pits in the same room, and heck, they even host a dinner for all the riders and teams at midnight after the race. Can you imagine everyone who made the main event at Anaheim going to that Denny's down the street together? Not going to happen!
If you're a fan who doesn't get to hang out in those confines, you might wonder why this matters. Well, it adds to the fun of this event. The riders are in a good mood, and crazy stuff happens because they don't need to take it quite as seriously. And if they do, well, the year I went, Jeff Alessi was ready to fight the French. I really don't even remember how it started—someone accused someone of being a blocker while lapping, and since we had Jeff and Eric Sorby involved, it's hard to really figure out who was guilty or innocent. Sorby even waited in tunnel with his bike waiting to do some take outs! Then at the midnight dinner, we had Sorby at one table ready to rumble, and Jeff clenched a butter knife off of his table, ready to respond. Tony Alessi told Jeff he would be greeted at LAX as an American hero for defending his honor against the Frenchmen. Sorby v. Alessi? It doesn't get any better!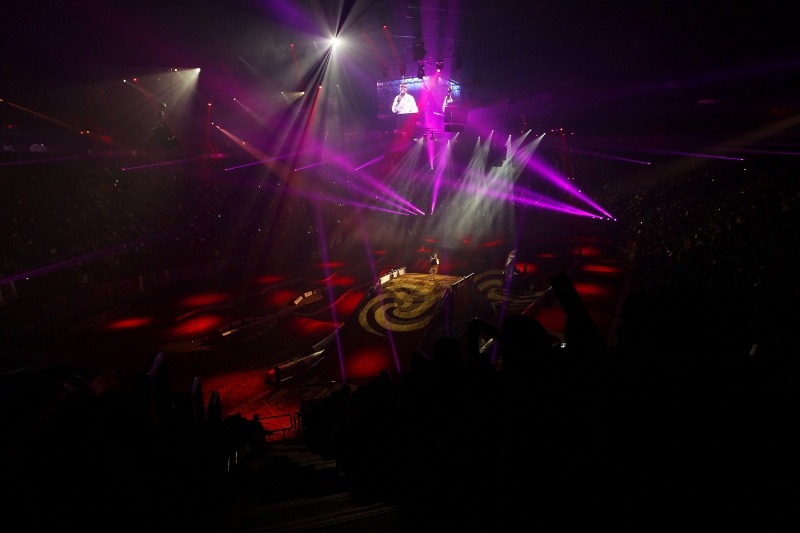 You just have to be there. Seriously.
Matthes: The race is awesome for all those reasons you just listed. Just in my time at the race I saw a young Chad Reed clean out Jeremy McGrath in the turn after the whoops and when MC got up in the small pit area to go "discuss" things with Reed you could've heard a pin drop in the pits. Justin Barcia was DQ'd one night because he waited for Greg Aranda I believe to hold him up in a turn and then they continued their battle right there in the mechanic's area! James Stewart didn't race the final night one time due to food poisoning which threw a massive wrench into things and allowed Justin Brayton to win his first King of Bercy. The drama never stops at this race and like Weege said, after each night there's a little conference room at the hotel next door to the arena where the promoters put up a little buffet for the riders and their crews so whatever crosses you have to bear after a race can be dealt with right there.
And the track is pretty good also as it leaves the arena and races down a couple of hallways. The riders are going pretty fast right next to concrete walls. The left hand turn before you come back in is where Sorby waited for Jeff Alessi as he explained to me one year in full detail while we were walking the track. The whoops are always tough and there is always a rhythm lane there that rewards a rider taking a bit of a risk to clear something so it's exciting to watch. There's also a Joker Lane this year Weege, can you believe it?
Weege: No! You can't possibly have a Joker Lane at Bercy! This is like jamming two magnets together! And do you remember what happened on the TV show Lost when the magnet stuff got jacked up? Actually I'm still not sure what happened there but I know Bercy+Joker multiplied Bam Bam's return equals something crazy, regardless if you're counting in meters or inches.
Even though this is a small building, they do a good job with this track making it fast enough to stay interesting. There were times when the old U.S. Open at the MGM Grand in Vegas made even the fastest riders look slow on their 450s, but they always seem to be hauling ass at the Palais Omnisports. Despite all the showmanship, there's still some good racing deep down in the heart of this event, and since we're all salivating for something—anything—in the two months before Anaheim, this is one of the best meals around.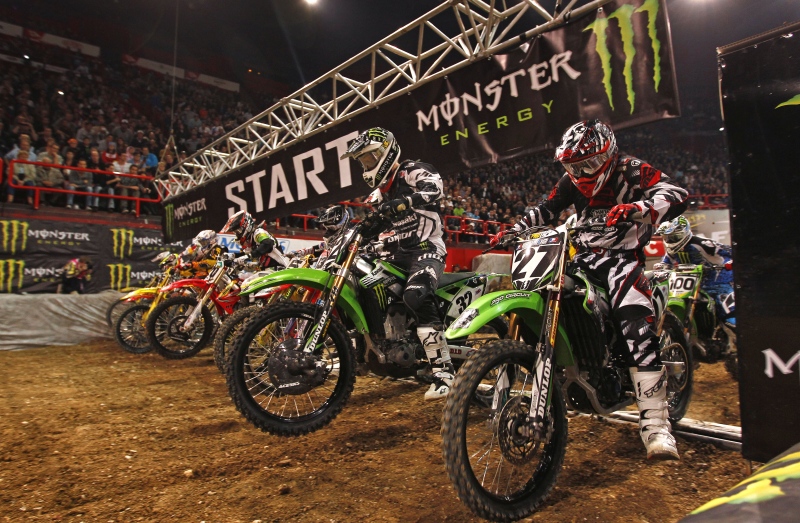 It's very tight at Bercy.
Matthes: Bercy rules, that's all there is to it.