One of the all-time greats gives me some of his time
One of the all-time greats gives me some of his time
Photos by Ray Archer
Me; Well JMB, here we are at Bercy, I imagine it's always special for you to come back?
JMB: Yeah, it's quite nice. In Europe for us and for French people Bercy is where we learn about Supercross, because in '84, the first one. I was so young, I think 12 years old or something like that. My brother told me, he said, "This is unbelievable! American people, they are jumping everywhere." European was like no competition. So I grew up with all this. For me Bercy is like the place where Supercross is born in Europe. So it's quite nice to see all the generation came, and also my generation when I raced here for the win. And also it's nice to see young French people try to do the same. It's nice to see also the best American riders to ride in the stadium. It's just a great race.
I feel like four-strokes have taken a little bit of the excitement out of Bercy though.
The problem with the four-stroke is all the bikes are faster. So they just make everything all flat. But this year the track is not so bad. It's getting good.
Your most memorable one, maybe 1991, where you were first able to capture the main event?
It was unbelievable, because since Bercy was born, non-American rider never won a race, so I was the first one. French people, it was full, it was great.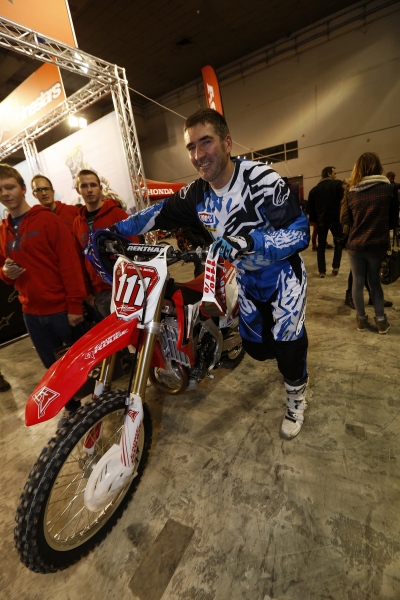 JMB gets ready for opening ceremonies at Bercy.
I didn't know this but Xavier told me this, your last ever race I always thought was Australia Motocross des Nations in 1992 but it was actually here and you won the last night. So you won the very last race of your career right here.
Yes, but Jeff (Stanton) was very good. Actually the last race he was the King of Bercy, but I won the last night, the last moto. I had to do it I but It was difficult.
I've seen people taking photos with you here and it's 30 years later, but it still must feel pretty good, people want to get your autograph, take photos. You're still a big deal.
It's nice when you see them. You did something and people respect it. I don't want to be a star, but I just like when people appreciate what you are doing. It's the same when I go back to America when people come to see me and talk to me and ask questions. It's just nice to see that. This kind of stuff is great. I think we are racing for passion because we love the sport and our goal is always to win the race but for me the road to be able to win American championship was so long and so difficult because I was living in France and because it was not a Supercross place. For me it was quite long to be there. I just feel happy when people appreciate that. I don't want to feel like a star, just cool that people remember it.
The USA has lost the last two Motocross des Nations and with guys like (Marvin) Musquin and Ken Roczen, I feel like more than ever, especially when you raced, the Europeans are maybe just as good now. It's pretty close.
It's getting close, especially outdoors. Not in Supercross because Supercross is still something special, because the big stadiums are only in America. So I think still Americans have a good advantage in Supercross. But in outdoors it's getting close. Especially when Americans come to Europe because mentally it's different. When you race in you're country you're used to everything. You're used to the tracks, to the people, so in your mind it's more easy. But when you race in a different country you start a little more low than normal. So it's hard to catch up. I think when American people are coming to Europe it's a little bit difficult but I think it would be the same if European go to America.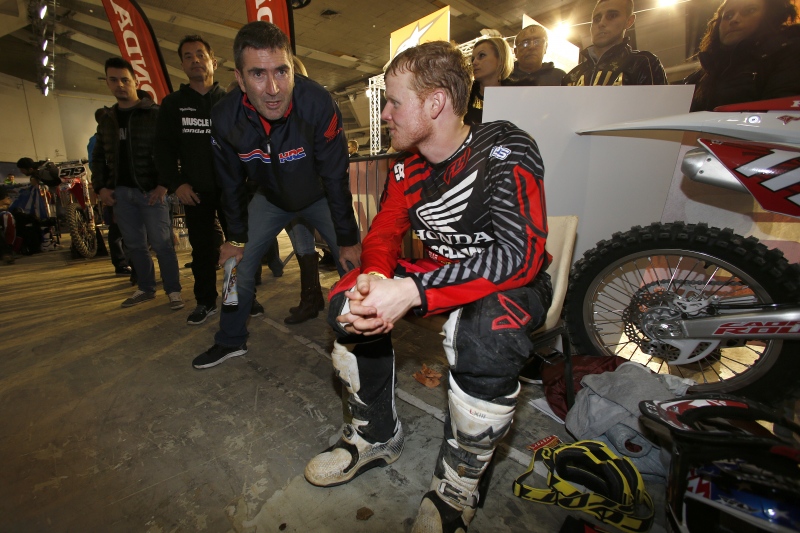 Bayle hung out with Canard and Barcia all weekend just talking to them. He even took them on a bicycle ride around Paris one day!
I was impressed when De Salle and Strijbos came over and raced two Nationals. They didn't win but they fell in the first turn in a couple races, they passed a lot of well-known American riders. They looked like they were in great shape. I was pretty impressed. And they're not even as fast as Cairoli.
I'm impressed too but after when you want to be in front it's a different game. When you race around 4th place, 5th place, it's a different mind process than winning because winning, you have to be ready, you go for it. It's different.
Who's the next great French rider?
Musquin is doing good. He's riding very good. I like to watch him ride. Very technical. But he needs to work on the difference between good riding and fast riding.
I felt like when it got hot and rough this summer his riding went down a bit.
I have the same problem because I was so easy on the bike. Sometimes when you're too easy, it's too easy, and you forget about going fast. It's just try to be perfect. To be perfect is not always a good solution. Because you have to be perfect but after you have to forget that and you have to go to win the race. Sometimes to win the race it's not possible to do it. You cannot be perfect. Musquin has this problem right now.
Maybe he's too nice, he tries to be too perfect.
He's a good rider but not a good racer yet.
You came back for a race, Vet Motocross des Nations. I think everyone thought it was pretty cool. I was talking to Josh Coppins about it, they all said it was cool to see you.
It was great because first it was really special because we did the same French team as 1992, same people. (Fred) Bolley and (Yves) Demaria and the team manager was Jacques INAUDIBLE and Jacques was riding this time with us. It was just great. And also the boss of the team was Fabrice Valeri from Oxbow. It was him at the time in '92 who paid the expense to go to Australia, because the French Federation didn't want to. So we all got together again. So the first thing was this was so cool and for sure riding with all the people I used to ride with, it was great. First to meet them again and also to ride with them was perfect.
Your CR500 was too fast you said?
Yeah, bike was great. Too fast for me. It was great.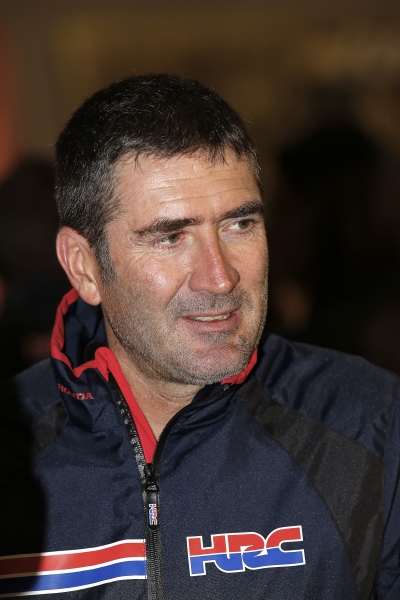 Bayle is beloved at Bercy even all these years later.
Doug Dubach told me that when you raced, he was one of the guys that talked to you and you got along with, and he said that he always felt like you got a bad rap from other racers because you were French and shy and stuff. So he said it was really cool for people to be honored to see you there.
I appreciate some riders because, not so much rider, I was not talking to so many riders when I was racing. Dubach was one of them. (Guy)Cooper was one of them, Larry Ward, just some. They understand I was doing that because I love motocross and I love racing. They were not thinking I was French, I was just racing like them. Of course we don't speak the same language but when we are riding there is no difference. We just fight for the win. In my career I never push anybody in Supercross. Maybe one time or two times but I say I'm sorry immediately because I didn't want to go there, and to win races with pushing people. It was not my country.
You were accused in one race of taking Jeff out but when you watch it on film, I think it was San Jose or something, you can see you didn't do it on purpose.
I was always trying when I passed people to try to pass clean because it was already difficult to be French in America. I don't want to be a French killer. But it was great to see all these riders. That's nice of Doug to say that because I saw him in '89. I was just trying to make the main event and we were fighting, so it was nice to see him again.
And Mitch Payton too, I talked to him about you the other day. He says helping you out was one of the most rewarding things he's ever done, because Roger believed in you and really no one else did in '89. Mitch was pretty pumped to see you racing over there.
Roger was the first guy to believe in me. He always said if one guy can come and win a Supercross championship, that's him. And he talked to Mitch and Mitch believed in Roger at this time and he said, I agree, we have to help him.
Mitch said Roger was like, "he's good," and Mitch was like, "All right, if you say so."
I can feel it because Mitch was always, "Okay, no problem, Roger said…" It was quite some pressure for me because Roger knew so much I had the skill, maybe more than me. He knew because he was looking rider for so many years. I think when he saw me ride he said, "okay, yeah, it's possible." But for me the step was so big to go, the process was so long and so big that I was like, wow, maybe it's not so easy. Mitch was just, "okay, yeah, no problem, we'll help you." Of course when I won the first National in Gainesville with Starbuster on the back of my pants and the stock bike… Mitch engine. It was my suspension from practice bike in Europe. That was something. I led the championship winning the first race so I was leading the championship. Never came to the second race. I was so happy for myself but I was so happy also to show Mitch and Roger that they were right. I knew the road was still very long for Supercross but I was on my way.