Some classic ads and photos from a classic company
Some classic ads and photos from a classic company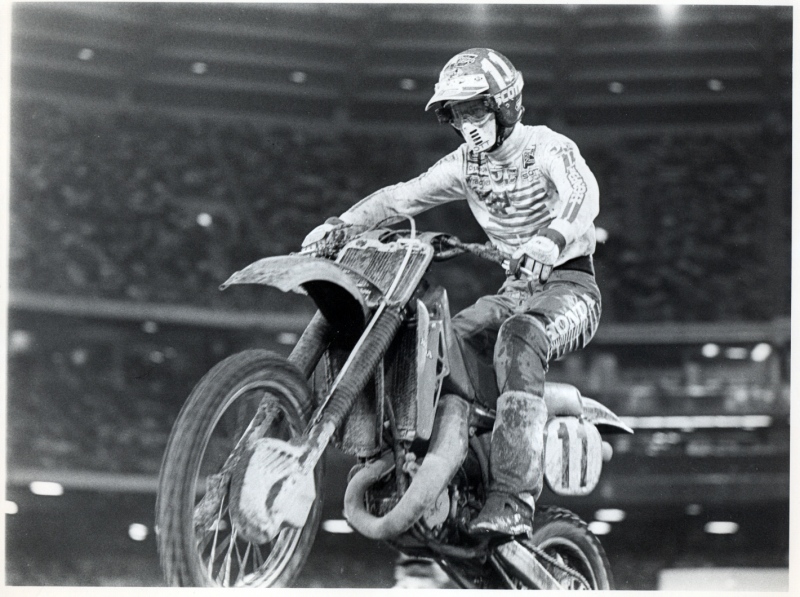 Team Honda was a powerhouse throughout the 80's and one of it's star riders was David Bailey who used Scott goggles throughout his career. The year this photo was taken (1983) Bailey had a dream season in winning both the 250 SX and MX titles as well as the Grand National championship. Look at Bailey here running the Scott goggles with Smith roll-offs. Smith had patented the roll-offs from the early 80's until I believe sometme around the mid-90's so if you wanted to run them you had to adapt them to whatever goggles you were running. And most people took the Smith logo off which then created more controversy as it was a patent. Anyways, good times and the look of the original Scott mask is iconic.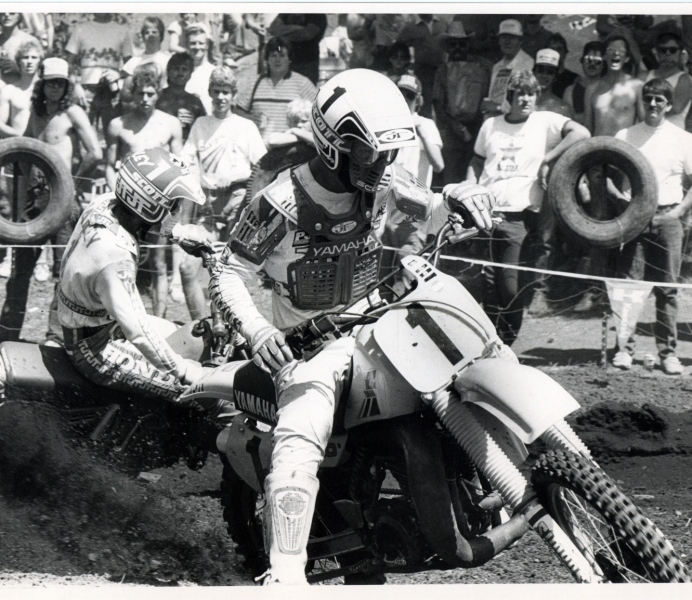 Big battle in 1984 in the 500's between Scott athletes Bailey (#1) and Broc Glover (#1) and yes, it was weird to see the defending 500 champ Glover rightfully run the #1 while Bailey (the overall champion from 1983) also rightfully run the #1. And both guys wore JT at that. This title wasn't even contested as Bailey rode around, through and destroyed Glover on his works Honda 500 to Glover's production YZ490. Bailey won the first 14 motos in a row before splitting with Glover at Lakewood and going 2-2 at the finale when he had the title won. It was a weird year as there were these two and then Factory Kawi rider Goat Breker and then 250 points back a bunch of privateers.
But the next year with Glover on the same bike and Bailey on an even better HRC500 Broc somehow took it to Bailey and won regained the title in a series that is still not talked about enough. How he did it, I have no idea. Bailey did hurt himself later on but Glover was already winning. It was amazing to be sure. But in 1984, two riders wearing JT gear both wearing number 1 plates and Scott goggles battled it out. Strange indeed. Big news in 1986 when Glover left Scott for JT goggles, that was a shock to me when I was 13. I lived in a strange world folks.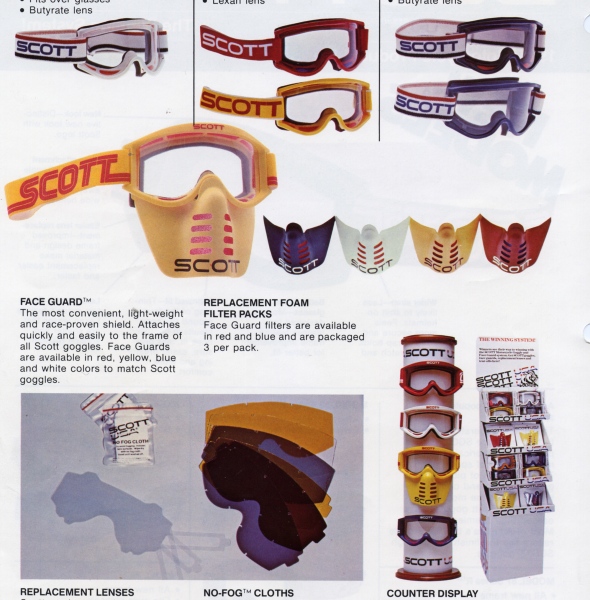 Scott ran the model 83 goggle for the longest time and it was the goggle to beat for other companies as well as the goggle to wear for most riders out there. It was invented in the late 70's and was finally replaced by the model 89 sometime around the mid to late 80's. And incredibly the Model 83 is still around in some shape or form in Scott USA's line of products. As I said, Oakley had some and Scott came out with the Venturi but for my money, nothing beats the look of the Scott mask like in the Bailey photo above.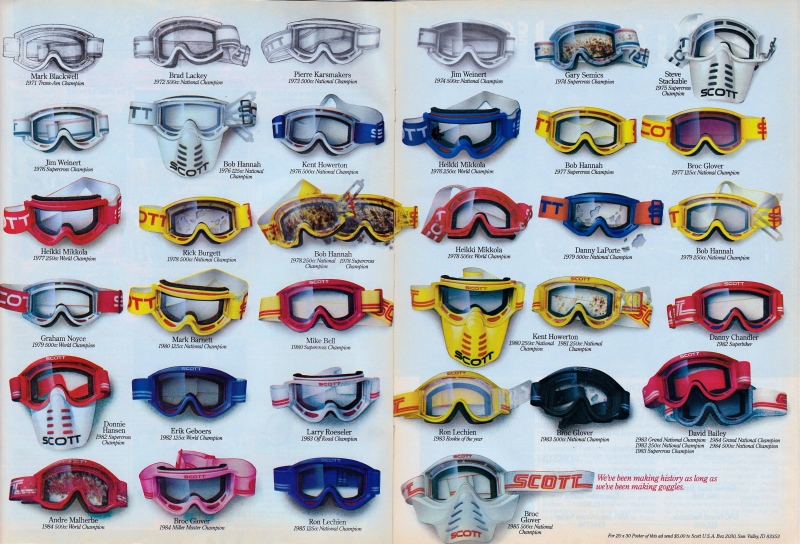 I love this Scott ad from 1986. I must've told John Knowles at Scott ten times now that they should bring this ad back but obviously update it. Maybe two page ads are too expensive nowadays? Just think of all the riders that have worn (and won in) Scott goggles? There are so many of them that Scott should, again in my opinion, run this ad again for the new guys. A nice added touch is the pink goggles for Broc Glover for when he won the Miller Masters race wearing all pink JT gear.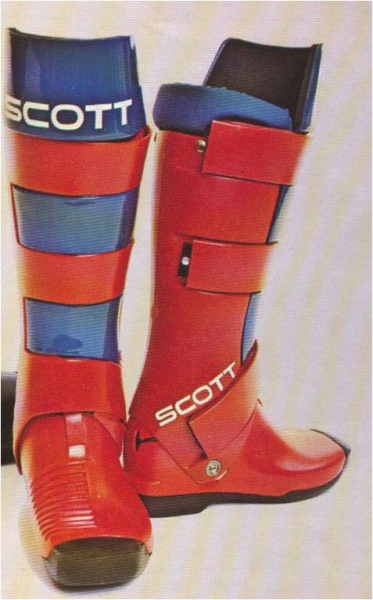 Scott didn't just make goggles, they also make bicycles, gear, bike shoes, skis and snowboards to name a few things. And then there were these plastic boots that came out in the late 70's, early 80's. Bob Hannah wore these for a bit and they were all the rage for a little while.