On grips, 2014 SX and much more
On grips, 2014 SX and much more
Me: Does James Stewart's victory at the Monster Cup mean anything or is Ryan Villopoto still a heavy favorite? Does this mean anything, Stewart's victory?
Jeff Emig: I do think it means a lot to James especially. I'm sure that it's done wonders for his confidence. The reports that I hear are that he looks really, really good on the track now, that he seems really fired up. And I didn't hear the same thing before the Monster Energy Cup. Is Villopoto still a favorite? Of course. I don't think that he's a heavy favorite. I think that (Eli) Tomac and (Ken) Roczen are really going to come into the class and do something. I think that there's other riders, the (Justin) Barcias and whatnot, that are still going to better than they were this year. I think for James it was a great race for him. It's got to do wonders for his confidence. The motivation and just the belief in yourself, kind of the mental thing. Like, wow, maybe I can still do this at this level, at the highest level. I think it's been an interesting year for James. To me it was the first year that he seemed to be enjoying himself at the races, and he wasn't winning. He was enjoying doing what he's doing, and that's really important for longevity. If you're winning a bunch of races but you're unhappy then you don't really want to be at the race track. It's such a juxtaposition to be in- not winning but happy.
I think there will be a transition. But I think overall this year James' attitude… And keep in mind this is only from the outside; I really know nothing about his inner circle. But it seems like that their family really enjoys being at the races. And then he just went and won the Monster Energy Cup. That's definitely going to do a lot for the confidence.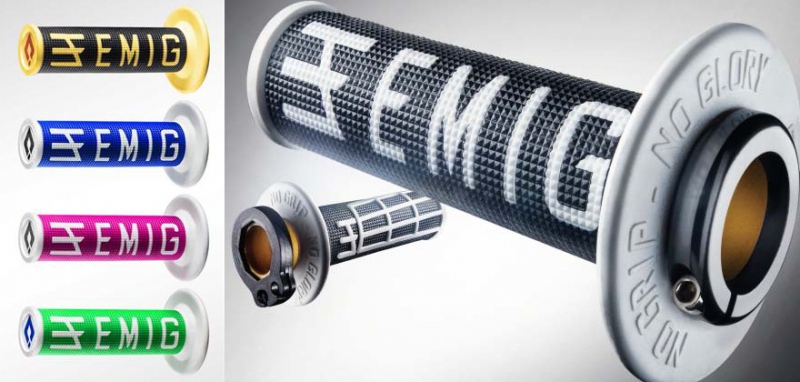 Jeff's got a signature grip out with the folks from ODI but there's more to it than just a grip- for more about this click HERE
On the Pulpmx Show, we've asked everybody this but we haven't had you on. Joker Lane, three ten-lappers… Do you like that stuff? Do you as the racer think it's just gimmicky? Would you want to see it in Supercross at some rounds?
I'm not convinced of it working for the Supercross championship. I do think that for the first time in the three years that we've run the Monster Energy Cup that the format and the track layout worked to how it was designed to work. It really performed and provided a new level of excitement for Supercross racing. It's too early to tell if that would be the right thing to change Supercross and implement something like that, the three-moto format or whatnot. But that's the great thing about the Monster Energy Cup, is that we have the ability to try those things and entertain the fans and to raise those questions. You just can't throw those things in to one of the championship races when points and all the bonuses and stuff like that are on the line.
There was just a lot of things that it changed the programming of the riders. When you're doing 20 laps you're programmed, you're doing your thing. You don't have to think about the Joker Lane. You just know, you have that feeling. Well this was different. They were forced to think rather than just be pre-programmed, and two of the best guys made huge mistakes. That was exciting. It certainly was exciting for the fans. If you're on the other side, the riders or the team, you want to eliminate those things, which is what you're trying to do. But it was great for the fans.
Tomac and Roczen coming into the class- what do you expect out of those two? Do you think one will be better than the other? What are your thoughts on those two?
I think they'll battle for wins. I definitely think that they both have the type of attitude, work ethic, a lot like when the group of riders that came in with Bradshaw, Matiasevich, Kiedrowski, LaRocco….
We're getting into a little bit of a new era, you think?
I think the world of both Tomac and Roczen. From what I hear I just can't help but think that Roczen's choice to go train with Aldon and his main competitor, Ryan Villopoto. For Roczen I see that being a great move. It seems odd that Villopoto would invite competition like that to train and work with him, but it's not my situation. Once again, I know nothing about the inner workings of their program down there. But I definitely think for Roczen this will be a huge advantage. You may see him be better than what he's ever been.
You're probably not a guy that needs to work but here you are going into year eight of doing color commentary for the sport, do you still love it? Can you see a point where you want out?
I love it. I love what I do. I love the responsibility that I have to the industry and to the fans of Supercross. I really, really enjoy the people that I work with.
No plans to stop?
No plans to stop, no. As Al Pacino, says "I'm just getting started."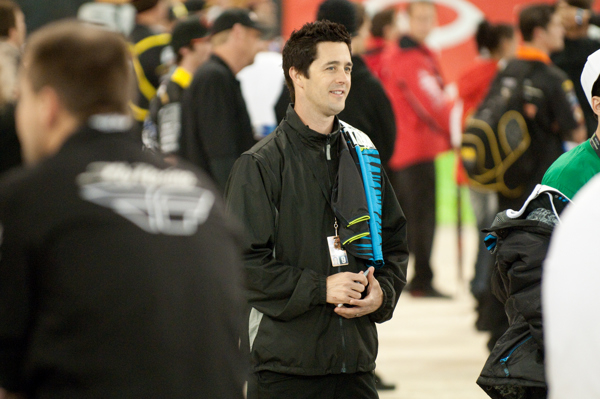 Here's Jeff at Toronto surveying the scene. Photo by Lissimore
I saw on Instagram that you're back riding. I imagine it's a nice relief for you after having surgery and not riding for a long time. What's it like being back on the bike? Is the skill still there?
It was 7 and a half months. Really the main reason why I rode last week was I had the media launch for the new collaboration that I have with ODI Grips and my Emig Grip. I was fine with just taking my time and I had no real reason to really get back on a bike and do the Adrian Peterson thing like I got to get back participating in my sport. It wasn't anything like that. But I definitely felt like I would be okay. So I got a new set of Asterisk cell braces sent out and some fresh threads from Shift and Fox and went and did the media day. We went out to Star West which has new ownership and all that, new track. I definitely have had the bug lately, like hey, kind of feeling like I'd like to ride again. And it definitely felt like I had been off the bike for 7 and a half months.
I imagine the magic wasn't quite there right away?
No, a little bit of arm pump going on, sure. But it was great because I had a chance to get back on the bike and it was super fun. I got a chance to test my new grip. We've had samples for a couple months now but haven't actually got to ride it on anything other than on my 110 just putting around. So it was nice to actually get to ride with the product. I actually went out to Star West the next Saturday and the track prep was epic. So I rode again and felt a little more comfortable. It's one of those things no matter how much training you do on a bicycle or in the gym or with a rower or anything else it just doesn't train you for riding a motorcycle. But it was really fun and that adrenaline… For me riding a motorcycle is just like nothing else. I'm really not a very competitive individual at most things. I'm pretty easy-going with a lot of things.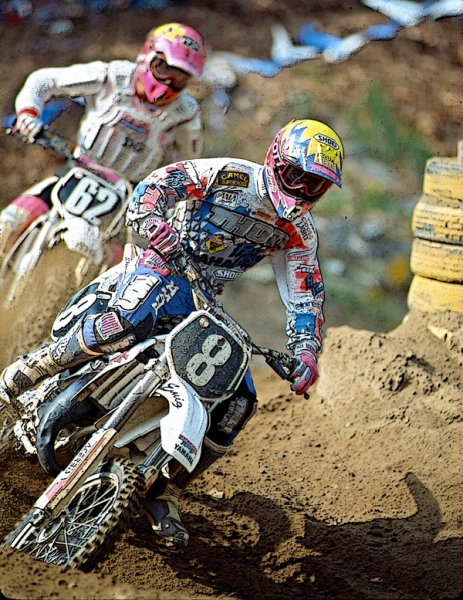 Jeff Emig won the '92 125 National championship as well as the '96 and '97 250 National titles. Oh yeah, and one 250 SX title in there.
But riding a dirt bike is something that I'm pretty good at and whenever you have this sort of time off with an injury as a rider you always question will I feel the same? Will I not enjoy it? Will I be hesitant? Will I not be myself? I know when I broke my back, which is my last major injury, which was back in 2000, there was a big question then. There was a bit of me that was a bit nervous about how well my broken hand… It's 95% of what it was, things like that. For the most part I feel like I always have just with a little bit of arm pump. Everybody's like, you look great! And I'm like, yeah, just don't put a stopwatch on me and we'll be fine. But I still get out of it what I need to. The enjoyment definitely was there. I can't wait to be back on a bike more.
I just got back from Bercy. What do you think of when I say "Bercy"?
Oh, man…
You won the first 125 class ever held there!
Well, I didn't actually ever win. I didn't win any of the four main events, I just didn't have a bad one. Which is ironic because I was on that Yamaha 125, like a full-on production bike. My engine was horrible. They didn't really make a big deal out of the Prince of Bercy. They were just like, oh, you're the Prince of Bercy. And I'm like, okay, what is that? It wasn't like I made any extra money or anything for it. But we raced Wednesday/Thursday night, and Friday off, Saturday/Sunday. Being a four-night program, and the track was so awesome back then because it was so well-suited for a 125 and 250 two-stroke. Guys ride big bikes now; there's nothing they can do to make the tracks seem big because the bike will just do anything. But it's a special event, great atmosphere being there. I've got a lot of great memories from there.
Lastly, you teamed up with ODI. You got a grip coming out. It sounds like in talking to you at the Monster Cup, this wasn't just something where they slapped your name on it or whatever. You actually thought about it, you worked with them, you looked at designs… It's really your baby.
Yeah, it is. The V2 lock-on system is something that is so the grip is basically bonded to a plastic tube. It's all molded together. It comes out of the machine. So the left side has an aluminum clamp on the inside of the grip that basically locks the grip onto the bar, so there's no need to wire, there's no need for glue or hairspray or whatever it is you throw in there. So there's no mess, it's super easy to put on, super easy to take off. There's a lot of performance issues along with just the ease of installation. The ease of installation is such a great selling point but I believe that the performance of the grip because it's adhered to a tube that's all… I just believe that it's longer. The throttle side, the grip comes with a throttle tube, a universal OEM throttle tube, so that's all one piece. And once again there's no glue, there's no wiring or any of that. You buy a set that has the proper throttle cam for your bike, for your brand, two-stroke, four-stroke. Put on the proper throttle and slide it on. You can literally change a set of grips and be ready to ride in minutes.
It's nice because trying to get the glue off the stock grips or even trying to take the stock grips off sometimes suck.
So there's all of that, if you've already got one glued on you got to take it off, clean it, and get the area prepped to put a new grip on, but that's not an issue with our system. So the V2 lock-on system is ODI. So when I went to them with the idea of doing my own product they sold me on the ODI system. Now basically what I've done is I've taken the actual grip's surface and designed a grip specifically for me. Not quite a half-waffle; there's a little changed design, the type of waffling that I wanted, the type of traction, the compounds, and all that sort of stuff. And then we got my new Emig logo and added some really fresh colors. I'm excited about it because it's the first product I've really done that hasn't been part of the family business, something that I'd done with Shift, or something like that.
The partnership with ODI has been great. Really enjoy working with the company. They're located in downtown Riverside, California, so everything's made right here in the USA, right in Riverside, 15 minutes from the house. So it's been a great relationship. The first orders have literally just been taken and shipped I believe today. Guys should be riding with the grip by this weekend. For me to have this idea come to life and actually happen is pretty fun. Beyond that is I feel that this is going to be the tip of the iceberg for the Emig brand. I plan on putting a lot more effort into a brand and developing more products. I'm not ready to expand on those ideas yet but definitely more ideas are in the works and ideas and things starting to get put on paper and seeing if we can make it and make products that make your motocross experience better.
Can you invent something that gives you Emig-like starts?
I'm working on it.
That would really benefit a lot of people if they could start like Jeff Emig.
The first thing people can do is come to see us at the Ricky Carmichael University and I will spend some time with you and help you out. But I do believe that there are other products and different things. That's what I'm going to work on.