Here is the standard Tim Ferry interview on Pulpmx.com
Here is the standard Tim Ferry interview on Pulpmx.com
Me: Let's start with RJ Hampshire. He was a big winner at the Mini O's. You've been working with him for a while. What'd you think of his performance down there?
Tim Ferry: I thought all in all he did really well. Obviously he won five titles. Really close to winning a couple more. I think considering how many times those guys race there, you're going to have a few races that aren't going to go your way. I thought all in all he rode really, really good. He really likes the bike and the team so things are looking really good for him right now.
He was giving you a lot of credit for the work you've been doing with him. What do you see in him? How good can he be?
I don't see any reason why he can't be real good. He should be Supercross by next year-hopefully on the GEICO team. But there's no limits to really I think what he can do, as long as he stays healthy. The main thing I think I see is he's progressing very, very quickly. He works really, really hard and he's really dedicated. He really wants to be a motocross racer, a Supercross racer. He walked away from baseball to do motocross about a year ago. He started focusing a ton of time on motocross. His parents weren't too happy about that decision. Not that they had anything against motocross but he was a really good baseball player. I asked him how good he really is at baseball. I'm like, are you sure you really want to do motocross?
Yeah because baseball's a pretty good living also.
Baseball's good. They said he was just as good at baseball as he was at motocross. But he's dedicated and he wants to win races. He will do whatever it takes to win. That's what it's going to take in this sport right now.
Is he talented enough to win championships at a pro level?
I think he's definitely talented enough. He's talented enough, he's got a good frame as far as his height. He's not too big, he's not too small. He's on a good team now. That GEICO team is super strong right now. The stars are aligning very, very quickly for him, but we also got to take into consideration, after what happened to Trey recently, injuries can happen. Got to keep him healthy and keep him progressing. He's always ridden a dirt bike, since he was a kid. He's just really rode them seriously for the last year and a half, with a lot more support, a little more guidance, and that's made all the different for him.
Does his riding style remind you of anybody? Or his attitude? Anything that he does remind you of a past racer?
Not really his style. His style to me is still a little bit wild. He has kind of the "go for it" riding style. He used to crash a lot in the past. I don't think he really got hurt a lot but he crashed a lot. He reminds me a little bit of Chad (Reed). He has the ability to pick stuff up without somebody saying something to him. A lot of people don't really like him. I think a lot of the racers are jealous of maybe the success he's had in a very short period of time. He comes off maybe cocky when he's really just kind of quiet and humble. He reminds me of Chad a little bit in the sense that he's a good athlete, he picks stuff up. He's not afraid to run it in on anybody, really doesn't matter who you are. So some of the things remind me of Chad. His riding style is kind of all his own. I'd like for him to fine-tune that a little bit and get a little smoother. I think once you do that he can pick his pace up quite a bit too.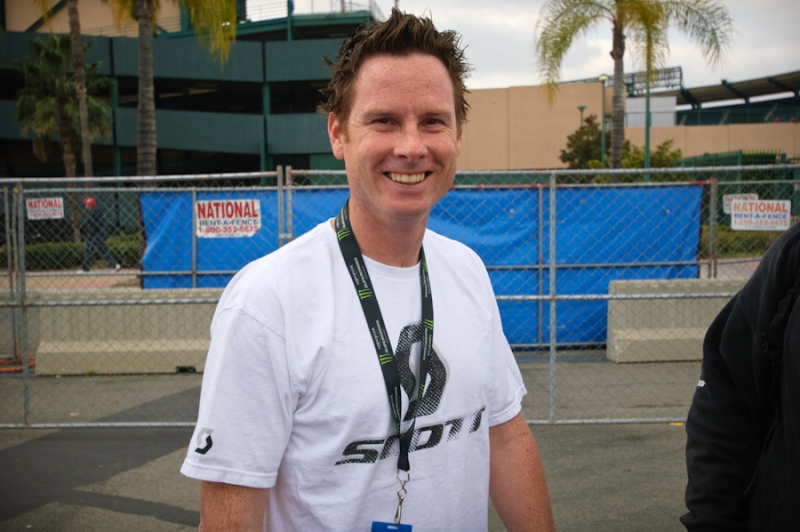 Tim Ferry's busy these days teaching kids and watching his own start to be serious. Photo by Lissimore
How did your son Evan do at Mini O's? He crashed out early?
He crashed out on Friday halfway to the first turn. He and some kids tangled up. He went over the bars. That kind of ended our week. He got a 6th and 7th in Supercross and I want to say he got a 6th or 7th in the first motos of outdoor. We're also done with 50s now. He won a moto in one of the heat races on Supercross, which is pretty cool. The kids from California and there's a couple kids from the Southeast that are really fast. I thought he'd be top five in the 50 class and top ten in the 65. He kind of ran right around those positions all week.
And you didn't want to race?
No, he was in four classes in Supercross and four in outdoors. That was enough. I wouldn't say I'm burned out on racing again but I'm just kind of too busy to do it, and do it right.
Did the Robbie Reynard defeat at Loretta's crush you? Because it crushed me…
It did. I talked to Reynard the other day. I guess me or him haven't really been riding since Loretta's.
He's done too?
We'll ramp up next year I guess. Loretta's was fun, but I don't know that I'll do it again. It's a lot of work to do it right, to get your bikes ready, to do all those things that were taken care of for you when you're a factory rider. Needless to say I'm a little bit spoiled. My priorities kind of shifted towards Evan. I want to try to make sure I get him as much support as I can and time.
The bummer is Trey Canard is hurt. Talk about that a little bit and what happened and what you know happened and thoughts behind that.
I wasn't there. He ran me through what happened and stuff. He missed a whoop and those guys are going so fast that if you miss one you're basically over three already. Then the front wheel came down, missing a whoop, and sent him over the bars. He said he caught the last whoop. If he had cleared the last whoop he probably would have been all right. He said that it just happened kind of quick. He's really bummed out. He was riding really, really well.
How many races do you think he's going to miss? Honda PR said at least a couple.
Definitely at least a couple. He was having surgery yesterday. I don't know exactly what they did; I just know he had the surgery. Probably put some screws I'm assuming. It was a pretty standard break on his arm, nothing major. I would expect 6-8 weeks is kind of the time frame I had heard. Those things happen. Those guys are going so fast right now. You hit the ground and the grounds hard. You're going to break something.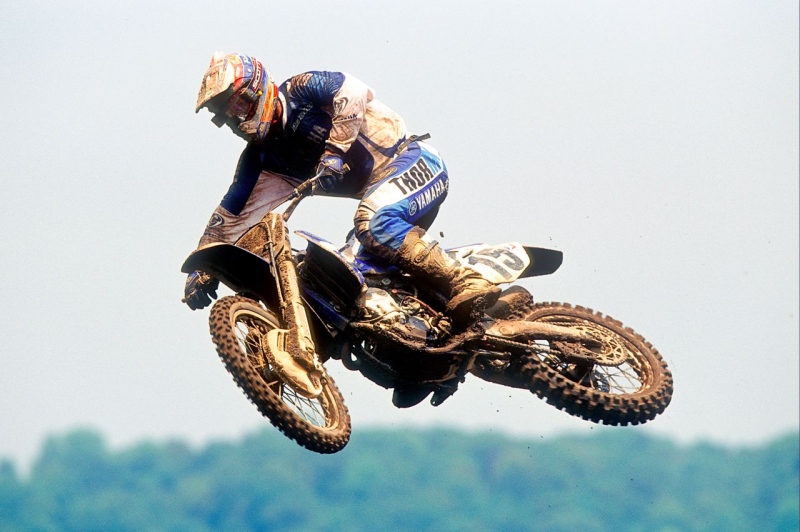 Tim Ferry in 2003 on the Yamaha YZ450F. Photo by Carl Stone
It's a bummer. It sucks because I know he's tired of being called injury-prone and all that, and he wants to break free of that. At least this isn't a very serious arm break, if you can call breaking your arm not that serious.
No, especially not after what he's already been through. A minor setback in a way but he really did have such a good string going. I really wasn't even considering him an injury-prone rider. He did break his back two years ago but since then, for the most part, he's missed a few races. He had that one race last year in Supercross and had to take a few races off, smart thing to do. But he's been healthy. I guarantee there's a bunch of other guys that have went down in the off-season that just maybe got lucky and didn't get hurt.
Don't look now but you've got this RJ thing going on and Marvin Stacer, another amateur kid getting back into racing. You're a busy guy in retirement!
Yeah, still working with him. He's released to ride next week. He had an ongoing shoulder problem he had to get fixed. Eric Grondahl has been with us since March or April last year. He got hurt the day before Loretta's this year. He finally got back up to speed and did really well for Winter Olympics. He got top five and ran up front a bunch in the B class this year. He was really happy. His parents were really happy with his progress. He's debating whether to stay B or A now. He's done really, really good since he came down to Florida and started riding down this way.
I'm actually more busy right now than I was racing. I told somebody just recently racing was the easiest thing I ever did, because everything else was secondary. It was like I was such a big priority. Now you try to juggle family life and work and your riders and different personalities. Now I have to worry about all these different personalities.
Even when Evan was born if he was sick or something you wouldn't stay at a hotel. Everything was built around you as the racer.
It's totally different now, and I'm okay with that. It's just trying to balance it and give equal time and effort to everything. Evan's racing has just now become kind of more serious. But it's nothing serious like the guys that I train. Obviously he doesn't go to homeschool and all that stuff. We ride when we can, we race when we can. When we don't want to race we don't go racing. He's only 9. We've got a long time to go. I'd rather him take the RJ route where he's really hungry when he needs to be, which is as he gets a little bit older. He's got plenty of time to ride dirt bikes.
Getting back to pro racing, Chad Reed switched to Kawi. What's your thoughts on that?
I think it was a good move for him. I think mentally he was… just over his bike, and just mentally he's ready for something different. We'll see. I think that bike will suit his riding style good. He's still one of the most talented guys I've ever seen ride a dirt bike. When he wants to ride he can go fast.
It's so mental. If he's happy he'll go fast.
Yeah, if he's happy. He seems to be happy. I've hung out with him quite a bit. I see him all the time now. His kid goes to the same school as mine. So I see him and his wife all the time. Never actually talked about the bikes or anything or him switching. I can hear him riding from my house sometimes, so I know when he's riding. But that's about it. I haven't seen him ride a bike. I saw some Instagram photos. I think it's going to be a breakout year. It's going to be one or the other – it's going to be a breakout year or not. But he wants to go out strong these last few years of racing. Can't blame him.
I think I agree with you. It's going to work either really good – meaning top fives all the time, maybe some podiums – or it's not going to work out at all.
I would like to see him… I think he's not going to be happy unless he's on the podium, but that class is super stacked. I think he's 31 and I had my best year when I was 31. I don't think age is a factor. He's got a few years left of being super healthy in my opinion.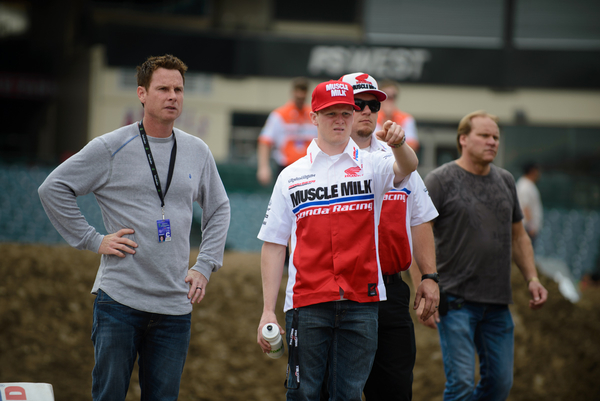 Trey and Timmy check out the track. Photo by Lissimore
What's happening with us? You've been done for a few years and I'm a media guy. And Chad's looking ahead at retiring. It wasn't that long ago when Chad was a new kid on the block and you were the guy.
There's a whole new crop of kids. I went to all these amateur races for the last year and there's some really, really good talent coming through. I give a lot of credit to the training facilities where all these guys are going riding. I don't agree with everything that everyone does, but at the same time every facility has some really good riders coming out of them. They're on the mic all the time. They're thinking when they're young kids about going fast and eating good and training and stuff. I think the training facilities have really changed the game. Obviously MTF having the bigger one has more riders coming out of it that are good, so they're always pushing each other. The manufacturers are definitely not supporting… I can't give credit to the manufacturers right now because they're not supporting amateur racing the way that it was when I was growing up. I got to point the finger to the facilities and the parents that are willing to put the money and time into it.
Am I doing a good enough job keeping your name alive when you go to these races? Do I need to do more?
Right now it's good. I think all the criticism I gave you about giving me bad press or a bad fan base from you talking so much about me, you've backed off, but with RJ and some of the amateur guys and Evan racing, I guess you're keeping it alive a little bit.
You still getting the odd people from Pulp MX nation coming up to you asking where I am?
Yeah, I get a few weird tweets here and there.
I was watching some old races and man, Ronnie Tichenor was underrated. RT was really fast and didn't get the credit he deserves.
Yeah, he was a great rider.
Back in the day you got one shot at a factory and then you were done. And he never got a shot on a good bike or a decent team. Suzuki was kind of a clown show back then. Talk about Ronnie Tichenor and how great he was.
I think he was a great rider. He had great style. He had a good look to him. His gear was always cool. He went to Japan when he was super young. I was living with him when he was in Japan racing. He was not even mid 20s, I think he was already in Japan. Had he stayed here a little longer, maybe his could've built career around racing in the USA. But the Japanese money was just too good to turn down. He had factory bikes and didn't have to race nearly as much. But he was a great rider. He was a great teacher too, he taught me a lot. He's still around. He goes to some of the tracks we go to with his new kids. They go train and stuff. One of his guys did really well in Winter Olympics.
You got fired by two factory teams and you rode for three altogether. In a different era Tichenor would have got another shot at another factory team. But instead it was the late '80s, early ''90s and it was just one and done.
Yeah, different time, different era. Me and him have talked about that and actually started talking about both of us teaching kids. I guess helping me was like that back in the day for him. But we started actually really studying riding and why you do his and that. You actually become a better rider even though you're not as fast. He swears I still think that… As I think about it more I'm much better when I look back at videos and pictures, I understand a lot more. I've always looked up to Ronnie and I still do. If I have a question about riding dirt bikes, he's the first guy that I call because he's been there that done that, and he's even done coaching a lot longer.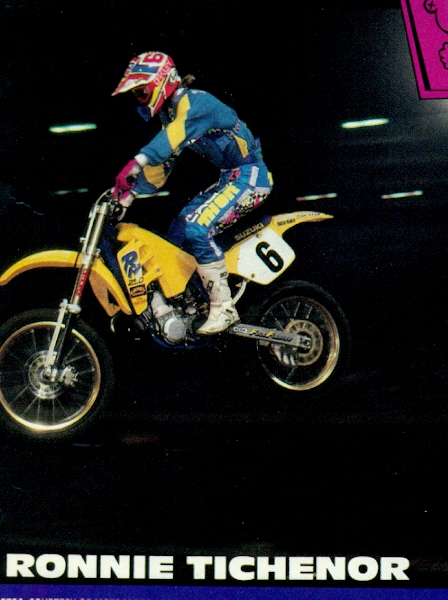 This just in, Ronnie Tichenor was underrated.