Welcome to my new make-work project
Welcome to my new make-work project
I have no idea why but for a long time now I've wanted to restore a bike. Anyone who reads or listens to my stuff knows that I love the olden days of moto. Just the nostalgia of the 80's and early 90's are hard to duplicate, the time in the sport where things were way different than before. I know, I know- it's the old "I had to walk uphill to school both ways" thing (and truthfully I do wonder if some people will, years from now, look back at the Villopoto-era as the grand old days of motocross. That would be pretty funny but I bet people do) but in a way I've always thought it would be cool to have a new older bike to, well, do I don't know what with.
And honestly, I've been thinking more and more about trying to work less. With yet another full year of sx/mx staring me in the face, I've tried to step back a bit and do something-anything- other than typing on a computer or talking into a microphone. So this restore would be a nice little break from the couch/chair and give me a bit of a, what do they call it, a hobby.
My first search was for a '87, '88 Honda but most of them that I found were beat down pretty good. I wanted to restore a bike, not re-make a bike. But one different bike was on my list of machines- a 1990 KX 250. For whatever reason these bikes always caught my eye, I never owned one (I rode Kawi's in '88 and '89 but switched to Honda for '90-'92) but they were certainly pretty sweet for their time. The first bike to have a perimeter frame and when it came out, in my opinion anyways, it was the best looking bike by far. I didn't want a '91 because that was already the second year and I didn't want a 1989. Nope, it had to be a 1990 KX 125 or 250 or nothing else from the green guys was to be considered. For the record I also had a '88 YZ250 on my list because of it being the first year of a radical new look for Yamaha. And as far as Honda, my desire for one covered a number of years and models.
Your list is probably different than mine and that's the beauty of these things- different years and bikes mean different things to different people. There's no explaining it.
So when I found a couple of pretty good looking 90 KX250's within days of each other in Southern California I figured this was my sign from above. Every couple of weeks I would check Craigslist here in Vegas or in SoCal and just couldn't find what I wanted. Some were too much money and already restored and most were basket cases that I wouldn't even know where to start.
So the deal was made- $700.00 bucks and what I got myself into, I have no idea. Looks like the tools need to be dusted off and my fingernails greasy once again.
Thanks to Babbitt's for the deal on the OEM parts, may I recommend them for your business the next time you need some OEM parts?
Maybe I'll ride it, maybe leave it in the garage- we'll see. But for now here's the start of the restore. Keep checking back and I'll fill you in as I get deeper and deeper into #project90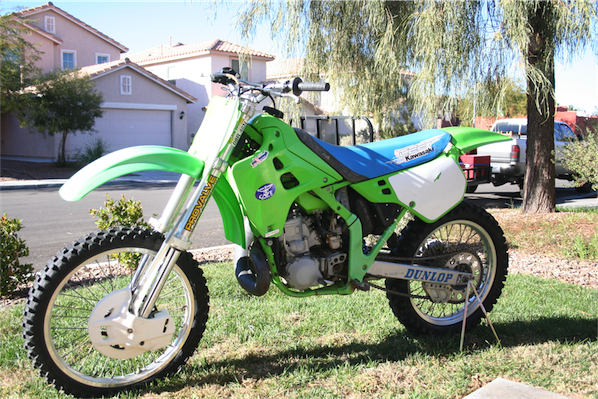 Here she is in all her glory, the 1990 Kawasaki KX250. I am definitely fortunate to find one that's in pretty good shape. The guy I bought it off said it was "AMA raced" whatever that means.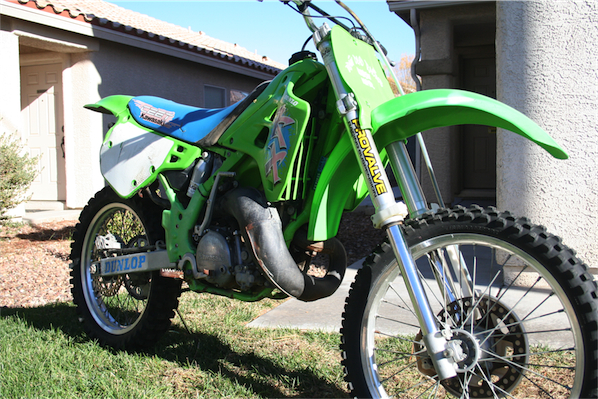 Stock pipe and silencer, suspension was re-done not that long ago (who knows how long though) and the guy said it had a new top end as well. The frame guards are a nice touch also.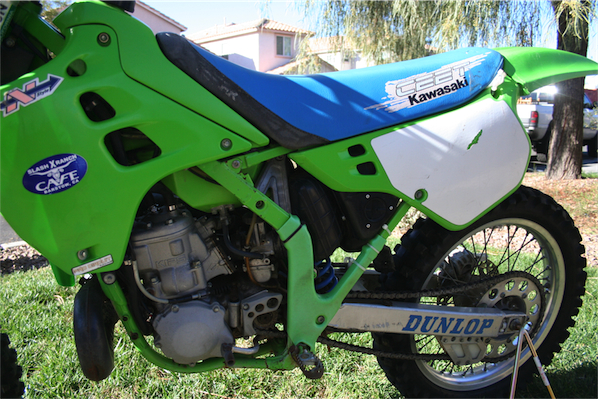 As I said, it's in pretty good shape. 1990 was the first year that Kawi went with the then-space age perimeter frame.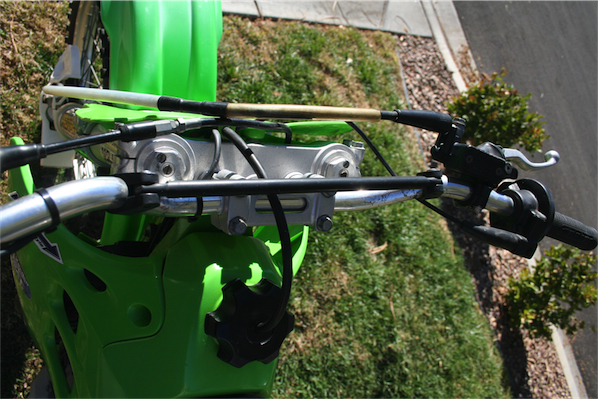 The bars are all bent and rotated seriously forward to the point where I don't know how the dude could ride it. Also the throttle is twisted forward and routed upside down. EEK!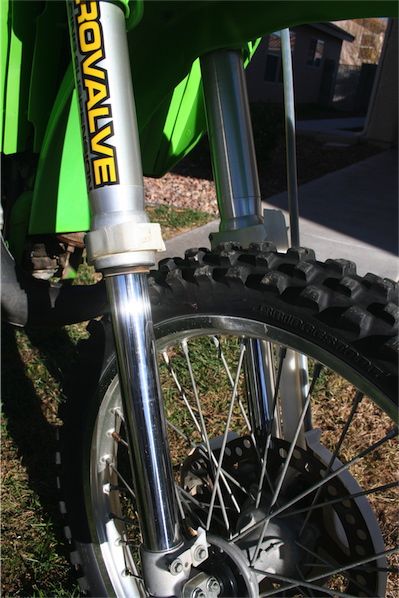 No fork guard on the right hand side but the bolts are still there. The left hand fork guard is there but broken. The folks down at Race Tech and I have been working on a plan for the suspension.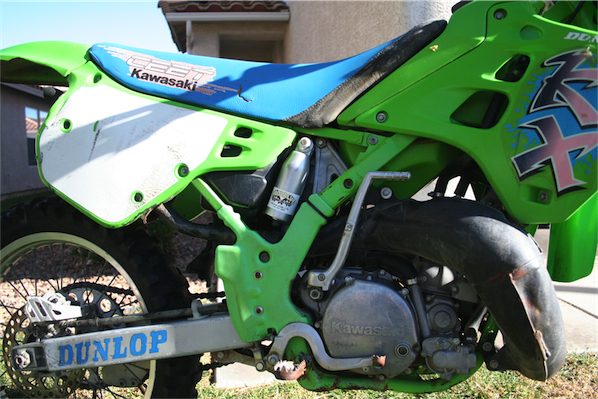 I have to check those shock towers once I get into it because they were prone to cracking back when these bikes were new. Kawi would make those part of the frame in 1992 and realize that these things wre dumb.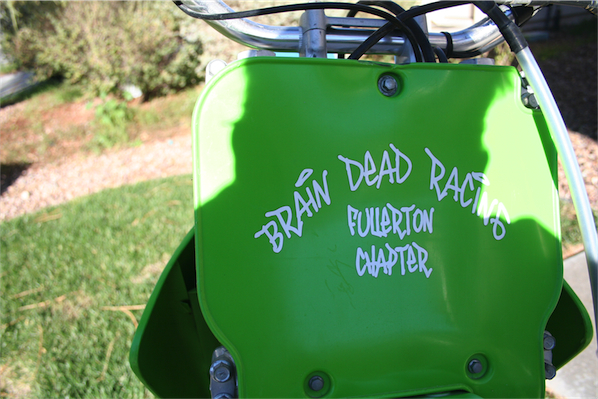 Apparently this guy was in a gang. Brain Dead Racing bro…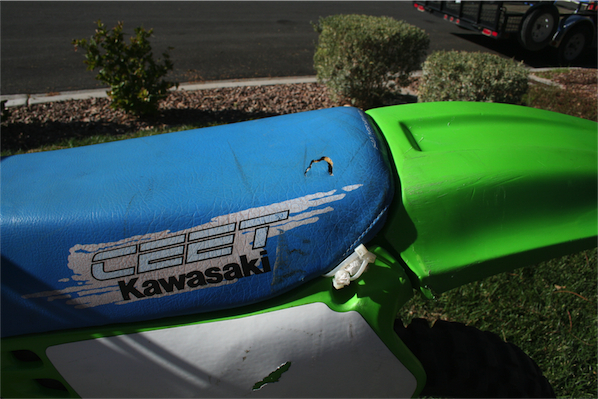 Some zip-ty's speak of some damage in there and the seat cover is ripped up. I have a replacement alreayd coming to replicate the stock one.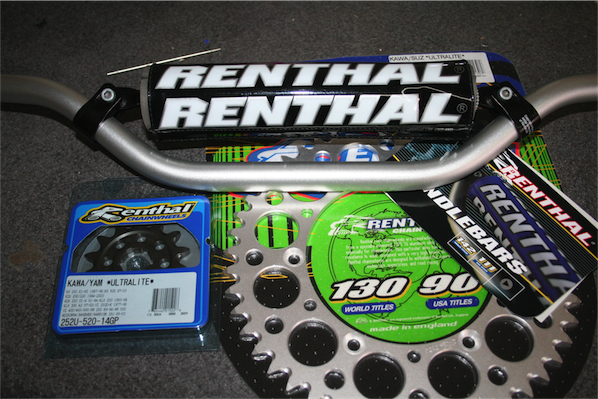 First things first, Renthal got me a deal on front and rear sprockets as well as the bars. The only problem with the bars is I had to make sure they didn't have any color on them and I would've preferred the old school cloth bar pad cover but they laughed at me when I asked if they had one laying around. Oh yeah, as I was putting the bars in my cabinet I saw that I had a set of 7/8 brand new Renthal bars already in there. DOH!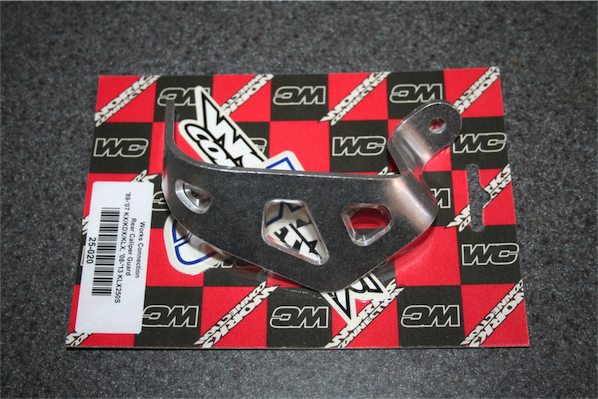 Guess what Works Connection had in stock? Yeah, that's right- a rear caliper guard to replace the stock plastic one! It's the little things bro, the little things…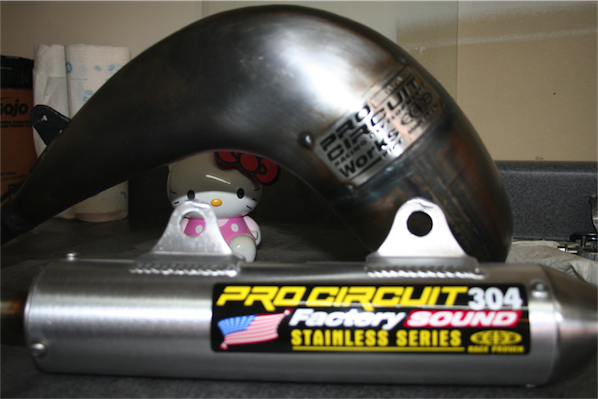 Because I want to make this bike a replica of the factory ones back in the day, I chose to get a Pro Circuit pipe and silencer. I took some grief on Instagram about getting PC and not FMF as FMF sponsors the Pulpmx Show but people don't realize that PC sponsors the post race Pulpcasts so I was effed either way. And so because the team used PC back then, I went with PC now. When I was picking it up Dan at PC said "Hope you don't bend it because this is the very last pipe we have for that model and we don't have the jig to make more". So this combo should look sweet and sound even better. Oh yeah, Hello Kitty says hi.