Doug Dubach on a classic holeshot and why he was such a good starter
Doug Dubach on a classic holeshot and why he was such a good starter
Hi everyone, from the late 80s through the mid 90s I was a contributing photographer for Hi-Torque Publications (MXA and Dirt Bike magazine). The photos that you see here were never published and have been stored as 35mm slides for the last 15-20 years. A month or so ago, I finally got around to purchasing a quality scanner and the journey began, going through these images has been a revelation, as I haven't looked at any of them since I put them away and had only seen them as tiny little 35mm slides. Scanning them, then seeing the images on a computer screen has been like seeing them for the first time, they stir up lots of great memories, and bring back a great era for motocross, lots of bright color, big characters and of course, some true legends of the sport.I hope you enjoy viewing them as much as I have-Mike Sweeney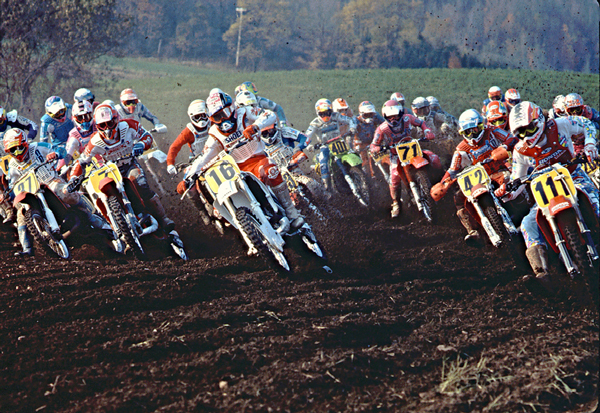 Doug Dubach is such a good starter he still pulled holeshots when he was 140cc down to every other bike on the line.
Sweeney: "Doug Dubach and the mystery holeshot – Last week we discussed Doug Dubach and his amazing ability to get to the holeshot. If ever there was a photo which clearly demonstrated that amazing ability I think this one would be it. Doug is beating the best riders in the world to the first turn and he's giving up about 140cc of motor.
Our regular readers will recall Motocross Captured #6 featuring Doug and his underpowered YZ360. If you did miss it, you can read it here (http://pulpmx.com/stories/tell-us-story/motocross-captured-6-doug-dubach).
Doug discusses the sleeved up YZ250 and it's pluses and minuses, what will really jump out at you though was his comment about the bikes top speed, or lack there of:
"I had the advantage of being able to ride that bike more aggressively deeper into the motos and that was great but we struggled off the start. That engine didn't rev like a 250 and if you drag raced against our race 250 bike, it would lose. It was torqey and when the track got slick or rough it was fun to ride because it had a wider feel than what those other guys were riding but it wasn't fast in a drag race. It didn't have the top end. "
For those of you that haven't been to Unadilla, it's a longish first straight, slightly uphill into a right had first turn. With this in mind, you have to wonder, how the hell did Doug pull that off? He's on a bike that he claims to be slower in a drag race than a 250 and he beats the best riders in the world, all of them mounted on the most powerful two strokes ever made, to the first corner, truly amazing.
Another interesting bit on this photo, the Junk Yard Dog, John Dowd on the #71 Honda CR500 right in the middle of the frame, it's rare to see a shot of John on a Honda racing a national.
As to the overall, Stanton (#7) went on to win, with JMB (#111) and RJ taking the 2 and 3 respectively. Doug wound up finishing 5th overall with 6-5 moto scores, a pretty impressive day for him without doubt."
Doug Dubach- "I do remember this start actually. I was on the YZ360 and that was one of my few holeshots on the long straights. It seemed like most every race that year had a long straight and the bikes weren't that fast on the longer ones compared to the 500's. I remember I beat everyone out of the gate, the first two shifts, so bad that those guys were just catching up to me at this point! I remember boasting to Steve Butler about this one and asking if he saw how bad I beat those guys off the gate. It was a good one for sure.
I wasn't always a good starter but I made myself into one with a lot of hard work. It took some of my friends and mechanics to convince me that my lap times were the same as the leaders but starting in 20th wasn't helping my career. I put a lot of focus into my starts, some people would practice a lot of things other than starts but I'd work on just them. My friend Gary Denton, who was racing pro quads at the time, told me a few key things to help a guy out and I took those and through hard work and focusing on what the good starters were doing at the time to make myself great at starts. I also looked at the guys who weren't great starters and stayed away from that.
It's really putting all the pieces together, understanding what they were and then executing every time you go to the gate. You only have one chance and it's truly a real good chance, in the rawest sense of the word, to do well. You have to understand how slippery the gate is, what kind of dirt you're on, when the gate drops, applying power and it's a lot of guessing in it. But the more you educate yourself on these things, the better you get and the more confidence you get. I got to a point where somewhere in the early 90's, I was getting every start. I didn't go up there hoping to get the start, I went up there expecting to get the start. I had been so good at beating those current crop of riders, some of the best in the world, that it was just a matter of knowing I was the best. Like Carmichael and his fitness and Lechien and his corners and me and my starts. I just had them covered and that's how I felt when I went to the gate.
The homework and the skill came in knowing what was going on under you and around you. I knew what my perfect start was and I tried to replicate it every time. I was always the first guy walking the start area, to see how the water was down there, how the ruts were, how it changed throughout the day. Where the dirt was deeper and really understanding the lay of the land. So that when I went up there, I knew I was sixth in the points or whatever and I knew who was going to go where and what my selections were going to be limited to. And you had to know the riders you were with and their personalities so which guys to stay away from or which ones were ok. You go to go to the gate understanding all of this and it's a matter of executing it. So you had the basic's, like an A, B and C and then you had to tweek those for the condition of the day. A slow falling gate, super dry or tacky- all those things, and there is a lot of subtleties, to understand and adjust. Getting good starts were such a boost to my career…from being mid-pack to racing with the fast guys and seeing the good lines, seeing the speed they're carrying and being pulled along. When I was a privateer I was beating all my factory Yamaha partners and that's what got me a factory ride. I doubt I would have gotten that from being a mid-pack guy.
Guys used to start by me all the time to try and figure out what I was doing. Rick Johnson at Mammoth one year, we were battling for the King of the Mountain and we were in every heat race and moto together and we're sitting there on the last day, we're only a couple of points apart for the King title and he was faster than me but I was beating him because I was getting better starts. We're sitting there and he's doing everything I do, if I dropped my glove he dropped his glove! He told me he's doing everything I do no matter what. If I scratched my butt he was doing that also (laughs). He would often come around me to see what I was doing, he would watch me off the start. He won all those championships but he was still trying to piggyback off my skills to make him better. It's pretty cool that a guy like that was trying to learn something from me.
As far as one start that sticks out in my memory, there's been a few good ones for sure but I have a picture on my wall here from the Glen Helen World Vet races, it was the 30+ pro class and it's ridiculous. We had to put on the bottom of it that it wasn't photoshopped at all, that it was the actual photo. There's me and then like five bike lengths and the other 39 guys. And we're talking Ryan Hughes, Craig Decker and all these guys. It was the pro class and there were a lot of former factory riders and I yanked these guys so, so bad. That's probably one that stood out. I had a few up in Canada where Alan Olson and I would look at each other and just wonder what happened and how I got such a holeshot. But the Glen Helen one stands out to me for sure."