Phoenix you sounded exciting as I read the play by play on twitter.
Phoenix you sounded exciting as I read the play by play on twitter.
Photos: Thee James Lissimore
Phoenix you sounded exciting as I read the play by play on twitter. I probably don't even need to watch the 250F main event, what's the point unless I want a sudden wave of déjà vu. Lucky for me to provide you with riveting, ground breaking information about the guys who came up Just Short of qualifying for the main events I don't have to be there, hell I don't even have to watch it, this is freelance journalism at it's best. Hey Phoenix you're not getting off that easy I'm watching you, soon I'll be watching you.
#460 – Jake Mohnike – Thousand Oaks Powersports
IRONY i.ro.ny – the expression of one's meaning by using language that normally signifies the opposite, typical for humorous or emphatic effect.
When I went to the trouble of looking up Websters definition of irony I thought it was going to be a better punch line but none the less I'm not stopping now this all adds up toward the minimum character count my publisher demands of me. Last weeks Just Short 250F featured rider was #360 Aaron Siminoe who is sponsored by Thousand Oaks Powersports. I find it "ironic" this weeks featured rider Jake Mohnike is also sponsored by Thousand Oaks Powersports. A couple guys sponsored by a bike shop on the cusp of making the main events must be doing something right. A tip of my hat to Siminoe who made the main event this week and finished 18th.
#75 – Josh Hill – RCH&KW
Well A1 didn't go well for Hill and Phoenix……lets not talk about Phoenix. Hill started off slow last year so I'm not about to write him off. Just reading between the lines on what Watson and Berlutti have said about Hill it sounds like he's faster than Tickle at the practice track. Regardless Hill proved last year that he had the speed. I think Hill realized that not racing all summer was going to hurt him and I thought going to Australia was a good idea, get some "gate drops" and work out the pre race jitters. Shows you what I know. RCH is known for their game changer ideas they need to invest in a sports psychologist (although it didn't work for Ben Townley).
It's amazing that the shrinks haven't just flocked to this sport, oh the money to be made, these riders are all so mental. I was always a guy who was faster in a race than I ever was on a practice day. I supposed I only unzipped my pants and put my balls on the handlebars when it counted. Most riders are the opposite, perfect on practice day and mentally fall apart on race day. I think I might buy a couch throw some wheels under it, print a fake doctorate and head to the races with a handful of spilt milk drawings. This is a million dollar idea.
This week I'm doing something a little bit different. I've been reading RacerX since the very 1st magazine. I still kick myself for throwing them all away at one point because I literally had everyone. Anyways, one of my favorite articles every month is 2 Tribes where they ask two people the same set of questions. These are not your standard run of the mill, redundant lame questions, just random stuff about everyday life that provide a lot of insight. So given that I know nothing about Jake and we all know pretty much everything there is to know about Josh I present to you the first Just Short Instagram __________. (I'm still working on a punchline/name).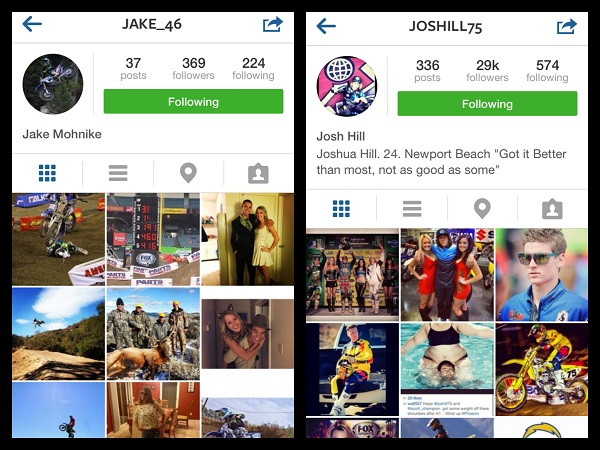 The stats: Josh has him covered on all accounts here, posts, followers, following and description. With only 37 posts Jake needs to pick up his social networking game a little. 29K followers for Josh I like that number its very fitting for Just Short. Wow Josh follows 574 people that's crazy who has time for that? This prompted me to look at how many people I follow, apparently it's 396 people, I need to get a life. I feel they both have room for improvement on their profile images, this new circle default picture is a little tricky.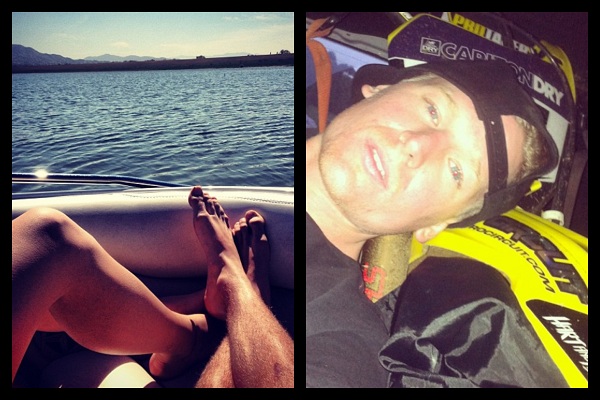 Best selfie: Josh wins by default but lying on his bike was a nice touch. Jake doesn't have a selfie posted so maybe Jake actually wins. I'm assuming the shaved legs in this picture are Jakes, most of these riders shave their legs.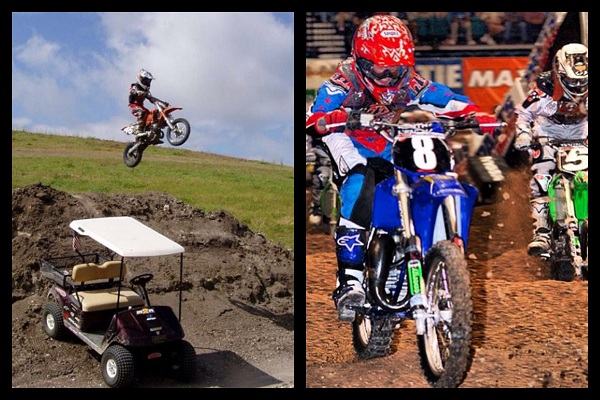 Best #TBT: Jake jumping a 60 over a golf cart gets my vote. Josh has a handful of cool #TBT pictures, if you want to go all stalker status like me go check it out. This picture of Josh racing at the US Open is pretty cool but why he hasn't' posted a picture of him jumping over the school bus in Mini Warriors three is beyond me.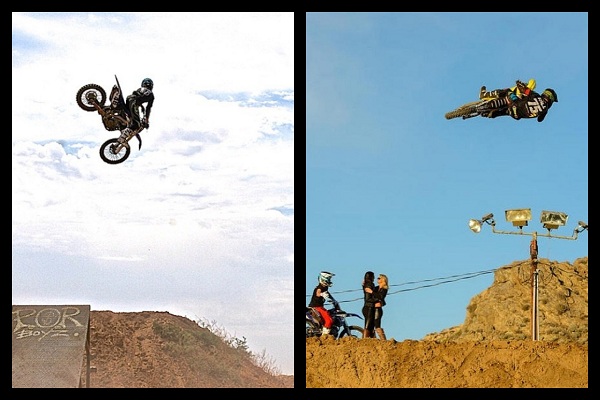 Best whip: Hill won this one by a mile, even with the assistance of a ramp Jake wasn't close.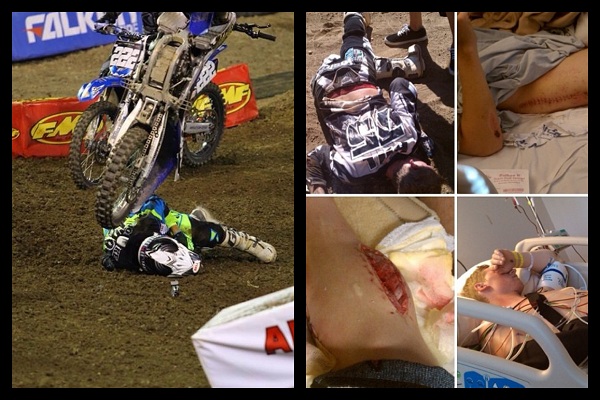 Best crash: I assumed Josh was going to walk away with this one but I was wrong. Jake has a great picture of his crash at A1. The pictures of Joshs broken leg are almost too gnarly to look at.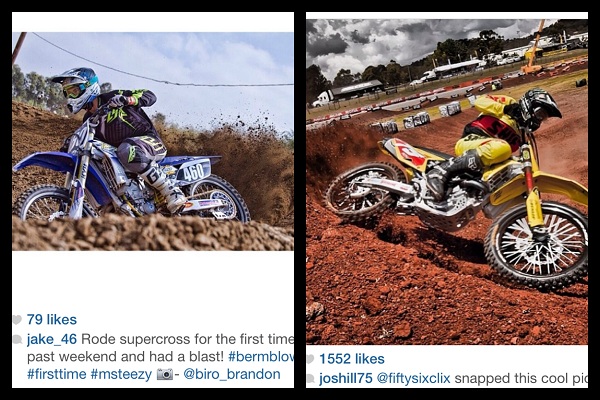 Best corner: Both good pictures. They both seem to far forward on the bike to me but I haven't watched Ping 101 riding school video so what do I know. I'll call this a draw.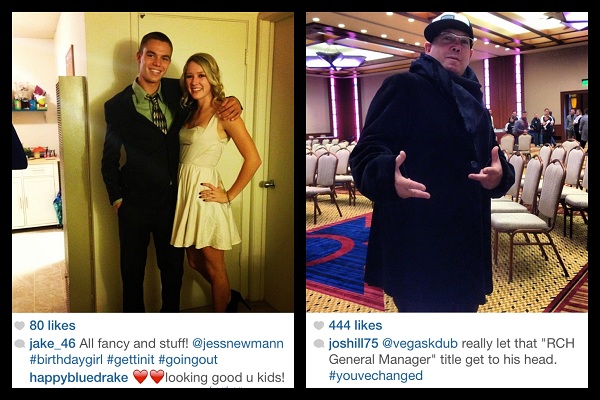 Best hashtag: Jake has the hashtags on lockdown, some of my favorites were #pieoverpole #pitdaddy #junglecat #gettinit, #hellokittyslippers, #dinosaurshirt, #rippinthefrontend. Reading these was the gift that keeps on giving. Josh not a big hastagger and I'm ok with that. The Watson picture with #youvechanged is classic.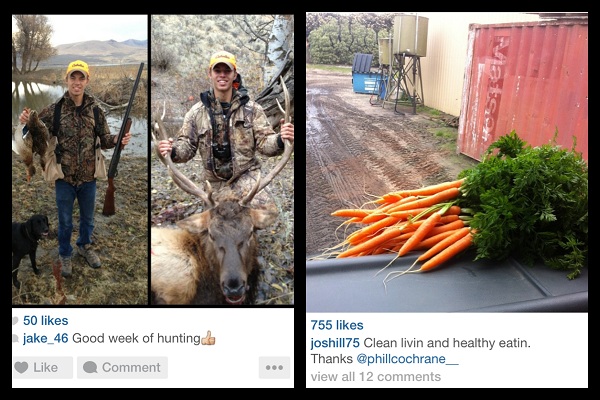 Best food post: No In-N-Out posts with either of these guys. I'm not a hunter but I'm not against hunting. Jake has a nice rack, get your mind out of the gutter. I'd rather eat the carrots so Josh wins.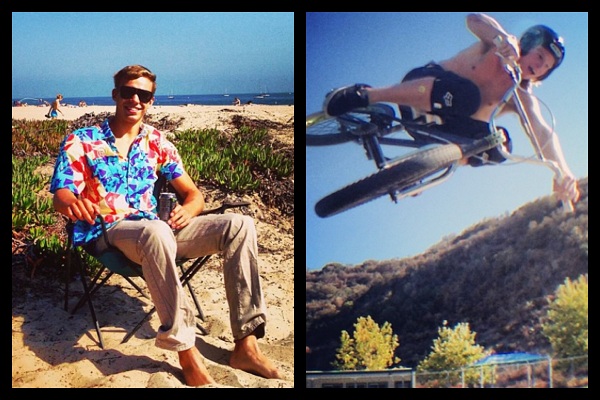 Random: Josh's dad used to be legit on a bmx bike so it's no surprise that Josh also picked that up. I want this shirt that Jake is wearing. Jake if you're reading this please use the email link to Weege below and let me know where you got that shirt. I'm not joking, I'll buy that shirt right off your back I'm serious, email Weege. I need that shirt.
Thanks for reading please send any and all comments to jasonw@racerxill.com