You miss 100% of the shots you don't take.
You miss 100% of the shots you don't take.
Photos: Thee James Lissimore
"You miss 100% of the shots you don't take."
"Those who cannot change their minds cannot change anything."
"Some people feel the rain others just get wet."
"Life begins where fear ends."
"Everything comes to you in the right moment be patient."
"If you think adventure is dangerous try routine it is lethal."
"I refuse to walk carefully through life only to arrive safely at death."
"Ryno Power Gym $99.00 New Year's resolution special."
The above inspirational quotes courtesy of @rynoglobal on Instagram. If you want to feel like a lazy underachiever I highly recommend giving Ryno a follow, this guy is a machine, and a great motivator to set your alarm early then hit snooze six times and wake up late for work.
What does this have to do with Just Short? That is a list of excuses for when the guys you are trying to interview don't get back to you. I'm not placing blame I could have been better prepared, motivated and more persistent. I went my own way and it doesn't always work. You have to mix it up sometimes. Try that new shock setting or if you're Nick Wey that new, shock, engine, linkage and tires setting. I don't have any regrets I went for the holeshot I counted to 29 closed my eyes and dumped the clutch. Sometimes you look like a hero other times you come up Just Short. If Watson hadn't taken the chance on a wrapped cooler he wouldn't have reached his potential and he wouldn't have the innovator award on his fireplace mantel.
#565 – Preston Mull
In an attempt to provide innovative content I sent Preston a DM on Instagram. I thought this could be a game changer in the "journalism". The worlds first Instagram interview. I assure you I even had my clothes on in the picture I sent. I learned the hard way these pictures don't disappear like on snapchat. Well as of this moment 12 hours later Mr. Mull still hasn't looked at my message. His profile picture is just sitting there all blurry mocking me saying it hasn't been opened. Maybe he didn't download the last Instagram update that has the DM feature, yeah that's probably it.
Sure I could post a comment on his Instagram or on his twitter account asking him to check his DM. If I asked enough people I could probably even get his phone number, that whole three degrees of separation thing. But no I have too much pride for that. I'm going to wait this one out, stick to my guns, see this through to the end. To be continued……
#11 Kyle Chisholm – Rock River Yamaha, cycletrader.com
Chiz and I are buddies now, I know we're buddies because I have his phone number. You can read the interview we did when he came up Just Short at A1 right here http://pulpmx.com/stories/just-short-vol-3-1
Like I said before Chiz is a main event guy and I know he and everyone else expects him to be in the main event every week. On Saturday when I got this tweet from @leejonathan_ it made me LOL.
Hey I completely understand who wants to talk about not making the main event. This hurts me just as much as it hurts you, inappropriate sexual innuendos and dick jokes don't come easy. No worries though Chiz and I are buddies now, even better his wife is on Wheel of Fortune last night so lots of non race related topics to cover. How hard is that wheel to spin, what is the safest letter to pick, is Vanna White real she hasn't aged in 30 years? So I fire off a quick and light hearted text to kick this interview off then kick back and wait for a response.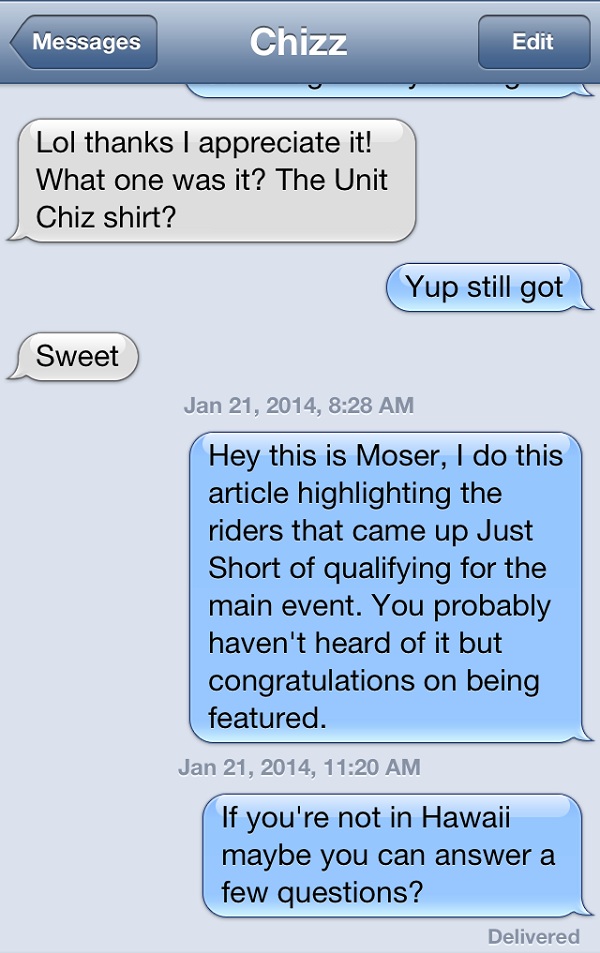 And wait. And wait. And wait. He's a busy guy probably out testing, that reminds me I want to ask him about testing. I saw they had a party last night for the Wheel of Fortune viewing. I'm sure he's busy picking up the mess and/or has people over. Still waiting. Go back re-read text, it's obvious that was a joke right? Yeah Chiz has a sense of humor I'm sure he gets it. Is my phone working? I should send a test text. Hey Matthes? "What?" Nevermind. Maybe they already left on that trip to Hawaii they won, yeah that's must be it. Then I see a RT from @kylechisholm11 roll across my screen on twitter.
He's at a photo shoot, obviously busy I'm sure he will get back to me when he's done. I knew there was a reason he hadn't gotten back to me. Tick tock, tick tock, tick tock.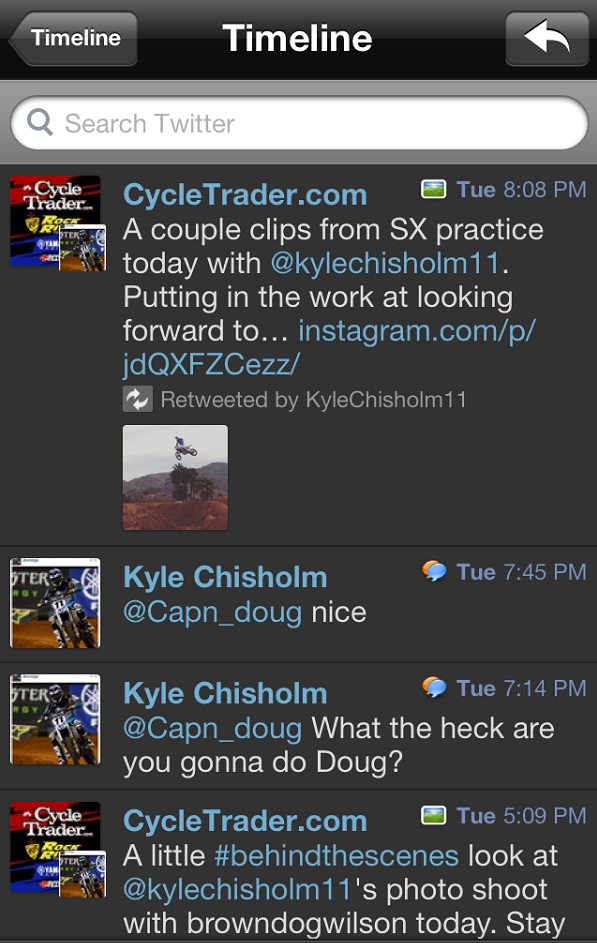 Specify caption here
Well based on his twitter timeline it's safe to say he's no longer busy. Strike two this week on interviews. I don't take it personal, but I may or may not be drowning my sorrows in some of Canadas finest whiskey on the rocks as I angrily type this. I enjoy a challenge you should have seen how hard to get my wife played, and now I got her locked down with two kids and a huge mortgage payment, she's not going anywhere. I stalked Top Jimmy for over a year to get you insider information and I'll do it again. If I have to storm the Wheel of Fortune set or sharpie Chiz phone number on every shady bathroom stall wall I will get this story. You win this round Chiz.
The above information provided would make a porn fluffer proud so in an attempt to make up for that here's another edition of:
Instagram Emulation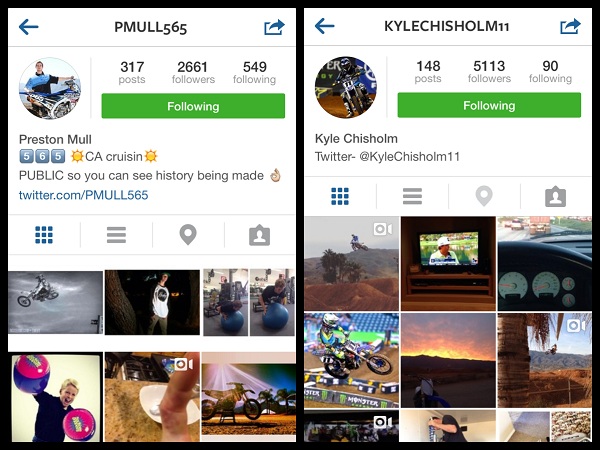 The stats: Pretty even match up out of the gate this week. Chiz has more followers but Mull has more posts and is following a lot more people so this shows he's more of an Instagram purist. Mull is in it for the love of telling a story in a 1" square picture, Walden filter and optional boarder.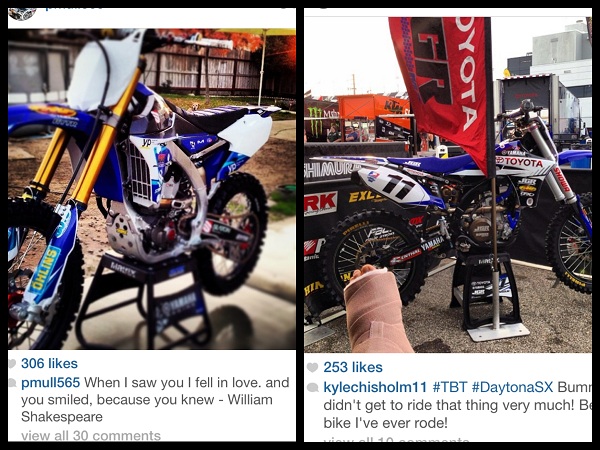 Best bike selfie: I already covered selfies with Chiz after A1 and he only had one so lets examine the bike selfie. Lots of ways to approach this, clean, dirty, from behind, with the lights low or with lots of people standing around watching (also knows as the Mike Craig). Mull doesn't use the best angle here and horrible use of the filter but the sunset is nice touch and the Shakespeare quote sealed the deal. Chiz slipped in just the tip of his broken leg in this bike selife and given the fact he was immobile while taking this picture makes it all the more impressive, win to Chiz.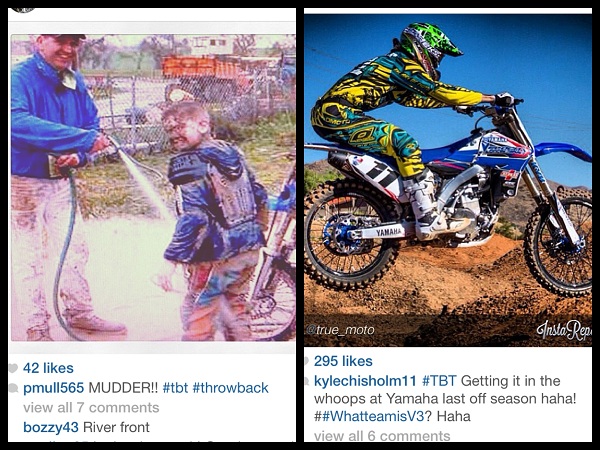 Best #TBT: Hard to beat the getting hosed off by dad amateur mudder race picture by Mull. The #whatteamisV3 hashtag by Chiz was cleaver though. A kid getting the hose can't be beat, it reminds me of my childhood.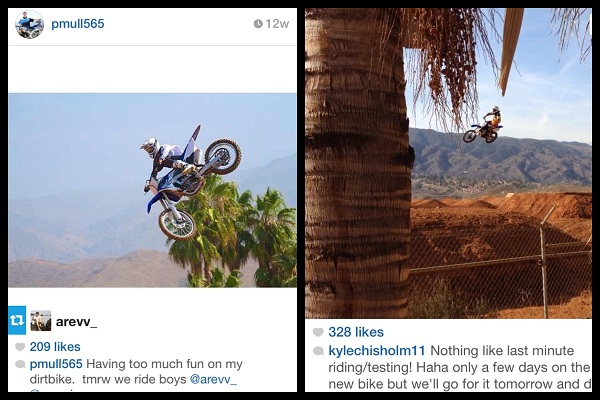 Best whip: Chiz I don't want to tell you how to run your Instagram account, you're your own man but people like to see whips. You don't have any whips, NONE. You don't even really have to whip it that good it's all about the camera angle. Mull wins by a mile, plenty of whips in his timeline to choose from.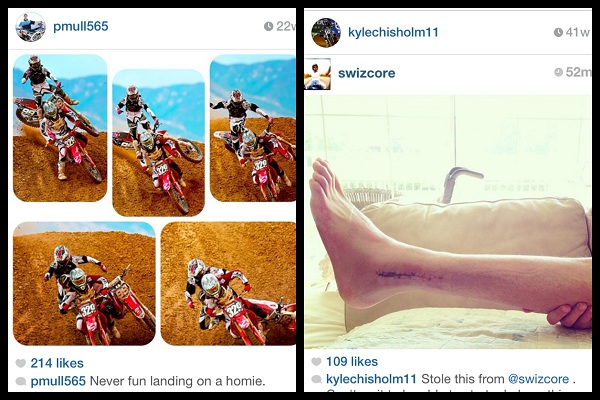 Best crash: Chiz doesn't have any crash pictures I can't blame him it could be bad karma posting that shit. Chiz does document his broken leg recovery pretty well if your get your jollies off that sort of thing go check it out. I can't tell what's going on in this crash with Mull but it's awesome someone caught this on film. I hope and assume everyone was all right. Mull wins again.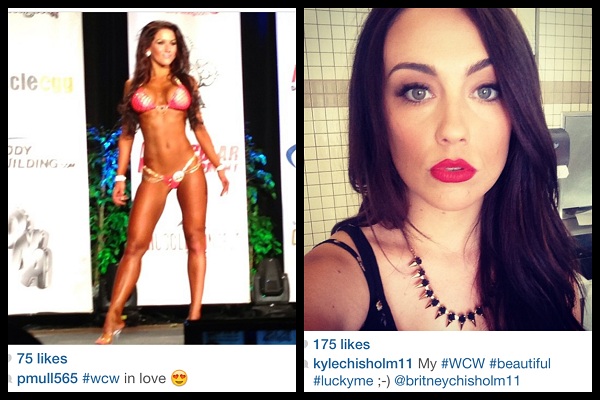 #WCW: I really really hope that Mull is joking with this picture. Chiz and Mrs. Chiz have been together since they were kids, sometimes fairytales do come true. What just happened? I think I blacked out.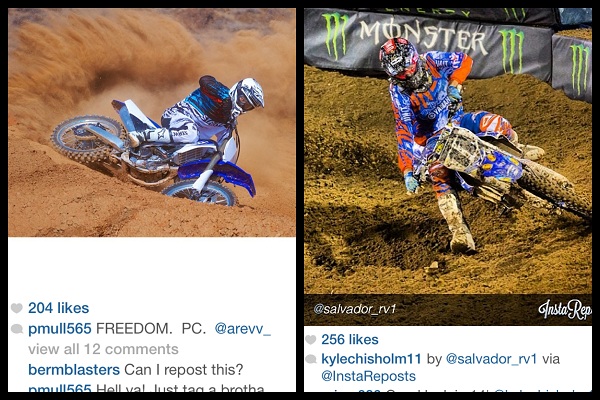 Best corner: Well Chiz you outdid yourself you are lacking as many cool corner pictures as you are whip pictures, common Chiz. Mull shows us how to get the perfect magazine powder roost corner shot.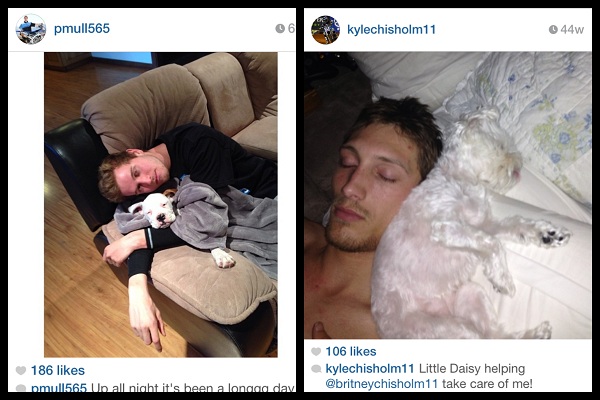 Best pet: If we have learned anything today it's that professional SX/MX riders like to cuddle with their dogs.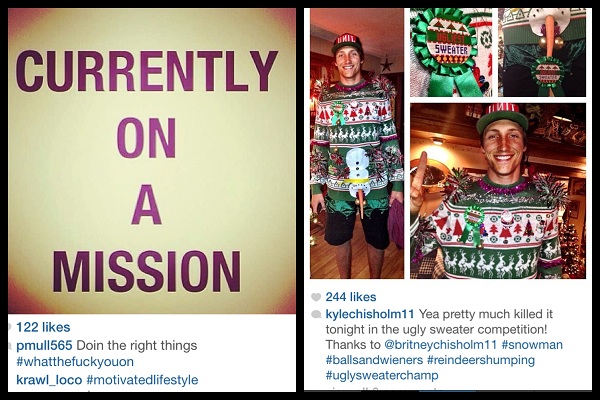 Best hashtag: Mull has plenty of solid hastags #taco #slimeballs but Chiz had me at #ballsandwieners you can't beat that, well you can beat that but anyways.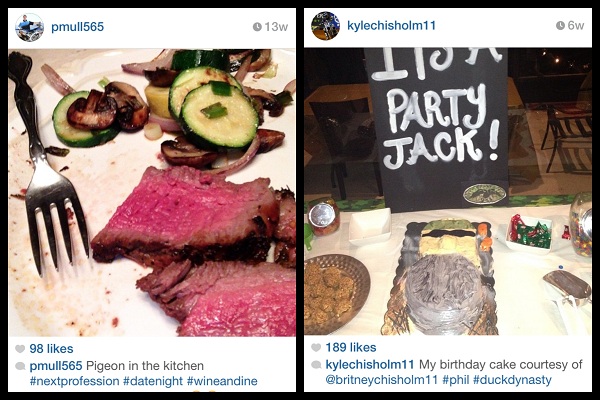 Best food post: Steak, waffles, cake, burgers, dammit now I'm just hungry.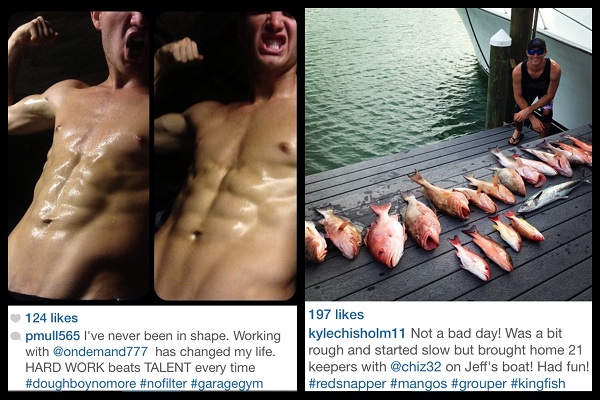 Random: For my female reader (hi mom) here are some oiled up 8 minute abs courtesy of Mull. Fish on for Chiz.
Thanks for reading please send any and all comments to jasonw@racerxill.com