Some of the main players from Saturday night speak
Some of the main players from Saturday night speak
GEICO Honda's Justin Bogle
You came in behind the 8 ball a little bit, then you got to go to the LCQ. So all things considered, you're 5th, you'll probably take it. You'll leave here happy?
I'll take the 5th. I'm still in the title chase and that's really the important thing. I got another 8 weekends to build here for the end goal, which is really all that matters. The heat race was pretty pathetic. It was pretty embarrassing.
I actually tweeted "Bogle last," and then I watched you half a lap. I said, "something's wrong with his bike." Seriously that was the worst first lap I think I've ever seen.
Well, basically what it was is I forgot you had to jump the jumps, so I wanted to roll everything and just check it out. It's been a while since I rode the track. Practice was bit ago, so I decided I was going to check it out first. Unfortunately I didn't have enough juice to come through and qualify, which was incredible. That was a real good start to the night. Honestly blessing in disguise at the end of the day, I did get that LCQ. A little bit of extra track time, another start. Even though you're winning an LCQ it's still fun to go out there and get a checkered flag. So that was good for me, the only bummer on it was starting on the very outside.
How did you make that work?
Honestly I went in and got another terrible start even regardless of where I would have been on the gate. I just kind of cut down and then dudes were just going crazy. Back there it's never any fun, which I was back there all night long. So I definitely learned how to make some passes and how to be a little bit cautious but still going for it. I just put my head down and had to fight for it. No excuses on the 5th place. I felt like I rode really good in the main. I just got a few things to figure out, a few kinks, but it's all good. Like I said, I'm still in the title chase.
You were all over Freise there for a long time, good battle.
Honestly Vince rode really good tonight. I felt like I should have made the pass, but shoulda, coulda, woulda. At the end of the day he rode really good. I was giving him heat. I had the blowtorch on him that whole main event and he wasn't cracking. He's definitely not an easy guy. 5th place though, like I said, still up there, still sitting good for the end goal, so it's all good. I'm looking forward to next weekend. I like that dirt and that stadium's cool.
Let's work on the first lap.
Amen.
****
Monster Energy Kawasaki's Adam Cianciarulo
Look at you, first Supercross race, first win as a professional, and really right from the start all day long you were great. Congratulations.
Thank you. And I can officially say that I did poop my pants when I did win that one. The whole day's been great, and even the weeks leading up to it have been awesome. I came to California right after Christmas and it was a crap shoot when I first came to California. I was not looking good. I was the slowest one on the team by quite a bit. I just worked on everything with my dad and with the team. It's really come together in these last couple weeks, my fitness, everything. It's really come together. I've been feeling really confident. I just wanted to ride my laps today. I just wanted to get good starts and wherever my laps put me, they put me. Tonight I was able to win, but everything from qualifying to heat race, everything went perfect, two perfect starts. That's the way you stay out of trouble, especially with, you saw RV and Kenny back there tonight. They rode faster than a lot of people in front of them but they couldn't make any passes and that was what this track was all about. There were no passes being made. But I had a loss for words.
At one point Baggett got by you, you got him back, getting some banging on. I think about 10 laps you gapped him a little bit and cruised home from there, but for a while there he was all over you.
Yeah, from the beginning actually Martin passed me, I forget where; I think right off the bat.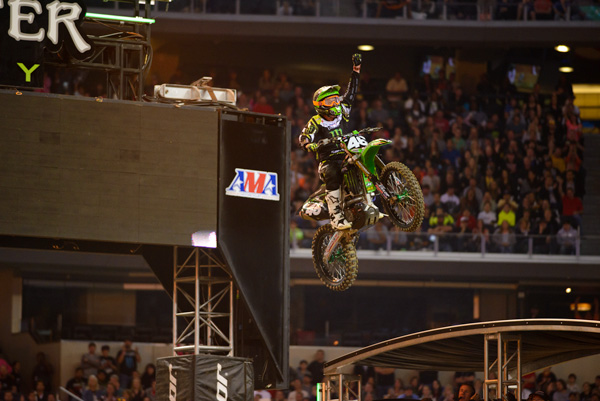 The kid did it. In his first supercross ever! Lissimore photo
He almost knocked you down actually. A little contact and it looked like it shook you up a bit.
I don't even remember. Martin had the race won. I came through the sweeper on the 3rd lap and I could barely even see the guy. I'm like, well, a podium's not bad. But literally that same rhythm section I saw him down at the end, I'm like, oh boy, I can win this thing now. I had Baggett right behind me and I'm like, it's going to be gnarly. He came in on me one time, he was way faster than me in the section before the whoops. I don't know what he was doing; he must have been just railing the dragon's back way faster than I was.
At one point he was going two-two to three-one and I was like, what's he doing? But he was doing it and making it stick.
I don't know what he was doing but he was coming in on me in the corner before the whoops. The one lap he came in, drove me pretty high up but no big deal. And then left me just a little bit of room in the whoops and I made a decision right there. I almost just let him have it. I'm like, second's good for a rookie, don't be the stupid guy that holds it wide open on your teammate. But I wanted the win so bad. It was right in front of me. I had like 6 laps to go. So I pinned it through the whoops. I knew he was going to square me up so I just threw it over the triple and just tried to lay down the lap. I tried to sprint those next two laps in hopes to kind of break him a little bit, make him settle for second. I was able to get a little bit of a gap on him and I just cruised through. I actually thought he was still right behind me until I looked back on the triple the last lap and then I was able to get an outside run for my big one-hander to over clear on the finish line.
You had a rough introduction to the pro scene, rough summer for you. Expectations were high, you had all this pressure on you. This has to just be an enormous, great relief for you, knowing you can do it. I know it's early, but you can think title now.
I don't know if you can think title after one race. We get through the first couple and stay in the top five, on the podium, I think with these starts I don't see why I need to be off the podium. Obviously Jeremy Martin didn't have a good night with not making it, but he's going to be coming back strong. All those guys are going to be coming back. Bogle got a really crappy gate. I don't know where he ended up, but he got a super crappy gate pick for the main event. I'm sure he was all the way outside. All those guys are going to be gunning for it, and now basically they don't have anything to lose.
First thing that crossed your mind when you crossed the finish line.
I seriously looked up at the sky and I literally thought I was in a dream. I swear on my life. And I pulled up on the triple and did this to the fans and everybody went insane. I'm like, this is not happening. I swear, it was the most unbelievable feeling. It's like the moment that I've lived for my entire life.
****
Yoshimura Suzuki's James Stewart
We've been talking a lot lately and I guess that's a good thing. Two wins in a row for you and on a track you probably couldn't push too hard on. You had a great race and took the win.
The track was definitely slippery. They got it better for the night show, it had a little bit more traction, but it was still slippery. It was easy; everybody was doing the same thing…
Well not really, there was the three after the finish.
I did pull that, but I think it was two laps and they all started hitting it. They were going outside and kind of bouncing off. One lap I wheel-tapped it and I was scared; I barely caught the top. I was like, I'll just triple and hopefully I'll make it work, but it was good. I got around Dungey and just rode some good laps. He stayed there; he kept me honest the whole time. I was able to just kind of squeeze away at the end.
Early on where did you think you were catching Dungey and making up time on him? We talked before the race and we all thought it's going to be really tough to make up time on, because you can't push. But was there one spot where you noticed you were catching?
My corners. My corner speed was really good tonight. Before the triple I had that corner down. It's obviously easier when you're in 2nd, but I would say my corner speed was where I was able… We were doing the same thing through the whoops, he rode down the middle, and then dragon's back was the same. Before that I wasn't even jumping the triple-triple, so just corners.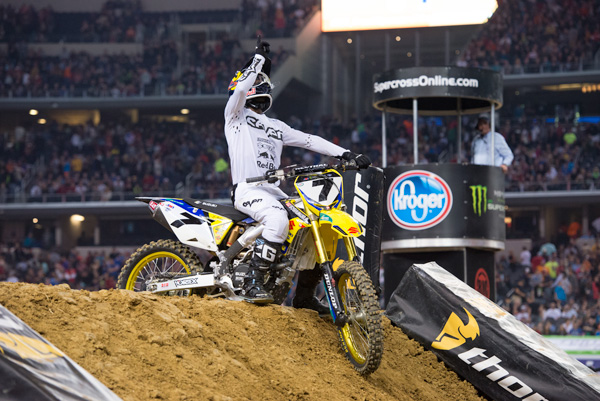 Stewart won his second race in a row with a nice, smooth and clean ride. Photo by Lissimore
You pulling close to the lead, marking those points off, got to feel pretty good right now going into Atlanta and Daytona.
For sure, it is. It feels good just to get a win again. Last weekend it was nice and then to come back and do it again and how I did it, two weekends in a row it feels good. Like I said, I've been riding pretty good all year. It's not like I'm changing my riding, things just kind of started going my way. I got a better start. I'm happy. I think the team's happy. I feel like we're really only going to get better.
I think your bike's a little better this year, or maybe it's a combination of just not that goofy stuff happening. But it looks like you're really in tune with your bike.
I am. I think everything, a good off-season, I've been kind of preaching that, you get a good off-season you get a good base. And with Rob coming over, and even with Adam there, the bike got better. But I think honestly my corners have been really good this year. The way the tracks have been you've got to have good corner. We kind of struggled a little bit in the whoops we kind of started to figure that out a little bit more. For sure, the bike is better this year.
You run a sand tire again out there?
Yeah, in the heat race I ran the hard-pack tire and then in the main event I went to the sand tire and I think a couple other guys went to the hard-pack. It was give and take. In the heat race I kind of had traction, wheelied, and then I spun so I just went with what I know.
You re-signed with Suzuki who came out this week, 2015. Talk about that. One year deal. Did you want to do two? Was it your choice? How did that come together?
It's actually more than one year. 2016 is kind of up to me what I want to do. So it's nice to be able to be here and hopefully everything kind of stays the same. It's nice. I've been enjoying my time, obviously; I guess you guys can see that. Me and the team are really gelling. Honestly racing-wise it's probably the best I've ever been for a while. It's been good.
Some of the other teams you've been on, Webb grabbed you in a headlock and you started punching him and he was punching you… Some of the other teams you been on, I don't see the team manager and you exchanging headlocks and friendly punches. So I think things are happy over here. It seems like everybody's pretty pumped.
I did it with Larry (Brooks) too, it just went the other way. Honestly those guys see how hard I work. We went from being really good in outdoors the first year I came over and having that bad season for the rest of the year, same thing with Supercross, just had a crappy season and even outdoors. So it makes it nice when they really don't change and they come to you before I even won a race. I signed my deal three weeks ago. They said, we want you on the team. They could just see how close I was. That's definitely nice. It's really good to know nothing really changes. My attitude's a lot different. I'm enjoying it more and I think it's showing.
*****
Honda Muscle Milk's Justin Barcia
I imagine a guy like you, this is a relief more than excitement. Like you're relieved that "hey, I'm on the right track."
It's exciting but the relief is way bigger than the excitement just because I've known I can be in this position and be running up front but things have gotten in the way and it's unfortunate, but definitely something to take the steps in the right direction, so that feels good.
As much as you can, what's been going on? I know I talked to Stanton a little bit and you had a good week with McGrath working on starts and he really thought that was going to be…
I thought that was going to help me a lot, but for me this is the strongest I've ever been, the best shape I've ever been in. I feel like I'm the best rider I've ever been. Before the season I got my bike really good and I felt comfortable on it at home. You know how you feel at home, it's like this is going really good. You're not riding with really anyone. Got to the race and it was a struggle. I feel like a few of the guys had their stuff dialed a little better for starts and stuff and my bike was a little off on the starts. The team's been working on it, working on it, working on it. They know there's a problem.
Traditionally you're a pretty good starter.
Yeah, very good starter on 250s and since I got on the 450 they just haven't been the greatest. One here, one there, but it's too inconsistent. So we've been working on it, trying to get it better. We're definitely taking steps in the right direction and trying to make it better. I'm not going to say it's all Honda and I'm not going to say it's all me. It's a team effort. The guys know there's a problem and I know there's a problem and Stanton knows there's a problem and everyone around me knows there's a problem. We're all working on it and it's not like they're giving up and definitely for me I'm not giving up because I want to be up there winning races. So everyone's working hard.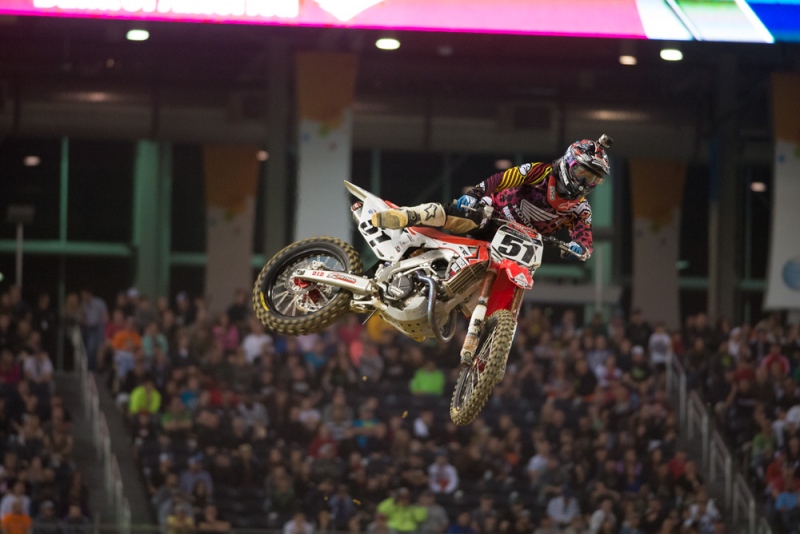 Justin Barcia collected his first podium of the year in Dallas. Lissimore photo
Crazy night for you in the sense you're 3rd, you're 6th or 5th and then you're back to 3rd. It's a nutso race a little bit.
It was a crazy race. The competition's so fast. Everyone's so close. I was in 3rd and then Brayton got around me, passed Brayton. Roczen kind of passed me, I passed him back. And the track was one-lined and it was really slick. I liked the track a lot, don't get me wrong, but it was a tough track to race on.
I don't know if you heard but Roczen wasn't pumped on you throwing it at him.
But like I told everyone I didn't know he was next to me and I scrubbed that triple the same exact way every lap. I heard he cried about it, and what's new, whatever I do with him he cries about it. This is racing. It is what it is. But on my side, I scrubbed like that every lap. So it looks way worse because I looked over, but the only reason I looked over was because I heard him rev, and I didn't know he was there. So all in all, sorry his feelings are hurt, but it's racing.
I think you'll be better at Atlanta, your area, Daytona, a good track for you. East Coast, right?
Yeah, this is East Coast but the dirt was extremely hard. So it was good. Atlanta I like a lot, it feels like a home race. Daytona feels like a home race. I like Indianapolis. I've had a lot of good luck on the east coast.
You are two-time 250 East Coast champion.
Yeah, that's nice, but this is the big boys now. I kind of look past that and it's time to shine. Definitely working hard. The team's working hard, I'm working hard. The bike's getting better and I'm feeling better and getting more comfortable.