The stage is set from an early age for the racers: they are the epicenter of their family's entire lives.
The stage is set from an early age for the racers: they are the epicenter of their family's entire lives.
By Isaac Scoggin
Photos By: James Lissimore
The stage is set from an early age for the racers: they are the epicenter of their family's entire lives. When they transition to the pro ranks at such a young age that is all they know. So it comes as no real surprise, or it shouldn't, that they struggle to find a home among other racer's garnering as much attention as them. It is a unique sport that incorporates a lot of teamwork into individuals who ride under the same tent. Obviously, they begin to do one of two things; either find themselves among the team, or pull away and isolate themselves. Personality plays a key role in this whole process along with self-assurance that they can share the spotlight and still succeed.
The Pro Circuit Kawasaki Team is a stomping ground for up and coming champions, and has also housed some of the most seasoned veterans over the years. It is the perfect culture to place under the microscope and observe. Especially this year with Baggett, Wilson, and more recently Cianciarulo added to the mix, it is an interesting dynamic with different personalities and their approach to winning differing greatly. So how do the teams function with multiple "I's" in them?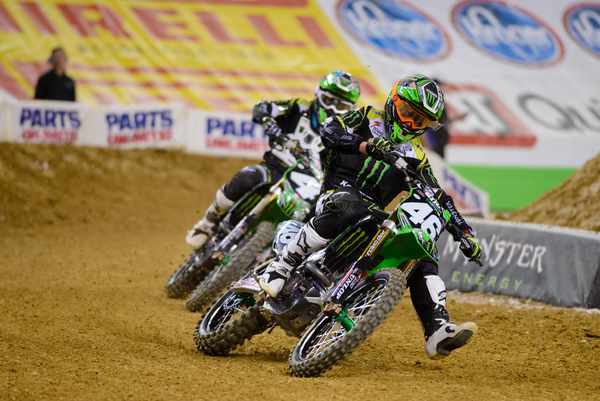 The Pro Circuit squad has the rare publicly known internal-rivalry with AC and Baggett.
Of course, this whole aspect was put in focus when Baggett rolled on by his two teammates celebrating after sweeping the podium in Dallas. He had as much a reason to celebrate as anyone. He has had a couple years of SX that were more than forgettable, but in one race he nearly led some laps and came away second. That is a triumphant return if I have ever seen one. Without knowing him personally it appears that he was more upset about who he lost to rather than that he lost. As it sits there are no rules to support your teammate, only for the team to support you and for you to respect the work put in by the team. Let's face it, if all fast teammates respected each other there would be much less motivation to be the top finisher every week. From the outside looking in it says one thing, but maybe it is another. Maybe his personality is one where he is never happy unless he wins. Perhaps it is jealousy? Then again we are all jealous of the person who won, so long as they won without cheating. The green team may have to cool things down if the season shapes up into a three-way battle for the championship between them. Someone has to lose.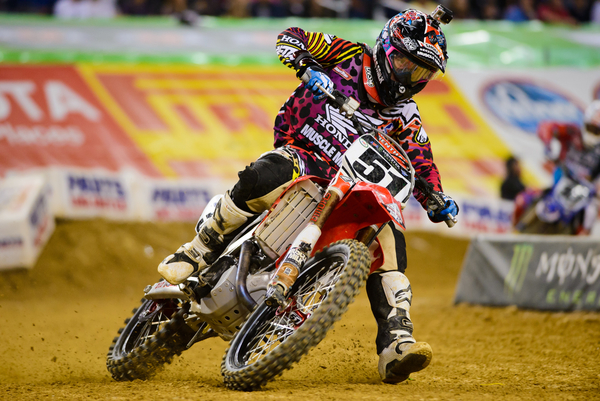 Barcia has been flying the Factory Honda flag solo thus far in 2014.
Don't think for a second this concept escapes the 450 class either. Aside from KTM no other team puts two top-tiered riders together. Villopoto is a few steps above Weimer, James has no teammate and neither does Chad Reed. Barcia has Canard but it is hard because he is injured so much that he is easily placed behind. Once he gets racing and puts some motos in he is equal. We have seen problems as recent as Bercy between two riders that are decent friends off the track. You can put that up to anything you want, but mainly it is due to Barcia's personality of doing whatever it takes to win. You could clearly see Canard has a level of respect for his teammates and tries to show that respect on the track. Will the time away from the racing make that respect dwindle slightly? And we can all agree the one thing Canard has never lacked is desire. It will drive him to get back out there and it will drive him to beat Barcia. I believe it is also a contract year for him and Barcia so that adds a level of urgency too. Competing for respect, position among the team, in the win column, and for a ride next year…sounds like a breeding ground for aggression and animosity.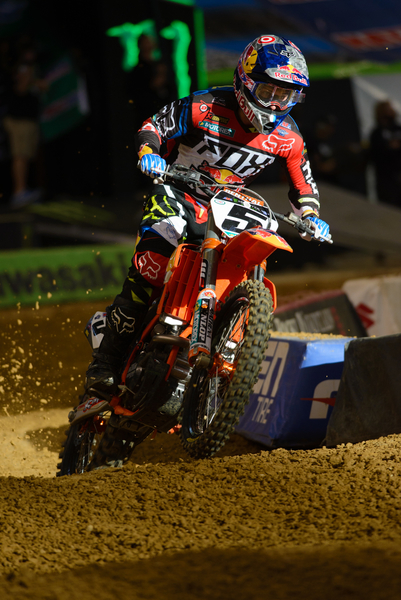 Dungey has had to adapt to sharing the 450 spotlight on the KTM squad this year.
Then again maybe we make a bigger deal of it than the riders do. We push the Roczen Dungey thing pretty far with ideas of how pissed Dungey must be to lose to his rookie teammate. In reality I think we all know Dungey is pissed about losing in general, and that has nothing to do with Roczen. It is part of being a professional at this sport. It is the mentality that winning is the only thing to aspire to that drives all these riders to push the limits of bike and body. And let's not get too convoluted here either, everything that happens on the track or among teammates becomes personal. Everything in moto is personal. It takes too much out of each individual rider to not be. So the next time we wonder if someone is taking a loss personally, even on the professional level, just remember that only in moto is there an "I" in team.