The GP's have started…here's the report from the first round under the lights
The GP's have started…here's the report from the first round under the lights
Article: Jonathan McCready
Pictures courtesy of Youthstream
What a GP that was!
But first off we will start off with an apology from Jeffrey Herlings:
Dear Everybody.
Sorry I was riding like a amateur today. I can cry about my riding. I will be back stronger and better next week. I promise. Oh Ps. I am a professional motocross rider. And it was not the first time I was behind a racing gate. Even if it looked like that……….
Yes, that's right, the winner of the MX2 GP is apologising on Facebook for his "amateur" riding. There are two schools of thought on this. The first is Herlings is arrogant and disrespectful of his opponents. The second is he is ambitious and only expects the best from himself.
I think truth lies somewhere in between. Herlings was beating these guys by 30 seconds or more last year, it is not arrogant to think he is capable of doing the same this season. When you are a two time world champion it is normal to expect to win like you did the year before, but you can't count your chickens before they hatch.
The problem is Herlings hasn't raced for six months, he is not in top form and in addition the competition is improving. Herlings is the target for every single rider in the that class, they are gunning for him and using him to improve themselves.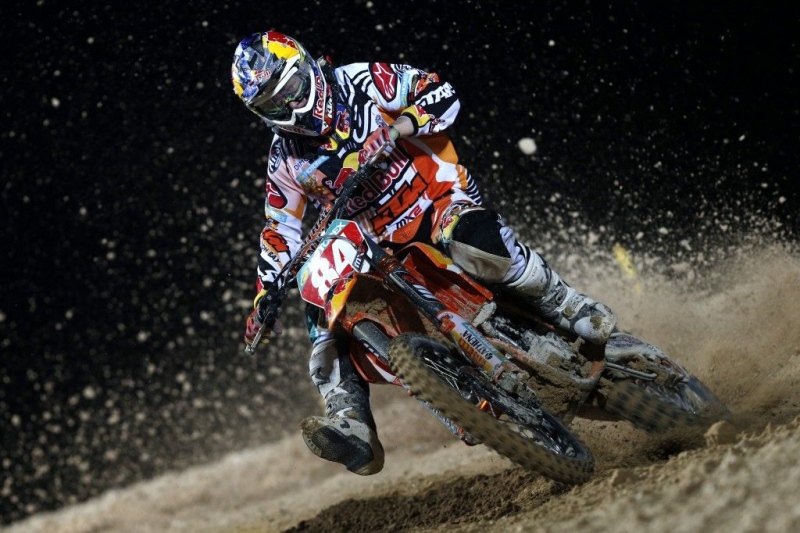 Herlings wasn't the fastest guy at Qatar but he made it work for the win.
The other difference is Arnuad Tonus is back. Tonus is extremely talented and when he is on form, as he showed at Qatar, can give an off-form Herlings something to think about. Tonus came from last in race one to tenth and outside the top ten in race two to almost win the race after catching Herlings.
I think Herlings discovered two things at Qatar, one is the time off hurt him more than he expected and the second is the competition have improved more than he expected while he has been sitting on the couch with his injuries.
Herlings is a champion, he doesn't accept anything less than the best from himself and that outburst is more a reflection of his analysis of his own perfermance being below his best than it is of his compeition. It is that mentality that makes him the champion he is, many people would be satisfied with winning but Herlings isn't, he always wants more.
But I think Herlings knows he let the competition get some confidence at Qatar, they are starting to believe he is beatable. Herlings knows this is dangerous so expect him to try and dominate in Thailand and set the record straight.
Whether he can or not is another question because the other riders have stepped up and one week isn't going to make a dramatic difference in Herlings making up for a lack of bike time over the winter.
That said, Herlings still found a way to win despite the bad starts and what he deemed terrible riding. And finding a way to win on your bad days is why he is the world champion.
But it could have been so different! Poor Max Anstie should have left Qatar with a double win and the red plate.
Anstie, feeling the effects of food poisoning on Friday, was not on the pace at all. but come race time Anstie picked it up and controlled both races until the final few laps when he encountered engine touble and was unbelievably forced to DNF.
It was pretty much a repeat in race two when Max stalled with a couple of laps to go when he had the race seemeingly won! He eventually got restarted but only got 17th. Four points instead of fifty is a bitter pill to swallow for the team and especially Max. He has already a lot of points to make up on Herlings when he should have been right there in the points. It will be a long flight to Thailand.
On a positive note Anstie has shown to everyone that, finally, he is for real. After three seasons of promising that type of performance Anstie finally delivered. Although he always demonstates a lot of self-belief in interviews, deep down this will really have made a a difference. It's not just rhetoric now, Anstie knows he can do it and he has proved it.
Dylan Ferrandis did it! He won his first ever GP moto in what might just end up as the race of the year! After Anstie went missing, Ferrandis found himself leading but with Coldenhoff and Herlings all over him in the final two laps.
The Frenchman was impressive in keeping his cool under the most pressure he has ever had in his life to take the win by just half a bike length.
For a while in moto two Ferrandis looked like we was going to win the overall after holding Herlings off for a while. But once Herlings got by, Ferrandis couldn't keep the pace and dropped back to sixth.
But it was still good enough for second overall and a great start to the season. Last year Ferrandis was coming off a broken leg but this year he is fully prepared and it shows. The kid is a big talent.
Three cheers for Thomas Covington. What a ride by the young American. Covington grabbed a good start and stayed there throughout the entire race. He wasn't intimidated, didn't ride over his head and limited the mistakes on a tricky track. The factory Kawasaki rider is using the GPs as preparation for the AMA nationals but if he keeps this up he might just end up staying for the whole season!
The competition in MX2 is crazy. Just to illustrate, Tim Gasjer got tenth place in the second moto but was only three tenths off Covington's best lap and the American was on the podium! Indeed Gasjer's best time actually matched Anstie's and Anstie was on his way to the win!
These guys are all so close in speed it is coming down to a good start and not making mistakes becuase unless you are Herlings or having a superb ride like Tonus, it is going to be hard to come through the field.
The young kids are stepping up and they all believe they can be on the podium. And now they might just start believing they can win.
Romain Febvre highlighted that self-belief when he gave Herlings all he could handle half-way through moto two. Febvre wasn't intimidated in the slightest and made the podium in Qatar for the second year in a row to give Husky their first podium at the first round.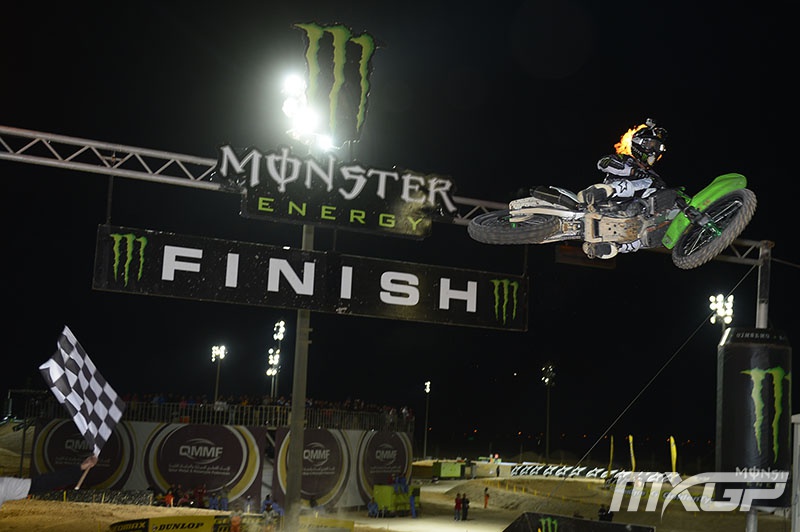 The Frenchman Gauthier Paulin won the opening round of the "new" MXGP class.
In MXGP Gautier Paulin showed that he is out to win the World title. Paulin had a third in moto one and lost a race long duel to Cairoli. But he rebounded in style by holeshotting race two and, after an exciting battle with Frossard, eventually controlled the lead and took the win and the overall.
Paulin will have the red plate going to Thailand and the win seems to have solidified in his mind that he is ready to challenge Cairoli.
It could be a harder year for Cairoli because both Max Nagl and Steven Frossard are finally fit and healthy. And both showed the speed they used to have is still there.
Nagl rode fantastic. After two years of injuries, the German is ready to show everyone he still has what it takes. Credit must also go to Honda for continuing to believe in him and supporting him throughout last season.
Nagl controlled race one and didn't make a mistake in the closing stages even when Cairoli put the pressure on. Nagl's mental strength had been questioned in the past but it seems Max might just have rectified that problem. In race two he hounded Cairoli all moto and although he didn't make the pass, it is the first time in a long time Nagl has ran with Cairoli for two motos at a GP.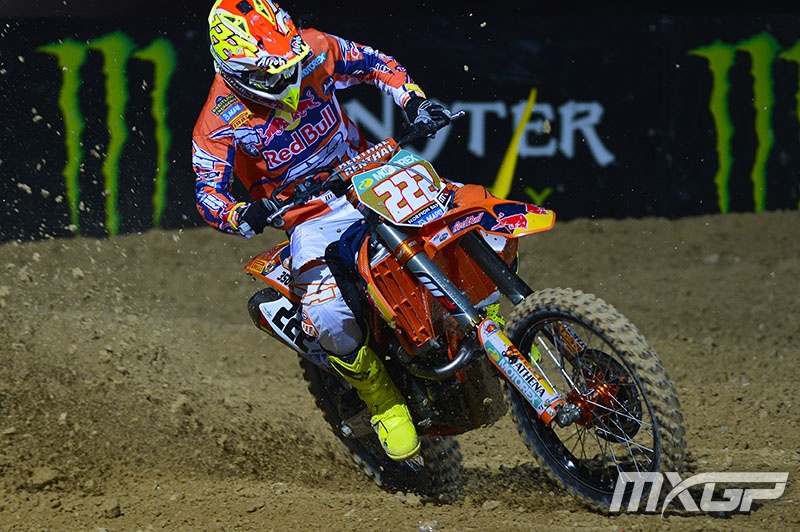 Antonio Cairoli has a hurt ankle but he's still plenty fast enought to get this done.
Credit also to Steven Frossard. Like Nagl, Frossard has had two years of injuries but already looks back top the level he had in 2011 when he was able to beat Cairoli in races. Frossard looked a rash at times but no doubt the adrenalin was flowing at getting to run at the front again.
Cairoli, despite what seems to be more compeition in 2014, still made the podium and that was with an ankle injury. Cairoli admitted pain when he put his foot down in left hand turns but he still almost won race one and rode smart to third in race two.
Clement Desalle and Tommy Searle never saw the front of the pack all day. Bad starts in a high quality field of GP winners means that you just aren't going to be able to get on the podium.
Searle is still searching for the final peice to really challenge for wins and getting bad starts isn't helping him find it because he isn't even getting to battle at the front to learn. Searle isn't riding badly he just isn't giving himself the chance to run with the leaders.
Desalle is still recovering from his shoulder injury and has had limited preparation but admitted to struggling on the Qatar track and was not happy with his performance. He will be looking to start at the front next week because he won't want to start losing too many points this early in the season to his title rivals.
Kevin Strijbos holeshot race one and had to come from behind in race two but was left disappointed after admitting to getting arm pump in the first moto. Strijbos was still impressive because he hasn't been riding long after a winter pelvis injury that is still giving him pain on the bike.
It seems both Suzuki riders are still riding themselves into form and both should get there in the next couple of rounds.
Evgeny Bobreyshev has to be sick of riding in pain. Battling more injuries Bobreyshev showed the speed but justg couldn't last the race distance. Top ten was good under the circumstances.
The surprise of the day might just be Joel Roelants. The Belgian who had an awful year last year is on a privateer Honda but worked his way up to tenth place in both motos. Roelants could be one to watch once he gets his confidence.
Talking of confidence, Shaun Simpson has it and looked good all weekend on the HM Plant KTM. He just missed out on a top ten in race one and was running top ten in race two when he was forced to DNF. Hopefully Simpson won't let his head drop because his riding and lap times were impressive.
Jake Nicholls deserves a medal. Just three weeks after breaking a bone his back the Wilvo Forkrent KTM man took fourteenth overall. It looked like Nicholls wouldn't even be on the gate but he pushed through the pain barrier and gotr his rewards. Expect Jake to be challenging for top ten once he is fit.
It was a tough weekend for the Factory Husky team. Tyla Rattray never even made it to the main races. He pulled out after warm up after re-injurying his broken finger. But Rattray wasn't on the pace all weekend and looks set to miss the remaining fly-away GPs to let the finger heal. It looks like it could be a difficult year for the former world champion.
Todd Waters was solid if unspectacular. Eleventh overall is an adequate start to your debut GP season, but the team will want both riders to be top ten regularly as the season progresses. Having the Husky MX2 riders going faster than your MXGP riders isn't an ideal start to the season for the MXGP Husky team.
Overall the opening round of the GP season created more questions that answers. Can the likes of Paulin, Frossard, Nagl all remain healthy and keep Cairoli in sight this year? Can Searle get himself amongst the front runners and get a win? Will Desalle hit back and re-establish himself as a title contender?
In MX2 everyone wants to see if Herlings can re-capture his 2013 speed or have the rest of the class caught up. Can Covington keep up his impressive speed and challenge for a podium in Thailand? Will the real Jordi Tixier show up? What can Arnaud Tonus do with a good start and can Max Anstie get to the finish without any bike problems?
Thailand can't come soon enough!