Pulp reader breaks down the 2014 SX series using a different points structure
Pulp reader breaks down the 2014 SX series using a different points structure
(I've often ranted about how we need to revamp our basic points system that's been in place since the sport was started. Let's create some new interest and new drama with our points that don't award anything other than a basic finishing position in the main event. Why shouldn't fastest qualifiers, holeshots, wins in heats and semi's mean mean something? It gives the racers something to try for, every time out on the track should be an opportunity for points no? Well, I'm too lazy to figure anything out but luckily for you guys, reader Kevin Kalb is not and he's sent me this. Take a gander and see how things could be so much different right now–Matthes)
On the Pulp MX show it has been discussed that the point structure for supercross should be revised / updated. Because of this I have been keeping track of my own revised point system. I award the points for the main event the same as the AMA, but I also award two points for a heat race win, one point for a semi race win, 5 points for the main event holeshot and one point for each lap led in the main.
This gives the 450 main event a total of 50 points available. Below is my points breakdown for the 450 AMA points, as well as the 450 class points for the revised structure though the Indy round.
Note that Stewart was leading my point structure before he crashed at Atlanta and gave up a lot of points. This point structure also has a closer margin between the top two than that AMA points.
Thanks, Kevin Kalb
CURRENT AMA POINTS:
POSITION / RYDER NAME / POINTS
1 RYAN VILLOPOTO 184
2 RYAN DUNGEY 161
3 KEN ROCZEN 158
4 JAMES STEWART 154
5 JUSTIN BRAYTON 143
6 CHAD REED 111
7 JUSTIN BARCIA 109
8 ANDREW SHORT 109
9 WIL HAHN 93
10 BROC TICKLE 93
11 WESTON PEICK 68
12 IVAN TEDESCO 62
13 JOSH HILL 58
14 JOSH GRANT 56
15 MIKE ALESSI 55
16 NICK WEY 52
17 JAKE WEIMER 50
18 ELI TOMAC 48
19 MATT GEORKE 41
20 MATT MOSS 29
21 KYLE CHISHOLM 29
22 VINCE FRIESE 28
23 JIMMY ALBERTSON 22
24 CHRIS BLOSE 22
25 COLE SEALY 20
26 NICOLAS SCHMIDT 13
27 DEAN WILSON 11
28 KYLE PARTRIDGE 10
29 JUSTIN SIPES 7
30 CODY GILMORE 3
31 JIMMY DECOTIS 3
32 PHIL NICOLETTI 2
33 T. PARKS 1
34 RONNIE STEWART 1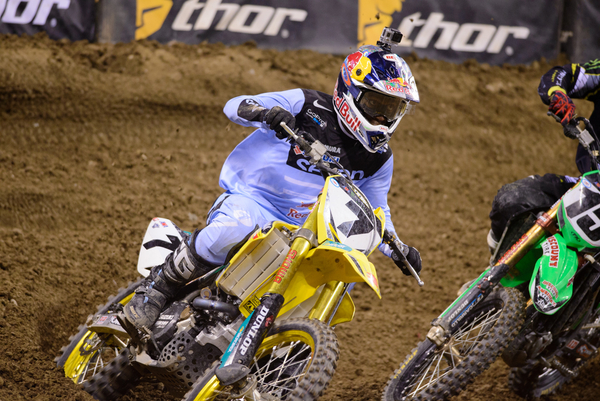 In Pulpmx reader Kevin's world, James Stewart would be second in the points based on heat races, laps led and more. Photo by Lissimore
REVISED POINT STRUCTURE:
POSITION / RYDER NAME / POINTS
1 RYAN VILLOPOTO 237
2 JAMES STEWART 220
3 RYAN DUNGEY 199
4 KEN ROCZEN 184
5 JUSTIN BRAYTON 160
6 CHAD REED 134
7 ANDREW SHORT 117
8 JUSTIN BARCIA 112
9 WIL HAHN 95
10 BROC TICKLE 93
11 MIKE ALESSI 79
12 WESTON PEICK 70
13 IVAN TEDESCO 62
14 JOSH HILL 59
15 JOSH GRANT 56
16 NICK WEY 52
17 JAKE WEIMER 52
18 ELI TOMAC 49
19 MATT GEORKE 41
20 MATT MOSS 36
21 VINCE FRIESE 33
22 KYLE CHISHOLM 29
23 JIMMY ALBERTSON 23
24 CHRIS BLOSE 22
25 COLE SEALY 20
26 NICOLAS SCHMIDT 13
27 DEAN WILSON 11
28 KYLE PARTRIDGE 10
29 JUSTIN SIPES 7
30 CODY GILMORE 3
31 JIMMY DECOTIS 3
32 PHIL NICOLETTI 2
33 T. PARKS 1
34 RONNIE STEWART 1