Photographer Mike Sweeny looks back in his archives
Photographer Mike Sweeny looks back in his archives
Hi everyone, from the late 80s through the mid 90s I was a contributing photographer for Hi-Torque Publications (MXA and Dirt Bike magazine). The photos that you see here were never published and have been stored as 35mm slides for the last 15-20 years. A month or so ago, I finally got around to purchasing a quality scanner and the journey began, going through these images has been a revelation, as I haven't looked at any of them since I put them away and had only seen them as tiny little 35mm slides. Scanning them, then seeing the images on a computer screen has been like seeing them for the first time, they stir up lots of great memories, and bring back a great era for motocross, lots of bright color, big characters and of course, some true legends of the sport.I hope you enjoy viewing them as much as I have-Mike Sweeney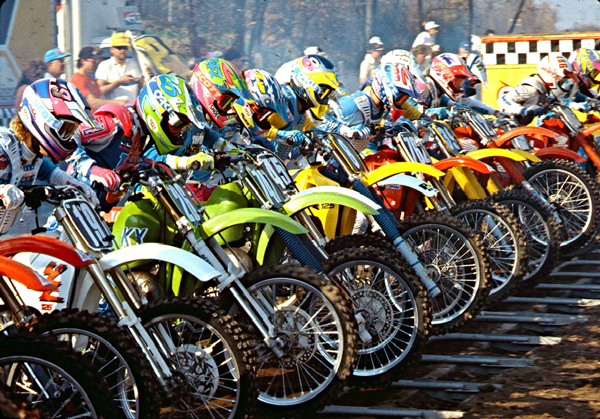 Lots of legends right here.
Sweeney- "Starting line shots.
I've always loved that classic shot down the starting line of riders just leaving the gate, the moment that the action goes from inert to active, the wall of noise hits you and bedlam ensues.
Over the years the sound and smell has changed, the gear looks different, the bikes and equipment has evolved but one thing remains the same. The riders and their will to win at any cost.
This photo taken in 1989 at the AMA Unadilla Fall National, going down the line we have a couple of Honda front fenders, I'm pretty sure they belonged to Guy Cooper and George Holland, next to them and first in the frame is Mike LaRocco on the #19 Yamaha. Chicken is next to him on the single side radiator Kawasaki with a very trick pipe and USD forks. Next to him and also getting a great jump, (no surprise) is Jeff Emig on the infamous #747 KX 125, he's already starting to cut over on Damon Bradshaw on the #45 Yamaha. Erik Kehoe carries a high front wheel on his RM and the MX Kied, Mike Kiedrowski is next to him staying low on his CR125. To Mike's left you can see a couple of MXA regulars, Jimmy Gaddis on the #39 RM and Larry Brooks on the #12 Honda CR.
Just as today, every single rider on the line has the will to win, some would go onto win multiple championships, some already were champions and a few would toil for years never quite reaching the pinnacle of success that is an AMA National title.
Looking back on this photo, I think it's cool to check out all of the future champions, all of them carrying two and three digit plates, none of them could possibly know what was in store for them, yet all of them shared one thing in common, a burning desire to get there.
By the way, on this day Damon, Kiedrowski and LaRocco would go on to finish 1-2-3 in that order."