The jury is still out on this rent-a-supercross star program.
The jury is still out on this rent-a-supercross star program.
D-BO Moto Tours
#SeattleSmooth14- "Be careful what you wish for"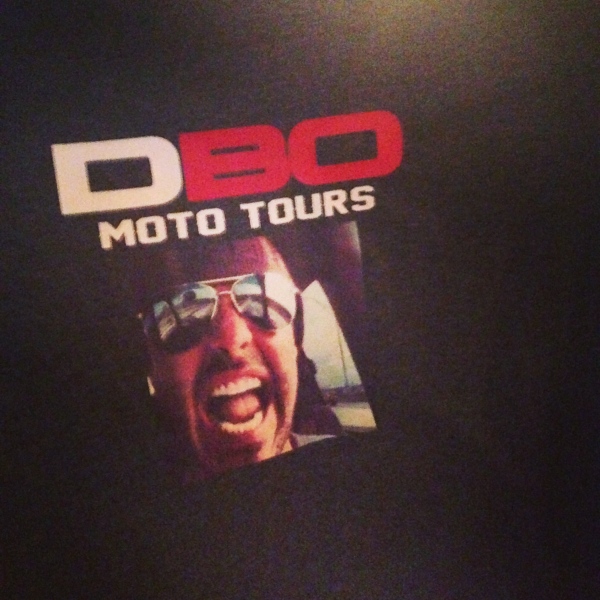 Yes there were t-shirts made.
We rented Dennis Stephenson for the weekend. Even as I type this I have a hard time believing it all came together. Our "crew" roadtrips to Seattle SX and the Washougal national every year it's become an annual man trip tradition. Each year we joke about how we couldn't possibly have more fun than the previous year and that this year, could be the year that someone actually dies. We will give Matthes credit for the concept but just like Patrick Swayze in Ghost we molded his Moto Tour's idea into renting DBO for the weekend. Here is the backstory that lead to the indecent proposal.
Through my involvement with PulpMX (I was rated 2nd favorite employee on the PulpMX pole) I have acquired a frightening amount of moto industry related phone numbers. One of these numbers happens to be Denny Stephenson's. I had done some impromptu interviews from him via text about his buddy Cody Gilmore and we both share an admiration for Dave Castillos abs. There is a never-ending group text message amongst our "crew" that drains my iPhone battery and work productivity.
We were discussing our excitement about the upcoming Seattle SX on the never ending group text when Buell states "we should fly D-BO out he would be fun to party with". We all immediately made fun of Buell's man crush but couldn't argue with his logic. With the legacy that is D-BO and his time on the PulpMX show it was clear much like ourselves DBO likes to have a great time. It takes a special type of person to participate on these road trips. We have close friends that refuse to accept our invites and partake in our adventure and others that have gone once and vowed to never ever go again. Inviting
D-BO was a rational choice, the irony being Buell isn't known for his rational decision making skills.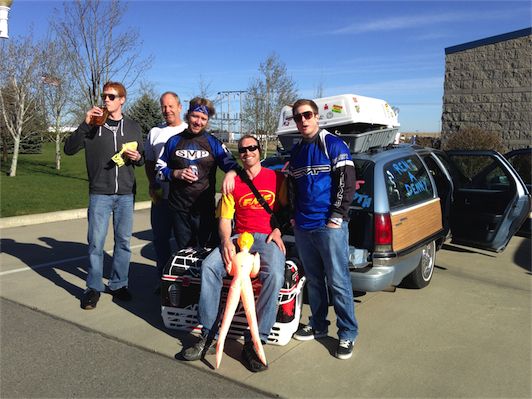 The usual suspects from left to right: Big Red, Poor Tom, Moser, Buell, Blow up doll (name unknown), Cryer.
Now I had to be the creepy guy to actually extend this offer to DBO. Lucky for me I have some experience in these situations. Keep in mind I don't know D-BO I've only texted him a couple times to pump him for information.
Moser – "Hey my buddy wants to fly you out for Seattle SX, we road trip there every year it's about a 5 hour drive. We'll take care of everything it's a good time. I'm serious we are a sure thing, you should cum"
D-BO – "That's awesome thanks for the invite let me check my schedule. You're creeping my out with the way you spell come though"
I take a screen shot send it to my buddies and we have a good laugh. There is no way DBO was going to get back to me, but it was funny, and it gets Buell off my back who was going to be relentless about me inviting
Two days later:
D-BO – "I'm free that weekend, I'm in, sounds like a good time"
Moser – "Oh shit this is going to be epic"
Do you know how many jokes you can make about a man renting another man for the weekend? It will never get old making fun of Buell renting DBO. Hilarity ensued when Buell realized he had already booked a flight for himself to a concert in Arizona the same weekend as Seattle SX. Long story short Buell forfeited his plane ticket to Arizona and we helped him offset the DBO flight cost by picking up the room and drinks (Buell likely came out ahead in hindsight). Short of the flight info D-BO didn't have any questions about the trip just stated he was always up for an adventure.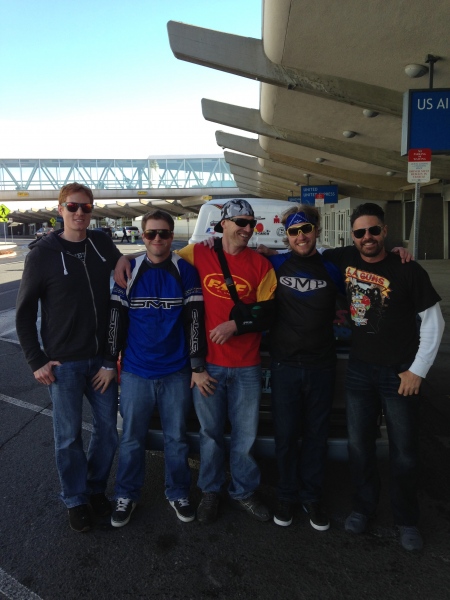 Even under his sunglasses you can see the fear in DBO's eyes, he was surely thinking to himself "WTF have I gotten myself into?"
Smash cut to roadtrip day. D-BO was landing at 9:30am in Spokane WA we planned to pick him up and hit the road in the Woody. The 1991 Buick Roadmaster Estate Wagon with wood paneling and luggage shuttlecock my wife bought me. We have the same core group of guys that participates on these roadtrips although it varies slightly from year to year.
This year included The Cryer (Holliday), Big Red (Alan), Buell (Buell) Poor Tom (Tom). If you are going to pick up D-BO at the airport you draw on the car windows like teenage girls, wear retro jerseys, present him with a blow up doll upon arrival all while spraying champagne.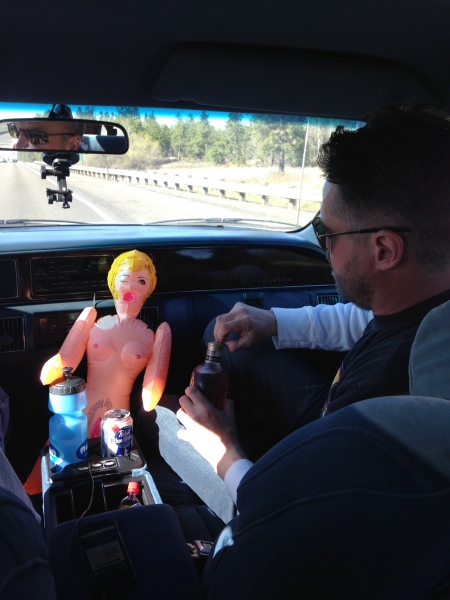 D-BO's only request was to ride shotgun, providing him with this small luxury was the least we could do.
Sure we were about to spend five hours in a car with a guy we didn't know but this isn't our first rodeo we've found ourselves in this situation before.
My mate from down under O'Rourke described it perfect when he picked me up at the airport at A1 last year. "I was a little concerned if things were going to be awkward until I realized we all speak the universal language of alcohol". With my dad Poor Tom behind the wheel we hit the road and our adventure began (thanks again for driving dad). The basic introductions and warnings were made. Buell is the guy who always takes his shirt off.
Big Red is the quiet guy. The Cryer is the emotional guy. Poor Tom is the designated driver and good sport putting up with our shenanigans hence the name Poor Tom. Moser rarely shuts up. The passenger window on the drivers side doesn't open so if you have to puke don't do it out that window. If we hit the rumble strip everyone drinks and beware it also gives Buell an erection. All the legroom for the rear-facing passenger seat was given up for a good cause, making room for the PulpMX cooler full of refreshments. It didn't take long before DBO was just one of the guys treated with the same mutual disrespect, verbal and physical abuse.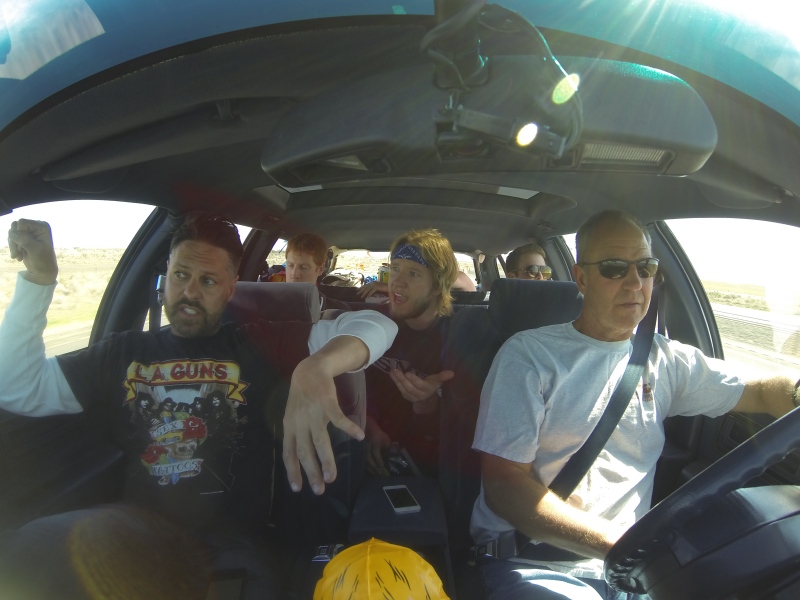 D-BO mid story telling "and then I was like Braaaapppppp"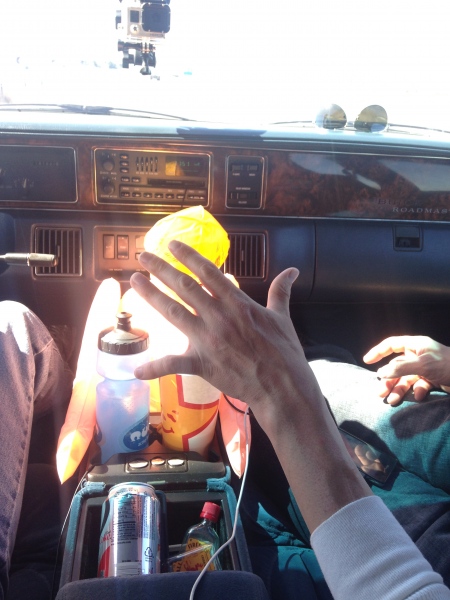 D-BO has a weird pinky finger that didn't heal correctly after he broke it, Buell was scared of it so D-BO rubbed it all over him through-out the weekend.
Five hours in a car, the list of topics we didn't cover is shorter than what we did talk about. All things moto new and old, politics, religion, kids, the right to bare arms. D-BO established the very back seat of the woody as the "can't hear shit zone" which the Cryer currently occupied. D-BO said usually he had to sit "can't hear shit zone". At one point D-BO went all Chinese tourists on us snapping pictures of the mountains out the windows. After stories of the Great Western Bank Team, some pee stops, racing overseas stories, more pee stops, SMP swag shopping spree story, more pee stops and life in Omaha we stopped for lunch in the sleepy town of Roslyn that has one of the oldest bars in Washington complete with running spittoon.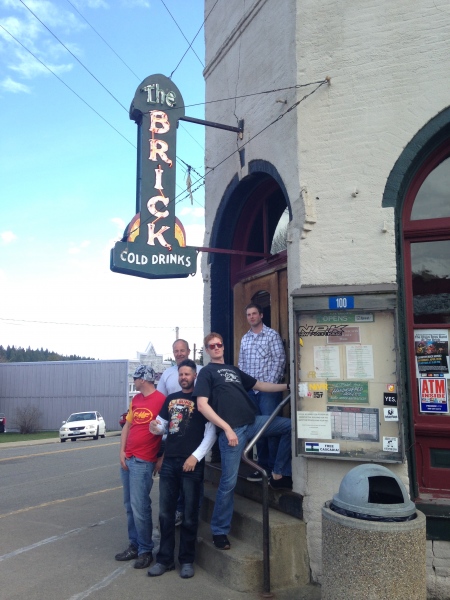 The Brick is a cool bar definitely worth stopping at and yes their sign looks like a dong.
After lunch I sacrificed myself and sat in the "I can't hear shit zone" it's so quite back there I fell asleep. The Cryer actually had work to do Seattle so that only prompted us to attempt to pour more alcohol down his throat during our road trip. We waited out The Cryer's meeting at, you guessed it a bar and unfortunately his meeting went seamlessly providing me with no punch line. We headed downtown Seattle and sat in traffic attempting to get to our hotel.
As we inched along nearing the hotel D-BO is contemplating filling his Carls JR cup, instead he makes a break for it and starts running down the street in search of a bathroom. At that moment I honestly thought that would be the last time I would see DBO this weekend. We pulled up to the hotel, valet the car, and wonder if Seattle has D-BO now. As we're getting checked in DBO spots the woody at a stoplight and performs a Duke's of Hazard hood slide only to find a stranger behind the wheel. The valet driver points him in the right direction of the hotel. Once settled in the hotel Buell takes his shirt off, The Cryer tries to catch up on drinking and everyone else regrouped and relaxed.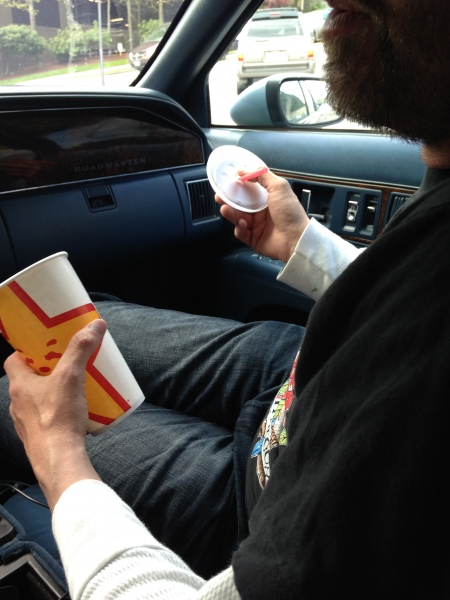 To the laughter of everyone in the Woody D-BO contemplates filling his Carls JR cup.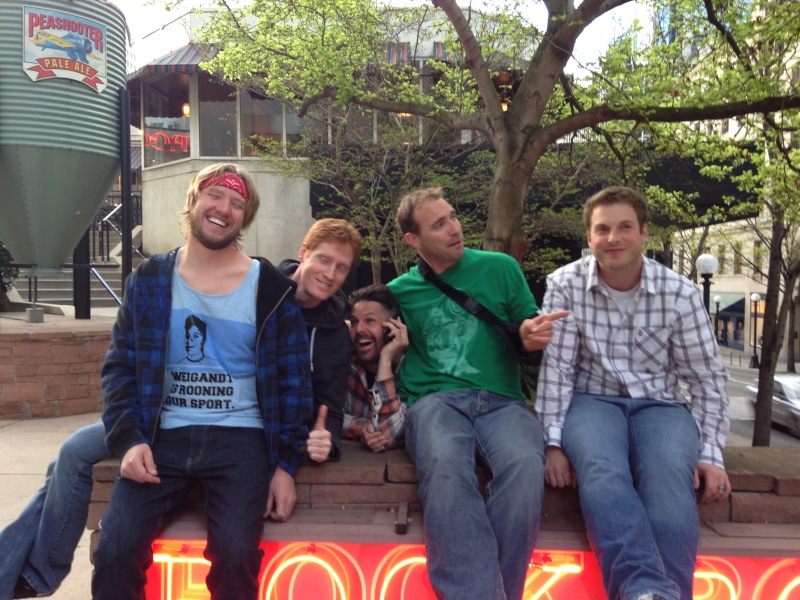 Rock Bottom Brewery where it all began & possibly ended.
Rock Bottom Brewery where it all began. Four years ago a chance encounter blossomed into a flourishing friendship. We were having some cocktails at Rock Bottom Brewery when Big Red says "Matthes and Weege just walked by". Giddy like school girls we sent a round of drinks to their table and somehow become friends, the rest is history. We've met at Rock Bottom every year since for drinks, very romantic. D-BO mentions that Chicken is in town and Buell like a complete dick won't stop talking about how Chicken was his favorite rider as a kid and how much it would mean to him to meet him. Just like those moto hoes that start by banging the truck driver, then mechanic and then start climbing their way from the privateer riders to the factory riders. Buell was climbing the 90's moto legends ladder. Buell rents D-BO but then uses him to get to Chicken.
Unfortunately for you this is were things start to get blurry for the narrator. We meet up with Chicken, Matthes, JT, Lissmore, the Canadian guy who always takes off his shirt, and lots of other moto related friends. I recall Cody Gilmore and Raper had Salmon for dinner.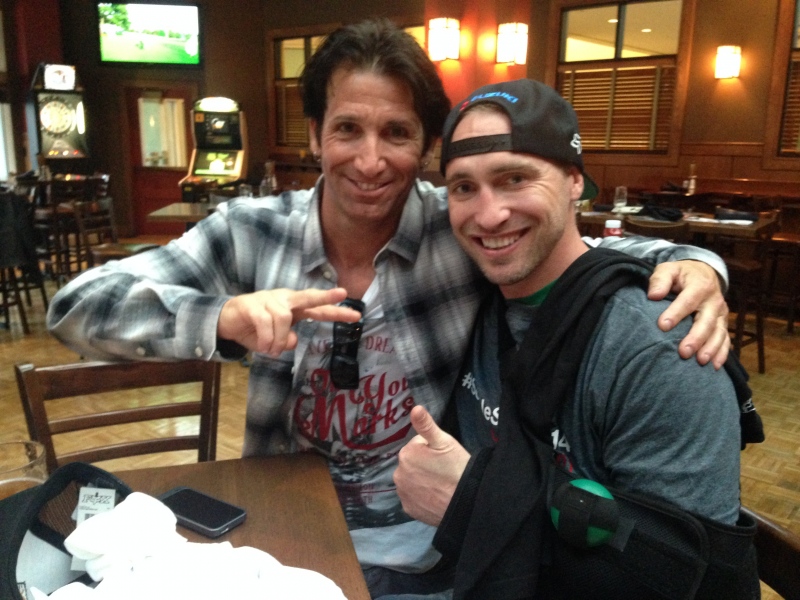 Buell climbed the 90's moto legend ladder and met his hero Chicken.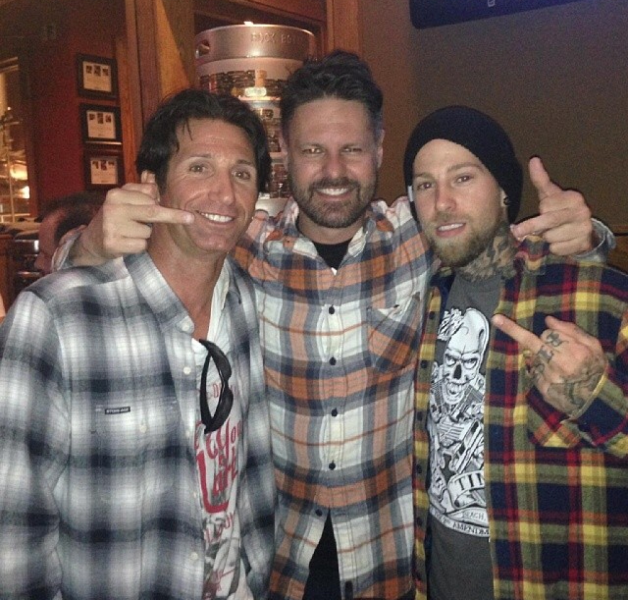 Plaid never goes out of style or some people are still living in the 90's
Lots of people were getting their pictures taken with Chicken, who is very tan by the way. DBO likes to throw food, which I found hilarious, but Gilmore warned me not to encourage that type of behavior. I remember Chicken showing me pictures on his iPhone of his house cat. D-BO, Chicken and Gilmore looked like they had just walked out of a Nirvana concert in 1990 dressed in all plaid. The Cryer caught up on drinks too quickly and put himself to bed at 9:00pm. My sister stopped by for a drink which is always concerning when there is one blonde girl and 20 dudes.
Weege had a hard time finding us but when he did Krad immediately started buying him shots for his birthday (congrats on the future addition to the family Weege, #taxdeduct). It was a great time and thanks dad for picking up what I assume was a large bar tab. Everyone made it back to the room so it was a successful night.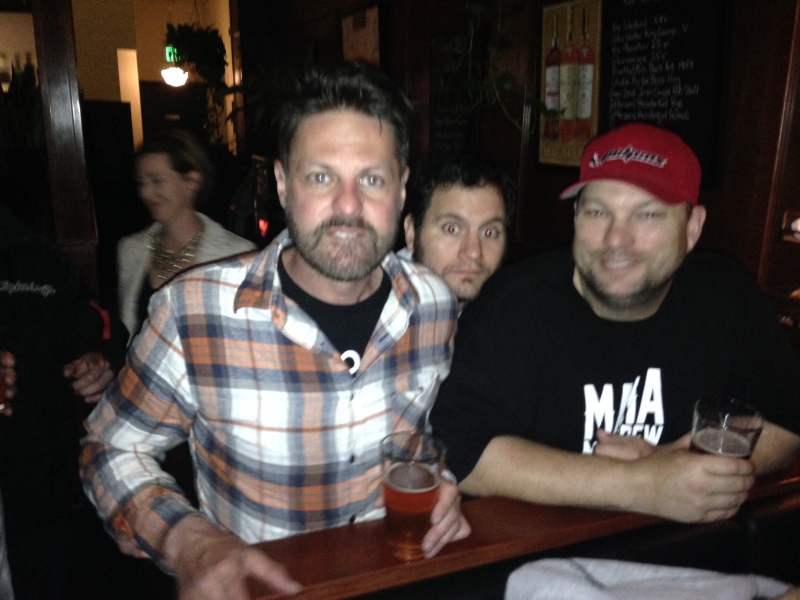 As the night progressed my memory and my picture taking abilities both became blurry.
6:00am
Did you know DBO wakes up every morning without the need of an alarm clock? I found out at 6:00am Saturday morning when he started screaming then pounced on the bed Buell and I were sleeping in. Which lead to the horrifying discovery that Buell was naked; to which Buell explained "I always sleep naked". Everyone in our room was now up and nobody was going back to sleep. We were also parched so began properly hydrating for the long day ahead. Poor Tom ran out of the room, literally and went for a 7 mile run to start his day.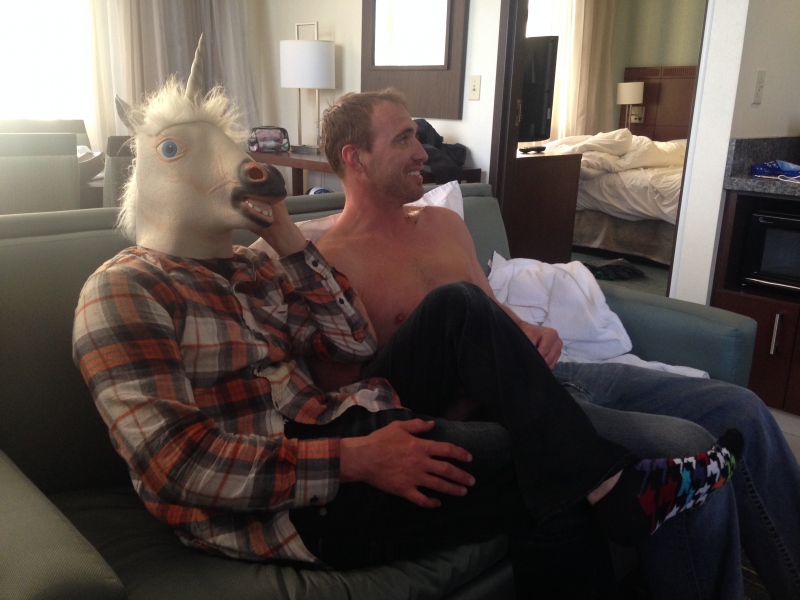 No caption needed.
Pillow talk with D-BO, no better time then to tell stories of love, loss, jokes and of course wear a unicorn mask. With a long day ahead of us we knew how important breakfast was. Finding the ideal breakfast place is always hard especially when the hotel concierge looks at you judgingly after requesting a place that serves alcohol. The perfect restaurant was found; one that was basically empty and not only accepted our antics but promoted them. D-BO ordered the chicken fried steak, in case you were wondering. I don't recall what prompted the belly slaps that ensued but it was highly entertaining. It's like a really tame version of fight club. You probably watched practice on SX Live and the races live on FOXSports1 so there's really not any more story to tell.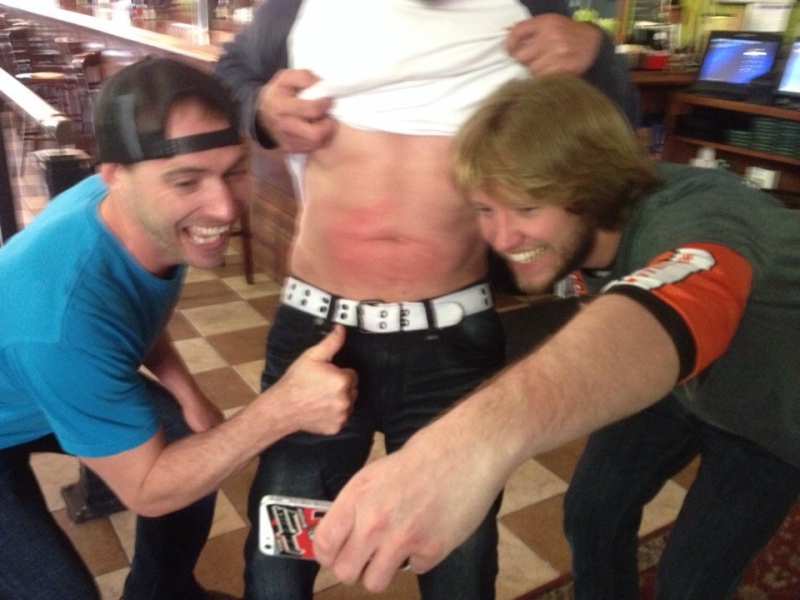 Taking selfies of belly slapping DBO, there is no better way to sum up the weekend.
We say this every year but this year will be hard to beat. If it was the last Seattle SX we went balls out at least. Big thanks to D-BO for being up for the adventure and hanging out with us for the weekend it was a great time. Buell, Cryer, Big Red, Krad, Tom, it was a good time, nobody else I'd rather spend the weekend with, I'm glad nobody died. Check out the hashtag #SeattleSmooth14 on Instagram for more pictures from our adventure.
Thanks for reading please send any and all comments to jasonw@racerxill.com