Looking at the best of the, uh, East.
Looking at the best of the, uh, East.
Photos By: James Lissimore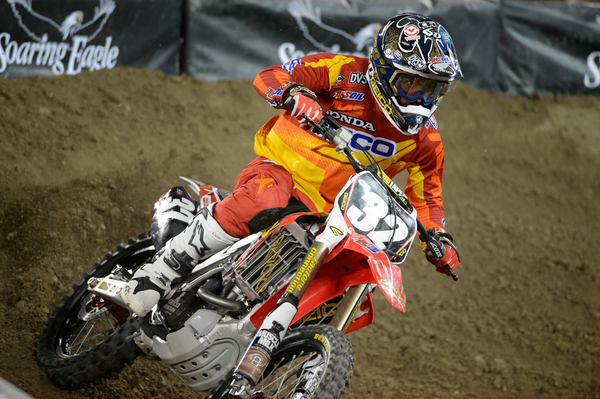 1st– Justin Bogle
Best Finish: 1st (twice)
Worst Finish: 5th (Dallas)
The 250SX Eastern series was all about guys proving stuff. Cianciarulo proved that he is not a bust. Davalos proved that yes indeed he could win. Friese backed up last years good results with even better ones and the champion, Justin Bogle, proved that it's wise to not give up on kids. Bogle came into the pro class with a lot of talent, leg swag and hype. He's not really fulfilled his potential mostly because of injuries but last summer, if you were paying attention, he started getting some momentum in the outdoors. But then he seriously hurt himself before the west series and it was thought he wasn't going to be back until this summer's outdoors. Somehow he made it for east coast and looked as good as ever. Funny how that it right? Bogle wasn't on a bike for a long time before the series and I think that helped him out. He was at his peak strength as the series reached rounds three and four and he was improving each week. Yeah sure injuries to Davalos and Cianciarulo helped him win this title but in the case of Bogle, he was often the one who was hurt in previous years so he'll take it. I like Bogle's attitude in interviews and on the podium, he seems to be a good guy who's maturing and seems to be happy most of the time. And he thanks his mechanic which I always like. Congrats to Bogle and his team, consider this a career intervention that went the right way.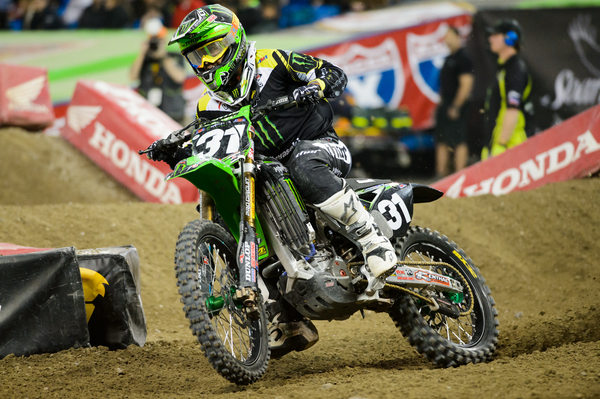 2nd Martin Davalos-
Best Finish: 1st (twice)
Worst Finish: 6th (Detroit)
He finally won! Davalos has had a career of great bikes, good contracts and had never won a race until this year. In fact, even his number of podiums were pretty low for a rider of his skill. But this year he changed all that with some great rides in holding off Cianciarulo and Bogle to take his first two wins of his career. And his worst race of the year (Detroit) was one where he absolutely ate crap in practice and probably shouldn't have been out there. So he showed some toughness in lining up there. As we all know, it ended terribly when his bike broke while practicing and he broke his feet/ankles. He had an 8-point lead with two races left and I think he would've held it. He was riding that well. Definitely a heartbreaking injury for Martin and his fans but the silver lining in all of this is that if he had won the title he would be out of the class but because he did not, he's allowed back into the 250SX class next year and should be a title favorite. And hey, he finally won.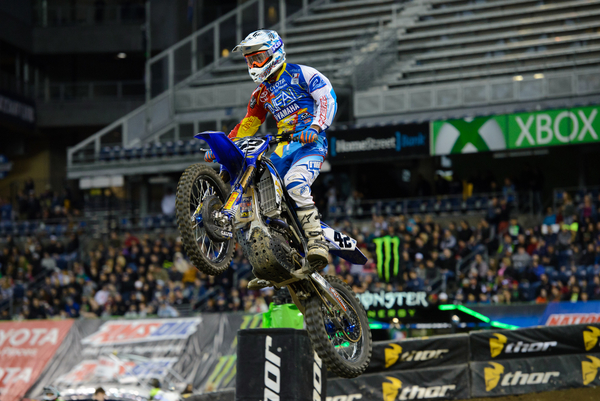 3rd Vince Friese
Best Finish: 3rd (NYC)
Worst Finish: 11th
Look at this! Privateer Friese gets third in the series. It was the first time in fourteen years a rider who wasn't on a factory backed team made the top three in the points. Great job for Friese and although he's still got some enemies in the pits, he's done a good job of keeping his nose clean out on the track. Mostly because he's gotten faster and is able to run the pace of the top riders now. Friese has always been a good starter, he's worked on his fitness and nothing he does stands out from other riders but he's solid in all areas. He's a smart racer also, he stays out of putting himself into harms way and I saw him back it down and not jump something if he didn't feel he had the speed to make it a few times. He understands the race is 15 laps and one mistake isn't going to hurt him that badly. His regrouping under fire while in third in NYC was impressive. It's hard for riders to pick it back up once they start making some mistakes. Friese says he wants to win a race and get on a top team (I would consider the top teams in the 250 class to be Pro Circuit, GEICO, Star, Rockstar KTM) but I'm not sure it's going to happen. Most of the industry will look at the injuries and lack of depth in the 250SX east series and write Vince's finish off to that but they'd be wrong. He was a top five guy with all the factory guys there. But I just don't think this finish is going to get Vince that top ride he wants. Sorry bro.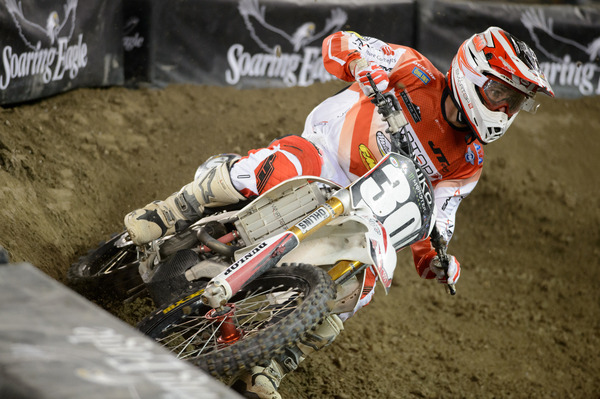 4th Kyle Cunningham
Best Finish: 4th (three times)
Worst Finish: 12th
There were many times in Kyle Cunningham's past where he would be blazing fast, jumping crazy stuff and then you could almost set your watch to him also cartwheeling a little time later in the race. Kyle's got great skill on a dirt bike but he couldn't stop hitting the dirt. Now a veteran in the 250SX class, Cunningham has lost a little bit of the flash and dash out there but he's also stayed upright. And his fourth in this year's series was a good indication of that. Never super fast and really impressive, Cunningham used very consistent finishes to get this result. And with Friese having some issues at the final round, he very nearly took third in the series. Kyle is what he is at this point, he's making a living racing his dirt bike and although he could win a supercross the new kids that come into the class are better than him. It's ok though, at one time Kyle was one of those kids- he had a chance. If I was Kyle I would be looking for a 450SX ride next year.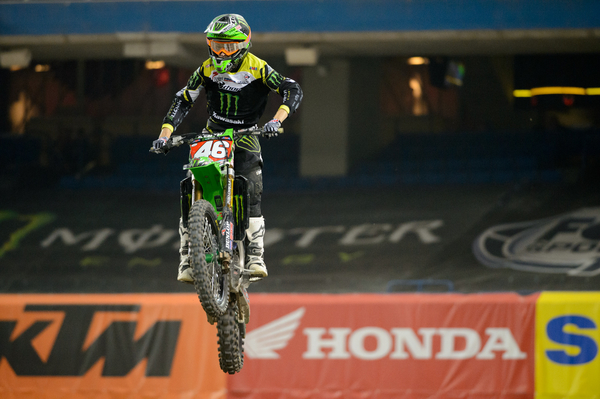 5th Adam Cianciarulo
Best Finish: 1st (three times)
Worst Finish: DNF (Toronto)
A few weeks before the 250SX east opener I was sitting upstairs in the Kawasaki truck and asked AC's trainer Aldon Baker and Ryan Villopoto if Adam was going to win some races this year. The "talk" (I know, I know- never listen to the talk) was that Adam wasn't looking that good pre-season testing. Baker and Villopoto were adamant that Cianciarulo was going to win races. Ryan said that Adam may have some rookie bad races that keep him from winning the title but both guys were basically stamping that the kid was going to win. Well, they were right. Cianciarulo looked like a different guy from last summer's nationals, he grew up, filled out and he looked awesome in supercross until of course his shoulder gave way in Toronto. I don't have a doubt in my mind that Adam was going to win the title. Before he went out of the series he won one race having to come through the LCQ, he won with getting the holeshot and when he was second he could've won either race as he was right there. Only another injury will stop this kid from winning next year on either coast.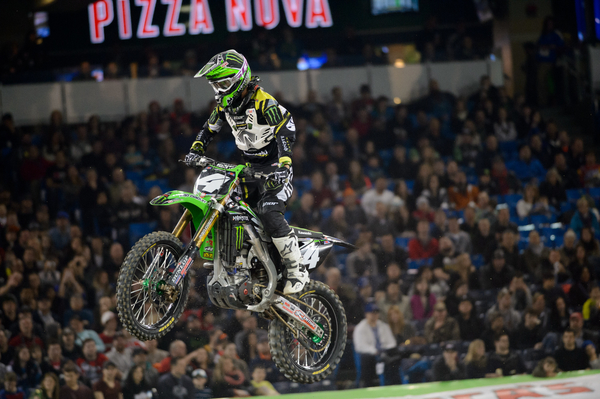 6th Blake Baggett
Best Finish: 1st (Daytona)
Worst Finish: DNF (Toronto)
Baggett won Daytona for the second time and we're starting to think that, like Jeremy Martin, maybe Blake's just not that great of a supercross rider. Blake's got a shit-ton of national wins and his only supercross wins have been at the outdoor-ish Daytona track (twice) a race where half the pack crashed in the first turn (Dallas) and the final round of supercross where the title guys were relaxing (Las Vegas). This season Blake's starts were worse than I ever remember them being (and they have never really been good) and he was screwing himself for getting good results five seconds into the race. He's the anti-Jimmy Decotis! Baggett was fast-he wasn't on the Cianciarulo/Davalos level-but he still had a very good chance for the title until he went over the bars in Toronto and DNF'd. That was it, he was done for and the questions remain on just how good he can be indoors. The good thing is he's still eligible for 250SX next year.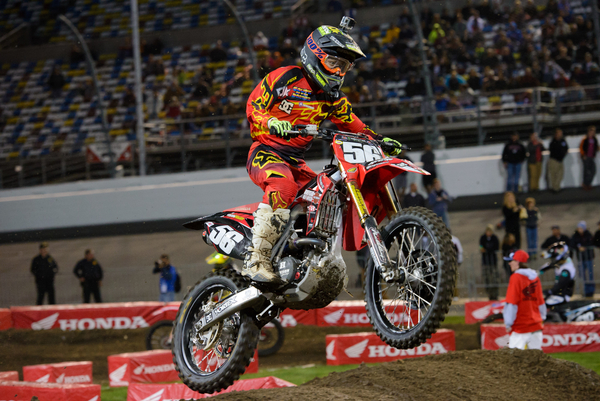 7th Jimmy Decotis
Best Finish: 5th (Las Vegas)
Worst Finish: 15th
Jimmmmmyyyyy DDDDDDDDDD had a pretty good season, much better than last year. He even won a heat in NYC so that's the good. A great starter, Decotis puts himself in a position to succeed right away and that's a huge part of his success. As the second best privateer in the east, you might think that Decotis would use this finish and his riding to perhaps get a better ride next year but in my opinion, most likely it won't matter for him. Jimmy D's now a veteran 250SX guy, the big time teams have seen what he's got and they'll pick the hot kid over the veteran guy. Don't shoot the messenger bro. I think Decotis is really talented and has no fear on the bike, he rides with heart but I do think he can get better fitness to try and take that next step up. I know this is a broken record but Decotis should just move to the 450SX class and get on with making real money.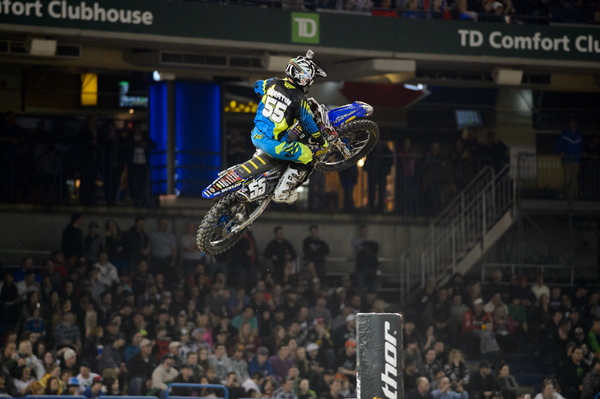 8th Alex Martin
Best Finish: 7th (three times)
Worst Finish: 16th (Atlanta)
Martin missed supercross last year and this placing is a career high for the little guy on the Rock River Yamaha team. Who had "Alex beats Jeremy in SX points" pool? If you're raising your hand right now, you sir or madam are a liar. Anyways, Alex is full of "try"- he doesn't shortchange you out there in the effort department and as he liked to remind me, he's gotten better at whoops. Martin crashed a lot also in the main events and seemed to be attracted to the tuff blocks out there but he made it work for the most part. A good starter and a good guy- I do hope A-Mart can pull it together outdoors.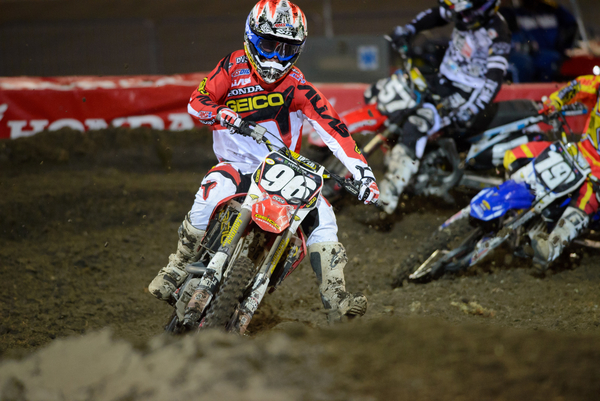 9th Matt Bisceglia
Best Finish: 3rd (Las Vegas)
Worst Finish: DNF (twice)
The rookie had a rough supercross season. It seems that every time you looked up Matt was on the ground in the first turn and in every LCQ in the series. It was a bit up and down but it was good to see that Bisceglia, like Martin, stepped it up at the end of the series when it was injury depleted and put in some good results. When you're a factory guy and you don't do better when other top riders are missing, it's not a good look. But Matt and Jeremy rose up and gave their teams good finishes when they had to. You can see he's talented, tries hard and seems to be in pretty good shape but it was probably not the season he or his team wanted but it wasn't for lack of effort- just weird things kept going on with him. He'll be better next year.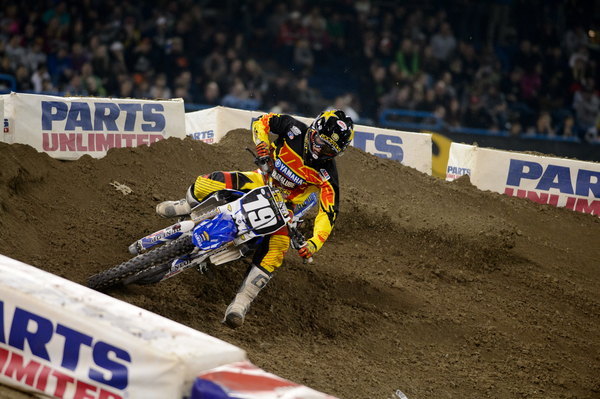 10th Jeremy Martin
Best Finish: 1st (Las Vegas)
Worst Finish: DNQ (twice)
Yeah I know he won his first career race and he also finished second in New Jersey but this is a disaster for Martin. A factory Yamaha kid, he somehow, amazingly, unbelievably didn't qualify at the first two rounds and then crashed out of two others. In a way he was lucky to get a top ten in the series and I suppose on the bright side he can say that he ended his supercross season with a second and a win so clearly he had it figured out. Although when he got those great finishes the top three in the points midway through the series were all out with an injury. But riders can fool themselves by forgetting that info. Looking back last season, he got a podium on the most outdoor-ish track on the circuit (Daytona), a fourth and a couple of fifths before getting hurt. And we saw him struggle this year so maybe, just maybe, the question has to be asked- Is Martin a Mike Alessi-type rider where he's just significantly better outdoors than in? There's no doubting he's fast in motocross, perhaps he just struggles with supercross. It's weird, we don't see that much anymore but I think after his first two supercross seasons, we need to start asking that. I do know that 2015 supercross season is huge for Martin to see which way he's going with this theory. Mitch Payton told me that he told Martin to let him know before he signs with anyone because he would like a chance to get him on green. Then the next thing he hears is that Martin has re-upped with Star Yamaha and he was confused about Martin's contract strategy because as Payton said, if nothing else he could've used Kawasaki's offer to try and get him more money at Yamaha.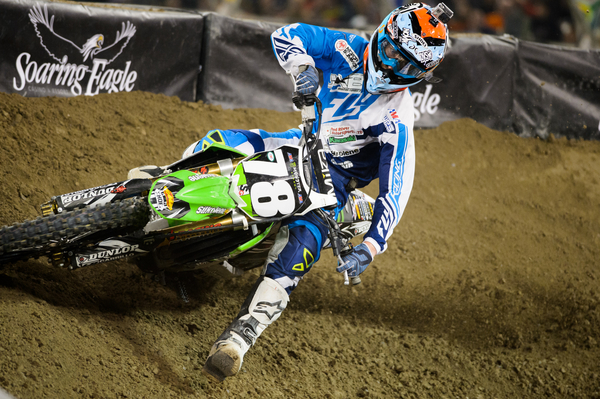 11th Matt Lemoine
Best Finish: 3rd (Toronto)
Worst Finish: DNF (three times)
Pretty amazing that Lemoine finished outside the top ten in the points right? Lemoine's a popular rider in the pits and he can ride the shit out of a dirt bike but three DNF's in nine races will definitely hurt you. One of his DNF's was a mechanical and the other two were crashes and right there is the conundrum with Lemoine. He's very fast but he's also a crasher. When everything goes right he can make the podium like he did in Toronto (it's so weird that was his first career podium, I would definitely have bet he had one or two in this career prior to Toronto) and when it doesn't, he goes splat. Lemoine has had rides with Yamaha of Troy and Star Yamaha over the years but he's been a privateer the last few seasons. Last season he was pretty good in 450's before he hurt himself and I think he should go back up to that class. He's a veteran in a class full of kids with their brains turned off and it's hard to have a bike as good as the big 250Sx teams so if I'm Matt, I'm saying farewell to the 250's and starting a career trying to actually, you know, make money.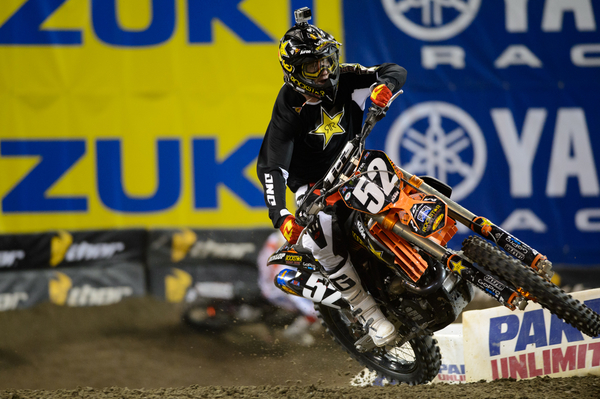 12 Cole Thompson
Best Finish: 5th (Toronto)
Worst Finish: 13th (Daytona)
Whoa Canada! Thompson tore his ACL in Houston on the 450 so he missed the last two rounds of the east. Before he went out of the series he was 7th in points (he finished last year 6th in the points as a privateer) and although that's not bad- he was on Jason Anderson's Rockstar KTM so the team and bike were dialed in for him. In my opinion Cole is almost too nice of a guy and a bit intimidated by the "big names" of supercross as well as he has a weakness in the whoops. He's got to get a bit more of a chip on his shoulder and realize that he can do better than just timidly riding around out there. He's got skills, you can see that- he's very smooth and seems to be in shape but…just…something…is…missing. The shame of it all is I'm not sure he'll get a better chance next year once his knee is fixed than he got this year. Lots of people in the pits were wondering why he was on a better bike with a great team and kind of looked the same as he did when it was he and his brother as full privateers. I'm all about a Canadian rider making it in the sport and Thompson's our best hope. Do it for us Cole…please?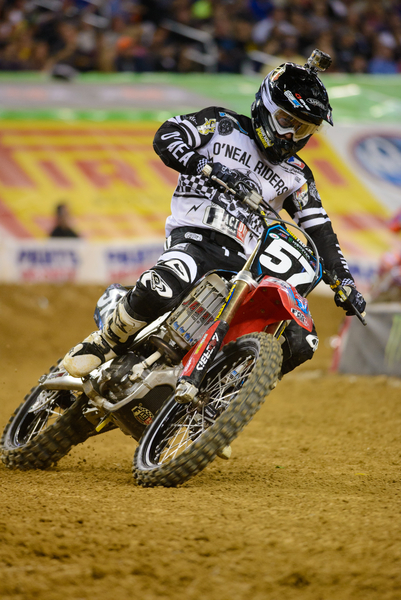 13th AJ Catanzaro
Best Finish: 5th (St Louis)
Worst Finish: 19th (Daytona)
The Cat struggled a bit in the opening rounds of the series and told me that he was getting bad arm pump and needed to change up some things to come back swinging. Many times riders will just tell the media that to sound good but nothing actually changes. They keep just "tightening up" (code word for "I got tired") and life goes on. But oh no, not AJ- he made those changes and actually got better. AJ's got some skills, you can see that in his practice times, jumping ability and so on. He finished every race as well so you'd like to see him a bit higher but different things would hold him back here and there. A guy like AJ, and I know this is a broken record coming from me, has skills and could do well in the 450SX. He should just move up there where the money is and start trying to eek out a living as a professional motocrosser.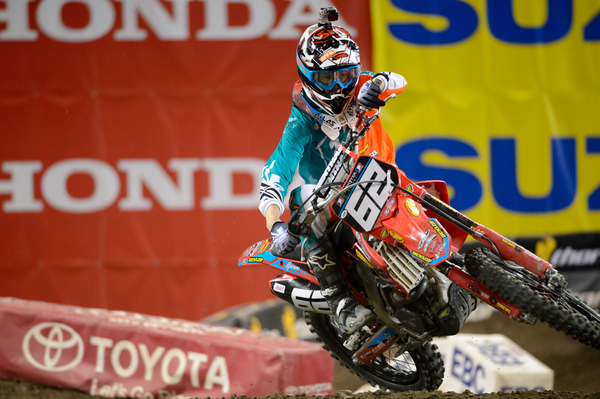 14th Mitchell Oldenburg
Best Finish: 6th (Las Vegas)
Worst Finish: DNQ (Toronto)
Don't let the Texas address fool you people, Oldenburg is one of the Minnesota kids that are infiltrating the circuit right now. He crashed in Toronto and hurt his shoulder and missed St Louis so his finishes are minus two races. Which is pretty good. Last year he was also 14th in the points with 66 points and he missed one race. So really, pretty similar seasons for Mitch but the class was weaker last year. Oldenburg, Richardson, Wentland- they kind of blend together out there and none of these guys really stand out but they're all good riders who are main event fixtures.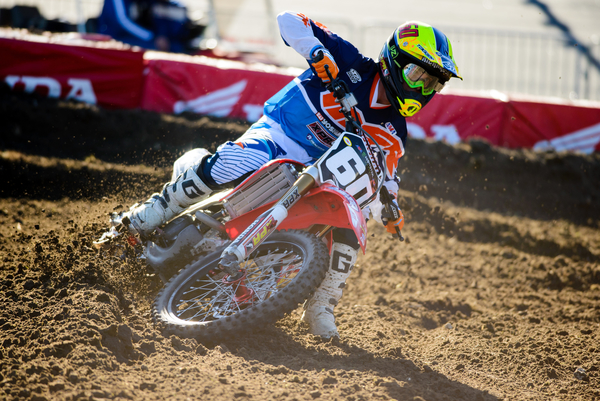 15th Jackson Richardson
Best Finish: 9th (Las Vegas)
Worst Finish: DNQ (Atlanta)
It's not exactly a Chad Reed Aussie invasion-type scenario with this Aussie but Richardson reps himself pretty well as a privateer out there in the 250SX east series. You could definitely see his results improved later in the year and it's hard to say if that's due to the injuries that struck the class or improved riding by Richardson. He finished 18th in the series last year with a season best of 9th and with 45 points and this year he had 59 points and is 15th in a deeper class (at least in the beginning) so that does lean towards improvement.