Jason Thomas talks about the upcoming nationals
Jason Thomas talks about the upcoming nationals
Hammerhead Designs was launched with the intent to provide new and better parts and innovative accessories for motocross bikes. One of our goals has been to design entirely new and unique products with improved ergonomics and the shift lever was the first part that we felt could be dramatically improved by providing a feature that would allow for the shifter to be repositioned to perfectly suit the riders size, shape, and preference.
This year, thankfully, we have a 3 week break between the supercross season finale in Las Vegas and the outdoor season opener at Glen Helen. This isn't always the case as the timing varies from year to year as schedules dictate. Furthermore, this is the longest break I can remember, resulting in added rest but also added testing time. This extra time leads to a surplus of battles in the secret war that goes on at the SoCal practice tracks. These secret battles are known to many as "stopwatch nationals".
You see, every day there are public tracks open all over California. Most of the tracks have fallen into a schedule that maximizes their efficiency. It's usually the Perris, Milestone, Competitive Edge rotation early in the week but everyone shows up at Glen Helen on Thursdays. With so many pro riders needing to test with their teams, especially early in the season, these tracks turn into a who's who of the motocross world. As the weeks turn into months, most of the riders will gravitate back to where they feel that training and riding for motocross suits them best. For a month or so, though, if you want to see the best of the best all jockeying for confidence and bragging rights, Thursday at Glen Helen is the place to be. Every team manager, mechanic, Dad, Mom, and girlfriend will be standing somewhere near the track with a stopwatch and a clipboard. They will be writing down laptimes and comparing them against anyone and everyone. Of course, the accuracy of these laptimes is laughable and I have seen numbers skewed so far that would have made Pinocchio's team look like it was managed by Mother Theresa. I have had Dads come over to the semi I was riding out of and tell me and my teammates about his son and the 5+ seconds a lap he was putting on us. Of course, after about 15 minutes of this nonsense I decided to put my helmet on and go find little Johnny out on the track and demoralize him until his Dad realized how silly he looked. I know, I know, that's very immature of me and blah blah but that's what drives racers. Ego and confidence is just a part of the game. World class racers like Mike Alessi, Josh Grant, and even a guy like James Stewart will be checking his times versus his competition. It is one huge battle for mid-week supremacy. Riders will absolutely push the limit in order to have the pits buzzing about their speed. This may sound silly and even foolish but there really are logical reasons behind the madness. Firstly, as I said earlier, confidence is absolutely crucial for racers.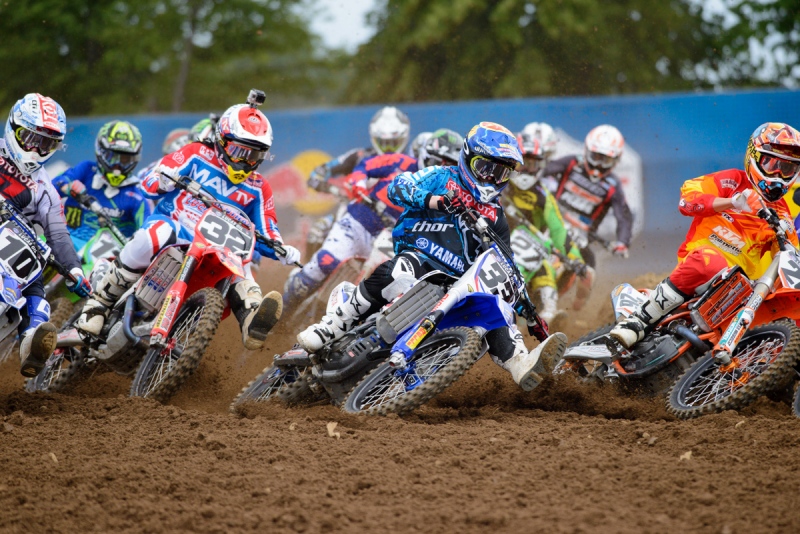 RedBud last year or Glen Helen this past Thursday? You decide. Lissimore photo
Take Josh Grant, for example. Josh hasn't had a particularly good supercross season. His confidence probably wasn't soaring for much of the spring. Even with all of those supercross struggles, if he uses these two weeks to set the SoCal stopwatches ablaze, he can enter Glen Helen with a plethora of new found confidence. Grant is one of those riders that when he has his swagger, he can ride with and beat anyone on the planet. His mental outlook can be the difference between finishing 10th or 1st. It really is that crucial. Secondly, a vast majority of these riders are fighting for jobs in 2015. The team personnel that make decisions are all watching and logging data, whether mentally or on paper. A rider showing raw speed during the week goes a long way towards securing an offer. Every team thinks they can mold any rider into what they need. That specific team is the missing ingredient in the recipe to success. As silly as that sounds, it happens year in and year out. Teams will gamble on a rider if they see even the slightest shred of potential. In the words of Mitch Payton, "we can work with speed". In light of that, riders will lay it on the line in hopes of grabbing everyone's attention.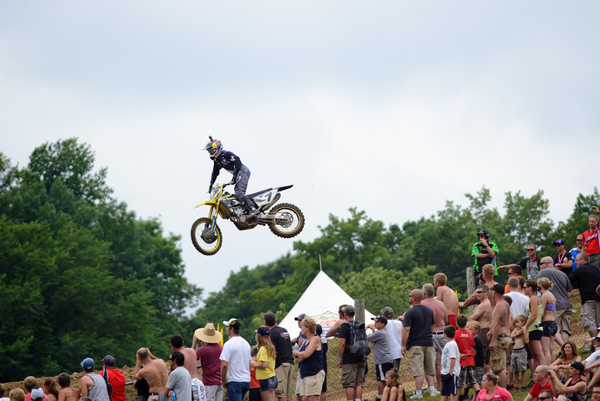 Even James Stewart is a victim of the stopwatch nationals. Photo by James Lissimore
This is the motocross world we live in. Steady consistent results pale in comparison to jaw dropping speed, even if only for a lap or two. I can understand the concept but I do think there is a bit of hubris in play. Every team thinks they can make the difference and create a winner. I am sure it has happened before but the odds are slimmer than Matthew McConaughey in Dallas Buyers Club. More than likely, teams will end up with what they started with. A very talented rider but only in bursts, lacking the consistency it takes to compete for a title. The real races start on May 24th but today, tomorrow and everyday leading up to that Saturday, there will be battles going on all over the golden state. The veteran riders will realize that everything changes on race day and the younger riders will think they are the next Rick Melon but EVERYONE will be paying attention.