There have always been far more positions needed than available and RCH has to make a decision between two solid choices for 2015.

There have always been far more positions needed than available and RCH has to make a decision between two solid choices for 2015.
Photos by Simon Cudby and James Lissimore
Hammerhead Designs was launched with the intent to provide new and better parts and innovative accessories for motocross bikes. One of our goals has been to design entirely new and unique products with improved ergonomics and the shift lever was the first part that we felt could be dramatically improved by providing a feature that would allow for the shifter to be repositioned to perfectly suit the riders size, shape, and preference.
Most people have heard about the impending team switch by Ken Roczen. He is leaving European superpower KTM and going back to his Suzuki roots aboard a RCH RMZ450. While this is big news in itself, RCH still has another quandary on their hands. They have a 2nd spot left on the roster and at least 2 solid candidates. Broc Tickle has been on the program for 2 years and showed marked improvement in 2014. The team had been hoping and pleading for him to take the next step up and he showed that he could actually do it. Just as he was making good on RCH's efforts, he had a huge crash at Toronto leaving him with broken vertebrae, a serious surgery and extensive recovery time. The other option and current team leader is Weston Peick. This opportunity is the first time we have seen Peick on a full factory type effort. His results have been steadily improving over the last 2 years on subpar equipment so it's unfair to really say what his ceiling is. He is already pushing into the top 5 in his 2ndrace with the team and is looking for more. For all of the decision makers over there, they have a tough decision to make in the next couple of months. Do they keep Tickle and hope to make good on the years of investment they have made or do they see just how far the Weston Peick rabbit hole goes? There are a ton of opinions and great points to be made for both so I asked basset hound extraordinaire Steve Matthes and another member of the Pulp team, Kevin Husted, to hash this out.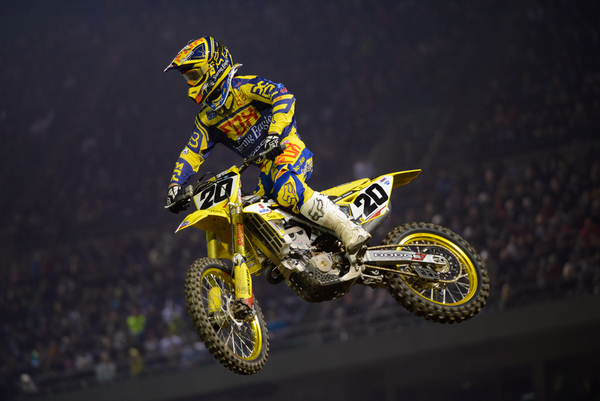 Broc Tickle was on an upswing before his Toronto crash. Will he come back hungrier than ever? Will it be with RCH? Lissimore Photo
JT's take: I really am torn on this. Broc finally started to ramp up his speed and show real podium promise right before he was injured. That was what he was hired for and it was devastating to see a big injury right on the cusp of that breakthrough. On Weston's side, though, he has never been given this chance and his learning curve is one of the sharpest I have ever witnessed. It really is scary to think where he will max out on his abilities.
Swizcore's take: Man, talk about a rock and a hard place. This is more like a boulder in a limestone quarry. There are few riders in this sport currently who have shown the steady reliability of Broc over his career. His progression has been gradual, to be sure, but undeniable with a 250SX title and 450MX podium in his resume. This year he really started making strides toward elevating above his "cheese pizza" gloss but unfortunately, as JT noted that early practice crash in Toronto (I saw the video, it was UGLY but it was not due to him pushing over the edge. It was a freak mental slip) halted that momentum. This is Broc's first racing hiatus since the broken jaw he suffered in his second year as a pro and I can tell you, he is wanting back on the bike bad so he can pick up where he left off.
Now on to the limestone, or is he the boulder? Either way, Weston Peick is without a doubt the rider who has made the largest strides the last few years. Not just in his riding but his likability among teams and fan base. We've all heard of his bouncing off jump faces in SX a few short years ago and instead of being dissuaded by top riders yelling at him to get out of the way, he turned the throttle further, improved his timing and rhythm and used his bitterness to steel his resolve. His is now unflappable under pressure and is more often than not the guy putting the screws to the "faster" guys.
Who has the higher ceiling? Who has the better long term potential? Ahhhhhhhhhh, I can't decide but I honestly think they can't lose with either guy.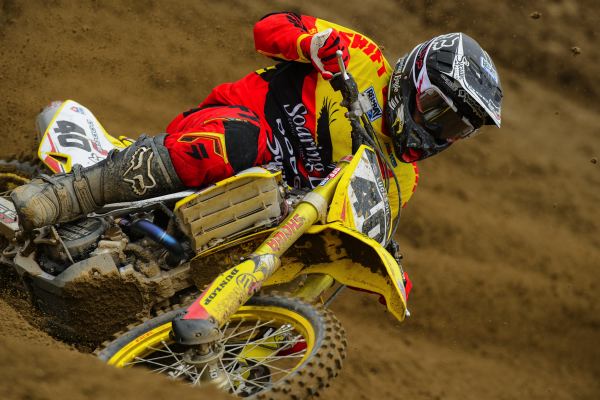 Weston's finishes have been strong with RCH through 2 rounds. Will he improve? Will he be invited to stay? Cudby Photo
Steve's take: The whole thing is potential versus reality and way too many times in our sport the teams choose (what they think) potential over the reality. Weston Peick is maxed out in my opinion, he's very fast and a top ten/sometimes top five guy. Nothing at all wrong with that and he's also got some fans because he made it off Privateer Island. He's so solid he makes Hoover Dam look shaky.
But Broc Tickle has a title, has that "potential" and two years ago that is exactly why RCH hired him. But I think BT has reached his top level now. And it's the same level as Peick. Nothing wrong with that BUT you want a rider in that "B" level to be solid, a good teammate, avoid the drama and stay healthy. Right now Tickle hasn't ben able to do that but he's been solid before. Every pro racer is going to get hurt at some point so you shouldn't hold Tickle's injury he has now over him. Something to think about is how is Tickle's mental makeup once he gets back on the bike? This was a serious injury and the brain is a complex place (except for Moser's). Who knows if Broc is going to be able to break through anything holding him back and put the balls on the bar.
Peick, Tickle and guys like Jake Weimer and Josh Hill are sort of right there in that B rider level (again with all due respect) and I don't think you can lose either way. But I would like to see the privateer kid given an entire off-season of testing, not worrying about anything and trying to see if he can break into that next level.
JT-
JT: Both of you guys make solid points as expected. The other thing we haven't discussed is the money factor. Money is ALWAYS a factor for these teams and contracts so this will be no different. Tickle is coming off of a pretty big deal and it would seem that he is going to have to take a pay cut if he wants to stay. That seems like a tough pill to swallow as his results actually were improving but happens when a comparable rider is willing to take much less money. Unless the team can see a huge advantage in hiring one over the other, the price is going to have to be similar for both or it becomes an easy decision. Time will tell who wins out but I wouldn't want to be the one making the decision. Someone deserving is going to be left without a chair when the music stops.