Some of the PC Pulpcasts transcribed for your pleasure
Some of the PC Pulpcasts transcribed for your pleasure
Photos by Simon Cudby
Ryan Dungey
A good day of racing. Obviously you came up a bit short, but it was some excitement for fans in both motos.
Ryan Dungey: Yeah, it was good. The first moto honestly I wish we could have made the pass for the lead; that would have been much easier on us, just being able to ride fresh laps and stuff like that. But, man, it was tough. I think all of us would agree it was hard to pass on this track. But we gave it our best effort. Just had a couple hiccups there that put us back to 4th unfortunately. But then the second moto, got off to a decent start, worked our way into 2nd. And Ken was riding really good. I tried to put the pressure on him but he just inched away a little bit. Nothing like a big gap, but just a little bit too much to capitalize. All in all we ended up 3rd overall but it's early in the season. Hopefully we can pick a few things up from this and the races and then get a little bit better.
In the second moto you had three laps in a row that you were quicker. You got the gap down to 2.2 from over 4 seconds. Then what happened? Was there one lap where you screwed up?
A few mistakes for sure. The lappers were gnarly out there. I can't believe… we come up on lappers so fast these days. I guess it's not a bad thing, but everybody's got to deal with that, including Kenny. And once we kind of settled about that distance, about 3 laps to go, I couldn't close it up. It was good to get it down. I thought we were going to be able to get right to him and maybe make something happen but we weren't able to.
I think this is the hardest packed Lakewood I think I've seen in a long time.
Yeah, it was. If it weren't for the rain earlier this week it would have been a lot harder. Well, they probably would have tilled it but it would have been a different story. The ruts got pretty deep and nasty. There was a lot of moisture in the ground.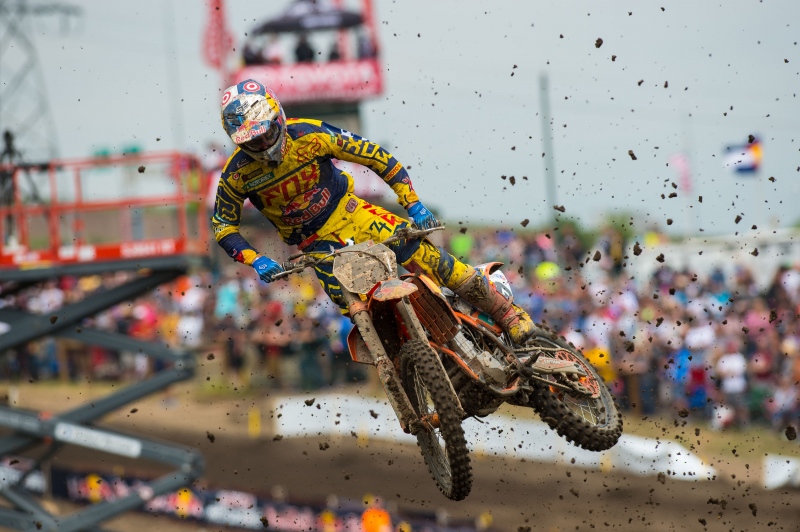 With his third place at Lakewood, Dungey very much remains in the title hunt.
I'm really surprised that you and Kenny seem to be a little bit better than everybody else. I thought this class was going to be this great, big battle.
It's early in the season yet and maybe people are figuring stuff out, but Red Bull KTM's done a great job this year with testing and being ready for the first race. I really felt we were really solid. All three races it's been great. We're always looking to make things a little bit better, but I feel like we're in a good area, we got a good program, a good team. Always can fine tune and try to get better for sure. But we're in a good spot. I'm really happy with that.
You like this weekend's track in High Point?
Yeah, High Point's good. It's tended to be a little bit harder over the last few years, I don't know why. But it's good. It's fun elevation and some good ruts. I'm excited to get back to the East Coast.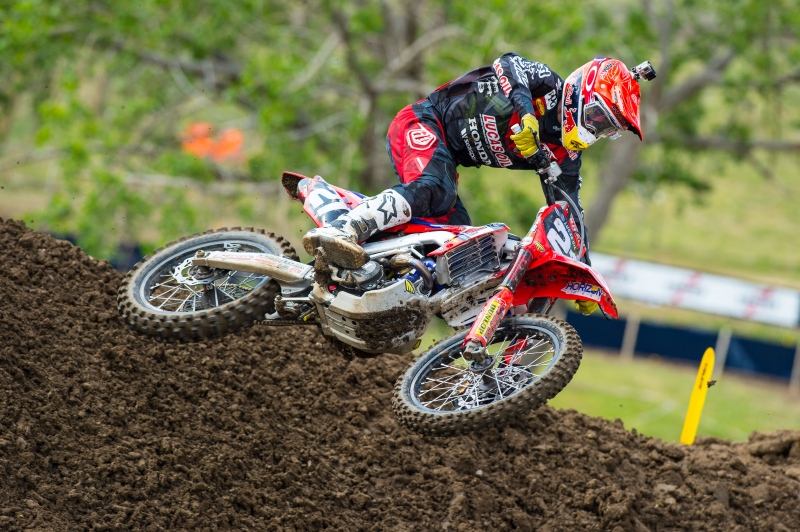 Seely went a consistent 8-8 on the day at Lakewood.
Cole Seely
I wish you hadn't had that issue at Hangtown last week because you rode pretty well. You could have had a really good day. Let's rewind a little bit to that. Your crash was gnarly. You got lucky to ride off.
Cole Seely: Yeah, definitely. Definitely one of the scarier crashes of my outdoor career for sure. I was actually surprised I didn't lose consciousness. I went straight to my face and my helmet took all the beating. I actually twisted one of my knee braces. My gear definitely saved me in that wreck. It was tough and I'm still hurting from it. I got a kink in my neck, my shoulder, and my elbow. Like 15 minutes in out there today I started getting cramps. It's tough to ride with for sure.
Hangtown could have been a good day too, you qualified 2nd and was running well when that crash went down.
Yeah, unfortunately. I took all my bad luck for the season and put it in two motos, so hopefully done with that.
Today 8-8, a solid, steady day for you. Nothing spectacular, probably not what you wanted, but decent.
Yeah, decent. Not anywhere where I want to be, but I'm getting better at outdoors. I think that's the main thing. Most importantly I know what I need to work on in order to get faster. It's in sight, so I just need to go home and do the work and just put in the hours. I think by the end of the season I can come away with an overall for sure.
Yeah I feel like you've really stepped your outdoor game up this year, which is a good thing because the class is as good as it's ever been.
For sure. I feel like the competition is definitely stacked this year. There's a lot of fast and strong riders this year. I think 1st through 10th are all good names and all have the endurance and everything to run, it's just a matter of getting a lucky break and a good start and just riding however many solid laps, just 30 plus 2. It's tough out there.
How many times you been here?
I've been here 5 times.
So you're a good judge of this. I felt like it was more hard-packed than ever this year. Do you agree?
Yeah, I feel like they were – and they did this at Millville last year because they were anticipating rain, so they cap it off. And then last second they go, oh, it's not going to rain, let's till it. But they don't rip it deep enough and then by the end of the second practice the track's completely hard.
Some blue groove out there.
Yeah, it was tough. There wasn't a whole lot of traction actually. Usually where it's just like 10 lines across the whole track, and good lines too, but this year it was like you had to choose from like two lines and they'd groom some sections and take away and it'd be like a freeway out there in some spots.
****
Jake Weimer
Good practice today. Why'd you fall in the second moto? That sucked.
Jake Weimer: Things were just looking a little too good for me.
You've just got to go screw that up.
Yeah, why would you want to do something good?
You and Metcalfe glued together for the most part, most of the day.
We've done that for years, really. First moto was tough, man. It was just a tough moto. I was always around people. It was tough. I actually got arm pump, which I don't normally do that, so I was kind of fighting that in the first one.
Still a positive round three. Probably your best race right?
Yeah, I was just talking to Dan, my team manager, and my worst result of the three we've done but I feel like probably, no doubt about it, the best that I've ridden. It sucks that I went down in that second one because I think I could have maybe squeaked me out a top 5 in that one.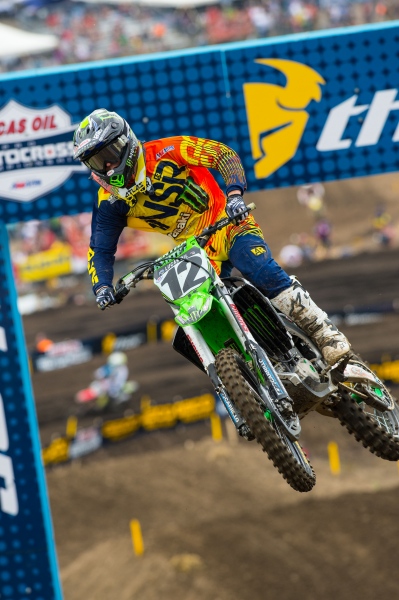 Weimer's got a lump on his leg.
Can you talk about where you crashed and how you crashed?
Right after the finish, that left-hander. There's kind of that split lane. The outside was faster at the time and I just came in there a little bit quicker than I had been coming in and just tucked the front end.
That happens.
I got a lump on my leg, man. It hurts.
***
Mitch Payton
Congratulations, a 4-1 gets the overall for Blake Baggett. The second moto was vintage Baggett.
Mitch Payton: I was really pumped on him. He rode really, really good. That was awesome to see. He got a decent start, he was aggressive right off the bat, he didn't wait. He got up into 3rd right off the bat and those guys were close, and I felt comfortable then. And then he got up to Christophe (Pourcel) and Christophe's awesome. Got by him although, Christophe fought him and then he was able to get back by him and then put a little gap. I felt pretty good about that and he did like 4 or 5 really good laps and was able to get a little bit of a cushion so it was awesome.
Yeah, he was not waiting around behind those guys. He was all over them. That's good to see.
It is. And that's something he's been working on. That's what his mom was saying, the last few weeks it's like trying to focus on what he needs to do and work on his intensity. Bones has been working his ass off trying to get the bike better. We came up with some new motor stuff too, just trying to get a little more out of it in a different direction. That seemed like they were both Justin and him were happy with that when we tested it. So I think it was nice to see something come out of it. That was awesome.
He was fast, many times fastest guy, but just waited too long. And that's been something we've been seeing. It's weird how in an hour and a half he turns the tables, but he did.
The first moto he didn't get a good start though. We watched it on video and stuff and he didn't have a good start. The second moto he tried to really focus on getting a better start, and he did, so that helped. But he didn't just like lay there for a minute and then wait. So that used to be the old Blake that would just wait until the 15 minute mark. I don't think you can do that anymore.
I was going to say, do you think the class has changed a little bit that way, where that sort of strategy isn't ideal anymore?
I don't know; there were good guys back then too. It really depends. The guys that are here right now are able to sprint. Obviously Jeremy Martin's in good shape too. You got to be up there. I don't think in the 450 class you can wait or the 250 class. I think you got to get up there immediately and then if you can see them then you've got a chance. So you got to get up there to where you can see them.
And Justin Hill's performance today?
Justin struggled a little bit. First moto bad start, second moto was a better start except for the first lap he got knocked off the track. So then he was dead last, and that was actually not such a bad ride to come back to where he did. But still there's more out of him and I'm sure he'll do better.
Been a tough start for the Nationals for you. Like I said, I've been coming by to interview you or talk to you and the mood has not been good. A DNF also. Can you remember another one like this?
I think anybody can have them, it just depends. The thing that happened last week to Blake was part of the cause because we were trying something that we hadn't really spent so much time with because of what happened to Dean. So we had to readjust again. This week we spent quite a bit of time working on some stuff and I think by Thursday when they rode it they were really impressed with it and I think that helped a lot. So if we could just get back on to where they're comfortable with the bike then I think that will slow down everybody from panicking. You know how it is, when you're behind or you're just not getting results, you're not sure why, and then all of a sudden you're kind of searching everything.
Yeah, you just chase your tail and chase everything.
You do. You don't want to push it all on them and then they want to think it's you, so everybody was trying. They're both trying really hard too, trying to make up differences also. So they both have things that they're trying to work on right now to make them better, and then we've got things that we're doing that seem like there's some good improvements out of, and we just want to keep going that direction.