Let's dive into how Glen Helen got its national back.
Let's dive into how Glen Helen got its national back.
This story originally published in CROSS Magazine in Germany
The Hills of Helen Roar Again
Breaking up is always hard; getting back together can be also.
As a long-time observer of the AMA pro motocross series-either as a mechanic or now as a member of the media, Glen Helen has probably been the track that I have been to the most. Either testing with different teams or going to nationals, Glen Helen has been the one constant in my career.
Until it wasn't.
"We thought it was an early April Fool's joke" Davey Coombs tells me over the phone about when he heard that Bud Feldkamp, the owner of Glen Helen Raceway, was cancelling his national and holding a Grand Prix "This was out on March 30th. We literally were blown away by it. He said, gentlemen, we can't come to terms with MX Sports and we're going to hold a GP."
Glen Helen Raceway, located in the hills of San Bernardino County in Southern California, has always been a hub for motocross activity dating back to the mid-80's. It's a rough track with long lap times and features a sandy surface, huge hills and is convenient to the top teams and riders in the sport. Starting in 1993, the track started to host AMA nationals and over the years drew a great crowd.
Coombs, the president of MX Sports Pro Racing, had gained control of running the nationals from the Daytona Motorsports Group (DMG) when AMA Pro Racing effectively went up in dust and put all of its entities up for bid. This didn't sit well with Feldkamp one of the 11 members of the National Promoters Group (NPG), which was an organization the national tracks formed years ago.
"DMG secured the rights from AMA Pro and they did not want to work with a group of tracks like the NPG. The NPG was not a business entity, and so they didn't have any money. Someone had to take responsibility for the TV, the day-to-day operations, the marketing, the management, the licensing. And that was why they (DMG) put their trust into MX Sports Pro Racing" says Coombs of the new era in American motocross racing "Mr. Feldkamp didn't understand that when we took over the series, we wanted to run it with a group of rules that would move motocross to where it's gone in the last five years. He wanted to have a National but he didn't want to be part of the overall look and feel of the series. Rather than give us time to work it out, he just pulled the plug."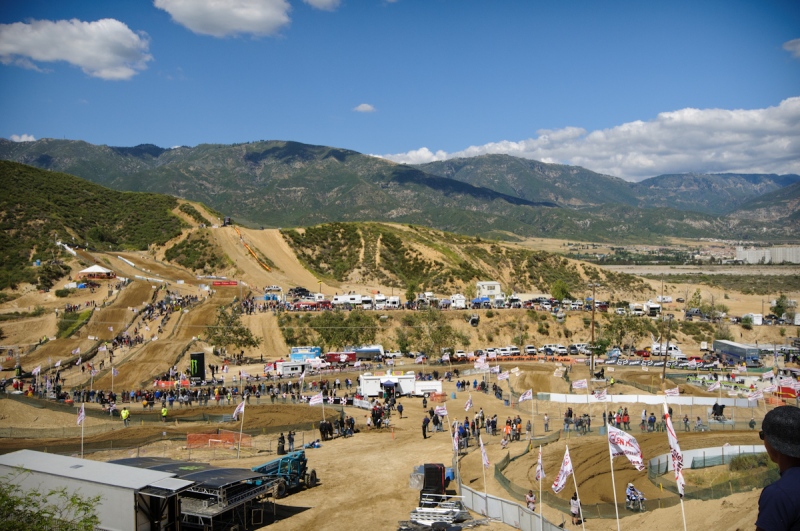 There's no doubt that there's no track in SoCal that can offer up what Glen Helen can. Lissimore photo
MX Sports, with its series kicking off in a little more than a month, quickly made alternate plans to hold the final round at Pala Raceway, a Native American-controlled piece of land north of San Diego and Glen Helen went ahead and held a FIM World Grand Prix in late May.
The attendance at the GP, in terms of top American riders and fans, was dismal. ("I think Glen Helen realized that maybe the people weren't coming because the stars that they're used to seeing at the Anaheim Supercross or a Glen Helen National weren't there," Coombs says) and the national at Pala was plagued by massive amount of parking problems that resulted in many fans not being able to get into the race at all. The two-lane road leading into the facility and some dis-organization by the track itself made many motocross fans vow to never to go back.
The next year Glen Helen tried again with another GP and it was yet another failure. MX Sports went back to Pala (with better results for fans) but when the people who run the track ran into a conflict with the landowners, they switched to their third Southern California track in four years with the all-new two million dollar renovation of the Lake Elsinore Motocross park which was about an hour south of Glen Helen.
"When they (MX Sports) said they're going to Elsinore I went, no, you've got to be kidding" says Tom White a retired businessman and friend of Feldkamp "And of course those people threw money at it, but you can only put so much lipstick on a pig. And God bless them for their efforts, it was really good to get into, it was really good to get out of, but it was a horrible fan experience." There's no doubt that Lake Elsinore was not a very good track that was too spread out for fans to enjoy.
White knew that he had to do something for the good of the sport. He needed to somehow get MX Sports and Feldkamp back together at the bargaining table because it was clear to White (and many teams in the pits) that MX Sports and Glen Helen, based on what they had done since Bud announced he cancelled the national, needed each other.
"I went to the Loretta Lynn's Amateur Nationals (run by MX Sports) in 2012. I saw Davey there and just said, hey, we really need to think about bringing a national back to Glen Helen. And what really kind of gave me the green light is late that year I talked to Lori Bryant (Glen Helen track manager) and she said Bud's not nearly as involved with the racing here, and after the failed 2010 and 2011 GPs and all that, there might be an opportunity to do something where we actually just lease the facility to MX Sports."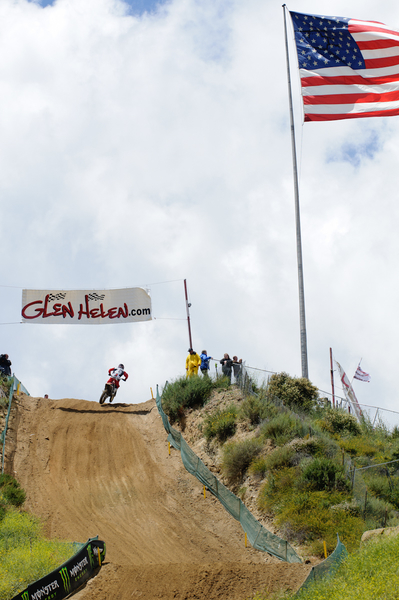 In the absence of a national, Glen Helen held a couple of USGP's that were a disaster. Lissimore photo
White was constantly in touch with Feldkamp, Davey and Carrie Coombs (sister of Davey and MX Sports Pro Racing manager) and a meeting was set up in late 2013. Imagine it sort of like those western movies where the tumbleweeds are blowing and the two sides eyeing each other up.
"It kind of was!" laughs White when presented with this scenario "And there was yet another meeting between the principals at the Motocross of Nations in Germany that I sort of set up from here in California."
"The industry gave us a chance to find that other place, but when we didn't it was obvious that for the good of the series we needed to take a step towards Glen Helen, and they had already taken a step towards us" Coombs reflects on the deal to bring back the national to Glen Helen "It was like, okay, you do things differently, we do things differently, so why don't we just do some things together and make this thing work?"
Things weren't always easy for White though. "Bud came in and said, I want to have the last say on the racetrack. And that was in a conversation that he had with John Ayers of MX Sports. So John calls Carrie and says, he wants to have the last say on the track… So Carrie calls me and she's just like, we can't do that. Forget that, we just won't do it. We'll just go back to Elsinore" White reflects on the tense times of the back and forth talks.
"One of the concessions we made was I knew how influential Jody Weisel (Glen Helen track designer and editor of Motocross Action magazine) is, especially in Southern California, but also you got to admit, he, along with a guy named Karl Scanlon, builds a pretty spectacular track," Coombs says "We took a much different approach than we normally do, but it worked, and it was also modeled for us. No one knows the land better at Glen Helen than the guys who are there all the time."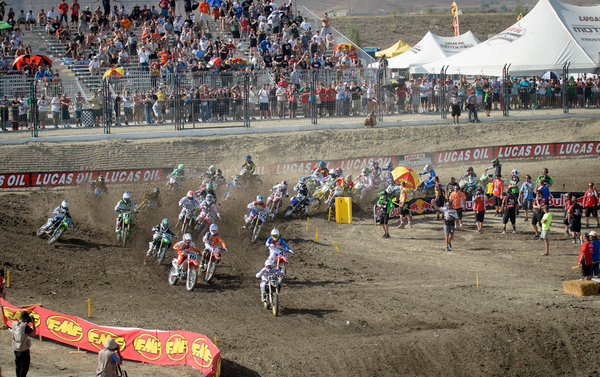 MX Sports first went to Pala for a couple of years and then here at Lake Elsinore for another two years. Neither track/facility drew rave reviews. Lissimore photo
Although the sides had hashed out many of the sticking points to bring the national back, the deal was still not 100% done. "At one point we had a conference call in Bud's office with Davey and Carrie" remembers White "This was after National's all scheduled, but we're down to how many people get in the park free. Bud had a big problem with what's required to do that. Davey got so upset he walked out of the room, out of the conference call. Bud is an ultimate hardhead but a good passionate, guy. But we got through all of it finally."
May 24th, 2014 was the date set and Glen Helen would be back as the opening round of the series to avoid the scorching heat that Elsinore had encountered being the last round of the series in late August. The Southern California-based OEM's and teams were happy with this change and after four years, the motocross nationals were back at the premier track in Southern California. There's no other track on the circuit that offers the horsepower-robbing hills, the velodrome-type first corner and the convenience of the location.
It is as it was supposed to be. Sure it took some time for the principles to realize this but with the race come and gone, there's no doubt it was a success for everyone involved. The two parties, with one raised eyebrow at each other, did a one-year deal for the national that either side could opt out of if they weren't happy with the reconciliation.
"I thought the race was awesome. I really did. And I knew about the problems. It was a very proud thing for me to sit there and look at that and think that I played a pretty important part in getting those people up there on the hills, and so many people happy, and the fans seemed to really enjoy it" White says "My main problem now is I want to improve the fan experience. Roger DeCoster gave me a list of stuff we need to make better. So I think the whole thing now is just to basically do a better job. We both have agreed not to use the one-year opt out."
"It is my sincere hope that we signed a long-term contract under the same type of terms we had here, which made us both very happy" reports Coombs on how he thought the race went "It allowed us to have a big race in Southern California at a great racetrack, to get our sponsors in. We brought Red Bull back in and Lucas Oil obviously. We felt it was a great, big success. They were not prepared for the amount of people they had. It kind of caught them off guard but we were both pleasantly surprised. They will make a lot of changes next year and make it better."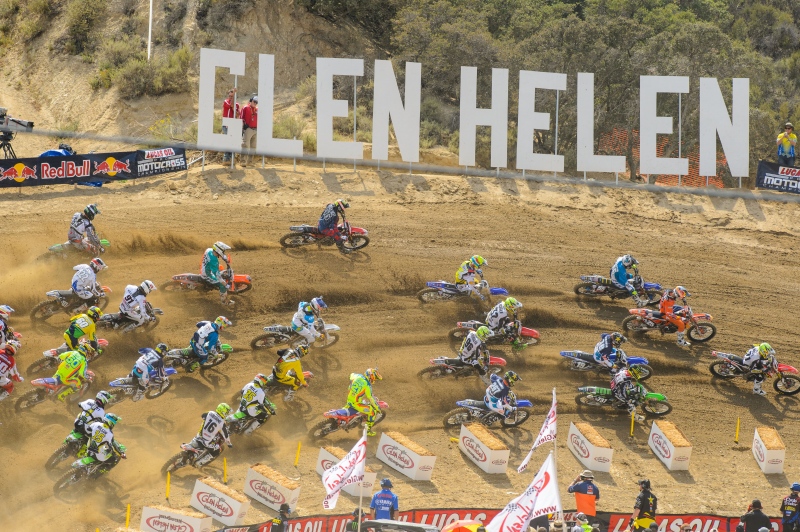 For 2014, Glen Helen was back on the national schedule and it is as it was supposed to be I assume. Cudby photo
There you have it folks. The tale of how a great racetrack and a organization broke-up, tried to venture out into other areas and then realized that they needed each other. The sport of motocross here in America is better for Bud Feldkamp and MX Sports getting back together and holding a national, there's no doubt about that. People like Tom White, with nothing in it for him financially, working behind the scenes to make the right thing happen.
"There are a lot of egos out there and there's a lot of guys that have been around professional motocross for longer than I've been alive" says Coombs "It takes some patience and also being humble to make deals happen. Sometimes you got to give a little, sometimes you have to give a lot in order to take what you want."
Hooray for mom and dad getting back together and the real winners in this are the Southern California motocross fans. Welcome back Glen Helen, we've missed you.