Jason Thomas says it's way too early to count out Reed
Jason Thomas says it's way too early to count out Reed
Hammerhead Designs was launched with the intent to provide new and better parts and innovative accessories for motocross bikes. One of our goals has been to design entirely new and unique products with improved ergonomics and the shift lever was the first part that we felt could be dramatically improved by providing a feature that would allow for the shifter to be repositioned to perfectly suit the riders size, shape, and preference.
Chad Reed is having a rough summer. While it may seem strange to think that a legend like Reed could struggle his way to 14-14 finishes, maybe it shouldn't be such a shock. This isn't the first time we have seen Chad put up bewildering outdoor finishes. Sure, he has had years of proving why he is held in such high regard. He was a podium contender beginning with his arrival in America in 2002 and culminated that with a premier class championship in 2009. What has transpired in the years since is a bit of a roller coaster, however, but I think I can not only point to the reasons for that but also make a case for why he will once again come out swinging in January.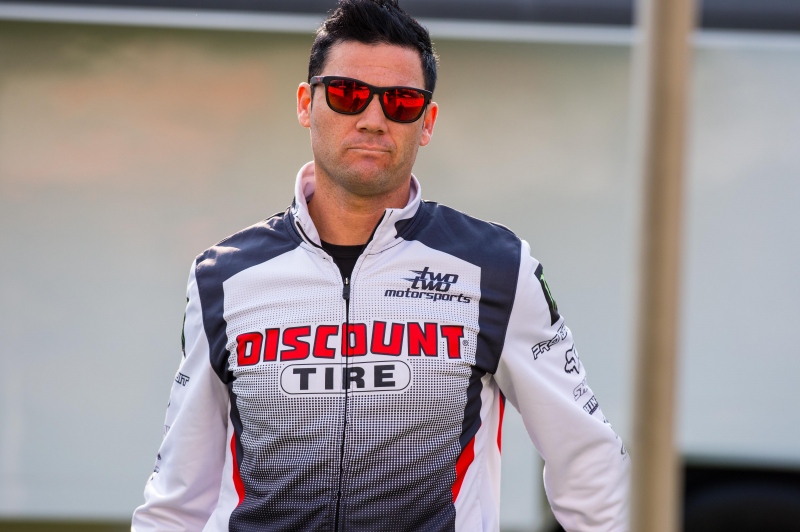 Don't count out Reed for 2015. Cudby photo
2010 was rough and tumble outdoor campaign and saw an early departure from the series. It was a major disappointment as he was the reigning champion and started off well, winning the opening round of the series. As the series moved east, though, things began to unravel. Freestone went fairly well but at High Point, the wheels began to come off. He had a bike issue that resulted in a DNF and handed Dungey a large points lead. Rounds clicked off and there were highs and lows but in speaking with him, he always felt something was amiss. He just wasn't his normal self and felt weak when he shouldn't. This issue reached a head at Millville when he pulled out of the 1st moto and with that, the series. He cited the Epstein Barr virus as the culprit and spent weeks and months trying to recover. That off season was a busy and uncertain one. He wasn't a factory rider anymore. The million dollar contracts had vanished and he was facing the prospect of taking on the world with whatever resources he could concoct. Enter Two Two Motorsports.
The 2011 Supercross season started off solid but maybe a little bit off the pace of where he would have liked to be. He slowly improved, though, and not only moved up the pecking order, he started winning races. He was proving all of the doubters wrong and taking this championship down to the wire. He would narrowly lose the title to Ryan Villopoto but let there be no doubt, Reed was back. The outdoor season would be more of the same. Reed won the opening round and wouldn't relinquish the points lead for months to come. It wasn't until his infamous crash at the Spring Creek round that it would start to fall apart. Whether he would have won that title is anyone's guess but with a 21 point lead and on his way to another moto win, it certainly looked promising. The crash, for debatable reasons, took the wind out of his sails for the rest of that summer. He just wasn't the same rider after the crash and his results showed. Even still, he had won in 2011 and won often. That was something most said he would never do again. A theme that would repeat itself again and again.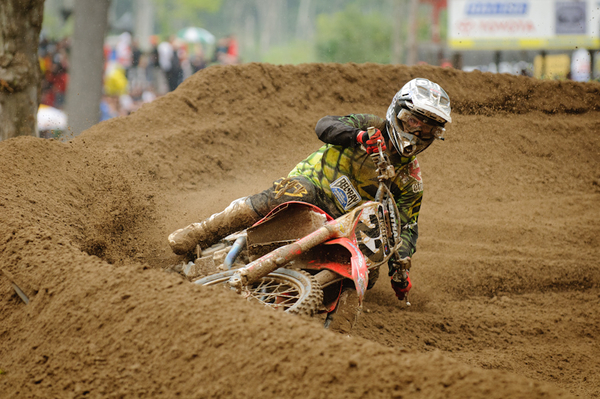 Reed's 2011 season was shaping up pretty nice until "the crash". Lissimore photo
Coming into 2012, everyone knew that Reed could be a factor. His team was much more established now and had the support of factory Honda in their corner. He was right in the mix from the beginning and won the 3rd round of the series. He would continue to vie for wins up until his injury in Dallas. He and Ryan Villopoto were locked in a points battle coming into that round and were playing cat and mouse up until the crash. Breaking his leg, ribs, vertebrae and tearing his ACL would keep him out for the rest of the 2012 season. It would be the longest amount of time Reed had ever spent away from racing and the bike in general. This time away would allow him to explore life away from dirtbikes but would also put him far behind entering the 2013 season. Further behind than he could have imagined.
After an 8 month break, it was time to go racing again to kickoff the 2013 season. I don't feel that Reed was prepared for the season as he had been off a long time and seemed to be interested in other things in life. His focus just wasn't as razor sharp as years before and it would show on the race track. The new Honda also frustrated him at times. A new chassis and the introduction of the air fork would leave him scratching his head entering the weekends and shaking his head exiting the weekends. The whole supercross season would be like this. Frustration with his pace, frustration with the motorcycle and frustration with the results. It was strange to see someone who for so long was seemingly able to match anyone's pace at will, struggle to beat privateers. He came into the 2013 season unprepared and it showed. He could never find the lead pace indoors or out and the long season felt like an eternity. He finally gave in to the pent up angst and abandoned the series with 1 round left to go. There was a lot of work to be done and everyone knew it.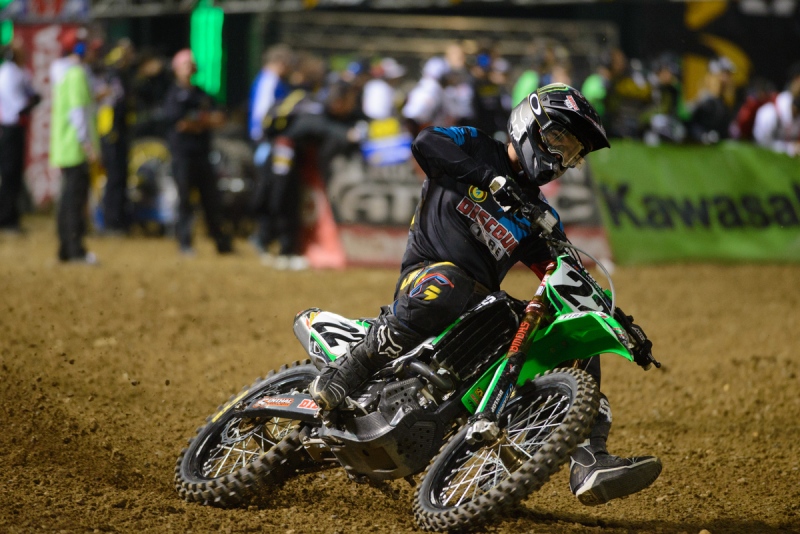 "Last off season, most had written off the Australian. I heard it over and over. "He's done. His time has passed. He was great but it eventually happens to everyone. He should quit while he is ahead…." Lissimore photo
Last off season, most had written off the Australian. I heard it over and over. "He's done. His time has passed. He was great but it eventually happens to everyone. He should quit while he is ahead. Face the facts, he is just an 8th place guy now." All of this doubt, all of the fair weather fans chiming in, all of the two faced industry folk looking to bury him. I heard it all and so did he. Nothing is a stronger motivator than fear of failure. He knew that 2014 was a make or break year. All of the whispers would turn to a roar if he came out and couldn't compete again. He had to make a statement. More than a statement, he had to explode onto the sport's biggest stage and let everyone know that he was back. No one was going to tell him when his time was up. Legends decide that for themselves.
He shocked everyone with a 3rd place finish at the opening round but he was just getting warmed up. At round 3, he would come from behind and win in a race that had everyone in the stadium throwing their deuces up. At round 5, he would take the victory in a wire to wire performance. He was doing the impossible. He was 2 points out of the lead and hounding the defending champion, Ryan Villopoto. Going into San Diego, it was a mirror image of the 2012 season. Leaving San Diego, it would replicate 2012 even more. The crash that ended the 2012 Supercross season was a vicious one. Reed would break his shoulder, requiring both ligament and bone repair. It would leave him with minimal time before the outdoor championship we are currently witnessing. Once again, he would enter a season unprepared. Once again, we would see the effects of that play out before our very eyes. He is going through his struggles and none worse than watching him suffer through last weekend in Minnesota. Things probably won't improve greatly as this series winds down. The damage is done at this point and there isn't time to rectify the situation with 4 rounds remaining. As these rounds roll on and his results slide, I am once again hearing the whispers. Those doubters hiding in the shadows are crawling into the light, once again kicking him when he's down. One would think that after picking himself up off the proverbial mat so many times, people would learn… Apparently not.
Soon we will enter another off season and everyone will go home to regroup. The victors will rest easy and prepare for another grueling season. Most will reflect and reassess on things they need to improve on. For Reed, it goes deeper than that. He is 32 years old and time waits for no one in this sport. He bets on himself, running his own team, chasing down his own sponsors and putting his financial future on the line to do it his way. Sure, he hears all of the jokes and snickering. The same comments that people made in 2010 and again in 2013, they are making in 2014. "He's too old" they say. "He doesn't want it like he used to" some claim.
Well, to them, I say this. If you are looking for something to bet on, if you are looking for someone to cheer for, if you are looking for someone who will come back fighting each and every time, look no further. This off season for Chad Reed will again be against the odds. People will be discounting him at every turn as we lead up to next year's season. I have seen it before and will see it again. The difference is that I know better. I know the work that will be put in and the fire that will burn bright once again. As we sit here today, we have 5 months before Anaheim rolls around yet again. 5 months of suffering and pain and rebuilding. At the end of those 5 months, the 22 machine will be ready to once again silence all of the critics. It is how he is wired. He simply won't allow anyone to dictate his fate. Each and every time people have written him off, he has come back to laugh loudest. Are you willing to bet that he can't do it again? I, for one, am not.