A few thoughts on a few different topics
A few thoughts on a few different topics
The offseason was supposed to have started a month ago or so but it seems that for the elite of American motocross it appears that more and more there is no downtime. It's just a little while longer between races but make no mistake about it, there are still plenty of events.
Just thirty days after the last motocross national is the Motocross des Nations for three of America's best followed by the inaugural Red Bull Straight Rhythm event just six days after that. Fifteen days after that race is the Monster Energy Cup in Las Vegas and then three weeks later a bushel of American riders head off to Genoa, Italy and then it's time for the new (for one year anyways) "Bercy" supercross. Five events in twelve weeks indicate that there's a bit of rest for the top riders but they can't get too comfortable- chances are they'll be on a bike soon!
– As you read this Ryan Villopoto and teammate Tyla Rattray are in Europe visiting his new KRT Kawasaki team and meeting all the principal people that will be helping him in his quest to be the first American since Bobby Moore in 1994 to win a World Championship. Villopoto won't be doing any riding-he's still mending from knee surgery- but it's a bit of a get to know you session for Ryan and perhaps iron out an off-season schedule. Villopoto's not cleared to ride until end of November but that's plenty of time for him to get ready for this title quest.
I've been talking to Ryan here and there (still haven't pinned him down for an official interview though) and much of what we talk about is off the record but I think I can put out there that he's not going to just bring over his 2014 Monster Energy Kawasaki and call it a day. He's told me that he'll test with Showa suspension, he'll try Kayaba and with there being no rules for frames, swingarms, crankcases like there is in America, Villopoto will be sure to try out all the options available to him and try to pick the perfect package of KRT and USA Kawasaki parts to build him the best bike. So it should be very interesting to see what he shows up with in terms of bike at the opening round of the MXGP series.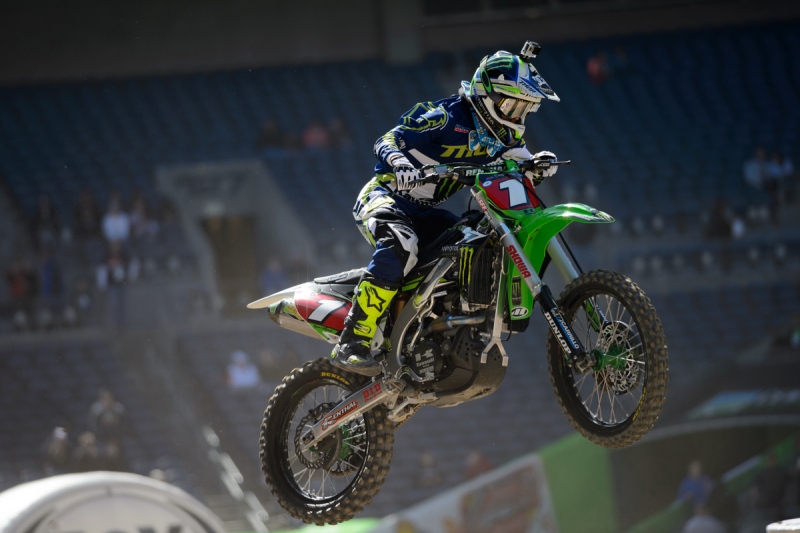 Villopoto's in Europe meeting and greeting people. Lissimore photo
– Lots and lots of deals have been announced and one that we've known about for a while became official when Justin Barcia was announced as signing with the JGR Yamaha team. This should be interesting to see if Barcia can get back to his old rookie 450 season when he looked like he was taking a step ahead and not keep going like he was this past year when he was just deep into a funk.
I spoke to Justin about last year and I found his answer interesting about what exactly happened last year at Honda Muscle Milk. "I didn't have good communication with some guys over there. We really struggled with chassis, suspension…all around, motor; it was everything. We just couldn't get it right and it was extremely frustrating mentally, physically" Barcia told me "I was having crashes that shouldn't have happened because of things. It was just a lot of stuff. But as you can see now toward the end of outdoors, I was paying pretty close attention to the races, they made some big changes to the bike [Trey Canard's bike]. They switched suspension which is huge."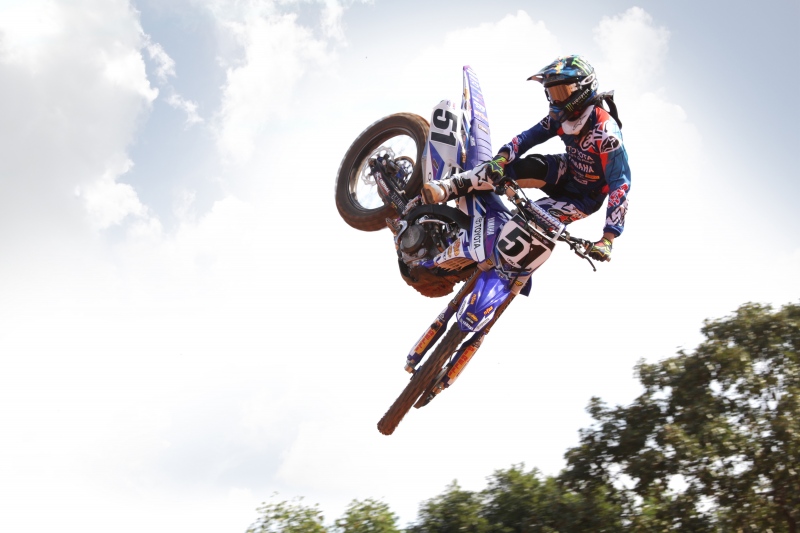 Barcia's on a new color next year and sounds like he's found a home. Photo courtesy of JGR.
Of course you don't have to be Kreskin to know that Barcia's basically saying he didn't like his bike, he thinks it caused him to crash a few times, he tried to get Honda to do something about and it's no coincidence to Justin that when Honda bolted on Kayaba suspension to Trey Canard's bike- he started winning. In my experience there are always two sides to everything in this sport and Barcia isn't the first rider nor the last to point his finger towards the bike for his struggles but you have to think there just might be something there when you look at the sudden transformation in Canard late this summer.
For his part, it seems that Canard is going to stick with KYB for 2015 but the early word is that Barcia's replacement on the team, Cole Seely, preferred the Showa suspension and so Honda will be fielding a team with two different brands of suspension on it. And in a bit of a shock, Honda also let long-time chassis development manager Shane Drew go. Clearly Honda is turning over every rock to try to get their bike working better. It's just one year too late for Justin Barcia.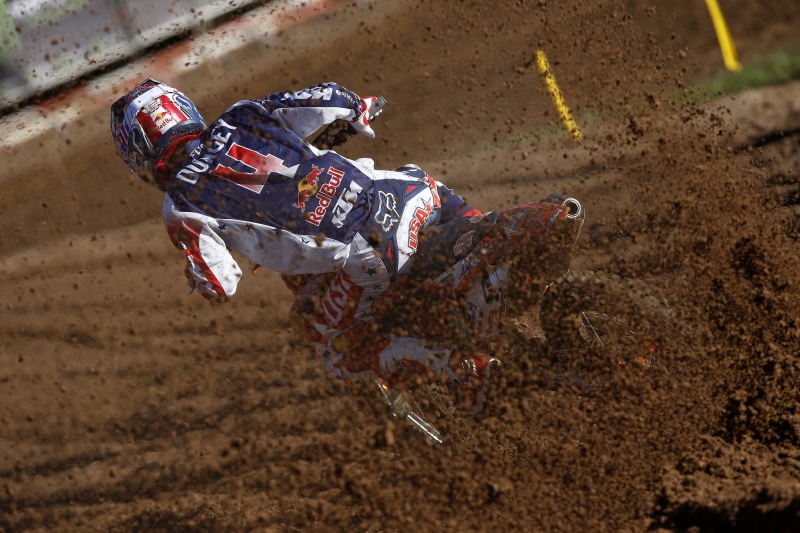 Honda team manager Dan Betley is still not happy about losing the MXDN. Archer photo
-The fallout from Team USA's third loss in a row at the MXDN continues as the dust settles over here. I've been speaking to a few people on both sides of the pond for a story I'm working on in regard to the red, white and blue's recent losing streak but in talking to Dan Betley, Honda Muscle Milk Team Manager and member of the last three teams, he's not happy with some of the comments from USA fans.
"I've been reading some of the stuff on the internet and it really bothers me. It really bothers me on some of the stuff that I've read from supposed "arm-chair quarterbacks" that think they know more than the people that have been doing this for I can't even tell you how long. And I'm not counting myself in that mix" says Betley who also wrenched for Jeff Stanton and won the MXDN three times in that fashion "Things have changed over the years and I think it is a combination of many, many things. Do I like sitting on a plane for 20 hours and going over there to lose? No. Are there things that I think that could be better? Probably.
But I think what people seem to forget is the amount of effort and money spent to do this event that sometimes guys are questioning whether they want to really still do. So I think it is one of the coolest events ever and I think we definitely need to continue the heritage and keep doing it. But I don't think you can point at any one thing and say "we need to fix that and we'll win next year."
Strong words from a guy that takes this losing streak personally and someone that knows a lot of about what it takes to win a MXDN.
After stewing over the loss for a bit I think that really there is something called bad luck and the USA has been afflicted by that the last two years. Maybe there is nothing wrong with the team selection, itinerary or anything else when it comes to the last three years. When you think about it, the USA have benefitted more than a few times from other countries having crashes, injuries or mechanical issues and I suppose it's just all coming back on them now. Whatever it is, it will be interesting to see if USA changes anything up for 2015 in an effort to get back on top.