23 to 48 but couldn't be any happier, he's Wil Hahn!
23 to 48 but couldn't be any happier, he's Wil Hahn!
You're now a member of Monster Energy Kawasaki. So are you 3-4 seconds faster or 5-6 seconds faster on the new bike?
I'm willing to put 10 on it. I should be able to lap the field (laughs).
Before we get into that, you had a pretty good season until you got hurt on the GEICO 450 team. You probably could have stayed there but they decided to downsize. How was that situation where your contract was up, you guys liked each other and they didn't have room for you?
It was a mutual love. I was happy where I was at, they were happy with me doing my thing. It wasn't like there was any kind of beef or a falling out or anything like that. They had actually told me that week before I got hurt that there wasn't going to be an available spot. I kind of knew it for a while. But I had been putting in decent results and stuff like that. I'd been pretty up and down but for the most part it's been pretty solid. I think I surprised more people than actually people expected me to do. For me it was fine, it just was tough. I had to do all these negotiations and talk to people and tell them I want to ride for you but I've been on the couch the last two months and I still can't ride. That was the hardest part of everything because people still want to know that you can still ride, and at the time I'm talking to other teams and I can't do a pushup. It's tough to tell yourself when you're like, I could go out and go get a 4th, but I can't. So it's just one of those things. I just had to go with my personality I guess and hope that it worked out.
You, like a lot of guys, kind of had to wait for RV… RV's choice was going to open up a spot over there. In the process of silly season, and I know you were talking to some other teams, how was that where you were like, should I take this deal or should I wait a little longer for Ryan? How did that all go down? Were there some nervous times in there?
Yeah. I think you can ask anyone that was close to me, there was a part of me that was just preparing to go to work almost and do something else. At the time I had said "no thanks" and moved on in hopes that something else was opening up and I thought this was a pretty solid bet.
It was a bit of a gamble on your part!
It was for sure. People were interested back in April when I got hurt even. It was just a really long process. I think the hardest thing is every year it is a process for us but normally you're able to ride and train and do all that stuff during the week but I was stuck on the couch. So for me it was even harder because I have this whole day of therapy and stuff that's not that fun. And all you can think about is "what am I doing next year?" And as much as they want to give you an answer they can't. So it's just one of those things where I guess it's just trying to teach me patient in life.
But eventually it all worked. I imagine you got the ride you wanted the most with a factory ride on a great bike. Immediately that's the place to go when they called you, right?
Yeah. You can talk about the other teams all you want but this team has the last four Supercross titles. I don't know where else you'd want to be. You look at it like that and see that they have a great bike obviously, they have a great team structure, stuff like that, it's not possible. To me, at the beginning when we first started talking it kind of seemed a little bit surreal because I'm like, maybe there was interest and everything like that but I didn't know how deep it would be because the injury, my season was very up and down. So to me I really hoped but I didn't know how solid that was. Like I said, the patience thing paid off and I couldn't be more thankful to be in the spot where I am to be on my first factory team.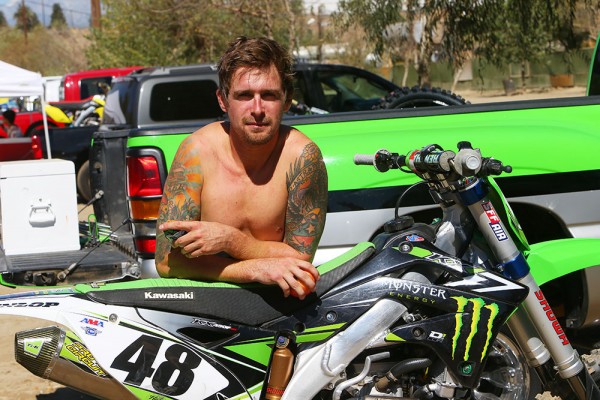 Wil Hahn is now a member of the Monster Kawasaki team and is predictably pumped. Donn Maeda photo
How's the bike? It's early but what do you like about the bike and compare it to your GEICO Honda a little bit?
We definitely had a good program at GEICO when I was there. I couldn't really complain a whole lot about anything. They treated me great, the bike was good, they worked their butts off for me. But moving on to the Monster team you see the difference in just basically the full factory effort. Endless possibilities, and these guys just know what it takes to win. It wasn't really much of a transition; I just got on the bike, rode outdoors for a couple weeks, and then I've been on Supercross for two weeks now and just kind of dial it in for myself.
The main thing is almost getting my body back too and speed before I critique the bike too much because I'd hate to go the wrong direction right now because my speed's not 100% right now. So if I'm setting up the bike, say it's too stiff right now, and then in a week it's going to be way too soft. So just one of those things, learning the process, learning the team, learn how they operate. Everyone does it a little bit different, from suspensions to setups or whatever. But for the most part just getting to know everyone, getting to know Supercross again and just getting myself back healthy.
How long have you been back on the bike? Did you start on the Kawi?
I rode my GEICO bike for a little bit longer. I think I rode the GEICO bike about three weeks and then I hopped on a Kawi. So I've been riding for probably about a month and a half.
What do you think of the Kawi motor and chassis compared to the GEICO Honda? What's your early thoughts on it? The Kawi's probably got a better motor. Where else is it really good?
I feel like the whole, overall balance of the bike. Ryan and I believe ride very different but our stature and stuff is very similar. We weigh about the same and we're about the same height. So for that as far as the balance the bike is set up for my size. It's pretty ideal because it's tough to get a bike to squat like that and yet still turn. That for me has been the biggest difference. The rear is really low. It does it exactly what I want it to do. It stays low and and planted in the whoops and then when I turn it's not like trying to turn a tall bike. Every time I try to go to that setup and make it really super low it makes it hard to turn and so far the team has that pretty figured out.
It seems like following you guys on social media you and The Duke (Davi Millsaps) are getting along well and everything's good there.
Yeah, Davi and I have been training together with the same trainer, Ryan Fedorow, for I guess about a year now. So anyway we were already working together in the gym and on bicycles and stuff during the days anyway. In the early days we were joking like, it would be pretty funny to be teammates, and then it just became this reality that it was going to happen. Now we're at the track together during the day. We even carpool to the track. It's pretty cool to have that type of relationship with not only anybody in our sport that you race against, but your teammate.
I think we saw it last year, I know they weren't teammates on the track but they were riding together, Kenny (Roczen) and Ryan (Villopoto). I think that really helped both of them elevate their game. They were able to put their egos aside and they were pushing each other. I think right now Davi and I have that. I can learn a lot from him on the bike and we're able to push each other off. If you can find that and push the egos aside then I think it can really be productive.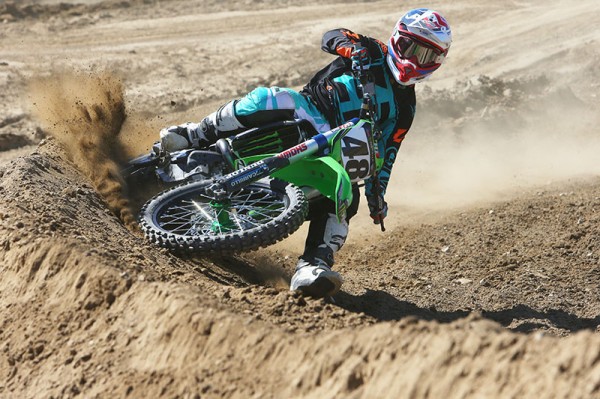 If he can stay healthy, Hahn should be a podium threat next year. Donn Maeda photo
Let's be real here, you're talented and fast but the knock on you is that you've been hurt. Have you taken a step back and looked at "why did I get hurt," "how can I do things different?" It's hard to put a limit or a governor on a guy like you; you ride with a lot of heart. But what can you do, if anything?
That's the million-dollar question too. It's just one of those things that to me I look back at this last crash and yeah, I've had plenty of dumb ones in my career, but this last one, I told the team the same thing earlier in negotiations with them that if I look back I don't regret anything about it. I was pushing myself. I was going for this next level. I wanted to be in the top 5, possibly in the podium. I was starting to qualify top 3 every weekend. It was one of those things where trying to learn that speed and trying to learn this aggression.
It was a tricky and gnarly section which kudos to you for doing it.
It changed a little bit from the heat to the main. I should have adapted to it when I saw it off the start. I didn't. I actually say Brayton in front of me give it a little bit of a seat bounce and I didn't react. It was all my fault but it's one of those things where we're all on this limit at all these times and I don't regret any part of this last situation. Are there parts of my career, yeah there's been some dumb crashes that I could have prevented but this one I feel like I was just going for it. I don't regret it but looking to the future and saying "I'm going to stay healthy" and that is one of my downfalls, I have been hurt a lot.
But my only goal, my only mindset is to… I think if you start riding and you start going, okay, I need to be healthy, that's when dumb stuff happens. That's not the mindset I need to ever have. I've been a firm believer in that my whole career. If I get scared I need to go find a job. To me it's just one of those things where my goal and my big, long-term picture is 29 races. And how I'm going to do that, whether there's nights where the track's hard, I need to back it down a little bit, I'm going to use my head and use my knowledge a little bit that I have gained over the years of being a pro. I'm going to do that, instead of just being like "I've just got to go for it tonight." You don't necessarily have to. I need to make these 29 races, which will only turn me into being a better rider the following year.
It's a hard thing to balance. Some riders have been really good at it, staying healthy and doing that, but at times you watch one of those guys and you think, he's not doing the difficult section. Not a bad thing, not knocking him, but there's that.
That's the thing, I don't know if there's a right or a wrong answer. It's just to find that balance and you've got to know that fine line of being like "ok, tonight my mental focus or my whatever is sharp enough that I can push this edge," and there's nights where you just physically can't push that edge because you're just not on your game, whether you're tired or had a bad flight, I don't know what it could be but it all adds up. I think you've just got to be aware of the situation. Obviously having all the people in my corner's going to help a lot, along with Kevin Windham which is one of the best of putting together a season. So I think with all that it could be very helpful.
It's nice to be a big-time 450 guy; you get to pick all your sponsors. You're wearing Answer Gear, Shoei Helmets, Gaerne boots… That's kind of a neat deal, right?
Yeah, it's exciting because last year I got this limited, open up to "okay, you can do maybe this or that," but it was still pretty limited. But for the most part this year I'm completely open. That was a cool experience. I've known all the Tucker Rocky guys for a long time anyway, just from being from Texas and all that stuff. Grew up by the guys that run the show there. For me it was cool to go with, not a local brand, but basically a local brand to my family. That part's really cool.
Thoughts on the Straight Rhythm? What'd you think of it? What's the potential of it? Would you do it?
I thought it was cool. I think it's great to do something different. I know it's still Supercross style, but I think it's awesome. I think it has huge potential to grow. I think it's going to be a regularly scheduled thing. It's easy for the crowd to watch, easy for the crowd to follow. They're only doing two at a time or whatever so that to me is way easier for the normal guy that comes to watch our races to follow who's who. So I thought it was cool. It was definitely a dry day. But we're lacking some water out here. But I think that it has tons of potential to grow.