On Lille, Bercy, Finland and how lucky I am
On Lille, Bercy, Finland and how lucky I am
I sit here in the SAS Airlines lounge in Helsinki wrapping up my ten day European SX trip. It's been four years since I've been in Europe for this long and truthfully, I can't wait to get home. It's like that for everyone right? Nothing is ever as good as your home bed and the comforts that one enjoys with that. No matter where you live.
Still I'm thankful that a guy like me gets the opportunity to come to these overseas races each year. I'm positive that if you could go back in time and ask a 15-year old super-fan of motocross in Canada named Steve Matthes if he ever thought that he would be able to go to one or two-never mind twenty or thirty- European supercross races, he would've called the cops on you. So yes, I realize I'm fortunate and it's always great to see a new country (Finland) that I've never been to before. But get me out of here and to the USA!
With that in mind, here are some thoughts from the Lille SX and this past weekend's race in Helsinki.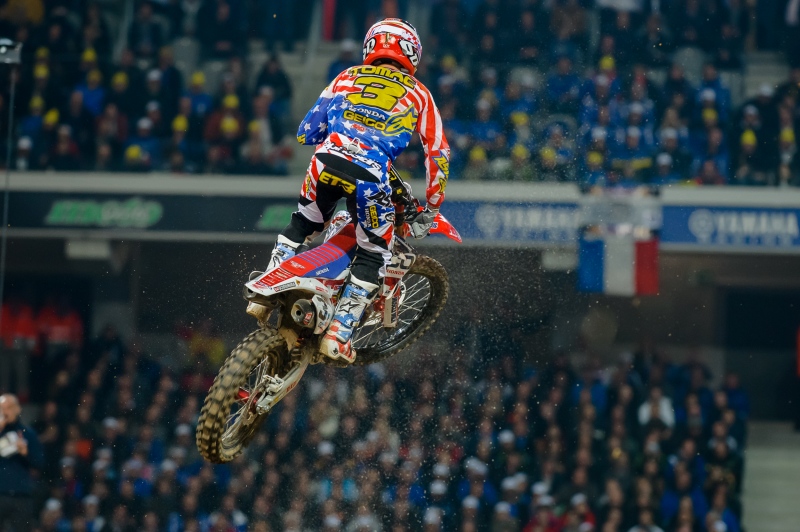 Did Tomac's riding in Europe convince you that he's got what it takes to win the 2015 SX title?
-First of all, any discussion about Lille has to start and end with GEICO Honda's Eli Tomac. The man was on fire and swept everything both nights in the new venue that was Lille. BTOSports KTM's Justin Brayton led a couple of laps in one of Sunday's main events but other than that, be it main events, Superpole or elimination races, Tomac won everything.
And although I wasn't there this past weekend Tomac made it two for two in sweeping Genoa, Italy also. There's plenty of talk about who's going to win the now-vacated supercross title and most of it surrounds RCH Suzuki's Kenny Roczen and Red Bull KTM's Ryan Dungey with Tomac or Honda's Trey Canard being thought of as spoilers or fall under the category of "riders we think could go either way". I'm here to tell you that Tomac crushed everyone in Lille and guys like Brayton, JGR Yamaha's Justin Barcia (thoughts go out to him after a bad crash in Genoa) and Weston Peick are no joke. I know there's a danger in thinking too much about a couple of European supercross results in the middle of winter but Tomac was THAT good in Lille that I think you're going to have to move him up into a very real discussion about whether he could win his first ever 450SX race in 2015 and capture the title.
-Most of you reading this know that Lille took the place of Bercy Supercross which had been held in Paris since 1984 and due to renovations of the arena, Lille was now the new spot. And if the rumors are to be believed, this race may never go back to Bercy. Lille is a much newer arena, holds more people, the city has all the amenities and the people up in the northern area of France are very much into racing of all types. And they packed the stands for two nights with the total attendance of both nights surpassing the Bercy arena which held three nights. Word is dealing with the Bercy people isn't the easiest while Lille arena operations were more than happy to have the race. Combined with simple economics I think we will see more of Lille in the future.
That's great and all, I enjoyed it very much but (and there's always a but right?) there was no doubt with the arena being newer the fans away from the track surface that the atmosphere, the ambiance, of Bercy was lacking. There's something to be said for the tiny Bercy arena with the fans right on top of you and acting out of control. I got the feeling at Lille that everyone was well behaved while being in Bercy sometimes was scary and exhilarating all at once. Oh well, all things must come to an end right?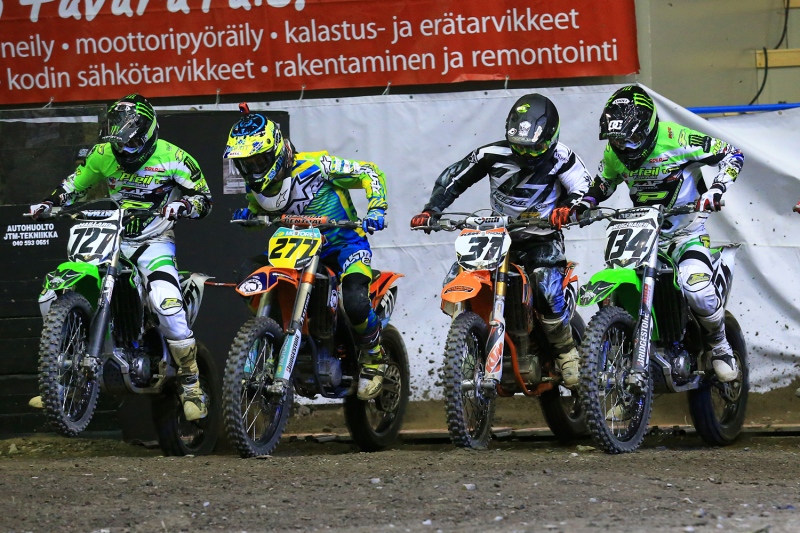 Maillard (727) and Thomas (31) blast off the line in Finland. Jani Hovi photo
-This past weekend, while Tomac and Barcia were in Genoa, I got invited to get up to Helsinki for the Tampere SX, a city about a couple of hours from the Finnish capital. Lacking the big names and big lights of Lille of over in Italy, Tampere still had some very talented riders and the weekend reminded me that there are guys all over the world that haven't given up the dream. Harri Kullas, a Finn who's been racing the GP's for a while cleaned house both nights but really only because of bad luck for Frenchman Boris Maillard. Maillard was very quick and Kullas' equal but first turn crashes or small mistakes held him back. I went to the race with my buddy Jason Thomas who hung up the boots for good two years ago but the organizers came calling so he suited up once again. Once a racer, always a racer right?
Thomas was top five speed but some crashes on Sunday held him back and I think he realized that with guys he could beat a couple of years ago now turning the page on him, the career is really over. Nevertheless we had good time (well Thomas wasn't having fun after the mains) and it was a fun race. And with a Finn winning it, the small but enthusiastic crowd left happy.
Lots of downtime at these races and so you wander around and talk to other riders and their pit crews. It just struck me that one week ago I was in Lille talking to Tomac, Barcia etc and these are riders that are in high-demand and able to get 30 to 50 thousand dollars to just show up and race- not to mention first class plane tickets for them and their entourages. Seven days later I'm in Finland talking to Maillard or Australian Garen Stapleton who came from a supercross race in Germany last weekend (the ADAC SX series has long been a staple for riders on the fringes of stardom) to Finland for expenses paid and just purse money. Maillard, Stapleton and a few others were riders that I hadn't really heard of-I've seen the names here or there- and here they were, a long way from home and racing to try and make a living.
And they're all great riders. Chances are any one of the top five or six at this race in Finland are faster than 90% of the other racers in the world- they're just not on a Tomac or Barcia level. It just struck me that all over the world at any given time there are some racers that are toughing it out to try and make some money doing what they love. And just like the Villopoto's, Tomac's or whomever the BS in the bits revolves around who's dating whom or what this team did to this racer or what have you. There are just some things universal to racers no matter what the age or tax bracket.
So Lille Supercross for me two weeks ago, Finland this past weekend, one weekend at home in the USA and then I'm off to Canada for the final round of their arenacross series. It's not always fun and sometimes a lot of work but looking back on where I've come from, the 15-year old Canadian superfan wouldn't have believed it.