A look at the racing from the angle of the home viewer.
A look at the racing from the angle of the home viewer.
Authored by: Michael Biddle
Photos By: James Lissimore
250
Round two of the Monster Energy Supercross in Phoenix, Arizona this past weekend was about opportunity. Almost everybody made it through the first round at Anaheim the previous weekend unscathed and got the first round jitters out of the way. Round two is when the riders who have a statement to make, make those statements.
The opportunities to make those statements certainly presented themselves and some racers took the opportunity, and some well….did not.
In the 250 class we saw Zach Osborne take the holeshot. Osborne is now a veteran of the class but has yet to break through and get his first win. He certainly has the speed and the experience so it is hard to say at this point what may be holding him back. Granted, he came in to this weekend nursing a thumb injury, but it seems to me that drifting back to sixth was still a bit drastic for Osborne. His off-road adventures in the offseason are unmeasurably good for the sport as a whole as that kind of cross-over in the sport is unprecedented. However, to say that time not spent training and practicing for supercross is harmful to his preparation is not wrong.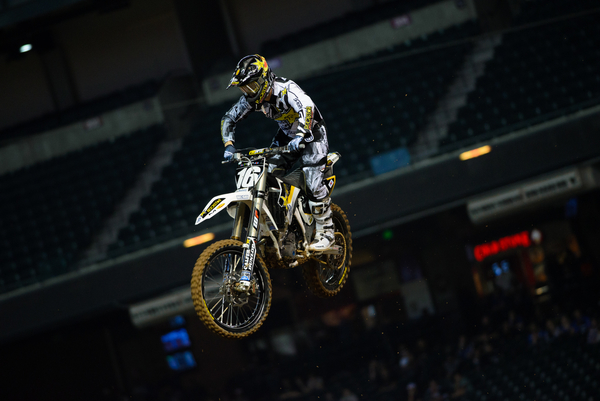 Do Osborne's off-road inclinations affect his SX prep?
Malcolm Stewart turned in the best finish of his career with a second after leading for more than a third of the race. It is hard not to be pleased with that but somehow, we expect more from Mookie at this point in his career. Malcolm is another racer that clearly has the speed and equipment to win races if he can put it all together. The maturity level certainly appears to be coming around. He did not put up much of a fight on Cooper Webb but I think he recognized that this was an opportunity for a great finish and valuable points so he was looking at the bigger picture.
Cooper Webb saw an opportunity and capitalized on it most of all taking the first win of his career. He is young, he is talented, now he knows how to win. He seems to do so without a lot of flair. He will be a champion soon enough. I'm not worried.
Plessinger and Alldredge had the best battle of the night. Both rookies in their first full seasons and right in the mix. One of them will hit the top step before the season is over if they do not take each other out first. They will need to be patient and work toward it in baby steps. The competition in the 250 west is too great to go from fifth to first right away. Zach Bell came out going balls out in his first season, hit his head, and hasn't been the same since. It just can't be done that way anymore. The opportunities for Plessinger and Alldredge will come further down the road.
450
In the 450 class we saw a first time 450 winner is Eli Tomac. The feeling even from watching it on TV was a feeling of relief as this is the kind of racing we expected from Eli right away. He and Roczen battled together clean as they always have and the best man came out on top. Tomac appeared so much faster than everyone else tonight that it will be hard to stop this kind of momentum from him going forward.
Roczen had an opportunity to stretch his points lead, which he did a bit, as Anderson was unable to repeat his outstanding performance from Anaheim, but even on the TV Roczen seemed off. He was not attacking the track and racing as aggressively as he could and just seemed a bit uncomfortable. Of course, championships are won on bad days and if second is a bad day for Roczen, he will still be terribly hard to beat this year.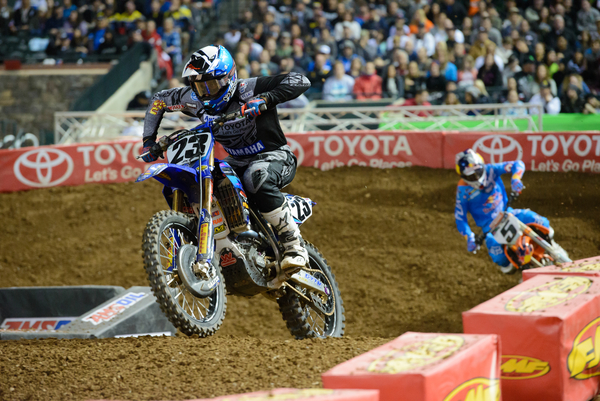 Weston Peick has reached the elite level of battling in SX.
What can we say about Weston peick! Weston Peick was one of at least a dozen racers that were named before the season started that could and probably would finish in that "6-10" range. In phoenix Peick showed that he can be a top five contender in Supercross. He took an excellent start, raced smart and consistent, and put up a hell of a fight holding off Dungey for three quarters of the race. Ultimately the solid fitness of Dungey outlasted Peick's, and Peick would limp in for career best fourth. Hopefully Peick can build on this performance because that was exciting as hell to watch.
Here is something that should tell you how deep the field is this year. Spots 10-16 were occupied by Reed, Barcia, Tickle, Brayton, Baggat, and Wilson, not in that order. Five of these six racers are past champions is either Supercross or Motocross. To have that kind of talent that far back in the field is astounding. All of these guys will need break through rides and quick if they want to stay in this championship hunt.